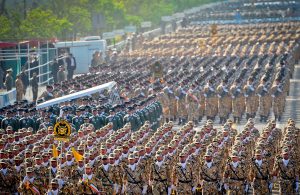 Iranian soldiers (Hosein Velayati)

Israeli and Iranian leaders continue to issue threats:
Israel hints it could hit Iran's 'air force' in Syria

22 April 2018

Israel released details on Tuesday about what it described as an Iranian "air force" deployed in neighbouring Syria, including civilian planes suspected of transferring arms, a signal that these could be attacked should tensions with Tehran escalate. https://www.middleeastmonitor.com/20180422-israel-hints-it-could-hit-irans-air-force-in-syria/

22 April 2018

Israel offered the hand of friendship to all, Netanyahu said. But there should be no doubt, Israel was here to stay: "In another 70 years you'll find here a country that is 70 times stronger, because what we've done until today is just the beginning!" Israel's ability to protect itself was "the essence" of independence, he said.

If Netanyahu sounded defensive, he had reason. Israel has faced many crises since its birth in 1948, including wars in 1967 and 1973, conflicts in Lebanon, and endless confrontation with the Palestinians, for whom Israel's independence is known as the Nakba ("the catastrophe" or "cataclysm"). It was the day 700,000 people lost what they considered their homeland. Palestinians were not partying last week.

Yet according to Israeli and regional experts, the storm now gathering around Israel's borders potentially surpasses in severity anything the country has faced throughout its short and difficult history. Whichever way you look, in any direction, trouble looms. At its heart, connecting all the geopolitical Scrabble pieces, is one four-letter word: Iran.

Allowing Tehran to solidify its military presence in Syria would be akin to "agreeing to the Iranians placing a noose around our necks," Avigdor Lieberman, Israel's hawkish defence minister, has warned.

"We will not allow Iranian consolidation in Syria. We won't allow any restriction when it comes to Israel's security interests … We are facing a new reality – the Lebanese army, in cooperation with Hezbollah [Lebanon's powerful pro-Iran militia], the Syrian army, the Shia militias in Syria, and above them Iran – are all becoming a single front against the state of Israel," Lieberman said.

Expressing what appears to be the consensus view, Mark Sofer, Israel's ambassador to Australia, was blunt: "Iran cannot stay in Syria, period. We're not going to have them on the border … Our position is clear, they have to get out and go home." https://www.theguardian.com/world/2018/apr/22/israel-celebrates-tensions-iran-new-heights

The head of the Iranian army on Saturday said Iranian forces were working to "annihilate" Israel and predicted they would achieve success within 25 years.

The threats from the Commander of Iran's Army Major General Abdolrahim Mousavi come amid almost daily warnings of conflict from Tehran and Jerusalem, heightened by an alleged Israeli strike on an Iranian base in Syria earlier in the month.

"When the arrogant powers create a sanctuary for the Zionist regime to continue survival, we shouldn't allow one day to be added to the ominous and illegitimate life of this regime," Mousavi told a ceremony in Tehran on Saturday, according to the Fars news agency.

"The Army will move hand in hand with the IRGC so that the arrogant system will collapse and the Zionist regime will be annihilated," General Moussavi said, refering to the Revolutionary Guards.

He predicted this would take place with in 25 years, a number frequently used by the Iranian leadership. 04/21/18 https://www.timesofisrael.com/as-iran-threatens-to-annihilate-israel-hezbollah-boast-of-reach-of-rockets/
If the following prophecies have end time application, and I believe that they do, Israel will be hit hard by Iran in less time than 25 years:
1 The burden against the Valley of Vision.

What ails you now, that you have all gone up to the housetops, 2 You who are full of noise, A tumultuous city, a joyous city? Your slain men are not slain with the sword, Nor dead in battle. 3 All your rulers have fled together; They are captured by the archers. All who are found in you are bound together; They have fled from afar. 4 Therefore I said, "Look away from me, I will weep bitterly; Do not labor to comfort me Because of the plundering of the daughter of my people."

5 For it is a day of trouble and treading down and perplexity By the Lord God of hosts In the Valley of Vision — Breaking down the walls And of crying to the mountain. 6 Elam bore the quiver With chariots of men and horsemen, And Kir uncovered the shield. 7 It shall come to pass that your choicest valleys Shall be full of chariots,And the horsemen shall set themselves in array at the gate.

8 He removed the protection of Judah. You looked in that day to the armor of the House of the Forest; 9 You also saw the damage to the city of David, That it was great; And you gathered together the waters of the lower pool. 10 You numbered the houses of Jerusalem, And the houses you broke down To fortify the wall. 11 You also made a reservoir between the two walls For the water of the old pool. But you did not look to its Maker, Nor did you have respect for Him who fashioned it long ago.

12 And in that day the Lord God of hosts Called for weeping and for mourning,For baldness and for girding with sackcloth. 13 But instead, joy and gladness, Slaying oxen and killing sheep, Eating meat and drinking wine: "Let us eat and drink, for tomorrow we die!"

14 Then it was revealed in my hearing by the Lord of hosts,"Surely for this iniquity there will be no atonement for you, Even to your death," says the Lord God of hosts. (Isaiah 22:1-14 NKJV)
Elam seems to be a reference to at least some in Iran. Kir is of interest as it has several possibilities. One is that the Bible tells that after Tiglath-Pileser king of Assyria took over Damascus, he moved Syrians to Kir. While this does not mean that Kir must (or must only) be a reference to Syria, the fact that Syria is an ally of Iran is interesting. Some believe Kir is an area in the south of Iran, while others suggest closer to the Black Sea. The Bible tells of a time when Kir will be destroyed (Isaiah 15:1b) and also says that Syria's capital Damascus will be destroyed (Isaiah 17:1).
Despite Israel's insistence that Iran get out of Syria, the Hebrew Bible, which those in Israel should be familiar with, shows what looks like an Iranian-Syrian attack against part of Jerusalem that will be effective.
A time is coming when God will take away the protection of Judah and the City of David (Jerusalem, cf. 2 Kings 9:28).
Iran has also issued warnings to the USA as well as any the USA will try to make a deal with:
22 April 2018

A US push to change the Iran nuclear deal was sending a "very dangerous message" that countries should never negotiate with Washington, Iran's foreign minister warned.

Speaking to reporters in New York on Saturday, Mohammad Javad Zarif also said "it won't be very pleasant to the United States" if it leaves the nuclear deal with Iran. …

Under the Iran nuclear deal, Tehran agreed to curb its nuclear program in return for relief from economic sanctions. Mr Trump's predecessor, Barack Obama, struck the pact to try to keep Iran from building a nuclear weapon but Mr Trump believes it has "disastrous flaws."

Mr Zarif said if Washington leaves the deal, there were many options being considered by Tehran, including complaining through a dispute mechanism set up by the agreement or simply leaving the deal by restarting its nuclear activities.

"We will make a decision based on our national security interests when the times comes. But whatever that decision will be, it won't be very pleasant to the United States," he said. https://www.irishtimes.com/news/world/middle-east/iran-warns-us-against-pulling-out-of-nuclear-deal-1.3470039

DUBAI (Reuters) – Iranian President Hassan Rouhani said on Saturday Iran's atomic agency was ready with "expected and unexpected" reactions if the United States pulls out of a multinational nuclear deal, as U.S. President Donald Trump has threatened to do.04/20/18 https://www.reuters.com/article/us-iran-nuclear-usa/iran-vows-expected-and-unexpected-moves-if-u-s-exits-nuclear-deal-idUSKBN1HS05G

April 22, 2018

Speaking to reporters in New York on Saturday, Mohammad Javad Zarif also said that for French President Emmanuel Macron and German Chancellor Angela Merkel "to try to appease the president (Donald Trump) would be an exercise in futility."

Trump will decide by May 12 whether to restore U.S. economic sanctions on Tehran, which would be a severe blow to the 2015 pact between Iran and six major powers. He has pressured European allies to work with Washington to fix the deal.

Macron and Merkel are both due to meet with Trump in Washington this week.

"The United States has not only failed to implement its side (of the deal), but is even asking for more," said Zarif, who is in New York to attend a U.N. General Assembly meeting.

"That's a very dangerous message to send to people of Iran but also to the people of the world – that you should never come to an agreement with the United States because at the end of the day the operating principle of the United States is 'what's mine is mine, what's yours is negotiable,'" he said. https://www.cnbc.com/2018/04/22/as-u-s-north-korea-plan-to-meet-iran-warns-against-trump-deals.html
While most in the USA do not take Iranian threats seriously, Iran has many ways it could damage the USA–beyond reputational issues.
Iran has from time to time threatened the USA (see also Iran deploys 'suicide drone': a threat to USA and Israel?). Though Iran could not eliminate the USA, it could damage it. Iran continues to develop its ballistic missile capability–and still is likely interested in developing nuclear bombs. Iran is also believed to have electromagnetic pulse weapon technology. Iran could harm Israel and even the USA.
But that does not mean that Iran itself could not be damaged.
Notice the following prophecy:
34 The word of the Lord that came to Jeremiah the prophet against Elam, in the beginning of the reign of Zedekiah king of Judah, saying, 35 "Thus says the Lord of hosts:

'Behold, I will break the bow of Elam,
The foremost of their might.
36 Against Elam I will bring the four winds
From the four quarters of heaven,
And scatter them toward all those winds;
There shall be no nations where the outcasts of Elam will not go.
37 For I will cause Elam to be dismayed before their enemies
And before those who seek their life.
I will bring disaster upon them,
My fierce anger,' says the Lord;
'And I will send the sword after them
Until I have consumed them.
38 I will set My throne in Elam,
And will destroy from there the king and the princes,' says the Lord. (Jeremiah 49:34-38)
Iran needs to be cautious as biblical prophecies suggest it will be involved in militaristic ventures, and ultimately that will not end well for Iran. Nor, actually, for Syria (Isaiah 17:1; watch also Damascus and Syria in Prophecy).
Yet, Iranian-Syrian military ventures look to harm the tiny nation of Israel, and could even impact the USA.
Do not think that the US will not have a price to pay for its military efforts.
Jesus foretold a time of 'troubles' (Mark 13:8) prior to the start of the Great Tribulation (Mark 1319; Matthew 24:21) and Iran may be a contributor to them.
Some items of possibly related interest may include:
Iran in Prophecy Is Iran in Bible prophecy? If so, what does the Bible teach? What names, other than Persia, may be used to describe Iran? There is also a YouTube video titled Iran In Prophecy.
Syria and the start of World War 3 On April 14, 2018, Syrians were awoken by the sounds of about 120 missiles/bombs sent against areas of their country. The United States of America, United Kingdom, and France launched this attack related to claims of chemical weapons use earlier that week. Will Syria's capital one day be destroyed as prophesied in Isaiah chapter 17? If so, could this be before the start of the Great Tribulation? Are there prophecies about Syrians and the UK and USA? Is this attack against Syria leading to WWIII between the USA/UK/France and Russia/Syria/Iran? Is there an Arabic power that will rise up and be destroyed before the Great Tribulation as Tim McHyde has written related to Psalm 83? Is Ezekiel 38/39 about to be fulfilled? Who is the biblical King of the North and the biblical King of the South? Will the Beast power destroy the USA and its Anglo-Saxon descended allies (like the UK, Canada, Australia, & New Zealand)? Could this be WWIII and the start of the Great Tribulation? What is the prophetic sequence of events according to Jesus and Daniel the prophet? Dr. Thiel addresses all of these matters and more. This is a video.
Damascus and Syria in Prophecy Will Bashar Assad hold power as he has it? Does the Bible show that Damascus, the capital of Syria, will be destroyed? What will happen to Syria? Will the Syrians support the final King of the South that the Bible tells will rise up? Which scriptures discuss the rise and fall of an Arabic confederation? Does Islamic prophecy predict the destruction of Syria.
Is the Future King of the South Rising Up? Some no longer believe there needs to be a future King of the South. Might Egypt, Islam, Iran, Arabs, or Ethiopia be involved? Might this King be called the Mahdi or Caliph? What does the Bible say? A YouTube video of related interest may be: The Future King of the South is Rising.
The Muslim Brotherhood and the Rise of the King of the South The Bible tells of the formation of a power of nations that are in the Middle East and North Africa that are part of the final "King of the South" (Daniel 11:40-43) The Muslim Brotherhood wishes to have an Islamic empire with basically the same nations. This YouTube video explains what to expect from such a confederation.
Why Terrorism? Is Terrorism Prophesied? What does the Bible teach? Which nations may be affected? Here is a link to a related sermon: Terrorism, Christianity, and Islam.
The Arab and Islamic World In the Bible, History, and Prophecy The Bible discusses the origins of the Arab world and discusses the Middle East in prophecy. What is ahead for the Middle East and those who follow Islam? What about the Imam Mahdi? What lies ahead for Turkey, Iran, and the other non-Arabic Muslims? An item of possibly related interest in the Spanish language would be: Líderes iraníes condenan la hipocresía de Occidente y declaran que ahora es tiempo para prepararse para el Armagedón, la guerra, y el Imán Mahdi.
The Prophesied 'Islamic' Confederation Where is an Islamic caliphate prophesied? Will one happen? Should you be concerned about it? A related video is Will an Arabic Calphiphate Destroy the West?
The 'Peace Deal' of Daniel 9:27 This prophecy could give up to 3 1/2 years advance notice of the coming Great Tribulation. Will most ignore or misunderstand its fulfillment? Here is a link to a related sermon video Daniel 9:27 and the Start of the Great Tribulation.
How Will Middle East Peace be Brought About? Can humans bring peace to the Middle East? Here is a link to a related video: Middle East Peace? When?
When Will the Great Tribulation Begin? 2018, 2019, or 2020? Can the Great Tribulation begin today? What happens before the Great Tribulation in the "beginning of sorrows"? What happens in the Great Tribulation and the Day of the Lord? Is this the time of the Gentiles? When is the earliest that the Great Tribulation can begin? What is the Day of the Lord? Who are the 144,000? Here is a version of the article in the Spanish language: ¿Puede comenzar la Gran Tribulación en 2018 o 2019? ¿Es el Tiempo de los Gentiles? You can also see the English language sermon videos: The Great Tribulation from the Mount of Olives and Can the Great Tribulation begin before 2020? A shorter video is: Can the Great Tribulation begin in 2018?
The Times of the Gentiles Has there been more than one time of the Gentiles? Are we in it now or in the time of Anglo-America? What will the final time of the Gentiles be like? A related sermon is available and is titled: The Times of the Gentiles.
Armageddon Who is involved and when will this gathering happen? Here is also a video from Dr. Thiel, from Tel Megiddo in Israel: Armageddon. Another video is: watch Is China paving roads to Armageddon?
The 'Peace Deal' of Daniel 9:27 This prophecy could give up to 3 1/2 years advance notice of the coming Great Tribulation. Will most ignore or misunderstand its fulfillment? Here is a link to a related sermon video Daniel 9:27 and the Start of the Great Tribulation.
Is Russia the King of the North? Some claim it is. But what does the Bible teach? Here is a link to a video, also titled Is Russia the King of the North?
Russia and Ukraine: Their Origins and Prophesied Future Russia in prophecy. Where do the Russians come from? What about those in the Ukraine? What is prophesied for Russia and its allies? What will they do to the Europeans that supported the Beast in the end? There is also a video sermon available: Russia in the Bible and in Prophecy and a video sermonette available: Ukraine in Prophecy?
The Eurasian Union, the Kings of the East, and Bible Prophecy Is there a Eurasian union that will be formed? Is one being formed right now? Are any leaders working on that in the 21st century? Does the Bible teach that there will be a Eurasian union? If some type of Eurasian union is formed, who might it benefit and who will it destroy? A related video would be Is The Eurasian Union Rising?
Anglo – America in Prophecy & the Lost Tribes of Israel Are the Americans, Canadians, English, Scottish, Welsh, Australians, Anglo-Saxon (non-Dutch) Southern Africans, and New Zealanders descendants of Joseph? Where are the lost ten-tribes of Israel? Who are the lost tribes of Israel? What will happen to Jerusalem and the Jews in Israel? Will God punish the U.S.A., Canada, United Kingdom, and other Anglo-Saxon nations? Why might God allow them to be punished first? Here is a link to the Spanish version of this article: Anglo-América & las Tribus Perdidas de Israel. Information is also in the YouTube sermons titled Where are the Ten Lost Tribes? Why does it matter? and British are the Covenant People. A short YouTube of prophetic interest may be: Are Chinese threats against Australia for real?
Will the Anglo-Saxon Nations be Divided and Have People Taken as Slaves? Will the lands of the United States, United Kingdom, Canada, Australia, and New Zealand be divided? What about Jerusalem? What does Bible prophecy teach? Are there non-biblical prophecies that support this idea? Who will divide those lands? Who will end up with the lands and the people? Here is a link to a video titled Will the USA and other Anglo-nations be Divided and Their People Made Slaves? Here is a related item in the Spanish language ¿Serán divididas las naciones anglosajonas?
British are the Covenant People What do 'British' and 'Britain' mean in Hebrew? Are the descendants of the Anglo-Saxons people of the covenant? Does the British royal family connect to the throne of David? What does the Bible teach? What does history show us? Is there any DNA evidence related to British-Israelism? When did Christianity make it to the British Isles? Could Jeremiah have made it to the British Isles? What type of Christians made it to the British Isles? Did the last King of England believe in British Israelism?
Donald Trump in Prophecy Prophecy, Donald Trump? Are there prophecies that Donald Trump may fulfill? Are there any prophecies that he has already helped fulfill? Is a Donald Trump presidency proving to be apocalyptic? Two related videos are available: Donald: 'Trump of God' or Apocalyptic? and Donald Trump's Prophetic Presidency.
Trump Presidency Magic 8 Ball or Bible Prophecy? BBC reported that one might as well use a 'Magic Eight-Ball' to try to predict what will happen in the remaining time of Donald Trump's presidency. What is a 'Magic Eight-Ball'? Dr. Thiel not only explains that, but also briefly goes over 10 biblically-based warnings he wrote would happen if Donald Trump were elected that have already began to come to pass. He also goes over something he wrote back in 2008 that the Trump presidency is also helping lead to fulfillment. Should you trust Bible prophecy or not? Dr. Thiel says that Bible prophecy can be trusted, despite the view of skeptics and others that either overlook or despise the Bible. This is a video.
Donald Trump and America's Apocalypse This 188 page book is for people truly interested in prophecies related to Donald Trump and the United States, including learning about several that have already been fulfilled and those that will be fulfilled in the future. The physical book can be purchased at Amazon for $12.99 from the following link: Donald Trump and America's Apocalypse.
Donald Trump and America's Apocalypse-Kindle Edition This electronic version of the 188 page print edition is available for only US$3.99. And you do not need an actual Kindle device to read it. Why? Amazon will allow you to download it to almost any device: Please click HERE to download one of Amazon s Free Reader Apps. After you go to for your free Kindle reader and then go to Donald Trump and America's Apocalypse-Kindle Edition.
World War III: Steps in Progress Are there surprising actions going on now that are leading to WWIII? Might a nuclear attack be expected? Does the Bible promise protection to all or only some Christians? How can you be part of those that will be protected? A related video would be Is World War III About to Begin? Can You Escape?