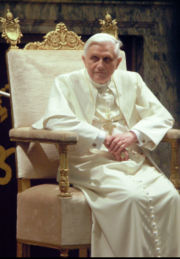 Pope Benedictus
James Malm (a blogger who claims COG ties, but who makes a lot inaccurate statements, improper accusations, and biblically- impossible speculations) once again has posted another speculative prediction that cannot possibly occur.  Here is something he posted yesterday:
Scripture tells us that no agreement can be concluded and ratified until a miracle working final false prophet called "A Desolating Abomination" is set up in the Papacy, Rev 13, 2 Thess; and calls for the new European Order; which will amount to a revival of the unHoly Roman Empire.

Once this false prophet is set up in the Vatican [Due to the advancing age and health problems of Benedict this is now highly likely to be a NEW pope], and he uses his influence to set up the New Europe, he will go to the Holy Place within 75 days of the date he is set up and the tribulation will begin as he visits the Holy Mount and Peace and Safety is proclaimed to be achieved.

It is an interesting note that IF this abomination were to be set up around 6 Oct 2013, then he would go to the Holy Place around Dec 25 2013 to declare peace in the Middle East.
For the past several years, James Malm has had a tendency to have the Great Tribulation start within 1-2 years of some date (which is consistent with the above inaccurate speculation of his above).  I have denounced his dates pretty much every time I have noticed them and of course, have been right every time and his dates have proven to be repeatedly wrong.  His last proven wrong date was to have been about a month ago.  For some details on that, notice something James Malm posted as recently as August 29, 2012:
August 29, 2012: News is fast coming that strongly indicates that Pope Benedict will be empowered to become the abomination in mid Sep!!!…I have speculated that the tribulation could begin this year saying that there was as much as an 80% possibility.
So, James Malm 80% chance proven to be completely wrong and had also proposed the same date in the Summer of 2011–the fact that he stuck to it until a couple of weeks before it was shown to be wrong should show others on how he relies more on his own understanding than watching events like Jesus said (cf. Luke 21:29-36).  James Malm seems to have a trend of speculating on dates in the very near future which biblically have no hope of being fulfilled.  When will his "followers" realize this?
Anyway, there is no possible chance that Pope Benedict will set up the abomination that James Malm is talking about in 2013 either.  This will not happen for at least 3 1/2 years, and much likely longer than that, and it is unlikely that Pope Benedict would be the one for many reasons (including his age and his apparent actual beliefs).
There is no possibility that the Great Tribulation can happen in 2013 or 2014 and those who rely on the Bible have realized this for at least the past three years. It is only those who overlook scripture and rely on their own views who make the mistake of thinking that the Great Tribulation can, or could, happen in 2012/2013/2014.
James Malm really should have read my book 2012 and the Rise of the Secret Sect when it came out three years ago instead of criticizing it without reading it. World events have already aligned with at least two dozen predictions in it and more will as well.
If James Malm would have paid proper attention to it, it would have saved him from teaching that there was any possibility of the Great Tribulation beginning in 2012.
James Malm will be proven wrong again.  His followers really should read the Bible and if they still think he could possibly be right, also read 2012 and the Rise of the Secret Sect as it will explain a lot of what James Malm (and others) do not understand.
The Great Tribulation is coming, but it will not begin in 2012 or 2013.
Articles of related interest may include:
Error-Ridden James Malm Not Doing an Elijah Work James Malm is an 'independent' who misunderstands and improperly maligns.
When Will the Great Tribulation Begin? 2012, 2013, or 2014? Can the Great Tribulation begin today? What happens before the Great Tribulation in the "beginning of sorrows"? What is the "peace deal" of Daniel 9? What happens in the Great Tribulation and the Day of the Lord? Is this the time of the Gentiles? When is the earliest that the Great Tribulation can begin? What is the Day of the Lord? Who are the 144,000?
End of Mayan Calendar 2012–Might 2012 Mean Something? Are there Mayan calendar predictions for change in 2012? Changes were centuries ago predicted by the Hopi Native Americans. Do Mayan/Hindu/Hopi/Buddhist/New Age/Nostradamus prophecies have any value here? Why might Satan have inspired this date? Does the Dresden codex show destruction of the earth by flood? Can the great tribulation start before 2012? How might Barack Obama and Julia Gillard be involved in 2012? Have predictions written by Bob Thiel related to Barack Obama and Julia Gillard began to come to pass?
Why Be Concerned About False and Heretical Leaders? There have been many false leaders–here is some of why you should be concerned about them.
How To Determine If Someone is a True Prophet of God There are many false prophets. How can Christians determine who is a true prophet?
2012 and the Rise of the Secret Sect This is a link related to a book by Bob Thiel (COGwriter). This link also has YouTube videos. This book documents and explains hundreds of prophecies. And since it was published, world events have aligned with at least 23 predictions in the book and many more will to come to pass. Those who purchase the book at the www.thesecretsect.com website receive a lengthy bonus report documenting world events that aligned with the book.
2012 and the Rise of the Secret Sect (English Kindle edition). This is the 2nd edition of the book, released in January 2012, and includes a summary of many of the predictions that world events have aligned with since the book originally came out in September 2009.