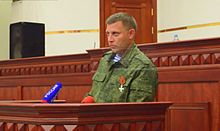 Aleksandr Zakharchenko (newsanna)
Violence has escalated in eastern Ukraine:
3 February 2017

MOSCOW (Reuters) – The Russian Foreign Ministry on Friday accused Ukrainian armed forces of violating the Geneva Convention by shelling civilian areas in eastern Ukraine and of using weapons systems banned under the terms of the Minsk peace deal.

Maria Zakharova, a spokeswoman for the ministry, told a news briefing in Moscow that what she called Kiev's "barbarism" had no justification and that Ukrainian armed forces had heavily shelled areas where women and children lived overnight. http://www.swissinfo.ch/eng/russia-says-ukraine-violating-geneva-convention–shelling-civilians/42933420

3 February 2017

Both the Ukrainian government and Russian-backed separatists are blaming each other for breaking a ceasefire this week. Shelling in Ukraine's Donetsk region has left at least 15 dead, leading the US ambassador to the UN to condemn Russia. http://www.dw.com/en/a-week-of-renewed-fighting-in-eastern-ukraine/av-37399722

Alexander Zakharchenko, leader of the Donetsk-based separatists, said in a video from the front lines that Ukraine had "stepped up its military attacks only because Russia and America found common ground".

Sergei Lavrov, the Russian foreign minister, accused Ukraine of stirring the violence to attempt to undermine Mr Trump's chances of forging a detente with Moscow. His Ukrainian counterpart, Pavlo Klimkin, called those claims "absurd and completely untrue".

Kiev and its supporters argue that they would have no interest at all in stoking the conflict as they try to press on with structural reforms, and with Ukraine's war-shattered economy showing the first signs of recovery. 02/02/17 https://www.ft.com/content/b0d3c4dc-e96c-11e6-967b-c88452263daf

Whichever country is the provocateur, Ukraine and Russia both have reasons to maintain heightened tension and perhaps even escalate the conflict, but Russia clearly has the advantage. The United States and European Union's united front against Russia, which has existed since Ukraine's Euromaidan uprising in 2014, is at risk of breaking down. Ukraine is concerned, given that the West's pressure on Russia as well as its direct financial and security assistance to Kiev has been crucial to maintaining the status quo in the country.

With renewed tension in eastern Ukraine and Crimea, Ukraine and Russia are likely testing U.S. President Donald Trump, who has shown a willingness to more closely cooperate with Russia. He has also suggested that he might ease or lift U.S. sanctions against Russia in return for collaboration in other areas, such as nuclear arms control. Russia is animated by the prospect, while Ukraine is worried about losing U.S. backing. 02/02/17 https://www.stratfor.com/snapshots/ukraine-fighting-escalates-political-uncertainty-mounts
There is violence in eastern Ukraine.
Perhaps I should mention that the last two times I am aware of when the people of Donetsk voted, the West would not recognize their vote.
I do not say that to justify what is now happening, but thought it would be helpful for people to realize that irrespective of who 'started' the recent escalation, those in part of eastern Ukraine often seem to have a different view than western Ukraine.
It appears that many in Donetsk wants to basically be independent, want Kiev-related troops to go away, want to make Donetsk's own economic deals, and probably will want to either officially join Russia or at least join its Eurasian Union.
As I have mentioned before, biblically, because of prophecies involving the Medes (Jeremiah 51:11-32), some of which are in Ukraine, and those in the "north and east" in Daniel 11:44, it would seem that Russia would be closer to at least parts of Ukraine (like some of the eastern portions of it) in the end than many realize. There is also a YouTube video available related to this titled Ukraine in Prophecy?
The situation in the eastern portion of Ukraine remains volatile. Kiev does not like what is happening in the east and many in the east now wish to be distant from Kiev.
Russia wants Ukraine and would prefer that all of it become part of its Eurasian Union. Short of that, it would seem that Russia would at least be interested in eastern regions like Donetsk to become part of the Eurasian Union.
The West, however, is not pleased and is trying to figure out what to do about sanctions.
With the UK trying to leave the EU, one of the strongest pro-sanctions voices in Europe is basically muted.
In the USA, there is a divide among Republicans. People like Senator John McCain would like stronger sanctions, whereas it is widely believed that the Trump Administration would prefer to lift at least some of the existing sanctions (some of which reportedly were lifted this week, see Donald Trump loosens sanctions preventing Russia intelligence agencies from cyberspying):
February 3, 2017

Sen. John McCain (R-Ariz.) is calling on President Trump to send lethal aid to Ukraine after attacks this week were blamed on Russia-backed rebels. …

"Ukrainians are not asking Americans to do their fighting," McCain said. "Nearly 10,000 Ukrainians have died to protect their homeland and many more are serving and have sacrificed for the cause of a free and united Ukraine. But America does have a proud history of helping free people to defend themselves."

If McCain wants to understand the source of the mess in Ukraine, Libya, Syria, and Iraq, all he has to do is look in a mirror. http://www.zerohedge.com/news/2017-02-02/asininity-mccain-send-weapons-ukraine

Senator John McCain has written President Donald Trump to call out Russian attempts to 'dismember' Ukraine through new attacks, and warning that his new administration is being tested by President Vladimir Putin.

He wrote after Russian artillery fired on Ukrainian positions, reigniting the conflict and killing as many as a dozen soldiers.

'In the first of what will be many tests for your new administration, Russia and its proxy forces launched attacks against Ukrainian forces this week, killing at least seven Ukrainian soldiers and wounding dozens more,' McCain wrote.

"That this surge of attacks began the day after he talked with you by phone is a clear indication that Vladimir Putin is moving quickly to test you as commander-in-chief. America's response will have lasting consequences,' McCain continued. 02/02/17 http://www.dailymail.co.uk/news/article-4185440/Putin-testing-McCain-tells-Trump.html#ixzz4XZTWNBJM
So far the result of what has been happening in Donetsk, from a USA perspective, is a verbal condemnation of Russia:
3 February 2017

President Trump's ambassador to the United Nations …, Nikki Haley condemned Russia's "aggressive actions" in the Donbass region.

The former Republican governor said that sanctions on Moscow would stay in place until the Crimean peninsula was once more under Ukrainian control. https://themoscowtimes.com/news/trumps-un-ambassador-condemns-russia-for-ukraine-agression-57029
While many in the West believe that the sanctions are hurting Russia, Vladimir Putin seems to believe that gaining more territory is in his countries best long-term interest.
But I do not believe that Vladimir Putin wants to turn the Trump Administration against Russia. And Donald Trump has stated that he believes that better relations with Russia are in the best interest of the USA.
Western Ukraine leans heavily towards wanting to be in the European Union, whereas parts of eastern Ukraine seem to prefer to align with Russia's Eurasian Union.
Years ago, and before Russia annexed Crimea, I wrote that we could see a split in Ukraine. We may see another split in Ukraine in the future.
Of course, neither Russia nor the European Union are the answer for what ails Ukraine. Those there need repentance and the Kingdom of God. But that is not the direction that most will choose in this age.
Some items of possibly related interest may include:
Russia and Ukraine: Origins and Prophesied Future Where do the Russians come from? What about those in the Ukraine? What is prophesied for Russia and its allies? What will they do to the Europeans that supported the Beast in the end? You can also watch the short video Ukraine in Prophecy?
Russia in the Bible and in Prophecy Is Russia mentioned in the Bible? It it is where is it? Is there any evidence of a people moving to the land that the Russians now occupy? What do Catholic and other prophecies say about Russia? What does the Bible teach? How are Protestants often in error on this? Is there more in biblical prophecy for Russia than war? Does God have a plan to save Russia and her allies? Does Russia have a history involving Sabbath keepers? Does scripture tie Russia in with Armageddon? Will Russia help defeat the end time Babylonian power? This is a video.
Christian Repentance Do you know what repentance is? Is it really necessary for salvation? A related sermon is also available titled: Real Christian Repentance.
The Gospel of the Kingdom of God was the Emphasis of Jesus and the Early Church Did you know that? Do you even know what the gospel of the kingdom is all about? You can also see a YouTube video sermons Why Teach the Kingdom of God, The Gospel of the Kingdom, and The Kingdom of God is the Solution.
Europa, the Beast, and Revelation Where did Europe get its name? What might Europe have to do with the Book of Revelation? What about "the Beast"? Is an emerging European power "the daughter of Babylon"? What is ahead for Europe? Here is a link to a video titled: Can You Prove that the Beast to Come is European?
European Technology and the Beast of Revelation Will the coming European Beast power would use and develop technology that will result in the taking over of the USA and its Anglo-Saxon allies? Is this possible? What does the Bible teach? Here is a related YouTube video: Military Technology and the Beast of Revelation.
Must the Ten Kings of Revelation 17:12 Rule over Ten Currently Existing Nations? Some claim that these passages refer to a gathering of 10 currently existing nations together, while one group teaches that this is referring to 11 nations getting together. Is that what Revelation 17:12-13 refers to? The ramifications of misunderstanding this are enormous.
World War III: Steps in Progress Are there surprising actions going on now that are leading to WWIII? Might a nuclear attack be expected? Does the Bible promise protection to all or only some Christians? How can you be part of those that will be protected? A related video would be Is World War III About to Begin? Can You Escape?
Wars, rumors of wars, and the Apocalypse Jesus foretold a time before the end where there would be wars and rumors of wars. The Apocalypse (the Book of Revelation) warns of the red horseman of war. Now, even secular writers, like Larry Edelson, are worried that wars and rumors of war are the most menacing problem that now haunts the earth? Are they right? What is the solution? This is a sermonette-length video.
Is Russia the King of the North? Some claim it is. But what does the Bible teach? Here is a link to a video, also titled Is Russia the King of the North?
The Eurasian Union, the Kings of the East, and Bible Prophecy Is there a Eurasian union that will be formed? Is one being formed right now? Are any leaders working on that in the 21st century? Does the Bible teach that there will be a Eurasian union? If some type of Eurasian union is formed, who might it benefit and who will it destroy? A related video would be Is The Eurasian Union Rising?
Who is the King of the North? Is there one? Do biblical and Roman Catholic prophecies for the Great Monarch point to the same leader? Should he be followed? Who will be the King of the North discussed in Daniel 11? Is a nuclear attack prophesied to happen to the English-speaking peoples of the United States, Great Britain, Canada, Australia, and New Zealand? When do the 1335 days, 1290 days, and 1260 days (the time, times, and half a time) of Daniel 12 begin? When does the Bible show that economic collapse will affect the United States? In the Spanish language check out ¿Quién es el Rey del Norte? Here is a link to a video titled: The Future King of the North.
Donald Trump in Prophecy Prophecy, Donald Trump? Are there prophecies that Donald Trump may fulfill?  Are there any prophecies that he has already helped fulfill?  Could a Donald Trump presidency be apocalyptic?  A related video is titled: Donald: 'Trump of God' or Apocalyptic?
Donald Trump and America's Apocalypse This 188 page book is for people truly interested in prophecies related to Donald Trump and the United States, including learning about several that have already been fulfilled and those that will be fulfilled in the future. The physical book can be purchased at Amazon for $12.99 from the following link: Donald Trump and America's Apocalypse.
Donald Trump and America's Apocalypse-Kindle Edition This electronic version of the 188 page print edition is available for only US$3.99. And you do not need an actual Kindle device to read it. Why? Amazon will allow you to download it to almost any device: Please click HERE to download one of Amazon s Free Reader Apps. After you go to for your free Kindle reader and then go to Donald Trump and America's Apocalypse-Kindle Edition.