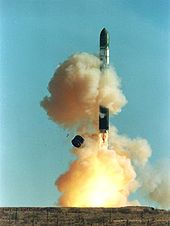 (Photo by ISC Kosmotras)
North Korea continues to push its nuclear agenda despite threats from the USA and others:
July 4, 2017
BEIJING — North Korea said it has successfully carried out the launch of an intercontinental ballistic missile, a crucial milestone in Pyongyang's efforts to develop its nuclear weapons capability, despite repeated international warnings to the contrary.

The missile, which was launched from an airport near China's northeastern border with North Korea, landed in Japan's special economic zone, sending shockwaves through Tokyo's political establishment and confirming Beijing's inability to keep Pyongyang in check.

The launch of the missile that North Korea claims can "hit anywhere in the world" will put additional pressure on Beijing to impose even tougher sanctions on Pyongyang. …

Trump … renewed his call for more pressure from Beijing earlier on Tuesday in a Tweet shortly after the launch, but before North Korea said it was an ICBM. Trump said that "perhaps China will put a heavy move on North Korea and end this nonsense once and for all!"

Commenting on North Korean leader Kim Jong Un he also said, "Does this guy have anything better to with his life? Hard to believe South Korea and Japan will put up with this much longer."

On Tuesday, Japan's Prime Minister Shinzo Abe said the latest missile test shows the North Korean threat has increased.

Later this week, the United States, South Korea and Japan will hold a trilateral meeting on the sidelines of the Group of 20 Nations summit in Hamburg, Germany. …

David Wright, a physicist and co-director of the Union of Concerned Scientists said in a blog online that if reports are correct, the same missile could have a maximum range of roughly 6,700 km on a standard trajectory.

"That range would not be enough to reach the lower 48 states or the large islands of Hawaii, but would allow it to reach all of Alaska," Wright said. https://www.voanews.com/a/north-korea-missile-test-puts-china-on-the-spot-/3927490.html

The North's possession of a working ICBM – something that Trump has vowed "won't happen" – would force a fundamental recalculation of the strategic threat posed by the isolated, impoverished state.

The "landmark" test of a Hwasong-14 missile was overseen by leader Kim Jong-Un, an emotional female announcer said on state Korean Central Television.

The broadcaster showed his handwritten order to carry out the launch, and pictures of him grinning in celebration, clenching his fist.

The rocket was "a very powerful ICBM that can strike any place in the world", the announcer said, and "a major breakthrough in the history of our republic".

In a statement the North's Academy of Defence Science, which developed the missile, said it reached an altitude of 2,802 kilometres and flew 933 kilometres, calling it the "final gate to rounding off the state nuclear force".

There are still doubts whether the North can miniaturise a nuclear weapon sufficiently to fit it onto a missile nose cone, or if it has mastered the technology needed for it to survive the difficult re-entry into the Earth's atmosphere.

But the country has made great progress in its missile capabilities since the ascension to power of Kim, who has overseen three nuclear tests and multiple rocket launches. http://www.channelnewsasia.com/news/asiapacific/north-korea-claims-major-breakthrough-with-first-icbm-test-9001350
US President Donald Trump would prefer that Japan and China handle this, but may well decided to take military action. A Chinese spokesman today indicated that China prefers more economic sanctions for this (see https://www.voanews.com/a/north-korea-missile-test-puts-china-on-the-spot-/3927490.html).
The USA is considering both a diplomatic and military "solution" to North Korea. The continued missile tests by North Korea are apt to push Donald Trump to the point of intervention. Notice also the following:
North Korea brings missile threat to the US: What does Trump do now?

July 4, 2017
Adam Mount, senior fellow at the Center for American Progress, said US President Donald Trump had few good options to respond to North Korea.

"It's a major threshold … a really difficult question will be whether Donald Trump feels like he's (been) backed into a corner and doesn't have options short of war," he said.

"I think what we'll have to grapple with in Washington is that none of our tactics or our levers mean the same thing anymore," Mount added.

On Tuesday, North Korea announced on state television it had successfully tested an intercontinental ballistic missile (ICBM) for the first time — something which has long been seen as a red line in already fraught bilateral relations.

Euan Graham, director of the International Security Program at Sydney's Lowy Institute described the development as a foreign policy failure for the United States, going as far back as the Clinton administration.

"It's a failure that goes beyond any one (US) administration," he said. "An ICBM actually takes the threat (of North Korea) right to the US homeland … that's the dangerous dynamic that will be a driver for how the US responds," Graham said.

North Korea has repeatedly in the past threatened to attack the United States with a nuclear weapon, which the regime claims it has technical capability to do. …

In January… Donald Trump responded on Twitter, saying North Korea would not be allowed to create a nuclear weapon capable of hitting the US.

"North Korea just started that it is in the final stages of developing a nuclear weapon capable of reaching parts of the US. It won't happen!" he said at the time.

In April, at a celebration of North Korea's "Day of the Sun," a missile was paraded through the capital Pyongyang which one analysts said could have been a type of ICBM.

"The US failed to prevent the North Koreans from reprocessing their nuclear material, they failed to prevent them from testing nuclear missiles and now we're at the threshold where the North Koreans has not just a basic missile but seven different types and all surprisingly sophisticated," said Graham.

Learning to live with a nuclear-armed North Korea?

Experts say there are no good options for the Trump administration to deal with a heavily-armed North Korea.

"You can't try to stop North Korea crossing a threshold — it's already crossed (it). What are the sanctions for? What do we get out of pressuring China or North Korea? I think we need to step back and rethink," Mount said. http://www.cnn.com/2017/07/04/politics/north-korea-icbm-us-china/index.html
Donald Trump may decide he has to somehow hit at North Korea to show that he is not just all talk. It is likely that North Korea picked the 4th of July (a US holiday) on purpose to pretend to show that it does not fear the USA. North Korean politicians have often been playing a dangerous game with their country and their people, and hopefully they will realize, sooner than later, that a military conflict is not in their interests.
North Korea is one of relatively few small nations to have nuclear weapons and often brags about them and their potential use.
The Bible says:
16 Destruction and misery are in their ways;
17 And the way of peace they have not known."
18 "There is no fear of God before their eyes." (Romans 3:16-18)
Sadly, that is the case with North Korea. It will take the return of Jesus and the Kingdom of God to truly bring peace.
Certain militaristic end-time prophecies seem to include North Korea:
50:41 "Behold, a people shall come from the north,
And a great nation and many kings
Shall be raised up from the ends of the earth.
42 They shall hold the bow and the lance;
They are cruel and shall not show mercy.
Their voice shall roar like the sea;
They shall ride on horses,
Set in array, like a man for the battle,
Against you, O daughter of Babylon. (Jeremiah 50:41-42).

12 Then the sixth angel poured out his bowl on the great river Euphrates, and its water was dried up, so that the way of the kings from the east might be prepared. (Revelation 16:12)
North Korea is on the eastern "end of the earth."
While North Korea is not prophesied to take over the USA (Europe is per Daniel 11:39, etc.), as I wrote in the past, it certainly is possible that it may decide to actually launch one or more missiles at the USA in the future (or take other "terroristic actions; cf. Leviticus 26:26).
North Korea, sadly, is certainly capable of terrorism. It has threatened the USA and its White House in past years (see North Korea threatens the White House), and has been increasing threats against the USA and the region as the USA has taken steps to try to pressure North Korea.
North Korean leaders should realize that Donald Trump's actions in Syria and Afghanistan this year show that he is not against taking military action.
If North Korea does take certain steps to sufficiently aggravate the USA into a full military conflict, it needs to realize that it likely will no longer exist as it is. At some point in time, however, I believe that both Koreas will be reunited based upon certain verses in Revelation, yet whether this will be because of a war involving the USA or something else, that is not clear.
The Koreans are Asians and occupy the "land of the sunrise" (Revelation 16:2) and I believe that they are part of the kings of the east that the Book of Revelation discusses having a role in the end time (Revelation 9:16). For years I have written that I expect that they will reunify. The unification of North and South Korea is consistent with biblical prophecy. But North Korea may take unusual actions before then, and it may regret doing so.
Whether this reunification will be because of a war involving the USA, South Korea, or something else (such as waiting until Revelation 9:16; & 16:2), is not clear. But the situation in Korea will change.
As Jesus said, "And what I say to you, I say to all: Watch!" (Mark 13:37)
Some items of possibly related interest may include:
Syria, North Korea, and Prophecy On April 7, 2017, 59 US Tomahawk missiles hit a military installation in Syria. While praised by NATO nations, Israel, and Saudi Arabia, this was denounced by Syria, Russia, and North Korea. Is this the start of World War III? Will the Bashar al-Assad regime remain as it is? What about North Korea? What will happen to North Korea? What does the Bible show will happen? Dr. Thiel answers these questions and more. This is a video.
USA in Prophecy: The Strongest Fortresses Can you point to scriptures, like Daniel 11:39, that point to the USA in the 21st century? This article does. A related sermon is titled: Do these 7 prophesies point to the end of the USA?
Korea in Prophecy, Any Witness? Where did the Korean people come from? Does God have a plan for the Koreans? Is Korea mentioned in any prophecies? Will Koreans be among the first in the Kingdom of God? Here is a machine-translated link to that article in Korean: 한국의 언어로 : 한국 예언, 모든 증인에?; here is a link to that article in Mandarin Chinese: 在预言中的韩国:有任何证人吗?.
What is the Gospel? True religion should be based upon the true gospel. What are some of the different gospels and where did they come from? Do you believe the true or a false gospel? Who is preaching the gospel? Here is a version in Korean 복음이란 무엇인가?.
China, Its Biblical Past and Future, Part 1: Genesis and Chinese Characters Where did the Chinese people come from? This article provides information showing that the Chinese peoples must have known about various accounts in the Book of Genesis up until their dispersion after the Tower of Babel. Here is a link to a version of this article in Spanish: ¿Prueban los caracteres chinos la exactitud de la Biblia?
China, Its Biblical Past and Future, Part 2: The Sabbath and Some of God's Witness in China When did Christianity first come to China? And is there early evidence that they observed the seventh day sabbath?
Japan, Its Biblical Past and Future, Part 1: Any Witness? Where did the Japanese people come from? Have they had any witness?
Japan, Its Biblical Past and Future, Part 2: Prophecy Japan in prophecy. What is prophesied for Japan? Will God save the Japanese?
Asia in Prophecy What is Ahead for Asia? Who are the "Kings of the East"? What will happen to nearly all the Chinese, Russians, Indians, and others of Asia? China in prophecy, where? Who has the 200,000,000 man army related to Armageddon? A YouTube video of interest may be Is China THE Threat to the United States of America?
World War III: Steps in Progress Are there surprising actions going on now that are leading to WWIII? Might a nuclear attack be expected? Does the Bible promise protection to all or only some Christians? How can you be part of those that will be protected? A related video would be Is World War III About to Begin? Can You Escape?
Russia and Ukraine: Their Origins and Prophesied Future Russia in prophecy. Where do the Russians come from? What about those in the Ukraine? What is prophesied for Russia and its allies? What will they do to the Europeans that supported the Beast in the end? There is also a video sermon available: Russia in the Bible and in Prophecy and a video sermonette available: Ukraine in Prophecy?
Is Russia the King of the North? Some claim it is. But what does the Bible teach? Here is a link to a video, also titled Is Russia the King of the North?
Ezekiel 38: For Russia & Iran in Our Day? Is Ezekiel 38 about to be fulfilled? A related video is available titled Ezekiel 38: For Russia, Ukraine, & Iran Now? Another could be Russia, Iran, Syria, & the Bible (Code).
When Will the Great Tribulation Begin? 2017, 2018, or 2019? Can the Great Tribulation begin today? What happens before the Great Tribulation in the "beginning of sorrows"? What happens in the Great Tribulation and the Day of the Lord? Is this the time of the Gentiles? When is the earliest that the Great Tribulation can begin? What is the Day of the Lord? Who are the 144,000? Here is a version of the article in the Spanish language: ¿Puede comenzar la Gran Tribulación en 2016 o 2017? ¿Es el Tiempo de los Gentiles? You can also see the English language sermon videos: The Great Tribulation from the Mount of Olives and Can the Great Tribulation begin before 2020? A shorter video is: Will the Great Tribulation Start in 2017?
Donald Trump in Prophecy Prophecy, Donald Trump? Are there prophecies that Donald Trump may fulfill? Are there any prophecies that he has already helped fulfill? Could a Donald Trump presidency be apocalyptic? A related video is titled: Donald: 'Trump of God' or Apocalyptic?
Trump Presidency Magic 8 Ball or Bible Prophecy? BBC reported that one might as well use a 'Magic Eight-Ball' to try to predict what will happen in the remaining time of Donald Trump's presidency. What is a 'Magic Eight-Ball'? Dr. Thiel not only explains that, but also briefly goes over 10 biblically-based warnings he wrote would happen if Donald Trump were elected that have already began to come to pass. He also goes over something he wrote back in 2008 that the Trump presidency is also helping lead to fulfillment. Should you trust Bible prophecy or not? Dr. Thiel says that Bible prophecy can be trusted, despite the view of skeptics and others that either overlook or despise the Bible. This is a video.
Donald Trump and America's Apocalypse This 188 page book is for people truly interested in prophecies related to Donald Trump and the United States, including learning about several that have already been fulfilled and those that will be fulfilled in the future. The physical book can be purchased at Amazon for $12.99 from the following link: Donald Trump and America's Apocalypse.
Donald Trump and America's Apocalypse-Kindle Edition This electronic version of the 188 page print edition is available for only US$3.99. And you do not need an actual Kindle device to read it. Why? Amazon will allow you to download it to almost any device: Please click HERE to download one of Amazon s Free Reader Apps. After you go to for your free Kindle reader and then go to Donald Trump and America's Apocalypse-Kindle Edition.