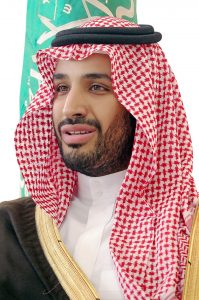 Mohammed Bin Salman al-Saud

Saudi Arabia changed who its crown prince will be. This new Crown Prince, Mohammed bin Salman, seems to share US President Trump's views on Iran:
June 22, 2017

WASHINGTON (Reuters) – Saudi Arabia's new crown prince and likely next king shares U.S. President Donald Trump's hawkish view of Iran, but a more confrontational approach toward Tehran carries a risk of escalation in an unstable region, current and former U.S. officials said.

Iran will almost certainly respond to a more aggressive posture by the United States and its chief Sunni Arab ally in battlefields where Riyadh and Tehran are engaged in a regional tussle for influence.

Saudi King Salman made his son Mohammed bin Salman next in line to the throne on Wednesday, handing the 31-year-old sweeping powers, in a succession shake-up.

Prince Mohammed, widely referred to as "MbS," has ruled out any dialogue with arch rival Iran and pledged to protect his conservative kingdom from what he called Tehran's efforts to dominate the Muslim world.

In the first meeting between Trump and MbS at the White House in March, the two leaders noted the importance of "confronting Iran's destabilizing regional activities."

But that could have unintended consequences, said some current and former U.S. administration officials. http://www.businessinsider.com/r-trump-new-saudi-crown-prince-share-hardline-views-on-iran-but-risks-abound-2017-6

June 22, 2017
In the early hours of Wednesday, Saudi Arabia's King Salman elevated his 31-year-old son to be the kingdom's crown prince, replacing the king's 57-year-old nephew, Mohammed bin Nayef. The formal ascension of Mohammed bin Salman establishes the young royal as the most important political figure in the country, given the widespread suggestions that his father is ailing and infirm.

Mohammed bin Salman's admirers style him a necessary and energetic promoter of change in a kingdom that needs it. His detractors, though, see him as reckless and impulsive ruler, and they fear his rise will lead only to escalating tensions in the Middle East. …

World leaders congratulated Mohammed bin Salman, including President Trump, who had already met the prince at the White House. The pair spoke during a Wednesday phone call and "discussed the priority of cutting off all support for terrorists."

Trump has been a Saudi cheerleader since entering office, which is welcome news in Riyadh after the latter years of the Obama administration. Relations reached a low ebb then as Washington pursued diplomacy with Iran and seemed to cool on the long-standing Saudi alliance.

"MbS's appointment as crown prince should confirm the improved working relationship with Washington after the strains experienced during the Obama administration, chiefly over Iran and the nuclear deal," wrote Simon Henderson of the Washington Institute for Near East Policy. But, he warns, "future ties will not necessarily be harmonious." …

At home, Mohammed bin Salman has championed the need for change to shake up the country's oil-dependent economy — as well as a broader liberalization of what remains one of the world's most rigidly conservative societies.

"I'm young. Seventy percent of our citizens are young," Mohammed bin Salman said in an interview with The Washington Post's David Ignatius this year, during which he seemed to lament the excesses of the regime's religious police and the advent of extreme religious conservatism in recent decades.

"We don't want to waste our lives in this whirlpool that we were in the past 30 years," he said. "We want to end this epoch now. We want, as the Saudi people, to enjoy the coming days and concentrate on developing our society and developing ourselves as individuals and families, while retaining our religion and customs." But critics say the prince's talk has yet to be met by his proverbial walk. https://www.washingtonpost.com/news/worldviews/wp/2017/06/22/the-rise-of-saudi-arabias-young-prince-casts-a-shadow-over-the-middle-east/?utm_term=.d7826ef05ec2
It is likely that Saudi Crown Prince Mohammed bin Salman and US President Donald Trump will take actions that Iran will not like. Donald Trump voiced support of the new Saudi Crown Prince and wants to work with him.
Someone asked me today if I believe that Crown Prince Mohammed bin Salman will become the King of the South of Bible prophecy. My response was, "It is remotely possible."
Only remotely.
Consider the following scriptures related to a coming King of the South:
40 "In the end times the southern king will attack him. The northern king will rush at him like a storm with chariots, horses, and many ships. He will invade countries, overwhelm them, and pass through their land. 41 He will invade the beautiful land, and tens of thousands will be defeated. But Edom, Moab, and the leaders of the Ammonites will escape from his power. 42 He will use his power against many countries. Even Egypt will not escape. 43 He will control gold and silver treasures and all Egypt's treasuries. Libya and Sudan will surrender to him. (GOD'S WORD Translation)

1 The word of the LORD came to me: 2 "Son of man, prophesy and say: 'This is what the Sovereign LORD says:

"'Wail and say, "Alas for that day!" 3 For the day is near, the day of the LORD is near- a day of clouds, a time of doom for the nations. 4 A sword will come against Egypt, and anguish will come upon Cush. When the slain fall in Egypt, her wealth will be carried away and her foundations torn down.

5 Cush and Put, Lydia and all Arabia, Libya and the people of the covenant land will fall by the sword along with Egypt.

6 "'This is what the LORD says:

"'The allies of Egypt will fall and her proud strength will fail. From Migdol to Aswan they will fall by the sword within her, declares the Sovereign LORD. 7 "'They will be desolate among desolate lands, and their cities will lie among ruined cities. 8 Then they will know that I am the LORD, when I set fire to Egypt and all her helpers are crushed.

9 "'On that day messengers will go out from me in ships to frighten Cush out of her complacency. Anguish will take hold of them on the day of Egypt's doom, for it is sure to come (Ezekiel 30:1-9, NIV).
The above verses indicate that the King of the South is more likely to be an Egyptian. But since Egyptians have traveled to various areas, it is possible that Mohammed bin Salman has some Egyptian heritage–though my search today on that did not find any. For more scriptures pointing to why the King of the South is likely to be Egyptian are found in the article Is the Future King of the South Rising Up?
But getting back to the news articles at the beginning, what about Iran?
Iran does not like what is happening between the USA and Saudi Arabia. Iran does not want Saudi Arabia to get more weapons–and the USA agreed to sell Saudi Arabia a lot of them when Donald Trump visited that nation last month (see Largest single arms deal in US history! Is Donald Trump arming part of the King of the South?).
Neither Saudi Arabia nor Donald Trump like the Iran nuclear deal that the Obama Administration agreed to. Donald Trump has stated that he wants to tear up or renegotiate the agreement. And if he concludes that Iran has sufficiently violated it, he may well try to reimpose sanctions or take other actions. Iran and Donald Trump have issues with each other (e.g. Iran defiant against USA and announces dropping dollar).
Since Iran is basically straight east of Jerusalem, it is NOT the prophesied King of the South. Because it is not, I have long considered that Iran's influence will be tapered or neutralized, which will help lead to the King of the South's rise.
Iran is committed to its religious agenda. An agenda that pushes Shia, as opposed to Sunni, Islam. Saudi Arabia is committed to Sunni Islam and that is one of the major conflicts it has with Iran.
Bible prophecy indicated that Iran may one day attack the tiny nation of Israel–and that may not end up well for Israel Isaiah 22:1-14, nor itself (Jeremiah 49:34-38). It seems likely that a regional conflict involving Iran, Syria, and/or Israel, and possibly with involvement from Saudi Arabia may occur before the prophesied peace deal of Daniel 9:27 (see also The 'Peace Deal' of Daniel 9:27).
The appointment of the new crown prince will somehow align with various biblical prophecies as in a sense, he and Donald Trump may 'stir the pot' in that region of the world.
Some items of possibly related interest may include:
Is the Future King of the South Rising Up? Some no longer believe there needs to be a future King of the South. Might Egypt, Islam, Iran, Arabs, or Ethiopia be involved? Might this King be called the Mahdi or Caliph? What does the Bible say? A YouTube video of related interest may be: The Future King of the South is Rising.
The Arab and Islamic World In the Bible, History, and Prophecy The Bible discusses the origins of the Arab world and discusses the Middle East in prophecy. What is ahead for the Middle East and those who follow Islam? What about the Imam Mahdi? What lies ahead for Turkey, Iran, and the other non-Arabic Muslims? An item of possibly related interest in the Spanish language would be: Líderes iraníes condenan la hipocresía de Occidente y declaran que ahora es tiempo para prepararse para el Armagedón, la guerra, y el Imán Mahdi.
The 'Peace Deal' of Daniel 9:27 This prophecy could give up to 3 1/2 years advance notice of the coming Great Tribulation. Will most ignore or misunderstand its fulfillment? Here is a link to a related sermon video Daniel 9:27 and the Start of the Great Tribulation.
Iran in Prophecy Is Iran in Bible prophecy? If so, what does the Bible teach? What names, other than Persia, may be used to describe Iran? There is also a related YouTube video titled Iran In Prophecy.
The Prophesied 'Islamic' Confederation Where is an Islamic caliphate prophesied? Will one happen? Should you be concerned about it? A related video is Will an Arabic Calphiphate Destroy the West?
How Will Middle East Peace be Brought About? Can humans bring peace to the Middle East? Here is a link to a related video: Middle East Peace? When?
Why Terrorism? Is Terrorism Prophesied? What does the Bible teach? Which nations may be affected? Here is a link to a related sermon: Terrorism, Christianity, and Islam.
The Muslim Brotherhood and the Rise of the King of the South The Bible tells of the formation of a power of nations that are in the Middle East and North Africa that are part of the final "King of the South" (Daniel 11:40-43) The Muslim Brotherhood wishes to have an Islamic empire with basically the same nations. This YouTube video explains what to expect from such a confederation.
Differences Between Islam and the Continuing Church of God What are some of the main differences? Are there any similarities? A video of related interest is titled: Islam: Any Christian Concerns or Similarities?
The Gospel of the Kingdom of God This free online pdf booklet has answers many questions people have about the Gospel of the Kingdom of God and explains why it is the solution to the issues the world is facing. Here are links to three related sermons: The World's False Gospel, The Gospel of the Kingdom: From the New and Old Testaments, and The Kingdom of God is the Solution.
Does God Have a 6,000 Year Plan? What Year Does the 6,000 Years End? Was a 6000 year time allowed for humans to rule followed by a literal thousand year reign of Christ on Earth taught by the early Christians? Does God have 7,000 year plan? What year may the six thousand years of human rule end? When will Jesus return? 2026 or 20xx? There is also a video titled The 6000 Year Plan: Is the end of humanity's reign almost up? Here is a link to the article in Spanish: ¿Tiene Dios un plan de 6,000 años?
When Will the Great Tribulation Begin? 2017, 2018, or 2019? Can the Great Tribulation begin today? What happens before the Great Tribulation in the "beginning of sorrows"? What happens in the Great Tribulation and the Day of the Lord? Is this the time of the Gentiles? When is the earliest that the Great Tribulation can begin? What is the Day of the Lord? Who are the 144,000? Here is a version of the article in the Spanish language: ¿Puede comenzar la Gran Tribulación en 2016 o 2017? ¿Es el Tiempo de los Gentiles? You can also see the English language sermon videos: The Great Tribulation from the Mount of Olives and Can the Great Tribulation begin before 2020? A shorter video is: Will the Great Tribulation Start in 2017?
Armageddon Who is involved and when will this gathering happen? Here is also a video from Dr. Thiel, from Tel Megiddo in Israel: Armageddon.
Donald Trump in Prophecy Prophecy, Donald Trump? Are there prophecies that Donald Trump may fulfill?  Are there any prophecies that he has already helped fulfill?  Could a Donald Trump presidency be apocalyptic?  A related video is titled: Donald: 'Trump of God' or Apocalyptic?
Trump Presidency Magic 8 Ball or Bible Prophecy? BBC reported that one might as well use a 'Magic Eight-Ball' to try to predict what will happen in the remaining time of Donald Trump's presidency. What is a 'Magic Eight-Ball'? Dr. Thiel not only explains that, but also briefly goes over 10 biblically-based warnings he wrote would happen if Donald Trump were elected that have already began to come to pass. He also goes over something he wrote back in 2008 that the Trump presidency is also helping lead to fulfillment. Should you trust Bible prophecy or not? Dr. Thiel says that Bible prophecy can be trusted, despite the view of skeptics and others that either overlook or despise the Bible. This is a video.
Donald Trump and America's Apocalypse This 188 page book is for people truly interested in prophecies related to Donald Trump and the United States, including learning about several that have already been fulfilled and those that will be fulfilled in the future. The physical book can be purchased at Amazon for $12.99 from the following link: Donald Trump and America's Apocalypse.
Donald Trump and America's Apocalypse-Kindle Edition This electronic version of the 188 page print edition is available for only US$3.99. And you do not need an actual Kindle device to read it. Why? Amazon will allow you to download it to almost any device: Please click HERE to download one of Amazon s Free Reader Apps. After you go to for your free Kindle reader and then go to Donald Trump and America's Apocalypse-Kindle Edition.