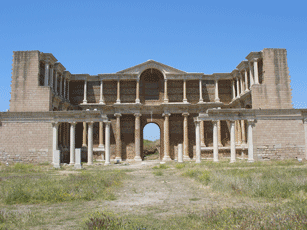 Rebuilt Gymnasium in Sardis

CG7's President Whaid Rose reported the following in an article in CG7's latest Bible Advocate titled Surviving Downturns:
This world's playoff is in its last quarter, and things don't look good: oil crisis, economic collapse, moral and political unrest. But we don't despair. We have perspective; we've read the last chapter and know Who wins!

Paul's letter to the Philippians was written during a personal downturn. The apostle was under house arrest and faced execution at any moment. But his perspective on all this inspired no less than sixteen admonitions to joy and rejoicing in his brief epistle.

In 4:6-13 he provides helpful principles for surviving downturns.

The first is a three-fold principle: Don't worry about anything, pray about everything, and let God's peace rule your heart. Though contrary to human nature, this is the message of verses 6 and 7: "Be anxious for nothing, but in everything by prayer and supplication, with thanksgiving, let your requests be made known to God; and the peace of God, which surpasses all understanding, will guard your hearts and minds through Christ Jesus."

Second, when the chips are down, think on things upward. "Finally, brethren, whatever things are true, whatever things are noble . . . whatever things are of good report . . . meditate on these things" (v. 8). Third, learn to be content: "I have learned in whatever state I am, to be content: I know how to be abased, and I know how to abound. Everywhere and in all things I have learned both to be full and to be hungry, both to abound and to suffer need" (vv. 11, 12). Contentment brings us back to what really matters and reminds us of how rich we are. The poor among us in the United States have more than the average person in many countries.

Paul's admonition suggests that contentment can be learned. Surviving difficult economic times depends less on how much we earn and more on what we learn: Being better off isn't always better; sometimes less is more; downturns are inevitable because our economic system is fragile, run by faulty and greedy people.

Fourth, downturns are opportunities to grow our faith. Experience confirms that faith is increased not by abundance but by famine.
And while Whaid Rose and I have differing views on many subjects, I would tend to agree with the above assessment, but add one critical feature that he did not emphasize (though he hinted about it).
And that is, this particular downturn may be part of a sequence of events that will lead to the Great Tribulation, the Day of the Lord, and finally the return of Jesus Christ and the establishment of His kingdom.
I would also add that some physical preparations may also be wise (though without the spiritual ones, they will be of little value).
Some articles of possibly related interest may include:
Does God Have a 6,000 Year Plan? What Year Does the 6,000 Years End? Was a 6000 year time allowed for humans to rule followed by a literal thousand year reign of Christ on Earth taught by the early Christians? When does the six thousand years of human rule end?
Can the Great Tribulation Begin in 2009, 2010, or 2011? Can the Great Tribulation begin today? When is the earliest that the Great Tribulation can begin? What is the Day of the Lord?
Physical Preparation Scriptures for Christians. We all know the Bible prophecies famines. Should we do something?