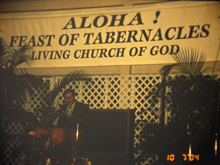 October 2007 was by some counts (page views and hits) the best month so far this year.  This is somewhat surprising as nearly all COG members were gone at the Feast of Tabernacles for probably the first week or so of the month.  But the website is now reaching more without a Church of God background.
The top ten most popular non-news, non-quiz, etc. articles for October 2007 were:
More people are starting to become better acquainted with the COG message.
And basically what is that?
That God is truly a God of love.  That God loves people so much that He does not want them to hurt themselves or others, which is why He gave the law.  That if humans would have listened to God and obeyed His word (which is the proper way to live), the world would have been a much better place.  Since most humans have not listened to God's word (the Bible), many deceivers are (and have come) in the world that people need to be warned about.  And because of that, perilous times will come upon the world and those who are deceived by the false religious leaders.
Jesus is coming again.  He will stand for truth and love and put down false religious leaders.  And in His millennial reign it will be made clear that humankind truly does do much better under the kingdom of God as opposed to doing things their own way.
But people do not have to wait for that kingdom to learn God's ways. Humans that God is now calling attempt to live by every word of God (Matthew 4:4) and thus, for example, observe biblical Holy Days and not pagan holidays.
Since God is a God of love, He actually has a plan of salvation that will result in nearly every one who ever lived will be saved.  Which is what, for example, the Holy Days picture.
That, what we call the Gospel of the Kingdom, in a few words is the basic message of the Church of God.
To learn more about true Christianity and what happened in its first few centuries, please go to The History of Early Christianity page.