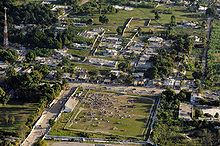 Earthquake Damage in Port-au-Prince
Although the earthquake in Chile may have been 1,000 times as powerful (and there are now many problems there), the situation in Haiti is still quite bad.
Yet, in its latest update, LCG reported the following:
Haiti Relief

Dr. Wil Pierre reports, "Everything is going well with the brethren in Haiti. I will be traveling to Haiti for the Passover and spring Holy Days. I will be staying there for two weeks." Dr. Pierre also comments that, "Summer clothing and non-perishable food and water is needed for the emergency pantry being set up in Haiti. Items such as soap, toothpaste, shampoo, deodorant, hair supplies, wash cloths, and dishwashing liquid are examples of needed materials that can be stored in the new building. We can use almost anything that can be used in the home." The emergency food and clothing pantry will be patterned after the model of the Headquarters food and used clothing banks. Dr. Pierre states, "As soon as we get settled into our new building, I will see how much room we have available, and then we can start sending things to that new address." Please note: At this point, our Disaster Relief Fund has adequate funds to provide the money for the needs of our brethren in Haiti. However, if you would like to contribute any of the articles listed above, please mail them directly to:

Mr. Robert Stephens

C.K.'S Lockshop and Security Center

301 S.E. 4th Street

Boynton Beach, FL 33435

Please do not send to Headquarters (the lack of space, cost of shipping and limited staff for processing makes this very impractical). Monetary donations can still be made to replenish the Disaster Relief Fund...—Davy Crockett
The situation for those in Haiti has been quite difficult for years and is even more difficult in 2010.
Followers of biblical prophecy realize that earthquakes are one of the signs that are associated with what Jesus referred to as "the beginning of sorrows".  My prayers remain with those in Haiti and Chile.
Note: I have not yet received a report about how LCG members are doing in Chile.  The main reports I have seen suggest that there are lots of problems in Chile, but the devastation and death is not nearly as high as in Haiti.
Two articles of possibly related interest may include:
Does God Have a 6,000 Year Plan? What Year Does the 6,000 Years End? Was a 6000 year time allowed for humans to rule followed by a literal thousand year reign of Christ on Earth taught by the early Christians? When does the six thousand years of human rule end?
Can the Great Tribulation Begin in 2010, 2011, or 2012? Can the Great Tribulation begin today? When is the earliest that the Great Tribulation can begin? What is the Day of the Lord? What is "the beginning of sorrows"?  Have we begun or are we about ready for "the beginning of sorrows" to begin.