When we were in Greece in June 2007, my wife Joyce took a photograph of the following which is actually named "Sunday Church".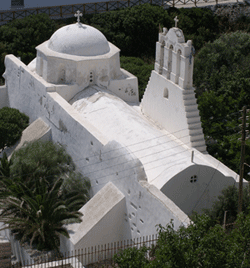 Sunday Church, Naxos Greece
This morning when checking from the COGlinks page, I noticed that the link to Church of God Sabbath Day of Herb Morrow is now a link to some referral site that seems to promote Catholicism.
A Sabbath-keeping church promoting a Sunday-keeping church?  No, I do not think so.  While I do not recall what Herb Morrow's group taught, promoting the late Pope John Paul II  was certainly not what was there the last time I checked.
In my years of attempting to have links to various ones that claim to be in the Church of God, it frequently seems to happen that some very small groups drop off.  So, I intend to remove the link to Church of God Sabbath Day of Herb Morrow from the COGlinks page.
In the case of Herb Morrow's group, I presume that for some reason he did not renew his URL and some one else ended up with it.
An article of possibly related interest The Laodicean Church Era was predominant circa 1986 A.D. and still is.