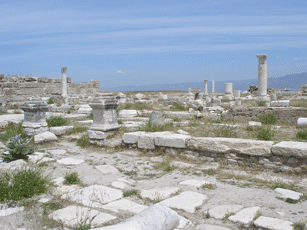 Laodicea is Composed of Many Ineffective Structures

In a teleconference, UCG reported the following concerning its finances:
Council of Elders Meeting Report – June 22, 2009…

Cost of Living Adjustment Proposal

Treasurer Jason Lovelady updated the Council with the latest financial information for this current fiscal year, which ends June 30, 2009.  He noted that the income should end the year between a 1 and 2 percent increase over last fiscal year, and that the total income should level out at $23,800,000.

Mr. Lovelady said that we had originally budgeted for an income of $24,500,000, and that even though the income is below that figure, we have done a good job of controlling expenses. He said that we should end this fiscal year "in the black."

During the December 2008 Council meetings, Mr. Lovelady had suggested that because of the lower than expected income levels at that time, the budgeted cost of living adjustment (COLA), which had been approved in May 2008 and scheduled to take effect in January 2009, should be postponed. In the February Council meetings, he proposed that a bonus could be given to the employees in lieu of a COLA if the income levels increased during the remaining months of the fiscal year.

Mr. Lovelady also noted that it has been three and a half years since the last COLA was given, in January 2006. He further stated that it would not be wise to entertain a discussion of a COLA until at least the end of June 2010, with an implementation to begin in January 2011. In this scenario, it will then be at least five years before employees would have received a cost of living adjustment.

Therefore, Mr. Lovelady asked the Council to consider providing a bonus in lieu of the COLA to help the employees. He reiterated that the bonus would still be within the approved budget for salaries, and that this bonus was not based on cutting back any other programs. He also said this decision would still allow for a surplus to be placed in reserves, which would allow for a strong financial beginning to the next fiscal year.

After further discussion, the Council, by unanimous consent without resolution, approved the proposal to provide employees with a one-time year-end bonus, in lieu of the COLA.
Those interested in learning more about UCG should carefully read and prayerfully study the following articles: