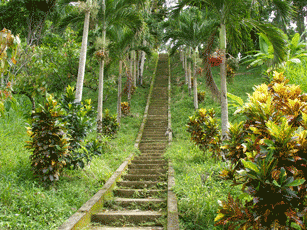 A slightly difficult uphill and narrow way in Tobago
In his latest commentary, LCG's Davy Crockett (who is a descendant of the famous one from the 19th century) had the following:
A Quiet Life

By Davy Crockett | Saturday, November 03, 2012

Are you sometimes flummoxed by the news reports you see and read? Publicity-seekers abound and the various media syndicates are hungry for stories to help them meet their deadlines and beat the competition. They eagerly fill each 24-hour news cycle with reports of the aberrant behavior of political leaders, and the spectacular and often outrageous activities of the latest box office idols, rock stars or superstar athletes. Amid the daily hullabaloo, news of real importance is often overlooked.

In almost every setting, someone or some group will be vying for attention, sometimes to make a philosophical or political point, sometimes peacefully, sometimes in a disruptive manner.

Some individuals achieve fame for worthwhile accomplishments or contributions in business, academics, sports, or philanthropy. Serving others, however, does not usually garner the big headlines that scandal or wrongdoing seem to attract.

While many people enjoy this barrage of titillating media stories, most people's lives are less exciting or newsworthy than those featured in the news. Henry David Thoreau, the famous author and poet of the 19th century observed that, "Most men lead lives of quiet desperation and go to the grave with the song still in them." His observation still seems valid today.

With this in mind, it seems that for many people there is a lack, a feeling of failure or sense of frustration if they are not receiving attention, for whatever reason, be it positive or negative. Others have unfulfilled dreams that prevent them from enjoying what they have, which blinds them from being truly thankful. Fame and fortune and the attention they bring are illusive goals.

The Bible gives a balanced perspective on this subject, which should bring peace of mind and clarity of purpose to those who strive to please God. It is a different set of values from what is being sought by the teeming masses of mankind.

The Apostle Paul put it into perspective in his letter to the Church in Thessalonica. He instructed, "But we urge you, brethren, that you increase more and more; that you also aspire to lead a quiet life, to mind your own business, and to work with your own hands, as we commanded you…" (1 Thessalonians 4:10-11).

He sounded the same theme in his instruction to Timothy about praying for those in authority in government when he wrote, "…that we may lead a quiet and peaceable life in all godliness and reverence. For this is good and acceptable in the sight of God our Savior…" (1 Timothy 2:2-3).

The Apostle Peter also hammered this point home in his letter giving instruction to women. He wrote, "…the incorruptible beauty of a gentle and quiet spirit…is very precious in the sight of God" (1 Peter 3:3-4).

Often it seems that amidst the roar of the crowd and the clatter of popular chatter, many good ideas and solid accomplishments are overlooked and simply go unnoticed. Considering these Scriptures, it seems obvious that God does not overlook those who quietly go about obeying him and doing good.

Certainly some may distinguish themselves for great accomplishments and receive accolades, praise and publicity as a just reward for a job well done. Yet, even if they are never recognized by one's peers or those in authority, more importantly, their conduct is noted by God. In instructing His disciples about prayer and charitable deeds, Jesus instructed them to do these things quietly, in private, "…that your charitable deed may be in secret; and your Father who sees in secret will Himself reward you openly" (Matthew 6:4).

If you are interested in obtaining the reward your Heavenly Father has for you, you can quietly learn more about it in our informative, free booklet,What Is a True Christian?. or watch our Tomorrow's World telecast, "How Can You Become a True Christian?"
Of course, the 19th century Davy Crockett was not known for leading a quiet and peaceful life but was killed in the Battle of the Alamo in 1836.
One of the reasons I posted this commentary is because during this tense USA presidential campaign many are unsure what to do about leaders.  Since the Bible never enjoins democracy, what does it say to do about leaders?
Well pray for them.  Why?  So that we may lead a quiet and peaceful life.  Notice what the Bible says:
1 Therefore I exhort first of all that supplications, prayers, intercessions, and giving of thanks be made for all men, 2 for kings and all who are in authority, that we may lead a quiet and peaceable life in all godliness and reverence. 3 For this is good and acceptable in the sight of God our Savior, 4 who desires all men to be saved and to come to the knowledge of the truth.  (1 Timothy 2:1-4)
And in the age to come, Jesus will return, He will be the non-humanly elected King of Kings (Revelation 17:14), all who never received it will receive a real offer of salvation.  And later there will be peace and quiet for all:
1 Now I saw a new heaven and a new earth, for the first heaven and the first earth had passed away. Also there was no more sea. 2 Then I, John, saw the holy city, New Jerusalem, coming down out of heaven from God, prepared as a bride adorned for her husband. 3 And I heard a loud voice from heaven saying, "Behold, the tabernacle of God is with men, and He will dwell with them, and they shall be His people. God Himself will be with them and be their God. 4 And God will wipe away every tear from their eyes; there shall be no more death, nor sorrow, nor crying. There shall be no more pain, for the former things have passed away."  (Revelation 21:1-4)
This truly is good news.
Some articles of related interest may include:
Should a Christian Vote? This article gives some of the Biblical rationale on this subject. Would Jesus vote for president/prime minister? Is voting in the Bible? This is a subject Christians need to understand.
What is the Meaning of Life? Who does God say is happy? What is your ultimate destiny? Do you really know? Does God actually have a plan for YOU personally?
Universal Offer of Salvation: There Are Hundreds of Verses in the Bible Supporting the Doctrine of True Apocatastasis Do you believe what the Bible actually teaches on this? Will all good things be restored? Will God call everyone? Will everyone have an opportunity for salvation? Does God's plan of salvation take rebellion and spiritual blindness into account?
What is the Gospel? True religion should be based upon the true gospel. What are some of the different gospels and where did they come from? Do you believe the true or a false gospel?
The Gospel of the Kingdom of God was the Emphasis of Jesus and the Early Church Did you know that? Do you even know what the gospel of the kingdom is all about?