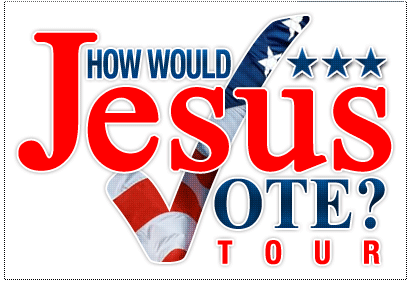 The following item was in the news this morning:
OneNewsNow – April 21, 2008

A series of monthly public forums will be held in five large U.S. cities starting in June to discuss how Jesus would vote in the November election.

The 2008 "How Would Jesus Vote Tour" will bring together Christian leaders across the political spectrum to debate what biblical values should influence the voting decisions of believers. It kicks off in June in Richmond, Virginia, and then heads to Atlanta, Dallas, Los Angeles, and Washington, DC, where it wraps up in October.

The tour is the brainchild of Silver Spring, Maryland, pastor Bruce Clark, who has invited Christian leaders from across the political spectrum to take part in the panel discussions.

"The goal of the forum is not to tell the audience who to vote for," he explains, "but it is to raise the issue that there are biblical values that we can bring to bear when we go in the voting booth. What are those? And also to say to the church that, yes, while some of us have a more conservative view of the world and while there are others who have a more liberal view of the world, we are essentially on the same team because we name the name of Jesus Christ. As such, why don't we sit at the same table and at least have a dialogue?" Clark points out. http://www.onenewsnow.com/Election2008/Default.aspx?id=76806
The question, however, is not HOW would Jesus vote, but WOULD Jesus vote?
Real Christian leaders should know the answer to that.
An article of related interest may be Should a Christian Vote?