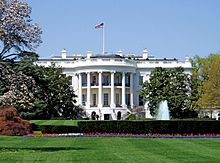 White House (Mark Wade photo)

Various ones are pointing out what they feel is hypocrisy related to the USA's position related to Ukraine and Russia:
March 07, 2014
(CNN) — All the self-righteous huffing and puffing in Washington over Ukraine jars on European and especially Russian ears after the multiple U.S.-led invasions and interventions in other people's countries of recent years. It's difficult to say what is more astonishing: the double standards exhibited by the White House, or the apparent total lack of self-awareness of U.S. officials…
U.S. President Barack Obama, a former law professor who should know better, has charged Vladimir Putin, his Russian counterpart, with violating Ukraine's sovereignty and territorial integrity, in breach of international law.

But it is Obama, following in Bush's footsteps, who has repeatedly and cynically flouted international law by launching or backing myriad armed attacks on foreign soil, in Libya, Somalia, Yemen and Pakistan to name a few, without U.N. security council authorization. It is Obama's administration which continues to undermine international law by refusing to join or recognize the International Criminal Court, the most important instrument of international justice to have been developed since 1945.

And it is Obama's State Department, principally in the person of Assistant Secretary of State Victoria Nuland, that fatally overplayed its hand in the run-up to last month's second Ukraine revolution. Nuland's infamous "… the EU" comment revealed the extent to which Washington was recklessly maneuvering to undermine Ukraine's elected pro-Russian president, Viktor Yanukovych, by backing the Kiev street protesters' demands.

The EU had wanted to take things more gradually, for fear of provoking the very Russian reaction to which the U.S. now so strongly objects…
Putin is in no hurry to back off or back down. He has his tail up after a fortnight in which he exposed the hypocrisy and hollowness of much of western policy and politicians. His behavior, especially in Crimea, has been dangerous, wrong-headed and irresponsible in the extreme… But it was not unprovoked.  http://www.cnn.com/2014/03/07/opinion/putin-western-hypocrosy/

Having worked in Ukraine over some years, including one when inflation was 11,000%, when the west and international financial agencies imposed "shock therapy" after the collapse of the Soviet Union, the hypocrisy in the posturing of various outsiders today is chilling. Of course, we should all want non-intervention by Vladimir Putin…

Mr Putin is defending the Russian majority, settled in Crimea centuries ago by Catherine the Great, who feel threatened by rightwing elements in Ukraine who have passed a law denigrating the use of the Russian language, and threatening their Orthodox religion.  http://www.theguardian.com/world/2014/mar/03/hypocrisy-outsiders-posturing-ukraine-chilling

The threat of Russian intervention in Ukraine has caused American lawyers and diplomats to raise their voices about the legality of Russian military action in Ukraine. These complaints, however, are based more on political rhetoric and posturing than on an understanding of international law.

Americans who supported ostensibly illegal action against the people of Afghanistan and the people of Iraq that left an estimated 3 million Afghanis and Iraqis dead and whose perpetrators have gone with almost complete immunity are now claiming that Russia is following their example. Well, not exactly. Actually they are claiming that America was right and that Russia is wrong. Another more objective way of putting it is that these American lawyers and diplomats are claiming exceptionalism to international law while trying to argue that their version of international law applies to Russia. In other words, what the United States did to Afghanistan and Iraq, other can't do to friends of the United States, even if the others are acting within the ambit of international law, when the United States was not.

Such hypocrisy is dangerous to the development and application of international law and to the international community as a whole. It is dangerous because it misinterprets international law and intentionally misleads the international community about what international is, how it comes about, and how it works…Examples of the use of force by the United States bring the hypocritical and misleading use of international law by the United States in to clearer focus.  http://www.counterpunch.org/2014/03/06/american-hypocrisy-on-international-law/

The request by the legitimate President Yanukovich and the government of the Autonomous Republic of Crimea to bring a limited contingent of Russian forces into the region to ensure the safety of ethnic Russian citizens living within Crimean territory is a reasonable request in light of the chaotic socio-political situation currently facing Ukraine. It should be understood that the movements of Russian forces in Crimea have been entirely lawful, and within legal boundaries established by existing security pacts with Ukraine. For western capitals to threaten sanctions and accuse Russia of a belligerent 'invasion' of Ukraine is completely unjustifiable, and tinged with political bias.

US Secretary of State John Kerry's statements alluding to Russia behaving like a 19th century power by 'invading' Ukraine on a trumped up pretext encapsulates Washington's infinite potential for hypocritical double standards and pathological dishonesty. The egregious violations of international law by the United States and its NATO allies are abundant and need not be evoked to rebut Kerry's desperate and deceptive accusation.  http://rt.com/op-edge/ukraine-us-hypocrisy-russia-758/
There are several issues here.  One is that those in Ukraine are suffering because of all of this, and the USA does seem to wish to help–at least in ways that the USA believes it will benefit.
However, the USA does have a problem with hypocrisy.  And although so do other nations, including Russia (one or two news reporters in Russia have somewhat indicated that), notice the following prophecy:
5 O Assyrian, the rod of mine anger, and the staff in their hand is mine indignation.

6 I will send him against an hypocritical nation, and against the people of my wrath will I give him a charge, to take the spoil, and to take the prey, and to tread them down like the mire of the streets.

7 Howbeit he meaneth not so, neither doth his heart think so; but it is in his heart to destroy and cut off nations not a few.

8 For he saith, Are not my princes altogether kings?

9 Is not Calno as Carchemish? is not Hamath as Arpad? is not Samaria as Damascus?

10 As my hand hath found the kingdoms of the idols, and whose graven images did excel them of Jerusalem and of Samaria;

11 Shall I not, as I have done unto Samaria and her idols, so do to Jerusalem and her idols?  (Isaiah 10:5-11, KJV)
Some of the above prophecy is directed against the USA, which seems to be referred to as Samaria in certain biblical prophecies.
Throughout the gospels, Jesus repeatedly condemned hypocrites (Matthew 6:2,5,16; 15:7; 16:3; 23:13-29; Mark 7:6; Luke 11:44; 12:1, 56).  Hypocrisy was also condemned by various apostles (Romans 12:9; Galatians 2:13; 1 Timothy 4:2; James 3:17; 1 Peter 2:1).
Destruction will come to the hypocritical (Isaiah 10:6, KJV).  The USA has partially lost the 'pride of its power' (cf. Leviticus 26:19) because of its hypocrisy in many international matters, including espionage (see, for example, The Snowden Leaks are Leading to the Destruction of the USA).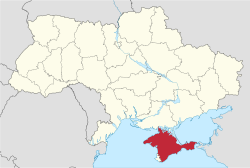 Ukraine with Crimea in Red and Russia the grayish area to the right tip of Crimea
The Kremlin today indicated it would be willing to annex Crimea:
March 7, 2014
MOSCOW — Russia signaled for the first time on Friday that it was prepared to annex Crimea, significantly intensifying its confrontation with the West over the political crisis in Ukraine and threatening to undermine a system of respect for national boundaries that has helped keep the peace in Europe and elsewhere for decades.
Leaders of both houses of Russia's Parliament said that they would support a vote by Crimeans to break away from Ukraine and become a region of the Russian Federation, ignoring sanctions threats and warnings from the United States and other countries that a vote for secession would violate Ukraine's constitution and international law…
The developments underscored how quickly the crisis has evolved. Earlier this week, President Vladimir V. Putin of Russia had said he did not foresee the possibility of the Crimean Peninsula becoming part of Russia, but on Friday leaders of both houses of Russia's Parliament welcomed a delegation from Crimea's regional assembly and declared that they would support a vote to break away from Ukraine, now scheduled for March 16.

The referendum – barely a week away – has been denounced by the fledgling national government in Kiev, which said it would invalidate the outcome and dissolve the Crimean Parliament. President Obama has also rejected the referendum, and the United States government announced sanctions on Thursday in response to Russia's de facto military occupation of the Crimean Peninsula.
Russia denounced those sanctions in a blunt rejoinder on Friday evening, posted on the Foreign Ministry website.  http://www.nytimes.com/2014/03/08/world/europe/ukraine.html?hpw&rref=world&_r=0
That, of course, is no surprise.  I did not think that if Vladimir Putin only had to put up with limited sanctions from the USA and EU that this would turn him away from wanting Crimea.  That is especially true after yesterday's vote by the parliament there, which was unanimously in favor of Russia annexation.
While I am not supporting what Russia is doing, the Kremlin could easily argue that how the government in Kiev got rid of Ukraine's last elected president was no less a violation of Ukraine's constitution than Russia agreeing to accept territories that vote to be part of Russia.  Crimea, which has long had a Russian military presence, could very well be the home for one of the end time "kings of the Medes" of Bible prophecy (Jeremiah 51:11-32; watch also Ukraine in Prophecy?).
Now as far as those in most, if not all of, Ukraine go, sadly, war is in their future if they support the rising European Union or the upcoming Eurasian Union (watch the new video Ukraine in Prophecy?).  Yet, deification is in the ultimate future for most there. Those in Ukraine need our prayers and the kingdom of God.
Some items of possibly related interest may include:
Russia and Ukraine: Origins and Prophesied Future Where do the Russians come from? What about those in the Ukraine? What is prophesied for Russia and its allies? What will they do to the Europeans that supported the Beast in the end? You can also watch the new video Ukraine in Prophecy?
Is Russia the King of the North? Some claim it is. But what does the Bible teach? Here is a link to a video, also titled Is Russia the King of the North?
The Eurasian Union, the Kings of the East, and Bible Prophecy Is there a Eurasian union that will be formed? Is one being formed right now? Are any leaders working on that in the 21st century? Does the Bible teach that there will be a Eurasian union? If some type of Eurasian union is formed, who might it benefit and who will it destroy? A related video would be Is The Eurasian Union Rising?
What is Your Destiny? Deification? Did the Early Church Teach That Christians Would Become God? What is your ultimate destiny? What does the Bible teach? Is deification only a weird or cultic idea? Are you to rule the universe? Here is a link to the video sermon What is Your Destiny?
The Gospel of the Kingdom of God was the Emphasis of Jesus and the Early Church Did you know that? Do you even know what the gospel of the kingdom is all about? You can also see a YouTube video sermon The Gospel of the Kingdom.
Just What Do You Mean the Kingdom of God? A booklet that was written by Herbert Armstrong answers questions about the Kingdom.
Europa, the Beast, and Revelation Where did Europe get its name? What might Europe have to do with the Book of Revelation? What about "the Beast"? Is an emerging European power "the daughter of Babylon"? What is ahead for Europe? Here is a link to a video titled: Can You Prove that the Beast to Come is European?
Who is the King of the North? Is there one? Do biblical and Roman Catholic prophecies for the Great Monarch point to the same leader? Should he be followed? Who will be the King of the North discussed in Daniel 11? Is a nuclear attack prophesied to happen to the English-speaking peoples of the United States, Great Britain, Canada, Australia, and New Zealand? When do the 1335 days, 1290 days, and 1260 days (the time, times, and half a time) of Daniel 12 begin? When does the Bible show that economic collapse will affect the United States? In the Spanish language check out ¿Quién es el Rey del Norte? Here is a link to a video titled: The Future King of the North.
Some Similarities and Differences Between the Eastern Orthodox Church and the Continuing Church of God Both groups claim to be the original church, but both groups have differing ways to claim it. Both groups have some amazing similarities and some major differences. Do you know what they are?
The Snowden Leaks are Leading to the Destruction of the USA Can what happened with the leaks of what the NSA has done help the USA to be taken over? What does the Bible teach that seems to be related to this? Here is a related YouTube video titled Are the Snowden NSA leaks leading to the destruction of the USA?
Anglo – America in Prophecy & the Lost Tribes of Israel Are the Americans, Canadians, English, Scottish, Welsh, Australians, Anglo-Saxon (non-Dutch) Southern Africans, and New Zealanders descendants of Joseph? Where are the lost ten-tribes of Israel? Who are the lost tribes of Israel? What will happen to Jerusalem and the Jews in Israel? Will God punish the U.S.A., Canada, United Kingdom, and other Anglo-Saxon nations? Why might God allow them to be punished first? Here is a link to the Spanish version of this article: Anglo-América & las Tribus Perdidas de Israel. Information is also in the YouTube sermons titled Where are the Ten Lost Tribes? Why does it matter? and British are the Covenant People. A short YouTube of prophetic interest may be Barack Obama and the State of the Apocalypse.
Will the Anglo-Saxon Nations be Divided and Have People Taken as Slaves? Will the lands of the United States, United Kingdom, Canada, Australia, and New Zealand be divided? What about Jerusalem? What does Bible prophecy teach? Are there non-biblical prophecies that support this idea? Who will divide those lands? Who will end up with the lands and the people? Here is a link to a video titled Will the USA and other Anglo-nations be Divided and Their People Made Slaves? Here is a related item in the Spanish language ¿Serán divididas las naciones anglosajonas?
British are the Covenant People What do 'British' and 'Britain' mean in Hebrew? Are the descendants of the Anglo-Saxons people of the covenant? Does the British royal family connect to the throne of David? What does the Bible teach? What does history show us? Is there any DNA evidence related to British-Israelism? When did Christianity make it to the British Isles? Could Jeremiah have made it to the British Isles? What type of Christians made it to the British Isles? Did the last King of England believe in British Israelism?
Barack Obama, Prophecy, and the Destruction of the United States-Second Edition for Second Obama Term This is a 160 page book for people truly interested in prophecies related to Barack Obama and the United States, including learning about many that have already been fulfilled (which the book documents in detail) and those that will be fulfilled in the future. It also has a chapter about a Republican choice. This book is available to order at www.barackobamaprophecy.com. The physical book can also be purchased at Amazon from the following link: Barack Obama, Prophecy, and the Destruction of the United States: Is Barack Obama Fulfilling Biblical, Islamic Catholic, Kenyan, and other America-Related Prophecies? What About Republican Leaders? Second Edition for Second Obama Term.
Barack Obama, Prophecy, and the Destruction of the United States-Second Term-Amazon Kindle edition. This electronic version is available for only US$2.99. And you do not need an actual Kindle device to read it. Why? Amazon will allow you to download it to almost any device: Please click HERE to download one of Amazon s Free Reader Apps. After you go to for your free Kindle reader and then go to Barack Obama, Prophecy, and the Destruction of the United States-Second Term-Amazon Kindle edition.