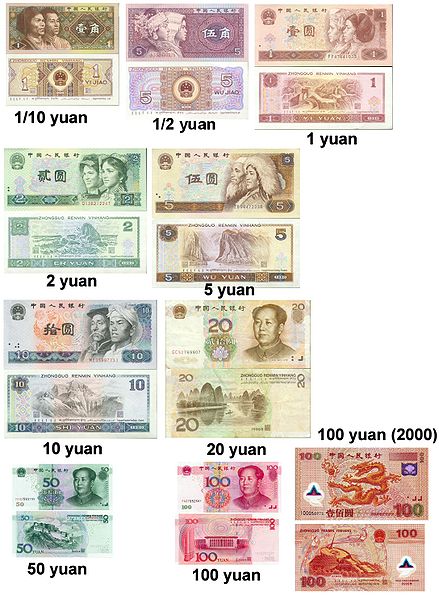 Chinese Renminbi Yuan
The following was somewhat expected:
China Signals a Gradual Rise in Value of Its Currency

By KEITH BRADSHER

Published: June 19, 2010

HONG KONG — China announced on Saturday evening that it would allow greater flexibility in the value of its currency, a move that could deflect growing international criticism of its fiscal policies and defuse one of the greatest sources of tension between Beijing and Washington.

The statement, by China's central bank, was the clearest sign yet that the country would allow its currency to appreciate gradually against the dollar. World leaders are due to meet next week in Canada for economic talks, and China's currency policies appeared bound to be a source of conflict…

Though China said its action was based on the interests of its own economy, it has been under steady pressure from the United States in recent months, in addition to nations in Europe and Brazil and India…

many economists inside and outside China have argued that currency appreciation is in China's interest most of all.   http://www.nytimes.com/2010/06/20/business/global/20yuan.html?src=me

China forex move could thwart U.S. hopes

Reuters – June 19, 2010

China's decision to move away from its currency peg might mean the yuan weakens against the dollar instead of strengthens as Washington wants, Nouriel Roubini, one of Wall Street's most closely followed economists, said on Saturday.

China said on Saturday it would gradually make the yuan more flexible after pegging it to the dollar for nearly two years, a move that the U.S. government and others around the world have long been calling for.

"This is the first significant signal in years of a change in Chinese currency policy," Roubini, best known for having predicted the U.S. housing meltdown, told Reuters.

But it remains to be seen how China would put the new system into practice including the composition of a basket of currencies that Beijing will use as a reference point for the yuan — also known as the renminbi — and the base date for that basket, he said in an e-mail.

"Since they have not changed the previous range for the band — plus or minus 0.5 percent — most likely on Monday China will allow the renminbi vs U.S. dollar to move," said Roubini…

"Even if the Chinese were to allow a gradual renminbi appreciation relative to the U.S. dollar, the size of such appreciation would be modest over the next year, not more than 3 or 4 percent as the trade surplus has shrunk, growth is likely to slow down on China and labor/employment unrest remains of concern to the Chinese."  http://www.reuters.com/article/idUSN1915926720100619

Currency Revaluation to Be Gradual, China Says

By KEITH BRADSHER

Published: June 20, 2010

HONG KONG — The Chinese central bank announced Sunday afternoon that any changes in the value of the renminbi would be gradual, in a clear attempt to reassure the Chinese people that a move Saturday evening toward a more flexible currency would not result in a sharp or disruptive change…

http://www.nytimes.com/2010/06/21/business/global/21yuan.html?src=busln
The reason that this was expected is that in the long run this will be in China's best interest for many reasons, including the fact that one day the USA dollar will eventually be worthless.  There are other benefits of this to China as it continues to purchase raw materials, etc. around the world.
In the near-term, China will use this revaluation (if it does allow it) for leverage in talks with the USA and European powers.
Some articles of possibly related interest may include:
China, Its Biblical Past and Future, Part 1: Genesis and Chinese Characters This article provides information showing that the Chinese peoples must have known about various accounts in the Book of Genesis up until their dispersion after the Tower of Babel.
China, Its Biblical Past and Future, Part 2: The Sabbath and Some of God's Witness in China When did Christianity first come to China? And is there early evidence that they observed the seventh day sabbath?
Asia in Prophecy What is Ahead for China? Is it a "King of the East"? What will happen to nearly all the Chinese, Russians, and others of Asia? China in prophecy, where?
Anglo – America in Prophecy & the Lost Tribes of Israel Are the Americans, Canadians, British, Scottish, Welsh, Australians, Anglo-Southern Africans, and New Zealanders descendants of Joseph? Where are the lost ten-tribes of Israel? Who are the lost tribes of Israel? Will God punish the U.S.A., Canada, United Kingdom, and other Anglo nations? Why might God allow them to be punished first?