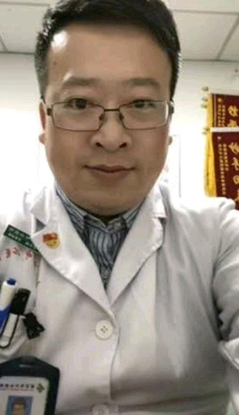 Dr. Li Wenliang (Wikipedia)
A Chinese doctor that warned about the coronavirus is now dead:
February 7, 2020

BEIJING (AP) — China's top Communist Party investigators are looking into "relevant issues raised by the public" about a whistleblower doctor who was threatened by police after publicizing his concerns about the new virus and has now died from it. The party's announcement Friday came as the death toll in mainland China rose to at least 636. The outbreak has now infected more than 31,200 people worldwide.  …
TREATMENT OF WHISTLEBLOWER DOCTOR INVESTIGATED

Following an online uproar over the government's treatment of Dr. Li Wenliang, the ruling Communist Party said it was sending an investigation team to "fully investigate relevant issues raised by the public" regarding the case.

Li, 34, was one of eight medical professionals in Wuhan who tried to warn colleagues and others when the government did not. He wrote on his Weibo microblog account that on Dec. 3 he saw a test sample that indicated the presence of a coronavirus similar to SARS, which killed nearly 800 people in a 2002-2003 outbreak.

Li wrote that after he reported seven patients had contracted the virus, he was visited on Jan. 3 by police, who forced him to sign a statement admitting to having spread falsehoods and warning him of punishment if he continued.

Li wrote that he developed a cough on Jan. 10, fever on Jan. 11 and was hospitalized on Jan. 12, after which he began having trouble breathing. His death was confirmed early Friday, prompting a deluge of messages of mourning and outrage at the way he and the seven others were treated. Even the staunchly pro-government Global Times newspaper noted the eight whistleblowers' treatment "was evidence of local authorities' incompetence to tackle a contagious and deadly virus."

Most of the deaths from the virus have been of older people with existing health problems, but disease specialists said Li's work may have increased his exposure and made his illness severe.

"It's generally believed that an increased dose of a virus or pathogen in some persons can cause increased severity of disease," said Dr. David Heymann, a professor of infectious diseases at the London School of Hygiene and Tropical Medicine.

Paul Hunter, a professor of health protection at the University of East Anglia, noted that opthamologists sit very close to their patients during examinations. "One would expect that an opthamologist would be exposed to a much higher dose of the virus if he was treating a patient who was actually infected," he said. "It's plausible his death was a dose-related issue, but we don't know for certain." https://apnews.com/35dca0529517330f88896f3f02d1ee11
As long-time regular readers of this COGwriter Church of God News page are aware, I specifically warned about risks associated with the coronavirus back in 2013 (see Coronavirus: A new risk for humans? and Saudi Arabia warning visitors to Mecca about coronavirus risk) and also in 2014 (see Saudi Arabia, MERS, and Missiles and Infection-gate: A dangerous scandal hitting the USA?). Additionally, I have also warned also about human engineered pathogens without mentioning the coronavirus in 2018 (see DARPA to weaponize insects to spread viruses across the population… sinister plans exposed by team of scientists) and 2019 (see DARPA: 'Militarized Microbes' To Spread GMO Bacteria).
Many are convinced that the current coronavirus happened because of human genetic research into viruses (see Coronavirus and 'Burgeoning Asian Bioweapons').
Humans messing around with viruses, like what was being officially done in Wuhan, poses risks. And I have warned about those risks, including research involving the coronavirus for years.
Pretty much every day, I pray and ask God to assist me choosing topics to write about. And a few times in the past, that has specifically included the coronavirus.
Over 50 years ago, the late Evangelist Raymond McNair warned about humans doing dangerous pathogen research:
THE DOOMSDAY BUG

There is — this very instant — a feverish international search for the ultimate "dooms-day bug." The purpose? — to wipe out whole nations overnight by disease germs and chemicals. Will man's unrestrained scientific search for more horrifying weapons of mass destruction prove to be his undoing? …

An Ounce of Doom!

Many scientists right now are searching for new plagues with which to decimate the human population. And they are diligently seeking deadlier strains of old viruses with which to destroy whole populations. Of course, these scientists justify their CBW research by saying it is done for defensive reasons. Just how lethal are these viruses? Do you grasp the deadly potential? "In theory one gram of chicken embryo tissue inoculated with the Q-fever organism would be sufficient to infect more than one million people" (We All Fall Down, Robin Clarke). It has been estimated that one fourth of an ounce would be sufficient to infect every man, woman and child living in the British Isles! That's about 55 million! Britain is especially vulnerable to chemical or germ warfare. She is thickly crowded and normal weather conditions in Britain are favorable to that type of warfare!

Botulinus, which was developed during World War II, is so deadly that it could wipe out all human life in a given area within six hours — yet leaving the target area habitable immediately after the attack. But some diseases would have a more lingering effect. …

Few realize that far more people have died from pestilence — from sickness and various plagues — through the course of human history, than have died in actual warfare. …

CBW weapons are cheap to manufacture, and are comparatively inexpensive to deliver to enemy targets. A small nation could develop a whole arsenal of CBW agents and deliver them with very little strain on its budget. …

Scientists must bear their full share of responsibility for their part in developing more deadly and virulent microbes which could unleash horrifying disease epidemics upon this world. (McNair R. The Doomsday Bug. Plain Truth, August 1969)
Recently, I spoke about this in the following video for our Bible News Prophecy program:
Is biological warfare possible? Was it prophesied? Scientists have long warned that pathogenic organisms like the coronavirus could be weaponized. Furthermore, back in 2017, there were concerns that the biological research facility being constructed in Wuhan, China was risky and that a coronavirus from it could be released. On January 25, 2020, China's President Xi Jinping publicly stated that the situation with the Wuhan-related strain of the coronavirus was grave. Did Church of God writers like the late evangelist Raymond McNair warn that engineered viruses (the "Doomsday bug") were consistent with prophecies from Jesus? Did a warning from CCOG leader Bob Thiel warn about risks of genetically-modified (GMO) mosquitoes come to pass? Could human research and/or the consumption of biblically-unclean animals such as bats and snakes be a factor in current outbreaks or coming future pestilences? What about famines? How devastating have pestilences been? How devastating are the prophesied ones going to be? Dr. Thiel addresses these issues and more.
Here is a link to our video: Biological Warfare and Prophecy.
Irrespective of HOW this virus got going, the reality is that it has and has been spreading.
Hopefully, the Chinese government will take proper steps to deal with the coronavirus as well as to look into what happened to Dr. Li Wenliang.
Now let's look at statements from Jesus that pestilences would come:
11 And there will be great earthquakes in various places, and famines and pestilences; (Luke 21:11)

8 And there will be earthquakes in various places, and there will be famines and troubles. These are the beginnings of sorrows. (Mark 13:8)

35 Watch therefore, for you do not know when the master of the house is coming — in the evening, at midnight, at the crowing of the rooster, or in the morning — 36 lest, coming suddenly, he find you sleeping. 37 And what I say to you, I say to all: Watch!" (Mark 13:35-37)
Coronaviruses are a type of pestilence consistent with troubles and sorrows.
Biblical prophecies are coming to pass.
As Jesus said, "Watch!" (Mark 13:37)
Some items of possibly related interest may include:
Fourth Horseman of the Apocalypse What is the pale horse of death and pestilences? What will it bring and when? Some related videos may include Amphibian Apocalypse: Threat to Humans?, Zombie Deer Disease is Here! Are the 10 Plagues on Egypt Coming?, and Biological Warfare and Prophecy. Here is a version of the article in Spanish: El cuarto jinete de Apocalipsis, el caballo pálido de muerte y pestilencia.
China, Its Biblical Past and Future, Part 1: Genesis and Chinese Characters Where did the Chinese people come from? Japeth, Javan, Magog? Is there evidence that the Chinese peoples must have known about various accounts in the Book of Genesis up until their dispersion after the Tower of Babel? What do Chinese writings and characters help show? What about the Garden of Eden, Noah's Flood, and the Tower of Babel? Here is a link to a version of this article in Spanish: ¿Prueban los caracteres chinos la exactitud de la Biblia? A related sermon is also available: China's biblical past and prophetic actions.
China, Its Biblical Past and Future, Part 2: The Sabbath and Some of God's Witness in China When did Christianity first come to China? What about the Apostle Thomas? Did Confucius say anything to get the Chinese to possibly consider Christianity? Is there early evidence that they observed the seventh day sabbath? What about the Ten Commandments? What type of Church of God witness has there been to China? What has been happening with China that ties it together with prophecies in Revelation? What about the 200 million man army and Armageddon? What about the Belt and Road Initiative and end time Babylon the Great? A related sermon is also available: China's biblical past and prophetic actions. Watch also China's Silk Road and Babylon the Great.
Asia in Prophecy What is Ahead for Asia? Who are the "Kings of the East"? What will happen to nearly all the Chinese, Russians, Indians, and others of Asia? China in prophecy, where? Who has the 200,000,000 man army related to Armageddon? Two YouTube video are Is China THE Threat to the United States of America? and China: A King of the East.
The New Testament Church, History, and Unclean Meats Are foods considered to have been unclean in the Old Testament considered to be food in the New Testament? This article discusses this from the perspective of the New Testament. It also has a list of clean and unclean animals. It also answers the question, is pork healthy or is pork dangerous? There is also a sermon-length video on this: Christians and Unclean Meats; a short video is also available: Did Jesus declare all animal flesh food?
The Gospel of the Kingdom of God This free online pdf booklet has answers many questions people have about the Gospel of the Kingdom of God and explains why it is the solution to the issues the world is facing. Here are links to three related sermons: The World's False Gospel, The Gospel of the Kingdom: From the New and Old Testaments, and The Kingdom of God is the Solution.
Differences Between Islam and the Continuing Church of God What are some of the main differences? Are there any similarities? A video of related interest is titled: Islam: Any Christian Concerns or Similarities?
GMOs and Bible Prophecy What are GMOs? Since they were not in the food supply until 1994, how could they possibly relate to Bible prophecy? Do GMOs put the USA and others at risk? Here is a related YouTube video GMO Risks and the Bible.
Chimeras: Has Science Crossed the Line? What are chimeras? Has science crossed the line? Does the Bible give any clues? A video of related interest is Half human, half pig: What's the difference?
Four Horsemen of the Apocalypse What do each of the four horseman of the Apocalypse represent? Have they began their ride? Did Jesus discuss the any of this? Might their rides coincide with the "beginning of sorrows? Do they start their ride prior to the Great Tribulation? Did Nostradamus or any other 'private prophets' write predictions that may mislead people so that they may not understand the truth of one or more of the four horseman? There is also a related YouTube video titled The Four Horsemen of the Apocalypse.
Does God Have a 6,000 Year Plan? What Year Does the 6,000 Years End? Was a 6000 year time allowed for humans to rule followed by a literal thousand year reign of Christ on Earth taught by the early Christians? Does God have 7,000 year plan? What year may the six thousand years of human rule end? When will Jesus return? 2027 or 20xx? There is also a video titled 6000 Years: When will God's Kingdom Come? Here is a link to the article in Spanish: ¿Tiene Dios un plan de 6,000 años?
When Will the Great Tribulation Begin? 2020, 2021, or 2022? Can the Great Tribulation begin today? What happens before the Great Tribulation in the "beginning of sorrows"? What happens in the Great Tribulation and the Day of the Lord? Is this the time of the Gentiles? When is the earliest that the Great Tribulation can begin? What is the Day of the Lord? Who are the 144,000? Here is a version of the article in the Spanish language: ¿Puede la Gran Tribulación comenzar en el 2020 o 2021? ¿Es el Tiempo de los Gentiles? You can also see the English language sermon videos: The Great Tribulation from the Mount of Olives and Can the Great Tribulation begin before 2020? A shorter and newer video is: Could the Great Tribulation Begin in 2020?