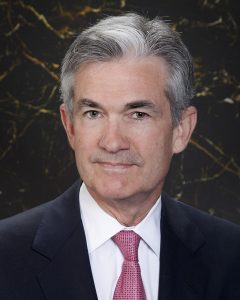 Jerome Powell

The US Federal Reserve raised interest rates:
Fed Hikes Rates By The Most In 28 Years, Signals Volcker-Era Is Back

June 15, 2022

The Fed hiked rates by a stunning (but expected) 75bps – the biggest hike since 1994. Esther George dissented (preferring 50bps). Fed expresses that is "strongly committed" to fighting inflation.

The Fed sharply raised its rates outlook (to meet market expectations) and sharply lowered its growth and employment outlooks.

The last time the Fed hiked 75bps, we got the 'Tequila Crisis' and The IMF had to bail out Mexico. …

Here's what The Fed did:

The Fed raised its benchmark rate by 75 basis points — the biggest increase since 1994 — to a range of 1.5%-1.75%, in line with investors' and economists' expectations
Kansas City Fed President Esther George dissented in favor of a 50 basis-point hike
FOMC adds a line saying it's "strongly committed to returning inflation to its 2% objective" and removes prior language that said the FOMC "expects inflation to return to its 2% objective and the labor market to remain strong"
Reiterates path on balance-sheet reduction that took effect June 1, shrinking bond portfolio by $47.5 billion a month and stepping up to $95 billion in September https://www.zerohedge.com/markets/fomc-2
The higher the interest rates, the higher the US budget deficit as the US has to pay interest, currently, on just over $30 trillion in debt. When interest rates get back to more historical levels, this will be part of a downward spiral that will essentially take the entire US economy down with it.
Here is another report:
Via Greg Hunter's USAWatchdog.com,

Precious metals expert and financial writer Bill Holter said in early April that he thought we did not have much time until the financial meltdown started.  He gave it 60 days.  …

The world is at debt levels never seen before, and Holter contends rising interest rates are the key driver here and now.  Holter explains, "Interest rates are the key to the whole collapse…"

"… Mortgage rates, as of right now, are about 6.15%.  Mortgage rates started the year just over 3%.  In the fourth quarter of last year, we had mortgage rates as low as 2.75%.  What that tells you is if you qualified for a $1 million mortgage at the end of last year, you only qualify for a $500,000 mortgage now.  If you are a property owner, that means the pool of potential buyers is far less than 6 months ago, simply because interest rates have basically doubled."

Holter also says that means property values are dramatically cut.

Interest rates have been on a more than 40-year downward trend since Fed Head Paul Volcker raised a key rate to 20% in the early 1980's.  Holter points out,

"We basically just went through a 40-year bull market on bonds where interest rates did nothing but go downward for 40 years…

That 40-year trend is now broken, and rates are headed higher.  It just so happens the system is more indebted than it has ever been on any ratio or any basis you want to look at.  What I am getting at is these higher interest rates are blowing up the debt bubble."

Don't expect the Fed to come in and save the day like it did in the last financial meltdown back in 2008 and 2009.

The Fed bailed out the economy when it started printing money like crazy and never stopped.  Holter says,

"The bottom line is the world's financial system and, thus, real economies have been on life support since 2008.  

What people should understand is when the Fed says they are going to raise interest rates and they are going to shrink their balance sheet, that says they are pulling the plug out of the wall.  They are taking the system off life support.  The bottom line is the system cannot live without life support. 

The Ponzi scheme cannot continue without new capital coming into the system.  They are pulling the plug is what they are doing. . . . It's game over."

Holter also talks about gold and silver and why you should hold them in hand. Accessed 06/15/22, posted 06/14/22 https://usawatchdog.com/
Yes, this has been a type of Ponzi scheme (see also 'The great federal-debt Ponzi scheme').
Furthermore, if the USA were to have 20% interest rates or so, similar to the Paul Volcker era, that would be in the $6 trillion range. To put that in perspective, the current USA federal budget is $4.79 trillion.
The USA cannot afford real high interest rates.
Others also realize that.
Notice the following end-time prophecy and consider how it would apply to the USA:
2 And the Lord answered me:

"Write the vision;
make it plain on tablets,
so he may run who reads it.
3 For still the vision awaits its appointed time;
it hastens to the end—it will not lie.
If it seems slow, wait for it;
it will surely come; it will not delay.

4 "Behold, his soul is puffed up; it is not upright within him,
but the righteous shall live by his faith.

5 "Moreover, wine is a traitor,
an arrogant man who is never at rest.
His greed is as wide as Sheol;
like death he has never enough.
He gathers for himself all nations
and collects as his own all peoples."

6 Shall not all these take up their taunt against him, with scoffing and riddles for him, and say,

"Woe to him who heaps up what is not his own—
for how long?—
and loads himself with pledges!"
7 Will not your debtors suddenly arise,
and those awake who will make you tremble?
Then you will be spoil for them.
8 Because you have plundered many nations,
all the remnant of the peoples shall plunder you,
for the blood of man and violence to the earth,
to cities and all who dwell in them. (Habakkuk 2:2-8; English Standard Version)
The USA is greedy. It has been issuing "pledges," like Treasury bills and bonds, that it never intends to pay back.
The USA is also the most indebted nation in the history of humanity and those in it should try to understand this prophecy. Rising interest rates mean that it will cost the US government more to service its debt–this will one day be truly unsustainable.
Notice that God tells Habakkuk that those who read this should run–that means they should take proper spiritual action now (cf. Luke 21:36), and then, eventually physically flee (cf. Revelation 12:14-16).
The Anglo-American world order will come to an end. Accumulation of debt, and then having to pay historically 'normal' interest rates will strain the national economies of the USA and UK more than almost anyone will believe. It will be a financial crisis beyond what Jerome Powell or Donald Trump would consider possible.
Those who think the current world order with the USA's dollar on top will last several decades are in error.
The idea that the debt does not matter is a false and arrogant belief that many politicians, pundits, and media personnel hold.
The Bible teaches:
18 Pride goes before destruction, And a haughty spirit before a fall. (Proverbs 16:18, NJKV)
It is prideful arrogance that gets humans to think that they can essentially completely control the economy and just borrow and print up money. They cannot. Weather, political events, diseases, wars, morality, technology, and other factors play a role.
Plus, there is also the matter of debt accumulation by the USA and biblical prophecy.
Those who will believe the Bible will take the words that God spoke to the prophet Habakkuk seriously.
Consider further, what will happen if a series of 'natural' and other disasters hits the USA?
Even if it doesn't (but I am certain such will happen), notice something I wrote in my book Biden-Harris: Prophecies and Destruction:
Debt is a prophesied problem (cf. Habakkuk 2:6-8). But many in the media as well as politically-inclined economists do not see it that way—but that is too short sighted (cf. Ecclesiastes 8:11).

The time will come when the U.S.A. government will no longer be able to borrow at low interest rates and/or it will create more money electronically and/or via the printing press to try to continue.

Make no mistake about it — massive inflation is coming.

The U.S.A. dollar will ultimately crash and be worthless. That "pride" of American power will be broken (cf. Leviticus 26:19).

A Biden-Harris Administration has asserted it will take debt raising steps. …

No nation in the history of humankind has ever accumulated as much debt as the United States of America (because the U.K. may have close to the highest amount of per capita debt, its fate would be similar). Destruction is coming.

However, the relationship between debt accumulation and prophesied destruction remains unapparent to many. Because there is a time lag, many ignore that there will be real consequences (cf. Ecclesiastes 8:11; Habakkuk 2:3,6-8). Yet, these increases of debt are utterly dangerous.

When the time comes that the Federal Reserve is no longer able to keep interest rates artificially low, the U.S.A. will continue past the point of no return. That will become one of the final factors that will cause creditors to rise up and destroy the U.S.A.

(Thiel B. Biden-Harris: Prophecies and Destruction. Nazarene Books, 2021)
Yes, the USA is having more inflation. And while the Federal Reserve can impact that, neither it nor the US government can stop weather problems, earthquakes, or the prophecies in Matthew 24:4-8 that will lead up to the time of the Great Tribulation. The USA is in a precarious financial position and it getting to the proverbial time when one metaphoric straw will break its back.
Do not believe that the USA will continue indefinitely and that its debt can continue to rise.
Repentance is needed.
The USA and its Anglo-Saxon allies will not last to the end of this century–and perhaps not even until 2028
Some items of possibly related interest include the following:
Biden-Harris: Prophecies and Destruction Can the USA survive two full presidential terms? In what ways are Joe Biden and Kamala Harris apocalyptic? This book has hundreds of prophecies and scriptures to provide details.  A Kindle version is also available and you do not need an actual Kindle device to read it. Why? Amazon will allow you to download it to almost any device: Please click HERE to download one of Amazon s Free Reader Apps. After you go to your free Kindle reader app (or if you already have one or a Kindle),  you can go to: Biden-Harris: Prophecies and Destruction (Kindle) to get the book in seconds.
Is God Calling You? This booklet discusses topics including calling, election, and selection. If God is calling you, how will you respond? Here is are links to related sermons: Christian Election: Is God Calling YOU? and Predestination and Your Selection. A short animation is also available: Is God Calling You?
Christian Repentance Do you know what repentance is? Is it really necessary for salvation? Two related sermons about this are also available: Real Repentance and Real Christian Repentance.
The End of US Dollar Dominance Is the USA losing its economic status? What about the petro-gold-yuan? A related video is also available: US Dollar being challenged by Gold-Petro-Yuan.
USA in Prophecy: The Strongest Fortresses Can you point to scriptures, like Daniel 11:39, that point to the USA in the 21st century? This article does. Two related sermon are available: Identifying the USA and its Destruction in Prophecy and Do these 7 prophesies point to the end of the USA?
Who is the King of the West? Why is there no Final End-Time King of the West in Bible Prophecy? Is the United States the King of the West? Here is a version in the Spanish language: ¿Quién es el Rey del Occidente? ¿Por qué no hay un Rey del Occidente en la profecía del tiempo del fin? A related sermon is also available: The Bible, the USA, and the King of the West.
Who is the King of the North? Is there one? Do biblical and Roman Catholic prophecies for the Great Monarch point to the same leader? Should he be followed? Who will be the King of the North discussed in Daniel 11? Is a nuclear attack prophesied to happen to the English-speaking peoples of the United States, Great Britain, Canada, Australia, and New Zealand? When do the 1335 days, 1290 days, and 1260 days (the time, times, and half a time) of Daniel 12 begin? When does the Bible show that economic collapse will affect the United States? In the Spanish language check out ¿Quién es el Rey del Norte? Here are links to two related videos: The King of the North is Alive: What to Look Out For and The Future King of the North.
The Plain Truth About Gold in Prophecy. How Should a Christian View Gold? What do economists and the Bible teach about gold? Gold and silver may drop in value. Inflation/deflation? What do Christians need to know about gold? A video of related interest may be: Germany, Gold, and the US Dollar.
Europa, the Beast, and Revelation Where did Europe get its name? What might Europe have to do with the Book of Revelation? What about "the Beast"? Is an emerging European power "the daughter of Babylon"? What is ahead for Europe? Here is a link to a video titled: Can You Prove that the Beast to Come is European?
European Technology and the Beast of Revelation Will the coming European Beast power would use and develop technology that will result in the taking over of the USA and its Anglo-Saxon allies? Is this possible? What does the Bible teach? Here is a related YouTube video: Military Technology and the Beast of Revelation.
Anglo – America in Prophecy & the Lost Tribes of Israel Are the Americans, Canadians, English, Scottish, Welsh, Australians, Anglo-Saxon (non-Dutch) Southern Africans, and New Zealanders descendants of Joseph? Where are the lost ten-tribes of Israel? Who are the lost tribes of Israel? What will happen to Jerusalem and the Jews in Israel? Will God punish the U.S.A., Canada, United Kingdom, and other Anglo-Saxon nations? Why might God allow them to be punished first? Here is a link to the Spanish version of this article: Anglo-América & las Tribus Perdidas de Israel. Information is also in the YouTube sermons titled Where are the Ten Lost Tribes? Why does it matter? and British are the Covenant People. A short YouTube of prophetic interest may be: Are Chinese threats against Australia for real?
Will the Anglo-Saxon Nations be Divided and Have People Taken as Slaves? Will the lands of the United States, United Kingdom, Canada, Australia, and New Zealand be divided? What about Jerusalem? What does Bible prophecy teach? Are there non-biblical prophecies that support this idea? Who will divide those lands? Who will end up with the lands and the people? Here is a link to a video titled Will the USA and other Anglo-nations be Divided and Their People Made Slaves? Here is a related item in the Spanish language ¿Serán divididas las naciones anglosajonas?
British are the Covenant People What do 'British' and 'Britain' mean in Hebrew? Are the descendants of the Anglo-Saxons people of the covenant? Does the British royal family connect to the throne of David? What does the Bible teach? What does history show us? Is there any DNA evidence related to British-Israelism? When did Christianity make it to the British Isles? Could Jeremiah have made it to the British Isles? What type of Christians made it to the British Isles? Did the last King of England believe in British Israelism?
Physical Preparation Scriptures for Christians. We all know the Bible prophecies famines. Should we do something? Here is a version in the Spanish language Escrituras sobre Preparación física para los Cristianos. Here is a link to a related sermon: Physical preparedness for Christians.
When Will the Great Tribulation Begin? 2022, 2023, or 2024? Can the Great Tribulation begin today? What happens before the Great Tribulation in the "beginning of sorrows"? What happens in the Great Tribulation and the Day of the Lord? Is this the time of the Gentiles? When is the earliest that the Great Tribulation can begin? What is the Day of the Lord? Who are the 144,000? Here is a version of the article in the Spanish language: ¿Puede la Gran Tribulación comenzar en el 2020 o 2021? ¿Es el Tiempo de los Gentiles? A related video is: Great Tribulation: 2026 or 2027? A shorter video is: Can the Great Tribulation start in 2022 or 2023? Here is a video in the Spanish language: Es El 2021 el año  de La Gran Tribulación o el Grande Reseteo Financiero.