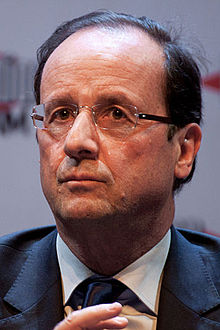 French President-Elect François Hollande Janvier (© Matthieu Riegler, CC-BY)
The President of France made the news today with his comments about the UK:
Europe can survive without Britain, says François Hollande
Although he said he would prefer to see Britain in the EU, he also said "Europe existed before Britain joined it."  As I have written for years, the United Kingdom will either leave/reduce its involvement with the EU (or possible successor organization) and later become dominated/enslaved by the leader of the final European Beast power, or, and this is less likely, stay a fairly full member of the EU and later become dominated/enslaved by the leader of the final European Beast power.
The fact is that President Hollande is correct that Europe will continue whether or not Britain is part of it.  British voters are supposed to have the opportunity to determine the UK's membership role in the EU according to a promise by its Prime Minister David Cameron (and this is supposed to happen by 2017).
Europe itself is going to change.
The Bible tells of a basically European kingdom that will be partially strong, partially weak, and with a fragile unity (Daniel 2:41-43), but that will have a frightening type of economic dominance (see Revelation chapters 13,17,18). This kingdom will have a religion and it will not be Islam.
The Bible also tells of a time when a European power will reorganize (Revelation 17:12-13). While I do not believe that we are to the point of fulfilling the reorganization required by Revelation 17:12-13, it seems that a variety of steps will be necessary for the final reorganization to occur. Some of those steps, especially if they involve austerity/budget cuts and immigration policies, may stir more violent protests in the future. Violent protests can lead to militaristic leaders rising up, and a major militaristic leader rising up is consistent with biblical prophecy (cf. Daniel 11:39-44; Revelation 13:3-4).
Some articles of possibly related interest may include:
Europa, the Beast, and Revelation Where did Europe get its name? What might Europe have to do with the Book of Revelation? What about "the Beast"? Is an emerging European power "the daughter of Babylon"? What is ahead for Europe? Here is a link to a video titled: Can You Prove that the Beast to Come is European?
Who is the King of the North? Is there one? Do biblical and Roman Catholic prophecies point to the same leader? Should he be followed? Who will be the King of the North discussed in Daniel 11? Is a nuclear attack prophesied to happen to the English-speaking peoples of the United States, Great Britain, Canada, Australia, and New Zealand? When do the 1335 days, 1290 days, and 1260 days (the time, times, and half a time) of Daniel 12 begin? What MUST happen BEFORE the Great Tribulation?
Might German Baron Karl-Theodor zu Guttenberg become the King of the North? Is the German Defense Minister one to watch? What do Catholic, Byzantine, and biblical prophecies suggest?
Anglo – America in Prophecy & the Lost Tribes of Israel Are the Americans, Canadians, English, Scottish, Welsh, Australians, Anglo (non-Dutch) Southern Africans, and New Zealanders descendants of Joseph? Where are the lost ten-tribes of Israel? Who are the lost tribes of Israel? Is Reuben France? What will happen to Jerusalem and the Jews in Israel? Will God punish the U.S.A., Canada, United Kingdom, and other Anglo nations? Why might God allow them to be punished first?
Will the Anglo-Nations be Divided and Have People Taken as Slaves? Will the lands of the United States, United Kingdom, Canada, Australia, and New Zealand be divided? What about Jerusalem? What does Bible prophecy teach? Are there non-biblical prophecies that support this idea? Who will divide those lands? Who will end up with the lands and the people? Here is a link to a video titled Will the USA and other Anglo-nations be Divided and Their People Made Slaves?
Is Tony Blair Apocalyptic? The former Prime Minister of the United Kingdom converted to Catholicism shortly after leaving his office and has been active in European affairs. What role might he play?
Is There an Islamic Antichrist? Is Joel Richardson correct that the final Antichrist will be Islamic and not European? Find out.
Will You Be Deceived by Antichrist? 1964 article by David Jon Hill, originally published in the old Good News magazine.
Can You Prove that the Beast to Come is European? The Book of Revelation tells of a beast power that will rise up. Some think that this must be Russia or could be Islamic, while others say that this power is European. The Book of Daniel tells of the rise of an end time King of the North that some think must be referring to a Russian leader, while others say that this power is European. How can you be sure? This YouTube video has all the scriptural proofs that you should need to prove that this power must be a European one.