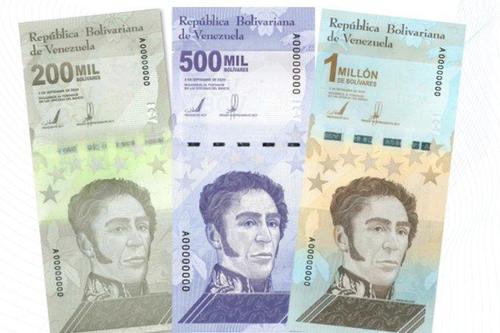 (Via ZeroHedge)
Hyperinflation continues to be an issue in Venezuela:
Venezuela Issues Million-Bolivar-Bill Worth 50 Cents As Hyperinflation Rages

Venezuela's currency has lost 99.999% of its value during the six years of hyperinflation, forcing the country to issue larger banknotes. … The Central Bank of Venezuela tweeted Friday that "three new banknotes will be incorporated into the current Monetary Cone, as part of the expansion of the current family of monetary species." As early as this week, it will introduce banknotes worth 200,000, 500,000, and one million bolivars. For those wondering how much one million bolivars is worth in terms of US dollars, well, it's around 50 cents.  …
When the central bank revealed the new bills, Director and Partner at Ecoanalitica, economist Asdrubal Oliveros, said the banknote is good for nothing more than public transport – one of the few services reliant on the paper bolivar. …


As the Venezuelan currency rapidly depreciates, Venezuela's government is preparing to move to a fully digital economy – whatever that means for the country which a couple years ago adopted some weird cryptocurrency as the de facto Petro currency of the state to… perplexing consequences, as hyperinflation in this South American socialist paradise (coming soon to every socialist paradise nears you) continues to rage on.

We've seen hyperinflation episodes in Venezuela and Zimbabwe. The real question as the US dives deeper into MMT, or Magic Money Theory, will that one day result in a worthless dollar and soaring inflation? 03/09/21 https://www.zerohedge.com/geopolitical/venezuela-issues-million-dollar-bill-worth-50-cents-amid-hyperinflation
Adam Taggart posted an article that attempted to partially answer that last question:
Inflation Or Deflation? Here's How It Will All End

Highly-respected market researcher Luke Gromen concludes that we're living in a unique period of history given that we currently facing three massive threats:

the first bursting global sovereign debt bubble in over 100 years
the first time in 50+ years that foreign central banks are no longer financing the US economy (i.e., they have stopped growing their holdings of US Treasurys)
the US' long-standing "petrodollar" advantage is eroding as other countries increasingly strike deals to trade key commodities in non-USD currencies

As these challenges mount, how will they resolve?

Will increasing weakness cause defaults on the debts that can't be serviced? ("deflation") Or will the central planners "do whatever it takes" to keep the economy alive, printing ever-more currency to nominally meet debt payments and support asset prices? ("inflation")

Like other recent guest experts like Grant Williams, Jesse Felder, and Jim Bianco, Luke calculates inflation appears bar far to be the likelier outcome. 03/05/21 https://www.peakprosperity.com/inflation-or-deflation-heres-how-it-will-all-end/
What will end up happening in the USA will be worse than inflation or the hyperinflation that Venezuela has been experiencing.
It is setting itself up for a fall with its expected official debt to pass the US$30 trillion mark this year.
Most in the media and in government act like more debt is a good thing.
However, the Bible clearly warns that an indebted people will be destroyed by people whose language that they do not understand, and that the destruction will be fairly total:
43 The alien who is among you shall rise higher and higher above you, and you shall come down lower and lower. 44 He shall lend to you, but you shall not lend to him; he shall be the head, and you shall be the tail. 45 Moreover all these curses shall come upon you and pursue and overtake you, until you are destroyed…47 "Because you did not serve the LORD your God with joy and gladness of heart, for the abundance of everything, 48 therefore you shall serve your enemies, whom the LORD will send against you, in hunger, in thirst, in nakedness, and in need of everything; and He will put a yoke of iron on your neck until He has destroyed you. 49 The LORD will bring a nation against you from afar, from the end of the earth, as swift as the eagle flies, a nation whose language you will not understand, 50 a nation of fierce countenance, which does not respect the elderly nor show favor to the young. 51 And they shall eat the increase of your livestock and the produce of your land, until you are destroyed; they shall not leave you grain or new wine or oil, or the increase of your cattle or the offspring of your flocks, until they have destroyed you. 52 They shall besiege you at all your gates until your high and fortified walls, in which you trust, come down throughout all your land; and they shall besiege you at all your gates throughout all your land which the LORD your God has given you (Deuteronomy 28:42-45,47-52).

7 The rich rules over the poor, And the borrower is servant to the lender. (Proverbs 22:7)

13 And the Lord said, "Because they have forsaken My law which I set before them, and have not obeyed My voice, nor walked according to it, 14 but they have walked according to the dictates of their own hearts…16 I will scatter them also among the Gentiles, whom neither they nor their fathers have known. And I will send a sword after them until I have consumed them." (Jeremiah 9:13,14a,16)

12 One-third of you shall die of the pestilence, and be consumed with famine in your midst; and one-third shall fall by the sword all around you; and I will scatter another third to all the winds, and I will draw out a sword after them. (Ezekiel 5:12)
Notice that getting in debt is considered to be a curse (see also the YouTube video The Debt Crisis Will Be Worse Than Most Imagine).
The debt situation of the USA, UK, and Canada are putting them at risk of hyperinflation as well being unable to recover should it be hit by weather problems, terrorist acts, war, riots, solar flares, severe earthquakes, civil unrest, devastation of their genetically-modified food supplies, food shortages, and/or various pestilences–an intensity of "sorrows" such as Jesus discussed in Matthew 24:4-8 leading up to the time of the Great Tribulation. Disasters such as pestilences, especially if there is an ElectroMagnetic Pulse (emp) attack or a severe solar flare storm, could be part of a so-called "perfect storm" of events that could set the USA, along with Canada, up for destruction.
As far as hyperinflation goes, notice the following warning from Jim Rickards:
Hyperinflation Can Happen Much Faster Than You Think

Many investors assume that the root cause of hyperinflation is governments printing money to cover deficits. Money printing does contribute to hyperinflation, but it is not a complete explanation. …

If central banks print money and that money is left in banks and not used by consumers, then actual inflation can be low.

This is the situation in the U.S. today. The Federal Reserve has expanded the base money supply by over $6 trillion since 2008, with over $3 trillion of that coming since last February alone.

But very little actual inflation has resulted, or at least very little official inflation. This is because the velocity of money has been decreasing. Banks have not been lending much, and consumers haven't been spending much of the new money. It's just sitting in the banks.

Money printing first turns into inflation, and then hyperinflation, when consumers and businesses lose confidence in price stability and see more inflation on the horizon. At that point, money is dumped in exchange for current consumption or hard assets, thus increasing velocity.

As inflation velocity spikes up, expectations of more inflation grow, and the process accelerates and feeds on itself. …

Hyperinflation doesn't emerge instantaneously. It begins slowly with normal inflation and then accelerates violently at an increasing rate until it becomes hyperinflation. … The hyperinflation of Weimar Germany is a good example of this. …

If you think this can't happen here or now, think again. …

If inflation does hit 3%, it is more likely to go to 6% or higher, rather than back down to 2%. The process will feed on itself and be difficult to stop. Sadly, there are no Volckers or Reagans on the horizon today. There are only weak political leaders and misguided central bankers.

Inflation will accelerate, as it did in the U.S. in 1980 and in Germany in 1920. Whether hyperinflation comes next remains to be seen, but it can happen more easily than most people expect. By then, the damage is already done. Your savings and pensions will mostly be gone. 02/02/21 https://dailyreckoning.com/hyperinflation-can-happen-much-faster-than-you-think/
The damage from hyperinflation will be worse than what happened to the USA in the 1980s or Germany in the 1920s.
The USA dollar will basically become worth the scrap value of the cotton-paper it is printed on.
The debt situation is helping set the USA up for destruction.
Yet, although many do not want to believe, even that was expected:
6 "Don't say such things," the people respond. "Don't prophesy like that. Such disasters will never come our way!" (Micah 2:6, New Living Translation)

16 … You say, 'Do not prophesy against Israel, And do not spout against the house of Isaac.' (Amos 7:16)
People will not want to hear! See also Preparing for the 'Short Work' and The Famine of the Word.
Yet, the hope that many people, companies, as well as state/provincial and local governments is to have their federal government further increase MORE of its debt and give them funds to pay off their debts and/or and keep them going.
While the USA and Canada still have more time, it is not as much as most think.
The USA looks to be gone in just a relatively few years (watch also Is the USA prophesied to be destroyed by 2028?).
Some items of possibly related interest may include:
The End of US Dollar Dominance Is the USA losing its economic status? What about the petro-gold-yuan? A related video is also available: US Dollar being challenged by Gold-Petro-Yuan.
21 items to prophetically watch in 2021 Much is happening. Dr. Thiel points to 21 items to watch (cf. Mark 13:37) in this article. Here is a link to a related sermon video: 21 Items to Watch in 2021.
Spiritual Samaritans: Old and New Who were the Samaritans? Do the represent true Christianity or something else? Here is a link to a related sermon: USA in Prophecy: Samaria.Who is the King of the North? Is there one? Do biblical and Roman Catholic prophecies for the Great Monarch point to the same leader? Should he be followed? Who will be the King of the North discussed in Daniel 11? Is a nuclear attack prophesied to happen to the English-speaking peoples of the United States, Great Britain, Canada, Australia, and New Zealand? When do the 1335 days, 1290 days, and 1260 days (the time, times, and half a time) of Daniel 12 begin? When does the Bible show that economic collapse will affect the United States? In the Spanish language check out ¿Quién es el Rey del Norte? Here is a link to a video titled: The Future King of the North.
USA in Prophecy: The Strongest Fortresses Can you point to scriptures, like Daniel 11:39, that point to the USA in the 21st century? This article does. Two related sermon are available: Identifying the USA and its Destruction in Prophecy and Do these 7 prophesies point to the end of the USA?
Who is the King of the West? Why is there no Final End-Time King of the West in Bible Prophecy? Is the United States the King of the West? Here is a version in the Spanish language: ¿Quién es el Rey del Occidente? ¿Por qué no hay un Rey del Occidente en la profecía del tiempo del fin? A related sermon is also available: The Bible, the USA, and the King of the West.
Who is the King of the North? Is there one? Do biblical and Roman Catholic prophecies for the Great Monarch point to the same leader? Should he be followed? Who will be the King of the North discussed in Daniel 11? Is a nuclear attack prophesied to happen to the English-speaking peoples of the United States, Great Britain, Canada, Australia, and New Zealand? When do the 1335 days, 1290 days, and 1260 days (the time, times, and half a time) of Daniel 12 begin? When does the Bible show that economic collapse will affect the United States? In the Spanish language check out ¿Quién es el Rey del Norte? Here are links to two related videos: The King of the North is Alive: What to Look Out For and The Future King of the North.
The Great Monarch: Biblical and Catholic Prophecies Is the 'Great Monarch' of Catholic prophecies endorsed or condemned by the Bible? Two sermons of related interest are also available: Great Monarch: Messiah or False Christ? and Great Monarch in 50+ Beast Prophecies.
Will the Anglo-Saxon-Celtic Nations be Divided and Have People Taken as Slaves? Will the lands of the United States, United Kingdom, Canada, Australia, and New Zealand be divided? What about Jerusalem? What does Bible prophecy teach? Are there non-biblical prophecies that support this idea? Who will divide those lands? Who will end up with the lands and the people? Here is a link to a video titled Will the USA and other Anglo-nations be Divided and Their People Made Slaves? Here is a related item in the Spanish language ¿Serán divididas las naciones anglosajonas?
British are the Covenant People What do 'British' and 'Britain' mean in Hebrew? Are the descendants of the Anglo-Saxons people of the covenant? Does the British royal family connect to the throne of David? What does the Bible teach? What does history show us? Is there any DNA evidence related to British-Israelism? When did Christianity make it to the British Isles? Could Jeremiah have made it to the British Isles? What type of Christians made it to the British Isles? Did the last King of England believe in British Israelism?
Brexit Happened: Now What? At 11:00 pm January 31, 2020, the United Kingdom formally left the European Union. Many celebrated, while many mourned. Nigel Farage stated, "This is the greatest moment in modern British history." What will happen to the United Kingdom? Will the UK be involved in trade deals with the United States of America and the Europeans? Will the UK regret the BRitish Exit (Brexit) from the EU?What will happen with the European Union? Is Europe prophesied to have a great army and many ships? Does the Bible prophesy a reorganization of Europe? Does it prophesy that the Europeans will become a conquering military power? Is the United Kingdom prophesied to be conquered? How does the Bible name the British-descended peoples? Was the British Empire the largest in world history? Was Brexit predicted by Church of God leaders in 1970 and the early 1990s? Will the European Union be negatively affected financially by the departure of the UK? Will this turn out well for the UK or the Europeans? Dr. Thiel addresses these issues and more in this video.
Canada in Prophecy: What Does Bible Prophecy, Catholic Prophecy, and other Predictions Suggest About the Future of Canada? There are prophecies that suggest involvement with Canada. And many are not positive about its future. A sermon of related interest is also available: Canada in Prophecy.
Does God Have a 6,000 Year Plan? What Year Does the 6,000 Years End? Was a 6000 year time allowed for humans to rule followed by a literal thousand year reign of Christ on Earth taught by the early Christians? Does God have 7,000 year plan? What year may the six thousand years of human rule end? When will Jesus return? 2028 or or 2031 or 20xx? There is also a video titled 6000 Years: When will God's Kingdom Come? Here is a link to the article in Spanish: ¿Tiene Dios un plan de 6,000 años?
Might the U.S.A. Be Gone by 2028? Are there prophetic reasons to believe that the USA will not last two complete presidential terms? Yes. There is a tradition attributed to the Hebrew prophet Elijah that humanity had 6,000 years to live before being replaced by God's Kingdom. There are scriptures, writings in the Talmud, early Christian teachings that support this. Also, even certain Hindu writings support it. Here is a link to a related video: Is the USA prophesied to be destroyed by 2028?
The Great Tribulation: What Happens First? What events have happened? What are some events that are now happening? And what events need to happen for the Great Tribulation to start? Here is a link to a related sermon video: Counting Down to the Great Tribulation.
When Will the Great Tribulation Begin? 2021, 2022, or 2023? Can the Great Tribulation begin today? What happens before the Great Tribulation in the "beginning of sorrows"? What happens in the Great Tribulation and the Day of the Lord? Is this the time of the Gentiles? When is the earliest that the Great Tribulation can begin? What is the Day of the Lord? Who are the 144,000? Here is a version of the article in the Spanish language: ¿Puede la Gran Tribulación comenzar en el 2020 o 2021? ¿Es el Tiempo de los Gentiles? A related video is: 2021: The Great Tribulation or the Great Reset?
Biden-Harris: Prophecies and Destruction Can the USA survive two full presidential terms? In what ways are Joe Biden and Kamala Harris apocalyptic? This book has hundreds of prophecies and scriptures to provide details. A Kindle version is also available and you do not need an actual Kindle device to read it. Why? Amazon will allow you to download it to almost any device: Please click HERE to download one of Amazon s Free Reader Apps. After you go to your free Kindle reader app (or if you already have one or a Kindle), you can go to: Biden-Harris: Prophecies and Destruction (Kindle) to get the book in seconds.