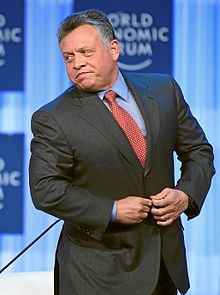 Jordan's King Abdullah II

A reader sent a link to the following:
Ex-Navy SEAL: WWIII Is Here and World Must Admit It

March 2, 2015

Jordan's King Abdullah is right on the money — World War III has broken out, former Navy SEAL and FBI agent Jonathan Gilliam says.

But unfortunately, according to Gilliam, the world has yet to acknowledge it's in a life-or-death struggle with terror groups such as the Islamic State (ISIS).

"This is the first unconventional world war we've ever had. It is World War III. Unfortunately, the world hasn't figured that out yet," Gilliam said Monday on "The Steve Malzberg Show" on Newsmax TV.
http://www.newsmax.com/Newsmax-Tv/Jonathan-Gilliam-ISIS-Boko-Haram/2015/03/02/id/627809/#ixzz3TKdfpN1l
Here is more from another source related to Jordan's king and others on WWIII:
King Abdullah of Jordan is claiming that DAESH, which is more commonly known as ISIS or the Islamic State, essentially started World War 3 and that Christians and Muslims need to unify for this fight.

In a related report by the Inquisitr, Ukrainian president Petro Poroshenko claims that Boris Nemtsov died before proving Vladimir Putin has knowingly positioned Russian troops inside Ukraine in order to fight alongside the separatist forces. A recent poll in Russia shows that the Russian people believe that the U.S. giving Ukraine military aid is only an excuse for taking over the country, or starting World War 3. …

Some experts believe DAESH wants to start World War 3 in order to draw in as many nations as possible to their conflict.

"I think the mission of the enemy is to precipitate World War III," says Frank Gaffney from the Center for Security Policy. "The path we're on at the moment unfortunately, I think, suggests they're more likely to achieve their goal than we will be in preventing them from spreading a global wide conflagration."

When CNN interviewed King Abdullah II of Jordan, he was asked whether the military response to DAESH should be "an Arab response, a Muslim response or should the West be in the lead." In response, King Abdullah said everyone needs to be "unified" in order to bring DAESH down.

"I've said this to leaders both in the Islamic and Arab world and to the world in general: This is a third World War by other means. This brings Muslims, Christians, other religions together in this generational fight that all of us have to be in this together," said King Abdullah. "So it's not a Western fight. This is a fight inside of Islam where everybody comes together against these outlaws, so to speak, together. And there's a short-term part of this which is the military part of the issue. There is the medium part which is the security element of it. And then there's a long-term element of this, which is obviously the ideological one."

http://www.inquisitr.com/1887954/king-abdullah-daeshisis-started-world-war-3-christians-and-muslims-need-be-unified-video/#2L15tqliQfHRIKoz.99
I have been warning for some time that leaders in the Arab and Islamic world will unite.  I have also warned that because of groups like the Islamic State, the West would encourage this.
Why?
Because the Bible tells of a confederation involving nations in the Middle East and North Africa in the end times in Daniel 11:40-43 and Ezekiel 30:2-8.
As far as WWIII goes, several others have mentioned it in the past year.
In the past, some have claimed that Russia's actions in Ukraine have been intended to start WWIII (see Kiev PM asserts 'Russia…wants to start World War Three;' Russia's FM claims 'West wants…to seize control of Ukraine').  Some have feared that if Israel attacks Iran, that will start a world war (see Iran, Armageddon, Israel, and WWIII). Although some correctly feel that Iran is mentioned in Ezekiel 38 (see Ezekiel 38: For Russia & Iran in Our Day?), that battle is much later and is NOT WWIII (see also World War III: Steps in Progress).
In July 2014, Money and Markets' Larry Edelson claimed WWIII had started (see M&M: 'World War III has ALREADY started').
Additionally, in September 2014, Pope Francis  stated that a 'piecemeal' WWIII may have begun (see Pope Francis objecting to current 'piecemeal' World War III; Vatican radio reports bishops blasting Russia for blood in Ukraine).
While elements of WWIII are in progress, and Russia and terrorism are influencing events that will lead to that, neither Russia nor the Islamic State are the powers that will actually start WWIII.  Instead, their actions are influencing the actions of others, and ultimately that will start what could be called WWIII.
Many believe that WWIII will entail massive conflict with Russia and/or China and/or Iran and/or is mainly an Islamic war.  Those views are in error.  WWIII basically will be the risen European power and its allies (Germany and its allies began WWI and WWII) attacking and beating the USA, UK, and their Anglo-Saxon allies (cf. Daniel 11:39).
What perhaps could be called World War Four (WWIV) would be an attack against the European Beast power by Russia, China, and their confederated allies.  This will also tie in with the gathering of the armies at Armageddon (Revelation 16:12-16). For more details, see also Russia and Ukraine: Their Origins and Prophesied Future and Asia in Prophecy. As far as Armageddon goes, please see the video shot from there simply titled Armageddon.
The fact is that the 6000 years God gave humankind to rule itself is about to come to an end (see Does God Have a 6,000 Year Plan? What Year Does the 6,000 Years End?), which means we are nearer to the start of the Great Tribulation, WWIII, and even WWIV.
Because of the proximity to the end of 6000 years for humanity to rule itself mainly cut off from God, we are to expect wars, rumors of wars, and various sorrows (Matthew 24:4-8). And then the end of the nations of USA and its Anglo-Saxon allies once the time of Jacob's trouble (Jeremiah 30:7), the great tribulation (Matthew 24:21) begins.
WWIII will not come until about 3 1/2 years after a 'peace deal' has been confirmed by a 'prince' (Daniel 9:26-27) who later will become the final King of the North (Daniel 11:31-44).  This leader will be European, and eventually destroy the nation with the strongest fortresses (Daniel 11:39), which in the 21st century would be the USA.  He will proclaim peace and safety:
25 And through his policy also he shall cause craft to prosper in his hand; and he shall magnify himself in his heart, and by peace shall destroy many: he shall also stand up against the Prince of princes; but he shall be broken without hand. (Daniel 8:25, KJV).
This leader will encourage proclamations of peace, yet sudden destruction will come (cf. 1 Thessalonians 5:3).  After destroying the USA, etc., he will turn against a power in the Middle East and North Africa (Daniel 11:40-43): this could be called WWIV or perhaps will be considered as a second part of WWIII.
A battle involving Russia and its allies against the final Beast power will come over three years later and could be called WWIV (or WWV if the elimination of the confederation in the Middle East and North Africa would be called WWIV).  Russia and its allies are in preparation for that now, though none probably think that they are as they are not particularly attuned to the details of biblical prophecy.
The reality is that steps are in progress for world war.  Peace will be taken from the earth:
3 When He opened the second seal, I heard the second living creature saying, "Come and see."  4 Another horse, fiery red, went out. And it was granted to the one who sat on it to take peace from the earth, and that people should kill one another; and there was given to him a great sword. (Revelation 6:3-4)
People are not as safe as most seem to think that they are. WWIII is not yet here, but steps are in progress.
Several items of possibly related interest may include:
World War III: Steps in Progress Are there surprising actions going on now that are leading to WWIII? Might a nuclear attack be expected? Does the Bible promise protection to all or only some Christians? How can you be part of those that will be protected? A related video would be Is World War III About to Begin? Can You Escape?
Four Horsemen of the Apocalypse What do each of the four horseman of the Apocalypse represent? Have they began their ride? Did Jesus discuss the any of this? Might their rides coincide with the "beginning of sorrows? Do they start their ride prior to the Great Tribulation? Did Nostradamus or any other 'private prophets' write predictions that may mislead people so that they may not understand the truth of one or more of the four horseman? There is also a related YouTube video titled The Four Horsemen of the Apocalypse.
Russia and Ukraine: Their Origins and Prophesied Future Russia in prophecy. Where do the Russians come from? What about those in the Ukraine? What is prophesied for Russia and its allies? What will they do to the Europeans that supported the Beast in the end? There is also a video sermon available: Russia in the Bible and in Prophecy and a video sermonette available: Ukraine in Prophecy?
Is Russia the King of the North? Some claim it is. But what does the Bible teach? Here is a link to a video, also titled Is Russia the King of the North?
Ezekiel 38: For Russia & Iran in Our Day? Is Ezekiel 38 about to be fulfilled? A related video is available titled Ezekiel 38: For Russia, Ukraine, & Iran Now?
Jordan in Bible Prophecy What does the Bible show will happen to the inhabitants of Jordan? Will they escape and then be punished?
War is Coming Between Europeans and Arabs Is war really coming between the Arabs and the Europeans? What does Bible prophecy say about that? Do the Central Europeans (Assyria in prophecy) make a deal with the Arabs that will hurt the USA and its Anglo-Saxon allies? Do Catholic or Islamic prophecies discuss a war between Europe and Islam? If so, what is the sequence of events that the Bible reveals? Who does the Bible, Catholic, and Islamic prophecy teach will win such a war?
There is a Place of Safety for the Philadelphians. Why it May Be Petra This article discusses a biblical 'place of safety' and includes quotes from the Bible and Herbert W. Armstrong on this subject–thus, there is a biblically supported alternative to the rapture theory. There is also a video on the subject: Might Petra be the Place of Safety? Here is something related in the Spanish language: Hay un lugar de seguridad para los Filadelfinos. ¿Puede ser Petra?
Who is the King of the North? Is there one? Do biblical and Roman Catholic prophecies for the Great Monarch point to the same leader? Should he be followed? Who will be the King of the North discussed in Daniel 11? Is a nuclear attack prophesied to happen to the English-speaking peoples of the United States, Great Britain, Canada, Australia, and New Zealand? When do the 1335 days, 1290 days, and 1260 days (the time, times, and half a time) of Daniel 12 begin? When does the Bible show that economic collapse will affect the United States? In the Spanish language check out ¿Quién es el Rey del Norte? Here is a link to a video titled: The Future King of the North.
Germany's Assyrian Roots Throughout History Are the Germanic peoples descended from Asshur of the Bible? Have there been real Christians in Germanic history? What about the "Holy Roman Empire"? There is also a You-Tube video sermon on this titled Germany's Biblical Origins.
Germany in Biblical and Catholic Prophecy Does Assyria in the Bible equate to an end time power inhabiting the area of the old Roman Empire? What does prophecy say Germany will do and what does it say will happen to most of the German people? Here is a link to a video Is the USA Pushing Germany to Start WWIII?
When Will the Great Tribulation Begin? 2015, 2016, or 2017? Can the Great Tribulation begin today? What happens before the Great Tribulation in the "beginning of sorrows"? What happens in the Great Tribulation and the Day of the Lord? Is this the time of the Gentiles? When is the earliest that the Great Tribulation can begin? What is the Day of the Lord? Who are the 144,000? Here is a version of the article in the Spanish language: ¿Puede comenzar la Gran Tribulación en 2014 o 2015? ¿Es el Tiempo de los Gentiles? You can also see the English language sermon video: The Great Tribulation from the Mount of Olives.
The Arab and Islamic World In the Bible, History, and Prophecy The Bible discusses the origins of the Arab world and discusses the Middle East in prophecy. What is ahead for the Middle East and those who follow Islam? What about the Imam Mahdi? What lies ahead for Turkey, Iran, and the other non-Arabic Muslims? An item of possibly related interest in the Spanish language would be: Líderes iraníes condenan la hipocresía de Occidente y declaran que ahora es tiempo para prepararse para el Armagedón, la guerra, y el Imán Mahdi.
Is the Future King of the South Rising Up? Some no longer believe there needs to be a future King of the South. Might Egypt, Islam, Iran, Arabs, or Ethiopia be involved? Might this King be called the Mahdi or Caliph? What does the Bible say? A YouTube video of related interest may be: The Future King of the South is Rising.
The Prophesied 'Islamic' Confederation Where is an Islamic caliphate prophesied? Will one happen? Should you be concerned about it? A related video is Will an Arabic Calphiphate Destroy the West?
Obama Administration Pushing for an Islamic Empire? Because of the rise of groups such as the Islamic State, the Obama Administration and others are pushing for a coalition of Arab nations along with Turkey. Does this resemble the final King of the South of Bible prophecy? Is there an Islamic antichrist? Does the Bible teach that terrorism and the sword will affect the USA and some of its allies? What does the Bible teach in Ezekiel about a confederation involving Egypt? Will an Arabic confederation end in destruction for those who strongly support it? Are the 10 nations in the Arab coalition the ten kings of Revelation 17:12-13? Are the 10 nations including the USA and Turkey the ten nations of Revelation 17:12-13? Who is? Was the pushing of the Obama Administration to do this predicted by in 2009 in a writing by Dr. Thiel? What does the Bible show?
Iraq, the King of the South, Armageddon, and Prophecy What will happen to Iraq? Is it the prophesied Mystery Babylon? What is Armageddon and how does that have to do with Iraq? Here is a related video Iraq, Armageddon, & Prophecy.
How Will Middle East Peace be Brought About? Can humans bring peace to the Middle East? Here is a link to a related video: Middle East Peace? When?
The 'Peace Deal' of Daniel 9:27 This prophecy could give up to 3 1/2 years advance notice of the coming Great Tribulation. Will most ignore or misunderstand its fulfillment? Here is a link to a related sermon video Daniel 9:27 and the Start of the Great Tribulation.
Anglo – America in Prophecy & the Lost Tribes of Israel Are the Americans, Canadians, English, Scottish, Welsh, Australians, Anglo-Saxon (non-Dutch) Southern Africans, and New Zealanders descendants of Joseph? Where are the lost ten-tribes of Israel? Who are the lost tribes of Israel? What will happen to Jerusalem and the Jews in Israel? Will God punish the U.S.A., Canada, United Kingdom, and other Anglo-Saxon nations? Why might God allow them to be punished first? Here is a link to the Spanish version of this article: Anglo-América & las Tribus Perdidas de Israel. Information is also in the YouTube sermons titled Where are the Ten Lost Tribes? Why does it matter? and British are the Covenant People. A short YouTube of prophetic interest may be Barack Obama and the State of the Apocalypse.
Barack Obama, Prophecy, and the Destruction of the United States-Second Edition for Second Obama Term This is a 160 page book for people truly interested in prophecies related to Barack Obama and the United States, including learning about many that have already been fulfilled (which the book documents in detail) and those that will be fulfilled in the future. It also has a chapter about a Republican choice. This book is available to order at www.barackobamaprophecy.com. The physical book can also be purchased at Amazon from the following link: Barack Obama, Prophecy, and the Destruction of the United States: Is Barack Obama Fulfilling Biblical, Islamic Catholic, Kenyan, and other America-Related Prophecies? What About Republican Leaders? Second Edition for Second Obama Term.
Barack Obama, Prophecy, and the Destruction of the United States-Second Term-Amazon Kindle edition. This electronic version is available for only US$2.99. And you do not need an actual Kindle device to read it. Why? Amazon will allow you to download it to almost any device: Please click HERE to download one of Amazon s Free Reader Apps. After you go to for your free Kindle reader and then go to Barack Obama, Prophecy, and the Destruction of the United States-Second Term-Amazon Kindle edition.