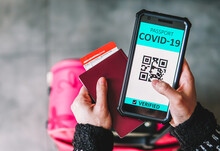 (Public Domain Pictures)

Israel365News reported the following:
August 10, 2021

Israel's Prime Minister called for all Israelis to get vaccinated but implicit in his words was a message that non-vaccination would postpone the Messiah.

At Sunday's cabinet meeting Naftali Bennett discussed the current spike in the pandemic. He threatened a new shutdown, saying, "If we get vaccinated in Elul, we can hear the shofar in Tishrei."

The Hebrew month of Elul began this week, marking a period of intensified repentance in preparation for the Jewish high holiday period in the month of Tishrei when the shofar (ram's horn) is blown on Rosh Hashanna.

Bennett's intention was clearly a warning that if there was not an increase in vaccinations, there would be a shutdown during the upcoming Jewish holidays. …

Green Pass restrictions. The new restrictions that kicked in on Sunday limited gatherings of any size, indoors and out, to those who have been vaccinated, recovered from the virus, or who present a negative COVID test. https://www.israel365news.com/195859/bennetts-rosh-hashanah-threat-if-people-dont-get-vaccinated-they-wont-hear-the-shofar/
Here is something from Wayne Allyn Root related to having to supply 'papers,' 1938, and where it led to:
Welcome to 1938: First, they came for the unvaccinated

August 9, 2021

This is the most important commentary I've ever written.

It's time for alarm bells. It's time for me to play the part of Paul Revere: "The communist tyrants and dictators are coming! The communist tyrants and dictators are coming!" They're coming first for unvaccinated Americans.

This is 1938. I'm a Jew. I now understand just a little of what it felt like to be a Jew in 1938. No, it's not the Holocaust. …

But 1938 was not the Holocaust. It was the pre-Holocaust. It was the time before the nightmare, when the foundation was being laid to destroy the freedom, free speech, businesses and lives of millions of Jews.

Everything happening today to the American people … to the U.S. Constitution … to freedom … and particularly to unvaccinated Americans reminds me of 1938. This is only the beginning. It gets much worse from here. …

First, "the papers." Vaccine mandates and vaccine passports are just like 1938, when the Gestapo demanded papers from every German. …
Now Democrats want American citizens, not illegal aliens, not criminals, but patriots born in this country, to produce papers 24/7. We'll need papers to enter restaurants, bars, nightclubs, concerts, casinos, conventions and hotels and to board a train, plane or bus. We'll need papers to enter a supermarket, or we'll starve to death. All for the crime of being unvaccinated against … wait for it …

The flu.

All for the crime of being unwilling to inject an untested, rushed to production, experimental, "for emergency use only" shot into our bodies.

What happened to the war cry of Democrats: "My body, my choice"? It only applies to murdering babies, but it doesn't apply to dangerous experimental shots we don't want injected into our bodies.

Weren't Jews injected with experimental drugs by the depraved Nazi government? Wasn't that a key part of the Nuremberg trials? That no government could ever again inject experimental shots into the bodies of unwilling citizens? Isn't that a basic human right? …

By the way, this isn't about vaccines. If you want the vaccine, take it. … This is about vaccine mandates – forcibly injecting Americans who don't want it. That's 1938.

But there's much more in common with 1938. Mask mandates. … Mandates are about forcing individuals to lose their freedom, choice, individuality and human rights. That's 1938.

Lockdowns are a match with the Warsaw Ghetto. Jews were locked down. Jews couldn't work. Jews couldn't travel. Jewish businesses were labeled "nonessential."

If government can force us to close our businesses, to kill our jobs, to decide who is nonessential, then this is 1938. …

Stars on clothing. It's coming. The vaccinated get into restaurants, bars, concerts, supermarkets, planes and trains. They keep their jobs. The rest of us are marked as "subhuman" for life. That's the star. That's 1938.

Media and social media as the public-relations wing of the government. That's called propaganda. Remind you of 1938? Back then, the Jews' books were burned. Today, it's those of conservatives, patriots and specifically the unvaccinated. We are silenced. Our facts are labeled "misleading." Only the facts that agree with big government's agenda count. That's 1938.

Door-to-door intimidation and making lists of those who disagree with "government knows best." Trust me, that army of door-to-door vaccine brainwashers will soon be turned into a Gestapo of gun-grabbers. 1938 was the year Nazis banned Jews from owning guns. They took them door to door. That's 1938.

Only days ago, a former Department of Homeland Security official said the unvaccinated should be on the federal no-fly list. That's exactly how Nazis attacked the Jews and others who disagreed with their agenda. It was always lists. …

First, they came for the unvaccinated. Trust me: Next, they're coming for you. https://www.wnd.com/2021/08/welcome-1938-first-came-unvaccinated/
Yes, there are parallels between 1938 and what we have seen in the past couple of years.
It is not just COVID, but matters related to teaching biblical morality.
We are seeing censorship and 'lists' being put together.
While Big Tech calls them 'algorithms,' they are a way Google, YouTube, and others are using to stop people from seeing information they would be most interested to see, related to certain matters of biblical teachings and certain areas of politics.
Related to the government of the USA, the Continuing Church of God (CCOG) put together the following video on our Bible News Prophecy YouTube channel:
Joe Biden has stated he would create a task force to deal with online threats and extremism. What does the first amendment, part of the Bill of Rights, to the US Constitution say? Is the Biden-Harris team committed to "advance LGBTQ+ equality in America"? Has the Biden-Harris campaign posted that giving more religious freedom is "hate against LGBTQ+ individuals"? What is the so-called "Equality Act" all about? Could Kamala Harris be more strident about this than even Joe Biden? Has the Biden-Harris teams appointed Richard Stengel to help deal with speech and communications and has Stengel called for the elimination of more aspects of free speech? Might he consider it wrong to quote scriptures that might be considered as "insults" by those opposed to biblical sexual morality? What about Canada's position on some of this? Are various ones in governmental positions suggesting banning at least parts of the Bible (including those that show homosexuals can change)? Is believing the New Testament considered to be a bigger problem of prejudice than racial views? Does Big Tech (like YouTube) rely more on their 'community standards" instead of the Bible? Is a famine of the word coming according to Amos and might that involve the internet? Should we call out sins, but be wise as to how, when, and where according to scripture? Where will the fake news ultimately lead to per 1 Thessalonians 5:2? Are Harris-Biden views promoting hate against those who hold to aspects of biblical morality?
Here is a link to the video: Biden-Harris & Hate Speech.
If this can happen in the USA–a land that supposedly has freedom of speech enshrined for centuries in its Constitution, what about elsewhere?
The time of Jacob's trouble (Jeremiah 30:7), also known as the Great Tribulation (Matthew 24:21), is coming and the USA and its Anglo-Saxon allies (including Canada) will be affected.
Wayne Allyn Root's column alluded to a poem from the last century by Martin Niemöller:
First they came for the Socialists, and I did not speak out—
Because I was not a Socialist.

Then they came for the Trade Unionists, and I did not speak out—
Because I was not a Trade Unionist.

Then they came for the Jews, and I did not speak out—
Because I was not a Jew.

Then they came for me—and there was no one left to speak for me.
What will happen will be worse than the Holocaust according to Jesus:
21 For then there will be great tribulation, such as has not been since the beginning of the world until this time, no, nor ever shall be. 22 And unless those days were shortened, no flesh would be saved; but for the elect's sake those days will be shortened. (Matthew 24:21-22)
And yes, it will affect you if you live into the time of the Great Tribulation (and, at least to a degree, even if you do not). And that will not be because of vaccination status.
Jesus taught that the 'beginning of sorrows' (Matthew 24:4-8) would proceed the Great Tribulation.
1938 restrictions proceeded the Holocaust and World War II.
The current sorrows will proceed World War III. We are not too many years away (watch Great Tribulation: 2026 or 2027?).
National repentance is the only way to prevent it, and that does not look likely:
5…But the Assyrian shall be his king, Because they refused to repent. 6 And the sword shall slash in his cities, Devour his districts, And consume them, Because of their own counsels. 7 My people are bent on backsliding from Me. Though they call to the Most High, None at all exalt Him. (Hosea 11:5b-7)
This will not end well for the USA (cf. Isaiah 10:5-12; see also Germany in Biblical and Catholic Prophecy) nor its British-descended allies.
But you can repent and even have physical protection (see There is a Place of Safety for the Philadelphians. Why it May Be Near Petra).
Do you see what is happening?
If so, will YOU properly respond?
Some items of possibly related interest may include:
Orwell's 1984 by 2024? In 1949, the late George Orwell wrote a disturbing book about a totalitarian government called "nineteen-eighty four." Despite laws that are supposed to protect freedom of speech and religion, we are seeing governments taking steps consistent with those that George Orwell warned against. We are also seeing this in the media, academia, and in private companies like Google, Facebook, and Twitter. With the advent of technology, totalitarianism beyond what Orwell wrote is possible. Does the Bible teach the coming a totalitarian state similar to George Orwell's? What about the Antichrist and 666? Will things get worse? What is the solution? Dr. Thiel answers these questions and more in this video.
When Will the Great Tribulation Begin? 2021, 2022, or 2023? Can the Great Tribulation begin today? What happens before the Great Tribulation in the "beginning of sorrows"? What happens in the Great Tribulation and the Day of the Lord? Is this the time of the Gentiles? When is the earliest that the Great Tribulation can begin? What is the Day of the Lord? Who are the 144,000? Here is a version of the article in the Spanish language: ¿Puede la Gran Tribulación comenzar en el 2020 o 2021? ¿Es el Tiempo de los Gentiles? A related video is: Great Tribulation: 2026 or 2027? Here is a video in the Spanish language: Es El 2021 el año  de La Gran Tribulación o el Grande Reseteo Financiero.
World War III: Steps in Progress Are there surprising actions going on now that are leading to WWIII? Might a nuclear attack be expected? Does the Bible promise protection to all or only some Christians? How can you be part of those that will be protected? A related video would be Is World War III About to Begin? Can You Escape?
Internet Control, Famine of the Word, and 666 Is the internet going to be used to suppress the teaching of the word of God?
Persecutions by Church and State This article documents some that have occurred against those associated with the COGs and some prophesied to occur. Will those with the cross be the persecutors or the persecuted–this article has the shocking answer. There is also a YouTube video sermon you can watch: The Coming Persecution of the Church.
The Spanish Inquisition and Early Protestant Persecutions Was the Church of Rome really responsible for this? What happened? A video of related interest is titled: The Past and Future Inquisition.
Christians: Ambassadors for the Kingdom of God, Biblical instructions on living as a Christian This is a scripture-filled booklet for those wishing to live as a real Christian. A related sermon is also available: Christians are Ambassadors for the Kingdom of God.
The Philadelphia Church Era was predominant circa 1933 A.D. to 1986 A.D. The old Radio Church of God and old Worldwide Church of God, now basically the most faithful in the Church of God, like who hold to the beliefs and practices of the Continuing Church of God.
The Laodicean Church Era has been predominant circa 1986 A.D. to present. These are non-Philadelphians who mainly descended from the old WCG.
There is a Place of Safety for the Philadelphians. Why it May Be Petra This article discusses a biblical 'place of safety' and includes quotes from the Bible and Herbert W. Armstrong on this subject–thus, there is a biblically supported alternative to the rapture theory. There is also a video on the subject: Might Petra be the Place of Safety? Here is something related in the Spanish language: Hay un lugar de seguridad para los Filadelfinos. ¿Puede ser Petra?
This is PETRA! This is a 1962 Good News article by the late Dr. Hoeh.
Is There A Secret Rapture for the Church? When and Where is the Church Protected? What does the Bible really teach? Does the Church flee or is it taken up just prior to the great tribulation? Who really is left behind? There is also a YouTube video with information Did Jesus Teach a Pre-tribulation Rapture?
COVID 19 is NOT the End, but could it be TEOTWAWKI? The novel coronavirus called COVID-19 is wreaking havoc around the world. Many states of the USA as well as countries in Europe are on lockdown with shelter in place /shelter in residence requirements. In France, a form is required when you are not at your house. In Spain, drones are being used to warn people who are outside to got back to their homes–does that bring up feelings of 'Big Brother'? Italy, France, and other areas are using police and/or military force to encourage people to stay inside. According to the Bible could this be the end? If not, what has to happen first? Have the second and third of the four horsemen of the Apocalypse started their ride? Could COVID-19 be the fourth horseman? Why or why not? Could we be seeing The End of the World as We Know It (TEOTWAWKI) like the R.E.M.'s 1987 single song discussed? Do Christians need to fear? What did Jesus teach? What did the Psalmist teach? This is a video. Here is a link to a version in the Spanish language: Corona 19 no es el final PERO es el TEOTWAWKI.
COVID-19 Leading to 666? The novel coronavirus of Wuhan, China fame, is now called COVID-19. It has also been called the 'Coronapocalypse.' Does COVID-19 have any prophetic ramifications? What did Jesus teach about pestilences and sorrows in the Olivet prophecy in Matthew 24? Could COVID-19 be the ride of the fourth horseman of the Apocalypse? Why was this type of disease expected according to the Old Testament prophecies in Deuteronomy and Leviticus? What has the US Centers for Disease Control warned about? What has the CDC reported about the flu? Were there lessons about fear and infections in the 2011 movie 'Contagion'? Because of COVID-19, the World Health Organization (WHO), nation of Iran, and certain French locations are telling people not to use cash, but instead electronic forms of payment. The US Federal Reserve is now quarantining money repatriated from Asia to reduce the potential spread of the coronavirus on US currency bills. Is COVID-19 worse than we have been told or could this all be a 'false flag' event to encourage people to move towards a cashless society? If the thousands of deaths associated with COVID-19 are pushing parts of the world towards cashlessness, how much more likely will the ride of the fourth horseman and over a billion human deaths motivate people to move to making electronic payments that can be monitored? The Bible tells of a soon coming society that controls buying and selling to force allegiance to a coming European Beast power, known as 666 (Revelation 13:16-18). Does the 'great tribulation' begin before ride of the fourth horseman or with the opening of the fifth seal of Revelation 6? Do the words of Jesus helps us better understand the sequence of the four horsemen of the Apocalypse and the start of the Great Tribulation? Will the ride of the fourth horseman help lead to the rise of 666? Is that ride very close? Dr. Thiel addresses these issues and more. Here is a link to a version in the Spanish language: El COVID-19 ¿Conduce al 666?
Christian Repentance Do you know what repentance is? Is it really necessary for salvation? A related sermon is also available titled: Real Christian Repentance.
Is God Calling You? This booklet discusses topics including calling, election, and selection. If God is calling you, how will you respond? Here is are links to related sermons: Christian Election: Is God Calling YOU? and Predestination and Your Selection. A short animation is also available: Is God Calling You?