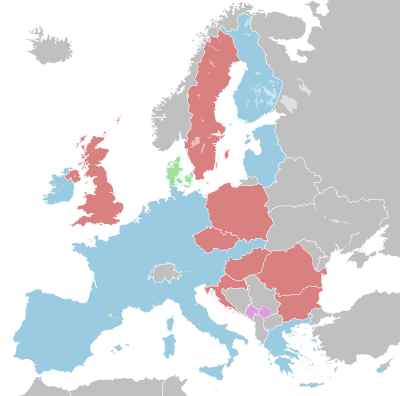 A map of the Eurozone and the status of the surrounding countries and territories.    Light blue covers EU member states using the euro (Eurozone)  Green covers those EU members whose currencies are tied to the Euro. The reddish-orange covers EU members that do not use the Euro.  The violet shows states which have unilaterally adopted the euro. While the territories shown in gray are not in the EU nor do they officially use the Euro.

Most Germans want Greece to remain in the Eurozone:
February 1, 2015

BERLIN—A majority of Germans favor Greece remaining in the eurozone despite its new leftist government in Athens rejecting austerity, a poll for newspaper Bild am Sonntag showed on Sunday.

Sixty-two percent favored Greece staying in the 19-country currency union, the survey of 504 people conducted on Thursday by polling group Emnid showed. Just 26 percent wanted Greece out of the euro.

The new government in Athens made clear from its first day in power last week that it would not back down on its election pledge to abandon the austerity policies imposed on Greece in a bailout program agreed by the last government.

New Greek Prime Minister Alexis Tsipras nevertheless rang European Central Bank President Mario Draghi on Friday night to assure him that Athens was seeking an accord, a government official said.  http://www.voanews.com/content/poll-most-germans-want-greece-in-euro-zone/2623448.html
As I have written before, I expect Greece will ultimately support the 'Beast of the sea' of Revelation 13.  The fact that most Germans still support having Greece in the Eurozone, despite Greece's poor track record in repaying its debts to mainly Germany and the fact that Greece's new government wants to renegotiate demonstrates that many in Germany are taking the longer view of the situation.
For Germany to dominate the world, it wants as large of a Eurozone as possible.  Germany also expects that most nations that are not in the Eurozone, but are in the European Union (EU) will adopt the Euro at some time.
Because of concerns that the USA has about Russia, China, and the Islamic world, it has tended to support the European Union and its expansion.  The USA, however, is doing so to its peril according to biblical prophecies (Ezekiel 23:4,9-10; Daniel 11:39).
How has the USA done this?  On October 15, 2009 it was reported that Czech President Vaclav Klaus was the lone EU leader still opposed to the Lisbon Treaty (Waterfield B. Czech President Vaclav Klaus 'to continue' lone resistance to Lisbon Treaty.  Telegraph, October 15, 2009.  http://www.telegraph.co.uk/news/worldnews/europe/czechrepublic/6329690/Czech-President-Vaclav-Klaus-to-continue-lone-resistance-to-Lisbon-Treaty.html).  The Obama administration worked to get the Lisbon Treaty approved as President Obama "wants a strong and united Europe" (Source: Baldwin T, Reid T., Coates S. Obama Administration worried about Cameron effect in Europe.  The Times, October 21, 2009. http://www.timesonline.co.uk/tol/news/politics/article6883075.ece#cid=OTC-RSS&attr=797093). On October 23, 2009, US Vice President Joseph Biden visited the Czech Republic and gave it security reassurances (U.S. foreign policy aware of threats – Havel after meeting Biden.  CTK, October 23, 2009. http://www.ceskenoviny.cz/news/zpravy/u-s-foreign-policy-aware-of-threats-havel-after-meeting-biden/404375).  This could have possibly had some limited influence on some of the Czech leadership, as the Lisbon Treaty was signed two weeks after that visit.  On November 3, 2009, Agence France Presse (AFP) reported that USA President Barack Obama publicly expressed his support for the Czech President's signing of the Lisbon Treaty and for now having a  'strengthened' EU (Obama welcomes 'strengthened' EU. AFP, November 3, 2009.  http://www.google.com/hostednews/afp/article/ALeqM5hJ8OzJSh0xfKow8z47RGCYQu1nsg)
The Obama Administration is supporting the rise of the European power.
The USA has also specifically encouraged Germany to support Greece economically. For example, The New York Times reported that on May 10, 2010, President Obama called German Chancellor Merkel and told her that Europe needed an overwhelming financial rescue for the sake of its unity, and she apparently heeded that suggestion. (Erlanger S, Benhold K, Sanger D. Debt Aid Package for Europe Took Nudge From Washington. The New York Times, May 10, 2010.   (http://www.nytimes.com/2010/05/11/business/global/11reconstruct.html).
The Bible tells of a people who are not sure that they want to dominate, but will any way as it is in their heart:
5 "Woe to Assyria, the rod of My anger
And the staff in whose hand is My indignation.
6 I will send him against an ungodly nation,
And against the people of My wrath
I will give him charge,
To seize the spoil, to take the prey,
And to tread them down like the mire of the streets.
7 Yet he does not mean so,
Nor does his heart think so;
But it is in his heart to destroy,
And cut off not a few nations.
8 For he says,
'Are not my princes altogether kings?
9 Is not Calno like Carchemish?
Is not Hamath like Arpad?
Is not Samaria like Damascus?
10 As my hand has found the kingdoms of the idols,
Whose carved images excelled those of Jerusalem and Samaria,
11 As I have done to Samaria and her idols,
Shall I not do also to Jerusalem and her idols?'" (Isaiah 10:5-11)
What is happening in Europe with Germany is a step towards this. Many in Germany/Central Europe are referred to prophetically as Assyria.  Notice as the above shows, this 'Assyrian' power will cause military invasions–invasions will include the USA, which is sometimes prophetically referred to as Samaria in the Bible, which it is above.  The Bible is clear that a European power will, for a time, dominate the world militarily (Revelation 13:1-4).
In other places, the Bible tells of a time when a European power will also dominate the world economically (Revelation 18).  This means it is a time when the USA and its Anglo-Saxon descended allies will not be the dominant economic power.
A 'new world order' is in the process of being made, but it is not here yet.  There will be problems in Europe (Daniel 2:41-43), but after some reorganizations it will arise (Revelation 17:12-13).
Some items of possibly related interest may include:
Europa, the Beast, and Revelation Where did Europe get its name? What might Europe have to do with the Book of Revelation? What about "the Beast"? Is an emerging European power "the daughter of Babylon"? What is ahead for Europe? Here is a link to a video titled: Can You Prove that the Beast to Come is European?
European Technology and the Beast of Revelation Will the coming European Beast power would use and develop technology that will result in the taking over of the USA and its Anglo-Saxon allies? Is this possible? What does the Bible teach? Here is a related YouTube video: Military Technology and the Beast of Revelation.
Must the Ten Kings of Revelation 17:12 Rule over Ten Currently Existing Nations? Some claim that these passages refer to a gathering of 10 currently existing nations together, while one group teaches that this is referring to 11 nations getting together. Is that what Revelation 17:12-13 refers to? The ramifications of misunderstanding this are enormous.
World War III: Steps in Progress Are there surprising actions going on now that are leading to WWIII? Might a nuclear attack be expected? Does the Bible promise protection to all or only some Christians? How can you be part of those that will be protected? A related video would be Is World War III About to Begin? Can You Escape?
WTO/TTIP and the Babylonian Beast Will international trade agreements like WTO/TTIP/CETA lead to the fulfillment of end time prophecies concerning the Babylonian Beast power that the Book of Revelation warns against? What does the Bible teach? A related video would be WTO Trade Deal and the Rise of the European Beast Power.
Is Russia the King of the North? Some claim it is. But what does the Bible teach? Here is a link to a video, also titled Is Russia the King of the North?
Who is the King of the North? Is there one? Do biblical and Roman Catholic prophecies for the Great Monarch point to the same leader? Should he be followed? Who will be the King of the North discussed in Daniel 11? Is a nuclear attack prophesied to happen to the English-speaking peoples of the United States, Great Britain, Canada, Australia, and New Zealand? When do the 1335 days, 1290 days, and 1260 days (the time, times, and half a time) of Daniel 12 begin? When does the Bible show that economic collapse will affect the United States? In the Spanish language check out ¿Quién es el Rey del Norte? Here is a link to a video titled: The Future King of the North.
Germany's Assyrian Roots Throughout History Are the Germanic peoples descended from Asshur of the Bible? Have there been real Christians in Germanic history? What about the "Holy Roman Empire"? There is also a You-Tube video sermon on this titled Germany's Biblical Origins.
Germany in Biblical and Catholic Prophecy Does Assyria in the Bible equate to an end time power inhabiting the area of the old Roman Empire? What does prophecy say Germany will do and what does it say will happen to most of the German people? Here is a link to a video Is the USA Pushing Germany to Start WWIII?
Anglo – America in Prophecy & the Lost Tribes of Israel Are the Americans, Canadians, English, Scottish, Welsh, Australians, Anglo-Saxon (non-Dutch) Southern Africans, and New Zealanders descendants of Joseph? Where are the lost ten-tribes of Israel? Who are the lost tribes of Israel? What will happen to Jerusalem and the Jews in Israel? Will God punish the U.S.A., Canada, United Kingdom, and other Anglo-Saxon nations? Why might God allow them to be punished first? Here is a link to the Spanish version of this article: Anglo-América & las Tribus Perdidas de Israel. Information is also in the YouTube sermons titled Where are the Ten Lost Tribes? Why does it matter? and British are the Covenant People. A short YouTube of prophetic interest may be Barack Obama and the State of the Apocalypse.
Barack Obama, Prophecy, and the Destruction of the United States-Second Edition for Second Obama Term This is a 160 page book for people truly interested in prophecies related to Barack Obama and the United States, including learning about many that have already been fulfilled (which the book documents in detail) and those that will be fulfilled in the future. It also has a chapter about a Republican choice. This book is available to order at www.barackobamaprophecy.com. The physical book can also be purchased at Amazon from the following link: Barack Obama, Prophecy, and the Destruction of the United States: Is Barack Obama Fulfilling Biblical, Islamic Catholic, Kenyan, and other America-Related Prophecies? What About Republican Leaders? Second Edition for Second Obama Term.
Barack Obama, Prophecy, and the Destruction of the United States-Second Term-Amazon Kindle edition. This electronic version is available for only US$2.99. And you do not need an actual Kindle device to read it. Why? Amazon will allow you to download it to almost any device: Please click HERE to download one of Amazon s Free Reader Apps. After you go to for your free Kindle reader and then go to Barack Obama, Prophecy, and the Destruction of the United States-Second Term-Amazon Kindle edition.