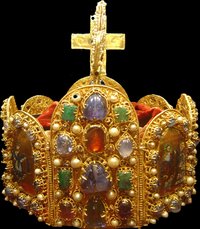 Crown of the "Austro-Hungarian Empire" & the "Holy Roman Empire"
While Germany is considered to be a democracy, some seem to want to see the return of the monarchy, including at least one prince:
Prince: Germany should reinstate monarchy

The Local – March 14, 2012

Germany should reinstate its monarchy to speak to people's emotions, make them proud of their country and even encourage them to have babies, according to Prince Philip Kiril of Prussia, great-great grandson of the last Kaiser…

But even if the German royal family were to be reinstated, Prince Philip would not sit on the throne – that honour would go to Prince Georg Friedrich von Preußen, who is the direct heir and has said he would not want to see a royal restoration. 

http://www.thelocal.de/national/20120314-41325.html

Should Germany bring back the royal family?

Germany got rid of its last Kaiser nearly a century ago, but the country remains fascinated by royals. One of the Kaiser's descendants says royalty would help the country – but should Germany reinstate the monarchy?

The Local – March 14, 2012

The Kaiser's descendants still live aristocratic lives even though the royal family was abolished in 1918 after defeat in World War I. And last summer, the wedding of Prince Georg Friedrich of Prussia attracted not only a good showing of European royal guests but also the attention of the German public…

.

A possibly increasing acceptance and even popularity of Germany's home grown monarchy is no doubt linked with the young, educated and affable Prince Georg. His rare public appearances, fresh-faced good looks and reticence would certainly offer a contrast to the grey-haired politicians representing the country.

Germany's presidential post has hardly been covered in glory recently, having been held by two politicians, one of whom resigned arguably too early, the other too late. The debacle over Christian Wulff's resignation prompted one of the Kaiser's great-great grandsons to argue this week that a monarchy would be good for the country.

But would a restored monarchy – presumably along British or Swedish-type constitutional lines – be a good thing for Germany?  http://www.thelocal.de/society/20120314-41329.html
We in the Living Church of God have long taught that Germany (and others in Europe) would look for some type of "strong leader" to lead it (see, for example, New Europe Rising!).
The Bible shows that Europe will reorganize into ten kingdoms and get an autocratic leader (Revelation 17:12-13). This leader will apparently attempt to re-establish a 21st century of the old "Holy Roman Empire."  The crown of which is composed of iron and clay (cf. Daniel 2:41-43) covered with gold and jewels.  The Beast is also supposed to be support/ridden by a religious system which has gold and jewels (Revelation 17:1-4)–though the Beast-supporting kingdoms will eventually betray that church/religious system (Revelation 17:16-17).
It is possible that more nations in Europe will adopt a monarchy, though this literally may not be an absolute biblical requirement.  But the sentiment, at least among some in Germany, is that a stronger leader than a president is desired.  In the future, this desire will apparently increase to the point that the Beast of Revelation 13:1-10 & 17:12-13 will rise up.
2012 is shaping up as a year with many prophetically-significant developments.  More prophetic developments will happen this year.
Some articles of possibly related interest may include:
Who is the King of the North? Is there one? Do biblical and Roman Catholic prophecies point to the same leader? Should he be followed? Who will be the King of the North discussed in Daniel 11? Is a nuclear attack prophesied to happen to the English-speaking peoples of the United States, Great Britain, Canada, Australia, and New Zealand? When do the 1335 days, 1290 days, and 1260 days (the time, times, and half a time) of Daniel 12 begin? When does the Bible show that economic collapse will affect the United States?
Resurgent Germany: A Fourth Reich? Who are the German peoples and where did they come from? What is Germany's role in end time prophecy?
Might German Baron Karl-Theodor zu Guttenberg become the King of the North? Could He Become "the Beast"? What makes the German Defense Minister a candidate?
Europa, the Beast, and Revelation Where did Europe get its name? What might Europe have to do with the Book of Revelation? What about "the Beast"? Is an emerging European power "the daughter of Babylon"? What is ahead for Europe?
End of Mayan Calendar 2012–Might 2012 Mean Something? Are there Mayan calendar predictions for change in 2012? Changes were centuries ago predicted by the Hopi Native Americans. Do Mayan/Hindu/Hopi/Buddhist/New Age/Nostradamus prophecies have any value here? Why might Satan have inspired this date? Does the Dresden codex show destruction of the earth by flood? Can the great tribulation start before 2012? How might Barack Obama be involved in 2012?