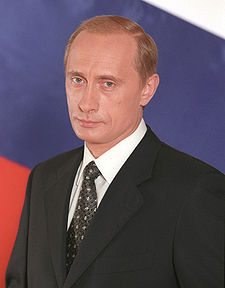 Vladimir Putin, Official Photograph
Russian Prime Minister Vladimir Putin made a few comments related to the Boston Marathon bombing:
Russian President Vladimir Putin weighed in on the Boston Marathon bombing during a marathon public question-and-answer session Thursday, claiming the information Russia provided the FBI about one of the alleged bombers did not have "operative significance."…
Putin fielded some questions from journalists including one who asked about a 2011 request Russia's domestic intelligence agency, the FSB, made to the FBI for information on deceased bombing suspect Tamerlan Tsarnaev. That request has prompted questions about whether American law enforcement agencies could have done more to identify Tsarnaevand his brother, Dzokhar, before they allegedly carried out the attack on the Boston Marathon.After an initial investigation of Tsarnaev, the FBI asked for more information from Russia in order to allow them to look into him further. Russia did not respond with more information. However, after going to the FBI, the Russian intelligence agencies contacted the CIA and requested they also look into Tsarnaev. Because of these investigations into Tsarnaev, his name was included on two different watch lists. In spite of this, law enforcement agencies were not notified when Tsarnaev took a trip to Russia in 2012 because the birthdate and spelling of his name the FSB had provided to the FBI were both incorrect.

Putin told reporters he wished the information Russia provided to American law enforcement agencies had been more useful.  http://tpmdc.talkingpointsmemo.com/2013/04/putin-says-russias-tip-on-boston-bombing-suspect-didnt-have-operative-significance.php
So, the Russians provided some information on the Boston Marathon bombing suspects, but although they were put on two watch lists for a while, this did not stop the bombings.  Notice also:
27 April 2013

The mother of the men who bombed the Boston Marathon was placed on a US terror watch list 18 months before the attack — and is now being eyed for potentially radicalizing her oldest son, officials said yesterday.

Zubeidat Tsarnaeva and her now-dead son, Tamerlan Tsarnaev, were put on the list in 2011 after Russian officials informed the CIA that the two ethnic Chechens were Islamic extremists who may pose a threat to their native Russia, officials said.

Officials have disclosed that Tamerlan's name was listed, raising questions about whether authorities should have eyed him more closely before the April 15 attack that killed three and injured 260.  http://www.nypost.com/p/news/national/mad_mom_on_terror_list_too_8aHEXSFl2HnAXoaOicRFxL

27 April 2013

Russian authorities secretly recorded a telephone conversation in 2011 in which one of the Boston bombing suspects had a conversation with his mother of a radical nature, officials confirmed to CBS News correspondent Bob Orr Saturday, days after the U.S. government finally received details about the call…

As it was, Russian authorities told the FBI only that they had concerns that Tamerlan and his mother were religious extremists. With no additional information, the FBI conducted a limited inquiry and closed the case in June 2011.

Two years later, authorities say Tamerlan and his brother, Dzhohkar, detonated two homemade bombs near the finish line of the Boston Marathon, killing three and injuring more than 260. Tamerlan was killed in a police shootout and Dzhohkar is under arrest.  http://www.cbsnews.com/8301-202_162-57581760/boston-bombing-suspect-tamerlan-tsarnaev-caught-on-russia-wiretap/
In Russia, Vladimir Putin's government itself took some steps today in an attempt to reduce the amount of potential terrorists on its streets:
April 27, 2013

Russian authorities have detained 140 people suspected of ties to Islamic extremism at a mosque in Moscow.

Russian state media quoted a Russian Federal Security Service statement as saying those detained Friday included more than 30 citizens of other countries. But the statement did not specify which nations.

The detentions reportedly involve people suspected of involvement with extremist groups. Russia's Interfax news agency says the operation was aimed at identifying people wanted for terrorist and extremist crimes.

Interfax reports the FSB statement said law enforcement officials believe the prayer house in southern Moscow where the detentions occurred was often visited by people who later converted to radicalism, joined militant groups in the North Caucasus and participated in terrorist acts in Russia.

Media reports did not say whether any charges have been filed.

The detentions come after two ethnically Chechen brothers were identified by U.S. authorities as suspects in the deadly April 15 Boston Marathon bombings.

Russian President Vladimir Putin has used the bombings in Boston as an opportunity to call for greater cooperation with the United States in fighting terrorism.  http://www.voanews.com/content/russia-detains-140-suspected-islamic-extremists/1650146.html
Vladimir Putin is of the Russian Orthodox faith, has taken steps to protect that religion, and has long had concerns about groups who hold to Islam.  Others have as well.
The U.S. Congress received a briefing related to the situation in the Northern Caucasus region, and a Congressman had his own concerns about how the Boston Marathon bombing was handled:
April 27, 2013

WASHINGTON — Terrorist groups in the Northern Caucasus pose little immediate threat to the United States, harboring most of their ill will for Russia.

But some Islamist radicals there — especially in the province of Dagestan, where one of the Boston Marathon bombing suspects, Tamerlan Tsarnaev, spent half of last year — may be indoctrinating followers to take up a global struggle against the West, specialists told a congressional panel on Friday.

The testimony before a subcommittee of the House Foreign Affairs Committee, the first since the deadly April 15 attacks, touched on the potential for attacks by militants drawn to the United States from the wider Islamic world, not just Pakistan, Afghanistan, or the Middle East.

"The Chechens are generally not preoccupied with the United States," said Craig Douglas Alpert, a professor at Georgia Regents University who studies the majority Muslim region of Chechnya, which neighbors Dagestan and has been the focus of Moscow's relentless campaign against militant groups seeking independence. "However, one has to consider if the Chechens do become more involved with the larger global jihadi network, whether they may consider attacking the US homeland." http://www.bostonglobe.com/news/nation/2013/04/26/congress-told-ethnic-chechen-terrorists-are-focused-russia-pose-little-threat/FlR05rJbdEN8UeEDBZW9mK/story.html

26 April 2013

Rep. Louie Gohmert (R-TX) went after the Obama administration's handling of the Boston Marathon bombing investigation in a radio interview Thursday — and along the way he claimed that Muslim Brotherhood members are in the administration and influencing its decisions.

"It's very clear to everybody but this administration that radical Islam is at war against us," Gohmert told WND Radio. "And I'm hoping either this administration will wake up or a new one will come in at the next election before irreparable damage is done. Because radical Islam is at war with us. Thank God for the moderates who don't approve of what's being done. But this administration has so many Muslim Brotherhood members that have influence that they just are making wrong decisions for America."  http://livewire.talkingpointsmemo.com/entry/gohmert-muslim-brotherhood-members-in-obama-administration-are
The Bible tells of a time of an Islamic power rising up in the lands of North Africa, the Middle East, Near East, and the Arabian peninsula.  But it does not seem to specify whether or not others in places such as Caucasus region.
The USA is subject to terrorism (Leviticus 26:16).  The Bible suggests that it may have come from several countries in regions that are now predominantly Islamic (Psalm 83:3-7).
Some articles of possibly related interest may include:
Russia: Its Origins and Prophesied Future Where do the Russians come from? What about those in the Ukraine? What is prophesied for Russia and its allies? What will they do to the Europeans that supported the Beast in the end?
Is Russia the King of the North? Some claim it is. But what does the Bible teach? Here is a link to a video, also titled Is Russia the King of the North?
Is There A Future King of the South? Some no longer believe there needs to be. Might Egypt, Islam, Iran, Arabs, or Ethiopia be involved? Might this King be called the Mahdi? What does the Bible say?
The Arab and Islamic World In the Bible, History, and Prophecy The Bible discusses the origins of the Arab world and discusses the Middle East in prophecy. What is ahead for the Middle East and those who follow Islam? What about the Imam Mahdi? What lies ahead for Turkey, Iran, and the other non-Arabic Muslims?
Is There an Islamic Antichrist? Is Joel Richardson correct that the final Antichrist will be Islamic and not European? Find out.