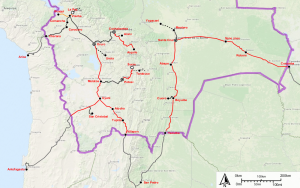 Railroad lines of Bolivia (jkan997)

A reader tipped me off to the following
Germany and Switzerland to help build coast-to-coast railway in South America

Bolivian President Evo Morales visited Switzerland to sign an agreement to construct a railway line across the continent from the Atlantic to the Pacific. Supporters say the project will boost trade and create jobs.

South America's new transcontinental railway is considered to be one the biggest infrastructure projects of the century and is also known as the "Panama Canal on railway tracks." A 3,755-kilometer land connection is set to be built between the continent's Atlantic and Pacific coasts. …

The transcontinental railway will connect three South American countries: Brazil, Bolivia and Peru. The line will run from the Brazilian port city of Santos on the Atlantic coast through Bolivia to the Peruvian port city of Ilo on the Pacific coast. Other South American countries including Paraguay, Argentina and Uruguay are interested in a connection as well.

"The transcontinental railway is an important geostrategic project for South American countries," says economist José Alberti from the Bolivian export association CADEX in an interview with DW. "It will improve integration and infrastructures on the continent, foster transatlantic networking and make access to Asia better." Alberti points out that "this project will reduce time and costs. Furthermore, new services will be created with respect to international trade and they will boost the competitiveness of the countries in the region." http://www.dw.com/en/germany-and-switzerland-to-help-build-coast-to-coast-railway-in-south-america/a-41825559
If you look at the railroad lines on the photo at the beginning of this post, you will see that part of Bolivia's railroad lines do not connect going east=west. The European project is expected to make that connection and upgrade lines. Essentially, this will connect the Pacific Ocean on the west (Ilo, Peru) to the Atlantic Ocean on the east (Santos, Brazil).
This project should benefit the economies of several South American nations, but will also benefit Europe and China.
This project demonstrates that others, and not the USA, are gaining more influence in South America.
My read of Bible prophecy suggests that South America will end up aligning with Europe. Most of the peoples in Latin America are Roman Catholic. And this is true of nearly every nation there. Thus, religion is a major cultural tie to Europe. Having a pope from Argentina who now lives in Rome is also a factor in connecting South America to Europe.
Certain parts of Latin America are also politically quite connected to Europe. French Guiana is actually part of France and uses the Euro as its currency. Suriname still maintains close ties to the Netherlands. There exist certain legal connections between those of Portugal and Brazil which ties those nations relatively closely. Guyana used to be part of the British Commonwealth (however, because of ethnic reasons, I suspect that in the end it may decide to be more closely aligned with the rest of Latin America and continental Europe than with the UK). Most of the Spanish-speaking nations have ties to each other as well as Spain. In the future, all will apparently have ties to Europe (cf. Revelation 13:1-9).
Speaking of Latin America and its future, the article in English Mexico, Central America, South America, Brazil, and the Caribbean in Prophecy, has been translated into the Spanish language as México, América central, Suramérica, Brasil y el Caribe en la profecía. So those in Latin America who, outside of Brazil, mainly speak Spanish can also see what we in the Continuing Church of God have put together about their prophetic future.
Some items of possibly related interest may include:
Mexico, Central America, South America, Brazil, and the Caribbean in Prophecy [Español: México, América central, Suramérica, Brasil y el Caribe en la profecía] [Português: México, América Central, Ámérica do Sul, e Brasil na profecia] What will happen to those of Latin America? Will they have prosperity? Will they cooperate with Europe? Will they suffer in the future? What role might the various Caribbean nations/territories play?
WTO/TTIP and the Babylonian Beast Will international trade agreements like WTO/TTIP/CETA lead to the fulfillment of end time prophecies concerning the Babylonian Beast power that the Book of Revelation warns against? What does the Bible teach? A related video would be WTO Trade Deal and the Rise of the European Beast Power. Another video of related interest may be Trade Wars: Are COG warnings coming to pass?
Europa, the Beast, and Revelation Where did Europe get its name? What might Europe have to do with the Book of Revelation? What about "the Beast"? Is an emerging European power "the daughter of Babylon"? What is ahead for Europe? Here is a link to a video titled: Can You Prove that the Beast to Come is European?
European Technology and the Beast of Revelation Will the coming European Beast power would use and develop technology that will result in the taking over of the USA and its Anglo-Saxon allies? Is this possible? What does the Bible teach? Here is a related YouTube video: Military Technology and the Beast of Revelation.
The Large Hadron Collider has Military Potential Some say this European project is only peaceful. So why is it working on capturing antimatter? Here is a link to a related video: Could the Large Hadron Collider lead to destruction?
Must the Ten Kings of Revelation 17:12 Rule over Ten Currently Existing Nations? Some claim that these passages refer to a gathering of 10 currently existing nations together, while one group teaches that this is referring to 11 nations getting together. Is that what Revelation 17:12-13 refers to? The ramifications of misunderstanding this are enormous. A related sermon is titled Ten Kings of Revelation and the Great Tribulation.
Might German Baron Karl-Theodor zu Guttenberg become the King of the North? Is the former German Defense Minister (who is also the former German Minister for Economics and Technology) one to watch? What do Catholic, Byzantine, and biblical prophecies suggest? A video of related interest would be: Karl-Theodor zu Guttenberg and Europe's Future.
Germany's Assyrian Roots Throughout History Are the Germanic peoples descended from Asshur of the Bible? Have there been real Christians in Germanic history? What about the "Holy Roman Empire"? There is also a You-Tube video sermon on this titled Germany's Biblical Origins.
Germany in Biblical Prophecy Does Assyria in the Bible equate to an end time power inhabiting the area of the old Roman Empire? What does prophecy say Germany will do and what does it say will happen to most of the German people? Here is a version of the article in the Spanish language: Alemania en la profecía bíblic. Here are links to two English language sermon videos Germany in Bible Prophecy and The Rise of the Germanic Beast Power of Prophecy.