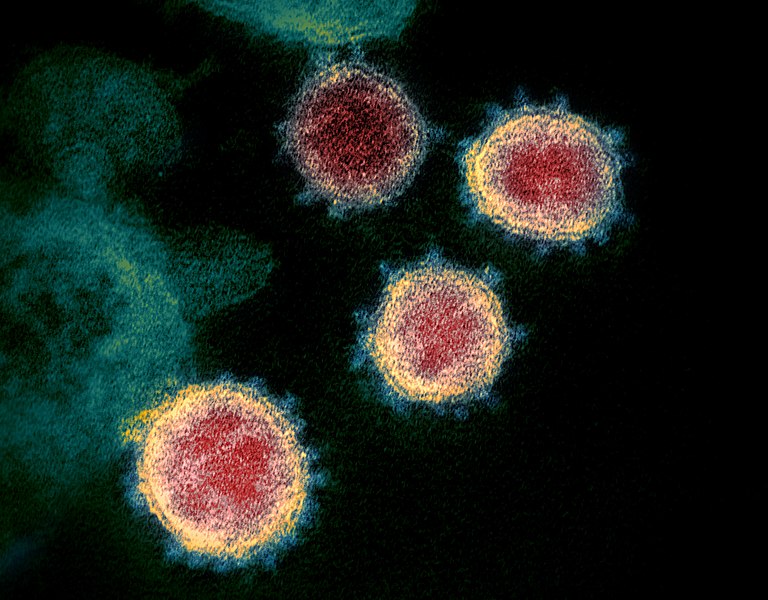 Novel Coronavirus SARS-CoV-2 (NIAID)
Voice of America (VOA) reported the following:
How Lethal COVID-19 Virus Hijacks Patients' Cells

March 27, 2020

When the COVID-19 virus attacks, it turns the patient's own cells into virus factories.

It starts at the surface of the cell, when the virus latches on to a protein that normally helps regulate the patient's blood pressure. The cell unwittingly brings the virus inside, where the attacker unloads its cargo: instructions for making more virus.

Having no equipment of its own, the virus commandeers the cell's machinery to make copies of its genetic code, manufacture more virus shells and deliver packaged germs to the cell surface, where they go on to infect more cells. https://www.voanews.com/science-health/coronavirus-outbreak/how-lethal-covid-19-virus-hijacks-patients-cells
An obvious option, to me at least, is to support the body's natural immune defenses–and this is wise at all times. Not just because of COVID-19, also known as severe acute respiratory syndrome coronavirus 2 (SARS-CoV-2).
Hence I have recommended eating high vitamin C containing fruits and vegetables, fasting, and prayer (see also COVID-19 and Vitamin C: The truth, the myth, and the hype and VOA: Trump: US 'Totally Prepared' for Coronavirus' AP: Vexed by how to contain virus, countries take tough steps' WT: Natural Protection and ZH: How The Super Rich Are Preparing For The Coronavirus; COGwriter: What physical steps can others take? and 'Coronavirus: Steps to stay safe,' 'How To Avoid Getting Infected By The Coronavirus,' 'Italy Shuts Down North in COVID-19 Fight,' 'Every EU member except Cyprus has infections,' and COVID-19 Leading to 666?). Before and since the COVID-19 situation, I regularly pray and fast. Since I have been asked, let me add that I also take Food Research C Complex, Herbal Antioxidant, Vitamin-Mineral, and Zinc Complex 100% food nutrient formulas, like I have for years–I have not changed my supplement regimen because of COVID-19 (though would add some items if I thought I had it).
While these are not guarantees that one cannot get the novel coronavirus (and since I work with ill people, I may very well get it), they, when appropriate, do put the body in a better position to combat various pathogens.
COVID-19 has spread around the world.
The coronavirus starts out very small.
Once it takes hold, the coronavirus quickly spreads in the body–a little spreads a lot.
In the world, sin and hypocrisy is prevalent.
Likewise, in the world leaven is all around.
Not only is it in baked goods, it is now in many other products. Leaven spreads quickly, and most of the items it becomes part of, crumble. In the Bible, leaven normally pictures malice, wickedness, and hypocrisy (1 Corinthians 5:8; Matthew 16:6,12; Luke 12:1), while unleavened bread pictures sincerity and truth (1 Corinthians 5:8).
The Old Testament states, "no leaven shall be seen among you" (Deuteronomy 16:3), whereas the New Testament states, "His Son cleanses us from all sin" (1 John 1:7) and that "sin is lawlessness" (1 John 3:4).
Leaven pictures the teachings of the Pharisees (Matthew 16:6,12; Luke 12:1) whom Jesus called hypocrites (Matthew 15:7; 23:23,25,27,29). They claimed to be God's leaders and teachers of His way, but they were often teaching traditions of men that Jesus condemned (Matthew 15:1-9).
Notice the following:
1 In the meantime, when an innumerable multitude of people had gathered together, so that they trampled one another, He began to say to His disciples first of all, "Beware of the leaven of the Pharisees, which is hypocrisy. 2 For there is nothing covered that will not be revealed, nor hidden that will not be known. (Luke 12:1-2)
According to Strong's, the Greek word Jesus used that was translated as hypocrite means, "an actor under an assumed role." The Pharisees were false religious leaders who pretended to keep God's law, but really did not (Matthew 15:3-9)–they were bearing false witness and they endorsed their false traditions.
Do you have any false traditions you follow? False traditions from other religions or even your own excuses as to why you cannot change and become 'de-leavened' in certain areas? Examine yourself.
Notice that leaven is a symbol of false doctrine and hypocrisy that Jesus warned against:
6 Then Jesus said to them, "Take heed and beware of the leaven of the Pharisees and the Sadducees."

7 And they reasoned among themselves, saying, "It is because we have taken no bread."

8 But Jesus, being aware of it, said to them, "O you of little faith, why do you reason among yourselves because you have brought no bread? 9 Do you not yet understand, or remember the five loaves of the five thousand and how many baskets you took up? 10 Nor the seven loaves of the four thousand and how many large baskets you took up? 11 How is it you do not understand that I did not speak to you concerning bread? — but to beware of the leaven of the Pharisees and Sadducees." 12 Then they understood that He did not tell them to beware of the leaven of bread, but of the doctrine of the Pharisees and Sadducees. (Matthew 16:6-12)
Consider also something else that Jesus taught:
13 'Wo to you, Scribes and Pharisees, hypocrites! because ye shut up the reign of the heavens before men, for ye do not go in, nor those going in do ye suffer to enter. 14 'Wo to you, Scribes and Pharisees, hypocrites! because ye eat up the houses of the widows, and for a pretence make long prayers, because of this ye shall receive more abundant judgment. 15 'Wo to you, Scribes and Pharisees, hypocrites! because ye go round the sea and the dry land to make one proselyte, and whenever it may happen — ye make him a son of gehenna twofold more than yourselves. (Matthew 23:13-15, Young's Literal Translation)
It is unrepentant sinners that will experience the second death with Gehenna fire (see also The Second Death). Leaven, in those passages, is being used by Jesus to represent the seriousness of sin.
Jesus further described the Pharisees by saying, "you also outwardly appear righteous to men, but inside you are full of hypocrisy and lawlessness" (Matthew 23:28).
Jesus thus tied leaven (the Pharisees' sinful teachings, Matthew 16:12) to false religion (being hypocrites) and sin (since "sin is lawlessness," 1 John 3:4).
Jesus also tied the Pharisees' problems in with pride (cf. Mark 7:5-23):
14 When He had called all the multitude to Himself, He said to them, "Hear Me, everyone, and understand: 15 There is nothing that enters a man from outside which can defile him; but the things which come out of him, those are the things that defile a man. 16 If anyone has ears to hear, let him hear!"

17 When He had entered a house away from the crowd, His disciples asked Him concerning the parable. 18 So He said to them, "Are you thus without understanding also? Do you not perceive that whatever enters a man from outside cannot defile him, 19 because it does not enter his heart but his stomach, and is eliminated, thus purifying all foods?" 20 And He said, "What comes out of a man, that defiles a man. 21 For from within, out of the heart of men, proceed evil thoughts, adulteries, fornications, murders, 22 thefts, covetousness, wickedness, deceit, lewdness, an evil eye, blasphemy, pride, foolishness. 23 All these evil things come from within and defile a man." (Mark 7:14-23)
Pride puffs people up. The Apostle Paul specifically used the expression, "puffed up with pride" (1 Timothy 3:6) when he warned against a novice becoming an ordained church leader. He also warned that instead of mourning (repenting) the Corinthian Christians were wrongly puffed up (1 Corinthians 5:2).
Leaven puffs bread up. Pride puffs people up.
The pride of many prevents many from being Philadelphian Christians. Pride keeping God's Holy Days. They, instead of the Church of God, are judges on the Holy Days and/or other biblical matters (Laodicea means "people judge). Many in the world do not understand the following (which is often mistranslated, so a more accurate translation of this is shown below):
16. Therefore, do not allow anyone to judge you in eating or in drinking, or with regard to a festival, or new moon, or the Sabbaths, 17. Which are a foreshadow of the things that are coming, but the body of Christ. 18. Do not allow anyone to defraud you of the prize by doing his will in selfabasement and the worship of angels, intruding into things that he has not seen, vainly puffed up by his own carnal mind 19. And not holding fast to the Head, from Whom all the body, being supplied and knit together by the joints and bands, is increasing with the increase of God. (Colossians 2:16-19, A Faithful Version)

16 Therefore let NO MAN JUDGE YOU in eating and drinking or in respect of a festival or of an observance of the new moon or of a sabbath; 17 for those things are a shadow of the things to come, BUT THE BODY OF CHRIST. 18 Let no one cheat you of your reward, taking delight in false humility and worship of angels, intruding into those things which he has not seen, vainly puffed up by his fleshly mind, 19 and not holding fast to the Head, from whom all the body, nourished and knit together by joints and ligaments, grows with the increase that is from God. (Colossians 2:16-19, NKJV modified by Dr. Thiel to better align with the actual biblical text)
So, people who are spiritually puffed up are unwilling to keep the Days of Unleavened Bread (more on translations of Colossians and other information about God's Holy Days can be found in the free online booklet Should You Observe God's Holy Days or Demonic Holidays?).
The Apostle Paul warned:
7…Who hindered you from obeying the truth? 8 This persuasion does not come from Him who calls you. 9 A little leaven leavens the whole lump (Galatians 5:7-9).
Paul was warning Christians that they should not allow a little compromise with the world (apparently including arguments of friends/acquaintances) should affect them. Christians who kept the Days of Unleavened Bread understood that then, and still understand that today.
A little sin is not good.
Jesus warned in Matthew 7:21-22:
"Not everyone who says to Me, 'Lord, Lord' shall enter the Kingdom of heaven, but he that does the will of my Father in heaven. Many will say to Me in that day, 'Lord, Lord, have we not prophesied in Your name, cast out demons in Your name, and done many wonders in Your name?'"
Jesus is talking about those who claims to be Christians!

23 "And then I will declare to them, 'I never knew you; depart from Me, you who practice lawlessness!" (Matthew 7:23).
(See also, the free online books: The Ten Commandments: The Decalogue, Christianity, and the Beast and Hope of Salvation: How the Continuing Church of God differs from Protestantism.)
In addition to 1 Corinthians 5:7-8, we can see that the Days of Unleavened Bread were still to be kept after the crucifixion. In Acts 12:3, it says that, "Now that was during the Days of Unleavened Bread." It does not say that these days were done away.
Also, Luke wrote:
6 But we sailed away from Philippi after the Days of Unleavened Bread (Acts 20:6).
Now Philippi was (according to Smith's Bible Dictionary) a gentile town.
Even the Greek Orthodox saint and patriarch John Chrysostom realized the above was proof that Paul kept the Days of Unleavened Bread as John wrote:
"And we sailed away from Philippi after the days of unleavened bread, and came unto them to Troas in five days; where we abode seven days." For it seems to me that he made a point of keeping the feasts in the large cities. (John Crysostom. Homily 43 on the Acts of the Apostles. Translated by J. Walker, J. Sheppard and H. Browne, and revised by George B. Stevens. From Nicene and Post-Nicene Fathers, First Series, Vol. 11. Edited by Philip Schaff. (Buffalo, NY: Christian Literature Publishing Co., 1889)
It was in Macedonia and was ruled by the Romans–thus keeping these days was NOT limited to a place like Jerusalem. Thus, in at least two places in the New Testament, in Gentile areas, we see that the Days of Unleavened Bread were to be kept (1 Corinthians 5:7; Acts 20:6). If Christians were not to keep the Days of Unleavened Bread, why didn't Luke or Paul say so? Why did Paul say to keep them?
We are approaching the Days of Unleavened Bread for 2020–they start sunset April 8th.
In this time when billions of people are afraid of the novel coronavirus SARS-CoV-2, they should be afraid to sin.
While many are being vigilant to wash their hands, maintain social distancing, etc., what about spiritual vigilance? The Apostle Peter wrote:
8 Be sober, be vigilant; because your adversary the devil walks about like a roaring lion, seeking whom he may devour. 9 Resist him, steadfast in the faith, knowing that the same sufferings are experienced by your brotherhood in the world. (1 Peter 5:8-9)
The time to examine yourself is now. Do not be less vigilant about sin than physical things such as the novel coronavirus.
Do not tolerate sin and hypocrisy in your life.
A little leaven leavens the whole lump.
Some items of possibly related interest may include:
Examine Yourself before Passover This article goes into some of why real Christians are to do this. Two related sermons are Really examine yourself before Passover and Passover Examination.
Preparing for Passover The Apostle Paul taught that Christians should examine themselves prior to taking Passover. This YouTube video sermon gives suggestions on how to prepare.
Passover and the Early Church Did the early Christians observe Passover? What did Jesus and Paul teach? Why did Jesus die for our sins? There is also a detailed YouTube video available titled History of the Christian Passover.
Keeping Passover and the Days of Unleavened Bread How should Christians keep Passover, especially if they are by themselves. Why does the Church of God not require lambs for Passover? How does one keep the Days of Unleavened Bread? For a step-by-step video for Christians to keep it, check out a CCOG Passover Service. Here is a link to a related article in the Spanish language: Guardando la Pascua y los Días de los Panes sin Levadura.
The Night to Be Observed What is the night to be much observed? When is it? Why do Jews keep Passover twice and emphasize the wrong date? A related animation is available and is titled: Night to Be Observed.
Should Christians Keep the Days of Unleavened Bread? Do they have any use or meaning now? What is leaven? This article supplies some biblical answers. Here are two YouTube videos intended to be viewed for the first day of unleavened bread:Leaven and Sin and Christians and the Days of Unleavened Bread.
The The Seventh Day of Unleavened Bread What happened? Does this day have any type of fulfillment in the Book of Revelation? A related sermon video is also available: 7th Day of Unleavened Bread: Prophecy and Lessons.
Early Christianity and the Eucharist? What does 'eucharist' mean? Did early Christians tie it in with Passover? Should it be a rounded host? Here is a link to a related sermon: Eucharist, Passover, and Easter.
Is God Calling You? This booklet discusses topics including calling, election, and selection. If God is calling you, how will you respond? Here is a link to a related sermon: Could God be Calling You? A short animation is also available: Is God Calling You?
Christian Repentance Do you know what repentance is? Is it really necessary for salvation? A related sermon is also available titled: Real Christian Repentance.
Christians: Ambassadors for the Kingdom of God, Biblical instructions on living as a Christian This is a scripture-filled booklet for those wishing to live as a real Christian. A related sermon is also available: Christians are Ambassadors for the Kingdom of God.
Just What Do You Mean — Repentance? Do you know what repentance is? Have you truly repented? Repented of what? Herbert W. Armstrong wrote this as a booklet on this important subject.
When You Sin: Do You Really Repent? This is an article by Charles F. Hunting. A related sermon is Confess to God and truly repent.
COVID 19 is NOT the End, but could it be TEOWAKI? The novel coronavirus called COVID-19 is wreaking havoc around the world. Many states of the USA as well as countries in Europe are on lockdown with shelter in place /shelter in residence requirements. In France, a form is required when you are not at your house. In Spain, drones are being used to warn people who are outside to got back to their homes–does that bring up feelings of 'Big Brother'? Italy, France, and other areas are using police and/or military force to encourage people to stay inside. According to the Bible could this be the end? If not, what has to happen first? Have the second and third of the four horsemen of the Apocalypse started their ride? Could COVID-19 be the fourth horseman? Why or why not? Could we be seeing The End of the World as We Know It (TEOTWAKI) like the R.E.M.'s 1987 single song discussed? Do Christians need to fear? What did Jesus teach? What did the Psalmist teach? This is a video.
COVID-19 Leading to 666? The novel coronavirus of Wuhan, China fame, is now called COVID-19. It has also been called the 'Coronapocalypse.' Does COVID-19 have any prophetic ramifications? What did Jesus teach about pestilences and sorrows in the Olivet prophecy in Matthew 24? Could COVID-19 be the ride of the fourth horseman of the Apocalypse? Why was this type of disease expected according to the Old Testament prophecies in Deuteronomy and Leviticus? What has the US Centers for Disease Control warned about? What has the CDC reported about the flu? Were there lessons about fear and infections in the 2011 movie 'Contagion'? Because of COVID-19, the World Health Organization (WHO), nation of Iran, and certain French locations are telling people not to use cash, but instead electronic forms of payment. The US Federal Reserve is now quarantining money repatriated from Asia to reduce the potential spread of the coronavirus on US currency bills. Is COVID-19 worse than we have been told or could this all be a 'false flag' event to encourage people to move towards a cashless society? If the thousands of deaths associated with COVID-19 are pushing parts of the world towards cashlessness, how much more likely will the ride of the fourth horseman and over a billion human deaths motivate people to move to making electronic payments that can be monitored? The Bible tells of a soon coming society that controls buying and selling to force allegiance to a coming European Beast power, known as 666 (Revelation 13:16-18). Does the 'great tribulation' begin before ride of the fourth horseman or with the opening of the fifth seal of Revelation 6? Do the words of Jesus helps us better understand the sequence of the four horsemen of the Apocalypse and the start of the Great Tribulation? Will the ride of the fourth horseman help lead to the rise of 666? Is that ride very close? Dr. Thiel addresses these issues and more in this video.
Biological Warfare and Prophecy. Is biological warfare possible? Was it prophesied? Scientists have long warned that pathogenic organisms like the coronavirus could be weaponized. Furthermore, back in 2017, there were concerns that the biological research facility being constructed in Wuhan, China was risky and that a coronavirus from it could be released. On January 25, 2020, China's President Xi Jinping publicly stated that the situation with the Wuhan-related strain of the coronavirus was grave. Did Church of God writers like the late evangelist Raymond McNair warn that engineered viruses (the "Doomsday bug") were consistent with prophecies from Jesus? Did a warning from CCOG leader Bob Thiel warn about risks of genetically-modified (GMO) mosquitoes come to pass? Could human research and/or the consumption of biblically-unclean animals such as bats and snakes be a factor in current outbreaks or coming future pestilences? What about famines? How devastating have pestilences been? How devastating are the prophesied ones going to be? Dr. Thiel addresses these issues and more in this video.
Fourth Horseman of the Apocalypse What is the pale horse of death and pestilences? What will it bring and when? Some related videos may include Amphibian Apocalypse: Threat to Humans?, Zombie Deer Disease is Here! Are the 10 Plagues on Egypt Coming?, and Biological Warfare and Prophecy. Here is a version of the article in Spanish: El cuarto jinete de Apocalipsis, el caballo pálido de muerte y pestilencia.
20 items to prophetically watch in 2020 Much is happening. Dr. Thiel points to 20 items to watch (cf. Mark 13:37) in this article. Here is a link to a related sermon: 20 Prophetic Items to Watch in 2020.
Does God Have a 6,000 Year Plan? What Year Does the 6,000 Years End? Was a 6000 year time allowed for humans to rule followed by a literal thousand year reign of Christ on Earth taught by the early Christians? Does God have 7,000 year plan? What year may the six thousand years of human rule end? When will Jesus return? 2028 or 20xx? There is also a video titled 6000 Years: When will God's Kingdom Come? Here is a link to the article in Spanish: ¿Tiene Dios un plan de 6,000 años?
When Will the Great Tribulation Begin? 2020, 2021, or 2022? Can the Great Tribulation begin today? What happens before the Great Tribulation in the "beginning of sorrows"? What happens in the Great Tribulation and the Day of the Lord? Is this the time of the Gentiles? When is the earliest that the Great Tribulation can begin? What is the Day of the Lord? Who are the 144,000? Here is a version of the article in the Spanish language: ¿Puede la Gran Tribulación comenzar en el 2020 o 2021? ¿Es el Tiempo de los Gentiles? You can also see the English language sermon videos: The Great Tribulation from the Mount of Olives and Can the Great Tribulation begin before 2020? A shorter and newer video is: Could the Great Tribulation Begin in 2020?
The Times of the Gentiles Has there been more than one time of the Gentiles? Are we in it now or in the time of Anglo-America? What will the final time of the Gentiles be like? A related sermon is available and is titled: The Times of the Gentiles.
Armageddon Who is involved and when will this gathering happen? Here is also a video from Dr. Thiel, from Tel Megiddo in Israel: Armageddon. Other videos include: Armageddon Will it come on Trump's watch?, Iraq, Armageddon, & Prophecy, Freemasonry, Armageddon, and Rome, Is China paving roads to Armageddon?, and Jordan, Petra, and Armageddon.
Did The Early Church Teach Millenarianism? Was the millennium (sometimes called chiliasm) taught by early Christians? Who condemned it? Will Jesus literally reign for 1000 years on the earth? Is this time near? Two related sermons are available Millennial Utopia and The Millennium.
The Gospel of the Kingdom of God This free online pdf booklet has answers many questions people have about the Gospel of the Kingdom of God and explains why it is the solution to the issues the world is facing. Here are links to three related sermons: The World's False Gospel, The Gospel of the Kingdom: From the New and Old Testaments, and The Kingdom of God is the Solution.
Hope of Salvation: How the Continuing Church of God differs from Protestantism How the real Church of God differs from mainstream/traditional Protestants, is perhaps the question I am asked most by those without a Church of God background. As far as some changes affecting Protestantism, watch the video Charismatic Kenneth Copeland and Anglican Tony Palmer: Protestants Beware! [Português: Esperança do salvação: Como a igreja do deus difere da maioria de protestantes]. Several related sermon are also available: Protestant, Baptist, and CCOG History, The First Protestant, God's Command, Grace, & Character, The New Testament, Martin Luther, and the Canon, Eucharist, Passover, and Easter, and How Does the Church of God Differ from Protestantism?
The Sardis Church Era was predominant circa 1600 A.D. to circa 1933 A.D. Discusses early history of the Seventh Day Baptists, Seventh-day Adventists, and COG-7th Day.
The Philadelphia Church Era was predominant circa 1933 A.D. to 1986 A.D. The old Radio Church of God and old Worldwide Church of God, now the remnant of that era is basically the most faithful in the Church of God, like who hold to the beliefs and practices of the Continuing Church of God.
The Laodicean Church Era has been predominant circa 1986 A.D. to present. The Laodiceans are non-Philadelphians who mainly descended from the old WCG or its offshoots.  They do not properly understand the work or biblical prophecies and will face the Great Tribulation if they do not repent. One video of related interest is 17 Laodicean Errors in Prophecy. See also Do You Hold to Any of These Laodicean Prophetic Errors?