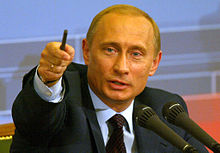 Vladimir Putin
Voice of America reports that Russia and its President Vladimir Putin gained influence in 2015:
December 25, 2015

MOSCOW—

Russia's airstrikes in Syria thrust it to the center of global efforts to tackle terrorism, refugees and a peace deal with Damascus.

"In the beginning of the year, Russia had no say in world affairs, with exception of the point where it was completely necessary, absolutely necessary to resolve the crisis created with its participation," said Alexander Baunov with the Carnegie Moscow Center. "By the end of the year, we see that Russia's place in the world is pretty much different." …

Projecting policy

The Kremlin's help on Syria, even while its bombing continues, is seen in Moscow as a victory, ending much of its diplomatic isolation over its actions in Ukraine — though sanctions against Russia were extended by the European Union.

"There is the general feeling here, I would say, among the political and military elites, that Russia now has the competitive edge over the West, that it is imposing its agenda," said Victor Mizin, a political scientist with the Moscow State Institute of International Relations.

French President Francois Hollande traveled to Moscow last month and pledged anti-terrorism cooperation and some coordination of airstrikes in Syria. …

"There are some signals that, not just European partners, but even in United States, there are certain understanding that, yes, probably Russia is not as friendly as we would dream about," said Mizin. "But we have to negotiate with that."

Lavrov said he and and Kerry made progress toward agreeing on a list of terrorist groups in Syria, as well as forming a representative opposition delegation to hold talks with Assad's government.

A U.S.-led alliance has stepped back from calls for Assad to leave power. Moscow has opposed such calls, saying the Syrian people should decide.

Kerry said the United States and its partners are not seeking so-called "regime change" in Syria.

"What we have said is that we don't believe that Assad himself has the ability to be able to lead the future Syria," he said. "But we do believe that nobody should be forced to choose between a dictator and being plagued by terrorists. Our challenge remains creating the conditions on which an alternative can emerge."

Success with a price

Putin's military reach into Syria has come at a cost. Islamic State (IS) terrorists claimed responsibility for the bombing of a planeload of Russian tourists in October over Egypt's Sinai.

Moscow's military campaign in Syria "has increased danger of terrorist attacks against Russians everywhere in the world and inside Russia itself," said the Carnegie Moscow Center's Baunov.

Russian authorities say thousands of its citizens are fighting with IS and may return home to launch terrorist attacks.  http://www.voanews.com/content/putin-policy-expands-russia-influence-but-at-a-cost/3106058.html
Some thought the annexation of Crimea and the situation in the eastern portion of Ukraine would greatly diminish Russian influence.  While there are still issues with that, Russia is influencing the world.
The Obama Administration, which has long pursued a policy of regime change in Syria, now is deferring to Russia.  This has agitated US allies in Europe as well as in the Middle East.
Vladimir Putin has shown he is more loyal to his allies, more aggressive, and more determined to work towards his international and nationalistic objectives than Barack Obama often has.
This has also gotten some prophecy watchers to misjudge what Russia is about to do.
Some feel that in 2016 or the latest 2017, Russia will fulfill some non-biblical Jewish prophecies (watch Can the Great Tribulation Start in 2016?) and/or some interpretations of the so-called Bible code (watch Russia, Iran, Syria, & the Bible (Code)).
But what is really going on is that more in Europe are seeing that the USA is not reliable and that the Europeans need to better arm themselves.  While this may seem absurd to some, the Bible teaches that such a rearming will occur and be successful, for a time (Daniel 11:39-43; Revelation 13:4).
Yet, the time will come when a power led by Russia will destroy much of Europe (Jeremiah 50:41-43; Daniel 11:44-45).  But that will not happen for at least seven years.
In the meantime, look for Russia to take some steps forward, as well as some steps back in the Middle East.
Some additional items of possibly related interest may include:
Russia and Ukraine: Their Origins and Prophesied Future Russia in prophecy. Where do the Russians come from? What about those in the Ukraine? What is prophesied for Russia and its allies? What will they do to the Europeans that supported the Beast in the end? There is also a video sermon available: Russia in the Bible and in Prophecy and a video sermonette available: Ukraine in Prophecy?
Is Russia the King of the North? Some claim it is. But what does the Bible teach? Here is a link to a video, also titled Is Russia the King of the North?
Ezekiel 38: For Russia & Iran in Our Day? Is Ezekiel 38 about to be fulfilled? A related video is available titled Ezekiel 38: For Russia, Ukraine, & Iran Now? Another could be Russia, Iran, Syria, & the Bible (Code).
What Should You Know About Turkey in Prophecy Do you know the Turkish people descended from? Did the Ottoman Empire possibly fulfill a promise in Genesis? Will Turkey support the European King of the North or Arabic King of the South? Will it betray one of them? Will Turkey be involved in the encouraging the destruction of Israel? Is Turkey going to become Catholic? Is Turkey mentioned in Psalm 83, Daniel 11, and elsewhere in the Bible? This video provides answers.
Does God Have a 6,000 Year Plan? What Year Does the 6,000 Years End? Was a 6000 year time allowed for humans to rule followed by a literal thousand year reign of Christ on Earth taught by the early Christians? Does God have 7,000 year plan? What year may the six thousand years of human rule end? When will Jesus return? 2023 or 20xx? There is also a video titled The 6000 Year Plan: Is the end of humanity's reign almost up? Here is a link to the article in Spanish: ¿Tiene Dios un plan de 6,000 años?
When Will the Great Tribulation Begin? 2016, 2017, or 2018? Can the Great Tribulation begin today? What happens before the Great Tribulation in the "beginning of sorrows"? What happens in the Great Tribulation and the Day of the Lord? Is this the time of the Gentiles? When is the earliest that the Great Tribulation can begin? What is the Day of the Lord? Who are the 144,000? Here is a version of the article in the Spanish language: ¿Puede comenzar la Gran Tribulación en 2016 o 2017? ¿Es el Tiempo de los Gentiles? You can also see the English language sermon video: The Great Tribulation from the Mount of Olives. A shorter video is: Can the Great Tribulation Start in 2016?
The 'Peace Deal' of Daniel 9:27 This prophecy could give up to 3 1/2 years advance notice of the coming Great Tribulation. Will most ignore or misunderstand its fulfillment? Here is a link to a related sermon video Daniel 9:27 and the Start of the Great Tribulation.
Did The Early Church Teach Millenarianism? Was the millennium (sometimes called chiliasm) taught by early Christians? Who condemned it? Will Jesus literally reign for 1000 years on the earth? Is this time near? Two related sermons are available Millennial Utopia and The Millennium.
Dreams, the Bible, the Radio Church of God, and the Continuing Church of God How has God used dreams in the past? Does God still use dreams? Did He use any involving those in the Continuing Church of God? A related sermon is also available: Dreams, COGs, and One Man Rule.
How To Determine If Someone is a True Prophet of God There are many false prophets. How can Christians determine who is a true prophet? There is also a sermon-length video titled How to determine if someone is a true prophet of God. Here is a related link in Spanish/español: ¿Cómo determinar si alguien es un verdadero profeta de Dios?
Continuing Church of God The group striving to be most faithful amongst all real Christian groups to the word of God.
Anglo – America in Prophecy & the Lost Tribes of Israel Are the Americans, Canadians, English, Scottish, Welsh, Australians, Anglo-Saxon (non-Dutch) Southern Africans, and New Zealanders descendants of Joseph? Where are the lost ten-tribes of Israel? Who are the lost tribes of Israel? What will happen to Jerusalem and the Jews in Israel? Will God punish the U.S.A., Canada, United Kingdom, and other Anglo-Saxon nations? Why might God allow them to be punished first? Here is a link to the Spanish version of this article: Anglo-América & las Tribus Perdidas de Israel. Information is also in the YouTube sermons titled Where are the Ten Lost Tribes? Why does it matter? and British are the Covenant People. A short YouTube of prophetic interest may be Barack Obama and the State of the Apocalypse.
Will the Anglo-Saxon Nations be Divided and Have People Taken as Slaves? Will the lands of the United States, United Kingdom, Canada, Australia, and New Zealand be divided? What about Jerusalem? What does Bible prophecy teach? Are there non-biblical prophecies that support this idea? Who will divide those lands? Who will end up with the lands and the people? Here is a link to a video titled Will the USA and other Anglo-nations be Divided and Their People Made Slaves? Here is a related item in the Spanish language ¿Serán divididas las naciones anglosajonas?
Prophecies of Barack Obama? Reasons why Barack Obama is apocalyptic and reasons why Barack Obama is not the Antichrist. This article includes many biblical and non-biblical prophecies, from around the world, that seem to discuss Barack Obama. Did Nostradamus predict Barack Obama dealing with the Antichrist?  Might Barack Obama set the stage for the kings of the North and South as at least one Shiite prophecy suggests?  Read it and decide for yourself if President Obama seems to be fulfilling various prophecies. Watch also the YouTube Barack Obama and the State of the Apocalypse.