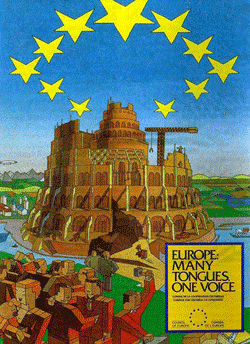 Symbol of European "Babylon"
CBS reported the following:
France chooses new president in vote that could decide Europe's fate

May 6, 2016

PARIS — French voters decided Sunday whether to back pro-business independent Emmanuel Macron or far-right populist Marine Le Pen as their next president, casting ballots in an unusually tense and important presidential election that also could decide Europe's future.

With Macron the pollsters' favorite, voting stations opened across mainland France at 8 a.m. under the watch of 50,000 security forces guarding against extremist attacks. Polling agency projections and initial official results are expected as soon as the final stations close at 8 p.m.

France's Interior Ministry said voter turnout at midday was running slightly lower than during the last presidential runoff in 2012. The ministry said 28 percent of eligible voters had cast ballots, compared with a half-day tally of 31 percent five years ago.

Commentators think a low turnout would benefit Le Pen, whose supporters are seen as more committed and therefore more likely to show up to vote. http://www.cbsnews.com/news/french-election-new-president-vote-decide-europes-fate/
Could this election in France determine Europe's fate?
No.
Short of massive repentance, Europe's basic fate as set forth in the Bible and biblical prophecies will come to pass.
Consider also the following:
17 'This decision is by the decree of the watchers, And the sentence by the word of the holy ones, In order that the living may know That the Most High rules in the kingdom of men, Gives it to whomever He will, And sets over it the lowest of men.' (Daniel 4:17)

25 … know that the Most High rules in the kingdom of men, and gives it to whomever He chooses. (Daniel 4:25)

32 … know that the Most High rules in the kingdom of men, and gives it to whomever He chooses. (Daniel 4:32)
The mainstream media does not put much stock in the Bible and hence does not know what will happen. BBC for another example, like CBS, also does not know (see BBC: 'What will happen for the rest of Trump's presidency? You might as well ask a Magic Eight ball;' COGwriter disagrees) and/or watch Trump Presidency Magic 8 Ball or Bible Prophecy?).
Now if Marine Le Pen were to win, this would set off alarm bells in Brussels, and then European leaders will make adjustments in strategy to still move towards a unified European power. If Emmanuel Macron wins, this will be seen as a vote of confidence for a united Europe.
While not predicting the results of specific elections, in the Church of God, we have long known what was going to happen in Europe because of biblical prophecies.
Consider that when Europe was still recovering from being devastated in World War II, after attending a conference related to the start of the UN, in the December 1948 issue of The Plain Truth Herbert W. Armstrong predicted a coming "United States of Europe" when he wrote:
It was the SERMON that shot forth that spark, impregnating the minds of world leaders in attendance. This amazing sermon was delivered by a foremost radio speaker of the Catholic Church, Bishop Duane G. Hunt of Salt Lake City…Without the guidance, supervision, authority of the Catholic Church, he told these men, they were laboring in vain…

This was the Roman Catholic bid to resurrect the so-called "HOLY ROMAN EMPIRE" ! And PROPHECY says they will succeed !… At the psychological time, the pope will step in … Thru this political movement, he will UNIFY…nations in Europe. It will be a "The UNITED STATES OF EUROPE," but that probably will never become its official name.  (Armstrong HW. Now It Can Be Told… The Plain Truth, December 1948, pp. 2,5).
In 2016 and 2017, Europe took significant steps to do something that the old Worldwide Church of God warned about decades earlier. It is trying to get together militarily, while it appears that the USA and UK are more throwing their lot in together. The Brexit vote and the election of Donald Trump gave some voices for a stronger Europe courage to speak out on matters that they had been more quiet about in the past.
As far as the pope goes, consider that Pope Francis was given the "Charlemagne Prize" in May of 2016 for his work on encouraging European unity, etc. (see Pope Francis given 'Charlemagne Prize;' EU leaders worried about EU's future). The development of a powerful and more united Europe with Roman Catholic involvement remains a goal for the Vatican.
Notice also two items the old WCG published back in 1981:
"Third Force" Coming

The dim outline of Europe's destined future is becoming clear. For decades — even before the conclusion of the Second World War — the editors of The Plain Truth have announced to readers that, based upon history and biblical prophecy — specifically the 13th and 17th chapters of Revelation (coupled with the book of Daniel, chapters 2 and 7) — there would eventually arise a powerful "third force" in Europe, one last reconstitution, in modern form, of the ancient Roman Empire.

For the past three decades the nations of free Europe have inch by inch coalesced into a common economic bloc. But the impetus to go beyond economics to political union has ground to a halt, crippled by national jealousies and suspicions. …

Religion — part of Europe's historic past that today's youth overlooks — is critical to its future. Dr. von Habsburg regards Christianity — in the form of the Roman Catholic Church — as Europe's ultimate bulwark. "The cross doesn't need Europe," he says, "but Europe needs the cross."

Thus the stage is being set for that final, dramatic revival of the Roman Empire. When it actually occurs it will shock an unexpecting world (Rev. 17:8) — all peoples except those few who understand Bible prophecy and God's Plan, and who are called in this age to be in spiritual training for the World Tomorrow. The good news is from that date onward it will be but a short step in time to that happy World Tomorrow when Jesus Christ will return the second time and the government of God and world peace will be restored to this earth. (Hogberg G. EUROPE: Winds of Change Before the Storm. Plain Truth, December 1981)

Either Western Europe slides slowly into the Soviet orbit by default– or Europe awakes to the threat, and leaders rise to the fore demanding that free Europe become a "Third Force" to protect Western civilization.

Bible prophecy predicts the latter — that there will be yet again, for the final time, a revival of the Roman Empire in what historians call "classic Europe" — stern and Central Europe. …

The stage is being set for some dramatic realignments of power in Europe. …

The Christian Science Monitor's Joseph C. Harsch, of the reconstitution of what he calls "the whole of classic Europe."

"Classic Europe" is nothing other than a new European alignment along the lines of the old Holy Roman Empire, under the Catholic aegis.

Thus, the final resurrection of the Roman Empire may be closer than you think. This will not be good news for the United States — decoupled from Europe — or Britain either. As British Prime Minister Margaret Thatcher recently told President Reagan: "We in Britain stand with you." And a British Foreign Office source told the Associated Press: "She is convinced that Britain's lot lies with America." (Hogberg G. AMERICA and EUROPE The Falling Out Begins! Plain Truth, June-July 1981)
As far as reorganization of Europe goes, the Bible tells of at least two more reorganizations to come in Revelation 17:2-13 (see also Must the Ten Kings of Revelation 17:12 Rule over Ten Currently Existing Nations?).
Europe has tended to have similarities to the Tower of Babel in Genesis 11 (see EU's Fragile Tower of Babel) and sometimes has used it as a reference as the poster at the beginning of this article shows. The term Babylon seems to derive from Babel and the Bible indicates that the end time Babylon will be European (cf. Revelation 17) (see also the video Can You Prove that the Beast to Come is European?).
Specifically see the following scriptures, which have European (cf. Daniel 7:2-7, Joshua 9:1, 23:4; Ezekiel 47:15) end time prophetic connections:
41 Whereas you saw the feet and toes, partly of potter's clay and partly of iron, the kingdom shall be divided; yet the strength of the iron shall be in it, just as you saw the iron mixed with ceramic clay. 42 And as the toes of the feet were partly of iron and partly of clay, so the kingdom shall be partly strong and partly fragile. 43 As you saw iron mixed with ceramic clay, they will mingle with the seed of men; but they will not adhere to one another, just as iron does not mix with clay. (Daniel 2:41-43)

12 The ten horns which you saw are ten kings who have received no kingdom as yet, but they receive authority for one hour as kings with the beast. 13 These are of one mind, and they will give their power and authority to the beast. (Revelation 17:12-13)
Those passages show a fragile coalition that will have to likely reorganize at least two more times according to the Bible. Europe ultimately will have ten major leaders who will then turn their power over to a single leader. And there seem to be a lot of reorganization steps on the way before those two reorganizations take place.
Eventually, Europe will end up with a dictatorial leader (Revelation 13)–and one with militaristic objectives–and that is not going to be changed by the election in France today!
While now is not quite yet the dictator's time, despite expected unification problems (Daniel 2:40-43), a major dictator in Europe will rise up (Revelation 13:1-8), Europe will reorganize (Revelation 17:12-13), and become the final King of the North, European Beast power of Bible prophecy (Daniel 11:21-44).
And this will not be good for the United States of America nor the British (nor their Anglo-allies like Canada, Australia, or New Zealand), and ultimately not for the Europeans themselves (Revelation 18:1-8).
The media does not believe this.
The Apostle Paul taught:
20 Do not despise prophecies. (1 Thessalonians 5:20)
Remember that Jesus taught:
37 And what I say to you, I say to all: Watch! (Mark 13:37).
As the revised "Holy Roman Empire" appears to be in the process of reforming as the European Union (or perhaps a descendant of it), this is definitely a time to watch and take heed to prophecy.
Irrespective of what places like CBS believe, biblical prophecies for Europe will come to pass.
Some items of possibly related interest may include:
The 'Lost Tribe' of Reuben: France in Prophecy? What is the origin of this in France? What is prophesied to happen to them? A two-part sermon related to history and prophecy is available online: The 'Lost Tribe' of Reuben and France and Prophecy.
Should a Christian Vote? This article gives some of the Biblical rationale on this subject. Would Jesus vote for president/prime minister? Is voting in the Bible? This is a subject Christians need to understand. A video of related interest is available titled: Should Christians Vote?
Ten clues tying Belgium and Luxembourg with the tribe of Asher Who did some in Belgium and Luxembourg descend from?
Ten clues tying Zebulun with the Dutch Who did some in the Netherlands descend from?
Do You Know That Babylon is Forming? How is the final Babylon forming? Are Protestants such as Joel Osteen and Kenneth Copeland are endorsing something dangerous? Could Pope Francis be the 'False Prophet' that the Bible warns against? Is an antipope expected to endorse a one-world religion? Here is a link to a related written article In Vatican City: New Babylon more openly forming!
United Nations: Humankind's Last Hope or New World Order? Is the UN the last hope for humanity? Or might its goals end up with sinister results? A related video would be United Nations and Vatican Are Planning the New World Order.
Pope Francis: Could this Marian Focused Pontiff be Fulfilling Prophecy? Pope Francis has taken many steps to turn people more towards his version of 'Mary.' Could this be consistent with biblical and Catholic prophecies? This article documents what has been happening. There is also a video version titled Pope Francis: Could this Marian Focused Pontiff be Fulfilling Prophecy?
Anti-Pope Francis? Some cardinals and other members of the Roman Catholic clergy are concerned that Pope Francis has deviated from its traditional positions on matters such as homosexuality, salvation, fornication, remarriage, and other doctrines. Australian Cardinal George Pell even mentioned 'antipopes' when discussing Pope Francis. North American Cardinal Raymond Burke has raised many concerns about Francis' pontificate. Did Catholic saints teach that popes could become heretics? Will the final pope not be Catholic? Is an ecumenical pontiff possibly the final Antichrist? What do both biblical, and even Roman Catholic, prophecies warn about? Could Pope Francis be an antipope and final Antichrist? This is a video.
Brexit and the fate of Northern Ireland, Gibraltar, the UK, and the USA On April 29, 2017, 27 of the nations of the European Union agreed to certain guidelines for the negotiations with the United Kingdom of Great Britain and Northern Ireland which gave its notice to leave on March 29, 2017. These guidelines are contrary to what the UK wants. Does the EU intend the UK to pay a price for leaving the EU? What does Spain want? What does the Republic of Ireland want? Will Northern Ireland and Gibraltar eventually fall under European control? Will the UK and USA be conquered? What does the Bible teach? This is a video.
Forbes' Brexit Monster is the Beast of Revelation Various ones have been properly convinced that there is a plan for a European superstate. Forbes' writer Tom Worstall wrote that the Brexit vote was about the United Kingdom "not joining the monster of the European Union to come." The Bible tells of a Beast monster that will arise in the end times in Europe. Dr. Thiel cites news reports, as well as the Old and New Testaments, to show that the monster many fear will arise in Europe, despite the vote by the British to exit the European Union. This is a video.
Collapse of the Euro and Dollar? War in 2020? Larry Edelson of Money and Markets described aspects of current economic difficulties and explained why he felt matters would get a lot worse. He said war, like World War III, could break out as early as 2020. What did he call the 'granddaddy of all cycles"? Will matters go as he said? What does the Bible teach? Dr. Thiel provides biblical insights that secular sources often miss. This is a video.
When Will the Great Tribulation Begin? 2017, 2018, or 2019? Can the Great Tribulation begin today? What happens before the Great Tribulation in the "beginning of sorrows"? What happens in the Great Tribulation and the Day of the Lord? Is this the time of the Gentiles? When is the earliest that the Great Tribulation can begin? What is the Day of the Lord? Who are the 144,000? Here is a version of the article in the Spanish language: ¿Puede comenzar la Gran Tribulación en 2016 o 2017? ¿Es el Tiempo de los Gentiles? You can also see the English language sermon videos: The Great Tribulation from the Mount of Olives and Can the Great Tribulation begin before 2020? A shorter video is: Will the Great Tribulation Start in 2017?
British are the Covenant People What do 'British' and 'Britain' mean in Hebrew? Are the descendants of the Anglo-Saxons people of the covenant? Does the British royal family connect to the throne of David? What does the Bible teach? What does history show us? Is there any DNA evidence related to British-Israelism? When did Christianity make it to the British Isles? Could Jeremiah have made it to the British Isles? What type of Christians made it to the British Isles? Did the last King of England believe in British Israelism?
Post Brexit Prophecy On June 23, 2016, the voters of the United Kingdom of Great Britain and Northern Ireland (UK) chose to leave the European Union. Now with this BRitish EXIT (Brexit) vote, what is prophesied to happen to the UK? Will the UK do well or be taken over and made slaves? Dr. Thiel explains from biblical prophecies what is ahead for the UK, Europe, and even the USA, Canada, Australia, and New Zealand. This is a video.
USA in Prophecy: The Strongest Fortresses Can you point to scriptures, like Daniel 11:39, that point to the USA in the 21st century? This article does. A related sermon is titled: Do these 7 prophesies point to the end of the USA?
Europa, the Beast, and Revelation Where did Europe get its name? What might Europe have to do with the Book of Revelation? What about "the Beast"? Is an emerging European power "the daughter of Babylon"? What is ahead for Europe? Here is a link to a video titled: Can You Prove that the Beast to Come is European?
European Technology and the Beast of Revelation Will the coming European Beast power would use and develop technology that will result in the taking over of the USA and its Anglo-Saxon allies? Is this possible? What does the Bible teach? Here is a related YouTube video: Military Technology and the Beast of Revelation.
Must the Ten Kings of Revelation 17:12 Rule over Ten Currently Existing Nations? Some claim that these passages refer to a gathering of 10 currently existing nations together, while one group teaches that this is referring to 11 nations getting together. Is that what Revelation 17:12-13 refers to? The ramifications of misunderstanding this are enormous. A related sermon is titled Ten Kings of Revelation and the Great Tribulation.
Germany's Assyrian Roots Throughout History Are the Germanic peoples descended from Asshur of the Bible? Have there been real Christians in Germanic history? What about the "Holy Roman Empire"? There is also a You-Tube video sermon on this titled Germany's Biblical Origins.
Germany in Biblical Prophecy Does Assyria in the Bible equate to an end time power inhabiting the area of the old Roman Empire? What does prophecy say Germany will do and what does it say will happen to most of the German people? Here is a version of the article in the Spanish language: Alemania en la profecía bíblic. Here are links to two English language sermon videos Germany in Bible Prophecy and The Rise of the Germanic Beast Power of Prophecy.
Who is the King of the West? Why is there no Final End-Time King of the West in Bible Prophecy? Is the United States the King of the West? Here is a version in the Spanish language: ¿Quién es el Rey del Occidente? ¿Por qué no hay un Rey del Occidente en la profecía del tiempo del fin?
Who is the King of the North? Is there one? Do biblical and Roman Catholic prophecies for the Great Monarch point to the same leader? Should he be followed? Who will be the King of the North discussed in Daniel 11? Is a nuclear attack prophesied to happen to the English-speaking peoples of the United States, Great Britain, Canada, Australia, and New Zealand? When do the 1335 days, 1290 days, and 1260 days (the time, times, and half a time) of Daniel 12 begin? When does the Bible show that economic collapse will affect the United States? In the Spanish language check out ¿Quién es el Rey del Norte? Here is a link to a video titled: The Future King of the North.
Anglo – America in Prophecy & the Lost Tribes of Israel Are the Americans, Canadians, English, Scottish, Welsh, Australians, Anglo-Saxon (non-Dutch) Southern Africans, and New Zealanders descendants of Joseph? Where are the lost ten-tribes of Israel? Who are the lost tribes of Israel? What will happen to Jerusalem and the Jews in Israel? Will God punish the U.S.A., Canada, United Kingdom, and other Anglo-Saxon nations? Why might God allow them to be punished first? Here is a link to the Spanish version of this article: Anglo-América & las Tribus Perdidas de Israel. A video of possible interest may be Will Will USA Spying Help the Beast Power?.
Will the Anglo-Saxon Nations be Divided and Have People Taken as Slaves? Will the lands of the United States, United Kingdom, Canada, Australia, and New Zealand be divided? What about Jerusalem? What does Bible prophecy teach? Are there non-biblical prophecies that support this idea? Who will divide those lands? Who will end up with the lands and the people? Here is a link to a video titled Will the USA and other Anglo-nations be Divided and Their People Made Slaves? Here is a related item in the Spanish language ¿Serán divididas las naciones anglosajonas?
Donald Trump in Prophecy Prophecy, Donald Trump? Are there prophecies that Donald Trump may fulfill?  Are there any prophecies that he has already helped fulfill?  Could a Donald Trump presidency be apocalyptic?  A related video is titled: Donald: 'Trump of God' or Apocalyptic?
Trump Presidency Magic 8 Ball or Bible Prophecy? BBC reported that one might as well use a 'Magic Eight-Ball' to try to predict what will happen in the remaining time of Donald Trump's presidency. What is a 'Magic Eight-Ball'? Dr. Thiel not only explains that, but also briefly goes over 10 biblically-based warnings he wrote would happen if Donald Trump were elected that have already began to come to pass. He also goes over something he wrote back in 2008 that the Trump presidency is also helping lead to fulfillment. Should you trust Bible prophecy or not? Dr. Thiel says that Bible prophecy can be trusted, despite the view of skeptics and others that either overlook or despise the Bible. This is a video.
Donald Trump and America's Apocalypse This 188 page book is for people truly interested in prophecies related to Donald Trump and the United States, including learning about several that have already been fulfilled and those that will be fulfilled in the future. The physical book can be purchased at Amazon for $12.99 from the following link: Donald Trump and America's Apocalypse.
Donald Trump and America's Apocalypse-Kindle Edition This electronic version of the 188 page print edition is available for only US$3.99. And you do not need an actual Kindle device to read it. Why? Amazon will allow you to download it to almost any device: Please click HERE to download one of Amazon s Free Reader Apps. After you go to for your free Kindle reader and then go to Donald Trump and America's Apocalypse-Kindle Edition.
Can You Prove that the Beast to Come is European? The Book of Revelation tells of a beast power that will rise up. Some think that this must be Russia or could be Islamic, while others say that this power is European. The Book of Daniel tells of the rise of an end time King of the North that some think must be referring to a Russian leader, while others say that this power is European. How can you be sure? This YouTube video has all the scriptural proofs that you should need to prove that this power must be a European one.