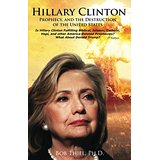 In what is probably the last official government report about Hillary Clinton's scandals before the Democratic convention, the FBI has seemingly decided that she gets a pass:
July 5, 2016

The U.S. Federal Bureau of Investigation says it is recommending no criminal charges be brought against Hillary Clinton for her use of a private email server while she was secretary of state, lifting a major political and legal hurdle for the presumptive Democratic presidential candidate.

FBI Director James Comey sharply condemned Clinton, who served as the country's top diplomat from 2009 to 2013, and her colleagues at the State Department for what he said Tuesday was their "extremely careless" handling of classified material they sent to each other via a private email server she established at her home in New York.

But Comey said FBI investigators in an extensive probe of thousands of Clinton's emails could not find evidence that she "clearly, willfully" sought to violate U.S. laws and that "no reasonable prosecutor would bring such a case" against her based on the evidence uncovered in the weeks-long investigation. http://www.voanews.com/content/article/3404736.html

July 5, 2016

Comey revealed Clinton actually used several different servers and multiple devices.

He said 110 emails in 52 email chains contained classified information at the time they were sent or received. That directly contradicted Clinton's claim that nothing was marked classified when she sent or received it.

The FBI director did appear extremely concerned that Clinton had exposed state secrets to hackers, including those working for foreign governments.

Increasing his concern, Comey said, "We do assess that hostile actors gained access to the private commercial email accounts of people with whom secretary Clinton was in regular contact from her personal account."

Comey also said the bureau discovered several thousand emails that Clinton had not turned over.

Additionally, the director revealed that before Clinton deleted the 30,000 emails she claimed were personal, her attorneys deleted emails that were actually official business. He said that was because they used search words rather than reading the emails to attempt to determine which to delete. http://www.wnd.com/2016/07/fbi-wont-recommend-email-charges-against-hillary/#2xQjDYxDMGE0Mbyh.99
Though this lack of calling for an indictment is not a surprise, it remains disappointing.  Hillary Clinton clearly and intentionally did have a private email server, did send classified information over it, endangered US national security through her actions, and clearly and intentionally had her emails deleted.
And this one who is EXTREMELY CARELESS with the national security of the USA is currently favored to become the next President of the United States.
Notice that various ones are convinced that she violated the law and is getting special treatment:
July 5, 2016

Sen. Rand Paul, R-Ky.: "Today Comey & Obama's DOJ made it clear to the American people there's no accountability no justice & the Clintons live by different rules."

Former U.S. Ambassador John Bolton: "The #FBI recommends no charges & yet there is evidence of potential violations regarding the handling of classified info. Unbelievable."

Former White House Press Secretary Ari Fleischer: "If Hillary were still Sec State, Pres O would have to fire her. But instead, he travels with her and seeks to promote her. Disgusting."

More Fleischer: "Bottom line: Hillary is reckless, careless and has poor judgement, but she's not a criminal. Which means she's likely to be our next POTUS."

Rep. Darrell Issa, R-Calif.: "The FBI decision shows once again how the Clintons and others at the top get to live by a different set of rules from everyone else." http://www.wnd.com/2016/07/trump-unloads-on-fbi-clearing-clinton-system-rigged/#27EF66D93tExWQFq.99

July 5, 2016

FBI Director Jim Comey may not think Hillary Clinton is guilty of how she handled e-mails with classified information but former New York City Mayor Rudy Giuliani says he's "disappointed" in his former employee for the "no brainer" violation of statute 18 United States Code Section 793.

"It's a felony, 10 years in prison [to violate the statute] and the words that he said he was ill-advised to say, was that she was extremely negligent. This statute requires gross negligence in the handling of information relating to the national defense. The definition that a judge gives a jury in a charge on gross negligence includes the words 'extremely negligent.' They are one in the same thing. So, he has found that she violated 18 United States Code Section 793 except he can't somehow bring himself to the conclusion that she should be indicted for it – which says to me he's putting her above the law," he told Charles Payne and Liz Claman on the FOX Business Network's Cavuto: Coast to Coast. http://www.foxbusiness.com/features/2016/07/05/giuliani-fbis-comey-putting-hillary-clinton-above-law.html
Rudy Giuliani, who is a former U.S. attorney who worked with Comey, said that Clinton violated federal statute 18 U.S.C., section 793-F by mishandling classified information on her unsecured server. She is guilty, but looks like she is getting off.
This does NOT mean that her political opponents are necessarily better, but she has a long history of problems. The USA needs the return of Jesus Christ and the Kingdom of God.
As a former member of the US military, and one who worked for two defense contractors decades ago, let me state that it is my personal opinion that the email situation with Hillary Clinton was criminal and if others did something like this (let's say an under-Secretary of State) that person would have been criminally prosecuted. Hillary Clinton's endorsement and promotion of abortion and the LGBT agenda is dear to many in the mainstream media and they seem to wish to act like the emailgate scandal is just political talk or some minor thing, and not indicative that Hillary Clinton should not become the next USA President.
Both she and her presumed Republican rival, in my view, are fulfilling the following:
1 But know this, that in the last days perilous times will come: 2 For men will be lovers of themselves, lovers of money, boasters, proud, blasphemers, disobedient to parents, unthankful, unholy, 3 unloving, unforgiving, slanderers, without self-control, brutal, despisers of good, 4 traitors, headstrong, haughty, lovers of pleasure rather than lovers of God, 5 having a form of godliness but denying its power. And from such people turn away! 6 For of this sort are those who creep into households and make captives of gullible women loaded down with sins, led away by various lusts, 7 always learning and never able to come to the knowledge of the truth. (2 Timothy 3:1-7)
We are in the last days and these are perilous times.
Time is running out for the USA. We are getting closer to the end of the 6,000 years that God is allowing humans to rule themselves, prior to the return of Jesus Christ and the beginning of the millennial reign (see Does God Have a 6,000 Year Plan? What Year Does the 6,000 Years End? and Did The Early Church Teach Millenarianism?).
And the end of the USA will come (cf. Daniel 11:39; Habakkuk 2:6-8) whether Americans believe it or not.
Pray (1 Timothy 2:1-3).
Some items of possibly related interest may include:
Should a Christian Vote? This article gives some of the Biblical rationale on this subject. Would Jesus vote for president/prime minister? Is voting in the Bible? This is a subject Christians need to understand. A video of related interest is available titled: Should Christians Vote?
Abortion, the Bible, and a Woman's Right to Choose Do you know what the Bible teaches on this? Has the Roman Catholic Church allowed abortions? What about the real Church of God? Some may also, or instead, wish to view the YouTube video Abortion, the Bible, and US Debt.
Cross-dressing and other assaults against your children. What should you do? Is there an agenda to turn your children and/or grandchildren away from biblical morality and towards practices promoted by homosexuals? What does the Bible teach about cross-dressing? What should parents do? If there is an agenda, what has been going on? There are also two YouTube videos related to this, titled Transgender 'Woe to those who call evil good' and Cross dressing and Other Assaults Against Your Children.
The Bible Condemns Homosexuality "Same-sex marriage" for "gays" and lesbians is becoming more acceptable to many. What does the Bible teach about homosexuality? Can homosexuals change? A related video sermon is titled: What Does the Bible Really Teach about Homosexuality?
Does God Have a 6,000 Year Plan? What Year Does the 6,000 Years End? Was a 6000 year time allowed for humans to rule followed by a literal thousand year reign of Christ on Earth taught by the early Christians? Does God have 7,000 year plan? What year may the six thousand years of human rule end? When will Jesus return? 2023 or 20xx? There is also a video titled The 6000 Year Plan: Is the end of humanity's reign almost up? Here is a link to the article in Spanish: ¿Tiene Dios un plan de 6,000 años?
When Will the Great Tribulation Begin? 2016, 2017, or 2018? Can the Great Tribulation begin today? What happens before the Great Tribulation in the "beginning of sorrows"? What happens in the Great Tribulation and the Day of the Lord? Is this the time of the Gentiles? When is the earliest that the Great Tribulation can begin? What is the Day of the Lord? Who are the 144,000? Here is a version of the article in the Spanish language: ¿Puede comenzar la Gran Tribulación en 2016 o 2017? ¿Es el Tiempo de los Gentiles? You can also see the English language sermon video: The Great Tribulation from the Mount of Olives. A shorter video is: Can the Great Tribulation Start in 2016?
Just What Do You Mean — Repentance? Do you know what repentance is? Have you truly repented? Repented of what? Herbert W. Armstrong wrote this as a booklet on this important subject.
When You Sin: Do You Really Repent? This is an article by Charles F. Hunting. A related sermon is Confess to God and truly repent.
Donald Trump in Prophecy Prophecy, Donald Trump? Are there prophecies that Donald Trump may fulfill? Are there any prophecies that he has already helped fulfill? Could a Donald Trump presidency be apocalyptic? A related video is titled Could Donald Trump be Apocalyptic?
Hillary Clinton in Prophecy Prophecy, Hillary Clinton? Are there prophecies that Hillary Clinton may fulfill? Are there any prophecies that she has already helped fulfill? Could Hillary Clinton be apocalyptic? Could Hillary Clinton be the final Antichrist? A video of related interest is titled Hillary Clinton and Bible Prophecy.
The Gospel of the Kingdom of God was the Emphasis of Jesus and the Early Church Did you know that? Do you even know what the gospel of the kingdom is all about? You can also see a YouTube video sermon The Gospel of the Kingdom.
Women and the New Testament Church What roles did women play in the ministry of Jesus and the apostles? Did Jesus and the Apostle Paul violate Jewish traditions regarding their dealings with women? Do women have any biblical limitations on their role in the Church? Were there female prophets? Do women have any special responsibilities in terms of how they dress? What does the New Testament really teach about women? Here is a related sermon titled: New Testament Women.
Anglo – America in Prophecy & the Lost Tribes of Israel Are the Americans, Canadians, English, Scottish, Welsh, Australians, Anglo-Saxon (non-Dutch) Southern Africans, and New Zealanders descendants of Joseph? Where are the lost ten-tribes of Israel? Who are the lost tribes of Israel? What will happen to Jerusalem and the Jews in Israel? Will God punish the U.S.A., Canada, United Kingdom, and other Anglo-Saxon nations? Why might God allow them to be punished first? Here is a link to the Spanish version of this article: Anglo-América & las Tribus Perdidas de Israel. Information is also in the YouTube sermons titled Where are the Ten Lost Tribes? Why does it matter? and British are the Covenant People. A short YouTube of prophetic interest may be Barack Obama and the State of the Apocalypse.
Will the Anglo-Saxon Nations be Divided and Have People Taken as Slaves? Will the lands of the United States, United Kingdom, Canada, Australia, and New Zealand be divided? What about Jerusalem? What does Bible prophecy teach? Are there non-biblical prophecies that support this idea? Who will divide those lands? Who will end up with the lands and the people? Here is a link to a video titled Will the USA and other Anglo-nations be Divided and Their People Made Slaves? Here is a related item in the Spanish language ¿Serán divididas las naciones anglosajonas?
Hillary Clinton, Prophecy, and the Destruction of the United States This is a 188 page book for people truly interested in prophecies related to Hillary Clinton and the United States, including learning about many that have already been fulfilled and those that will be fulfilled in the future. It also discusses Republicans. The physical book can be purchased at Amazon from the following link: Hillary Clinton, Prophecy, and the Destruction of the United States: Is Hillary Clinton Fulfilling Biblical, Islamic Catholic, Hopi, and other America-Related Prophecies? $11.99.
Hillary Clinton, Prophecy, and the Destruction of the United States-Amazon Kindle edition. This electronic version of the 188 page print edition is available for only US$3.99. And you do not need an actual Kindle device to read it. Why? Amazon will allow you to download it to almost any device: Please click HERE to download one of Amazon s Free Reader Apps. After you go to for your free Kindle reader and then go to Hillary Clinton, Prophecy, and the Destruction of the United States-Amazon Kindle edition.