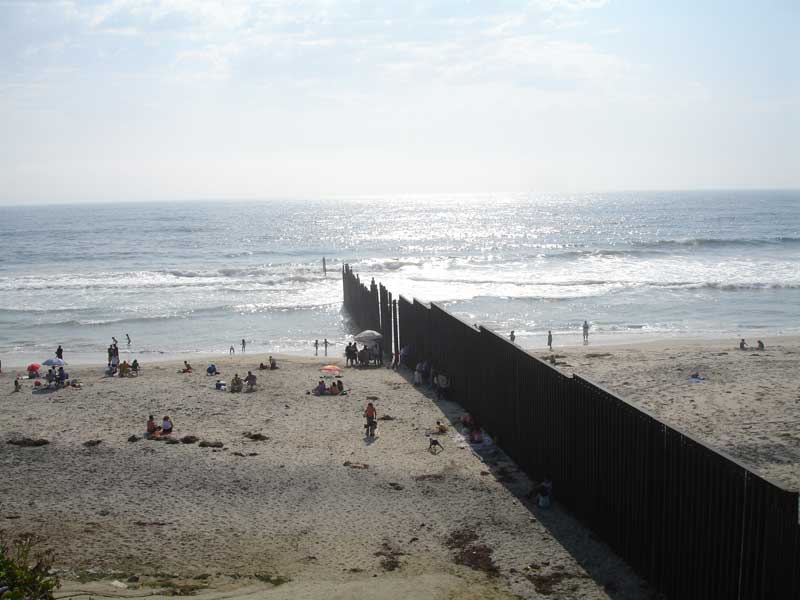 Mexico-USA western beach border wall

Pope Francis worked on his ecumenical and interfaith agenda with Canadian bishops and also brought up policies of US President Donald Trump:
Pope Encourages Bishops of Canada to Foster Interreligious Dialogue

March 28, 2017

Pope Francis received the Bishops of Canada on Tuesday, who are in Rome on their ad Limina visit.

Many subjects were addressed, Vatican Radio reported. …

In their audience with the Pope, the Bishops also talked about the on-going fruitful ecumenical and inter-religious endeavor, in favor of the defense of the principle of solidarity and the coexistence of peoples, given the recent attack on a mosque in Quebec, and U.S. President Donald Trump's restrictive measures on immigration. https://zenit.org/articles/pope-encourages-bishops-of-canada-to-foster-interreligious-dialogue/
The Bible shows that the Babylonian ecumenical and interfaith agenda will end in disaster (see Revelation chapters 17-19).
Like Pope Francis, Catholic bishops in Mexico also brought up policies of Donald Trump and condemned those that would support at least one of them:
March 28, 2017

Mexico's Roman Catholic bishops have said that companies in their country expressing interest in working on a border wall in the United States proposed by U.S. President Donald Trump, are betraying their country. …

An editorial in Desde la fe, the Mexican archdiocese's weekly publication, was titled "Treason against the Homeland" and castigated Trump as a "fanatic." …

"Any company intending to invest in the wall of the fanatic Trump would be immoral, but above all, its shareholders and owners should be considered traitors to the homeland," said the bishops' editorial.

The Desde la fe editorial was published online arguing that the barrier would only feed prejudice and discrimination. http://www.ecumenicalnews.com/article/mexicos-catholic-bishops-say-companies-that-work-on-trump-wall-will-be-guilty-of-treason/60148.htm
As far as walls and open borders are concerned, notice the following photograph of Vatican City: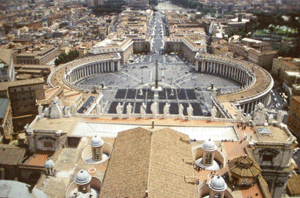 Vatican City is surrounded by high walls (photo by Joyce Thiel)
While one can freely walk into part of it, Swiss guards stop people from going past certain points. The Vatican also restricts any who wish to live there, whether they request asylum or not. My wife and I have walked around Vatican City and have seen its immense border walls close-up.
While the USA is much larger than Vatican City, the fact that Vatican City is walled off for its reasons should tell Catholic bishops that the USA may want walls for its own reasons.
That being said, Donald Trump has made various statements that many, including Mexicans, are offended by.
Europe is trying to move to fill in areas where Donald Trump has indicated he wants to change trade terms. This is giving Europe opportunities with Mexico, Asian, and other parts of the world that it would not otherwise have (we also have a BNP video related to Europe and trade: Trade Wars: Are COG warnings coming to pass?)
Mexico hopes that it can trade more with Europe–to at least partially offset what it believes may happen because of policies of US President Trump.
Various ones in Mexico have long considered that the USA is an enemy nation. Now, Catholic bishops in Mexico are calling companies treasonous if they participate in the building of the planned expanded border wall.
Many in Mexico believe that the USA improperly took lands ranging from Texas to California and points in-between. They believe that they are entitled to receive that land back. The Bible teaches that the European King of the North power will takeover the USA and divide its land for gain (Daniel 11:39)–Mexico will likely end up with at least some of its claimed lands back this century.
While in the short-run, the USA can take steps to seriously harm Mexico, it should be clear to all that the USA is seriously risking turning Mexico from an ally into an enemy.
Decades ago, I concluded that Mexico would one-day help the Europeans against the USA. Last decade I warned also about trade (watch Trade Wars: Are COG warnings coming to pass?). Reactions from Mexican officials suggest that day is getting closer.
Some items of possibly related interest may include:
Donald Trump in Prophecy Prophecy, Donald Trump? Are there prophecies that Donald Trump may fulfill? Are there any prophecies that he has already helped fulfill? Could a Donald Trump presidency be apocalyptic? A related video is titled: Donald: 'Trump of God' or Apocalyptic?
Donald Trump and America's Apocalypse This 188 page book is for people truly interested in prophecies related to Donald Trump and the United States, including learning about several that have already been fulfilled and those that will be fulfilled in the future. The physical book can be purchased at Amazon for $12.99 from the following link: Donald Trump and America's Apocalypse.
Donald Trump and America's Apocalypse-Kindle Edition This electronic version of the 188 page print edition is available for only US$3.99. And you do not need an actual Kindle device to read it. Why? Amazon will allow you to download it to almost any device: Please click HERE to download one of Amazon s Free Reader Apps. After you go to for your free Kindle reader and then go to Donald Trump and America's Apocalypse-Kindle Edition.
Mexico, Central America, South America, Brazil, and the Caribbean in Prophecy [Español: México, América central, Suramérica, Brasil y el Caribe en la profecía] [Português: México, América Central, Ámérica do Sul, e Brasil na profecia] What will happen to those of Latin America? Will they have prosperity? Will they cooperate with Europe? Will they suffer in the future? What role might the various Caribbean nations/territories play?
Canada in Prophecy: What Does Bible Prophecy, Catholic Prophecy, and other Predictions Suggest About the Future of Canada? There are prophecies that suggest involvement with Canada. And many are not positive about its future.
Beware: Protestants Going Towards Ecumenical Destruction! What is going on in the Protestant world? Are Protestants turning back to their 'mother church' in Rome? Does the Bible warn about this? What are Catholic plans and prophecies related to this? Is Protestantism doomed? See also World Council of Churches Peace Plan.
Why Should American Catholics Fear Unity with the Orthodox? (And the Protestants) Are the current ecumenical meetings a good thing or will they result in disaster? Is doctrinal compromise good? Here is a link to a related video Should you be concerned about the ecumenical movement?
Will the Interfaith Movement Lead to Peace or Sudden Destruction? Is the interfaith movement going to lead to lasting peace or is it warned against? A video sermon of related interest is: Will the Interfaith Movement lead to World War III? and a video sermon is also available: Do You Know That Babylon is Forming?
Some Similarities and Differences Between the Eastern Orthodox Church and the Continuing Church of God Both groups claim to be the original church, but both groups have differing ways to claim it. Both groups have some amazing similarities and some major differences. Do you know what they are?
Orthodox Must Reject Unity with the Roman Catholics Unity between these groups will put them in position to be part of the final end time Babylon that the Bible warns against as well as require improper compromise.
Who is the King of the North? Is there one? Do biblical and Roman Catholic prophecies for the Great Monarch point to the same leader? Should he be followed? Who will be the King of the North discussed in Daniel 11? Is a nuclear attack prophesied to happen to the English-speaking peoples of the United States, Great Britain, Canada, Australia, and New Zealand? When do the 1335 days, 1290 days, and 1260 days (the time, times, and half a time) of Daniel 12 begin? When does the Bible show that economic collapse will affect the United States? In the Spanish language check out ¿Quién es el Rey del Norte? Here is a link to a video titled: The Future King of the North.
When Will the Great Tribulation Begin? 2017, 2018, or 2019? Can the Great Tribulation begin today? What happens before the Great Tribulation in the "beginning of sorrows"? What happens in the Great Tribulation and the Day of the Lord? Is this the time of the Gentiles? When is the earliest that the Great Tribulation can begin? What is the Day of the Lord? Who are the 144,000? Here is a version of the article in the Spanish language: ¿Puede comenzar la Gran Tribulación en 2016 o 2017? ¿Es el Tiempo de los Gentiles? You can also see the English language sermon videos: The Great Tribulation from the Mount of Olives and Can the Great Tribulation begin before 2020? A shorter video is: Will the Great Tribulation Start in 2017?
Does God Have a 6,000 Year Plan? What Year Does the 6,000 Years End? Was a 6000 year time allowed for humans to rule followed by a literal thousand year reign of Christ on Earth taught by the early Christians? Does God have 7,000 year plan? What year may the six thousand years of human rule end? When will Jesus return? 2026 or 20xx? There is also a video titled The 6000 Year Plan: Is the end of humanity's reign almost up? Here is a link to the article in Spanish: ¿Tiene Dios un plan de 6,000 años?The Gospel of the Kingdom of God was the Emphasis of Jesus and the Early Church Did you know that? Do you even know what the gospel of the kingdom is all about? You can also see a YouTube video sermons Why Teach the Kingdom of God, The Gospel of the Kingdom, and The Kingdom of God is the Solution.
Europa, the Beast, and Revelation Where did Europe get its name? What might Europe have to do with the Book of Revelation? What about "the Beast"? Is an emerging European power "the daughter of Babylon"? What is ahead for Europe? Here is a link to a video titled: Can You Prove that the Beast to Come is European?
European Technology and the Beast of Revelation Will the coming European Beast power would use and develop technology that will result in the taking over of the USA and its Anglo-Saxon allies? Is this possible? What does the Bible teach? Here is a related YouTube video: Military Technology and the Beast of Revelation.
Must the Ten Kings of Revelation 17:12 Rule over Ten Currently Existing Nations? Some claim that these passages refer to a gathering of 10 currently existing nations together, while one group teaches that this is referring to 11 nations getting together. Is that what Revelation 17:12-13 refers to? The ramifications of misunderstanding this are enormous. A related sermon is titled Ten Kings of Revelation and the Great Tribulation.
WTO/TTIP and the Babylonian Beast Will international trade agreements like WTO/TTIP/CETA lead to the fulfillment of end time prophecies concerning the Babylonian Beast power that the Book of Revelation warns against? What does the Bible teach? A related video would be WTO Trade Deal and the Rise of the European Beast Power.
Anglo – America in Prophecy & the Lost Tribes of Israel Are the Americans, Canadians, English, Scottish, Welsh, Australians, Anglo-Saxon (non-Dutch) Southern Africans, and New Zealanders descendants of Joseph? Where are the lost ten-tribes of Israel? Who are the lost tribes of Israel? What will happen to Jerusalem and the Jews in Israel? Will God punish the U.S.A., Canada, United Kingdom, and other Anglo-Saxon nations? Why might God allow them to be punished first? Here is a link to the Spanish version of this article: Anglo-América & las Tribus Perdidas de Israel. Information is also in the YouTube sermons titled Where are the Ten Lost Tribes? Why does it matter? and British are the Covenant People. A short YouTube of prophetic interest may be Barack Obama and the State of the Apocalypse.
Will the Anglo-Saxon Nations be Divided and Have People Taken as Slaves? Will the lands of the United States, United Kingdom, Canada, Australia, and New Zealand be divided? What about Jerusalem? What does Bible prophecy teach? Are there non-biblical prophecies that support this idea? Who will divide those lands? Who will end up with the lands and the people? Here is a link to a video titled Will the USA and other Anglo-nations be Divided and Their People Made Slaves? Here is a related item in the Spanish language ¿Serán divididas las naciones anglosajonas?
Is the USA now an Evil Empire? Dr. Thiel gives many reasons to consider. A related video is also available: Is the USA an Evil Empire?
USA in Prophecy: The Strongest Fortresses Can you point to scriptures, like Daniel 11:39, that point to the USA in the 21st century? This article does. A related sermon is titled: Do these 7 prophesies point to the end of the USA?