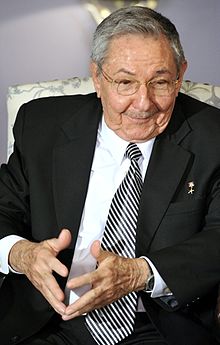 Raúl Castro (government.ru)
After meeting with Pope Francis, the President of the officially atheistic island nation of Cuba said he might convert back to Roman Catholicism.  A reader sent me something related to the following:
The Cuban president, Raúl Castro, has thanked Pope Francis for helping to broker the diplomatic thaw between his country and the US, saying he was so impressed with the pontiff he was even considering converting to Catholicism.

"Bienvenido!" said Francis in his native Spanish as he welcomed Castro to his studio near the Vatican's public audience hall for private talks that lasted nearly an hour.

After leaving the Vatican, Castro, the brother of Fidel, the revolutionary leader who brought the Communists to power in Cuba, gushed with praise for Francis.

"If the pope keeps going the way he's going, I'll come back to the Catholic church," Castro said at a news conference at the office of the Italian prime minister, Matteo Renzi, whom he met after the Vatican talks.

"When the pope goes to Cuba in September, I promise to go to all his masses, and with satisfaction."

It was a startling assertion for the leader of a communist country, where crackdowns on dissidents in the past had drawn sharp Vatican criticism.

"I am from the Cuban Communist party, that doesn't allow [religious] believers, but now we are allowing it, it's an important step," Castro said.  http://www.theguardian.com/world/2015/may/10/pope-meets-cuban-president-raul-castro
Pope Francis was a key figure in getting the US to improve diplomatic relations with Cuba.  Cuba's closest ally for a long time was the old atheistic Soviet Union.  After it disbanded, Russia moved from being officially atheistic to being almost officially Russian Orthodox.  Vladimir Putin is publicly Russian Orthodox and has the endorsement of its Patriarch Kirill.  Furthermore, Pope Francis has cordial relations with Vladimir Putin, and they both kissed ta Marian image in a book nearly two years ago that was a gift to the pontiff by the Russian president (see Russia's Putin and Pope Francis both kiss Marian icon).
So, the President of Cuba probably feels that being more involved with the Roman Catholics will not hurt him.  As far as conversions to that faith go, both former UK Prime Minister Tony Blair and likely US presidential candidate Jeb Bush both converted to Roman Catholicism from Protestant backgrounds.  And as far as Tony Blair goes, I believe that part of the reason was that he thought it could help him politically related to European Union politics.
The reader who brought me a link related to what the President of Cuba said, provided the following comment:
Pope Francis certainly is no ordinary Pope as he definitely looks like an angel but speaks like a dragon.
Pope Francis has done many things like that as regular readers of this Church of God News page are aware.
While it can be good that Cuba is becoming more tolerant of religion, many fail to understand that the Vatican has a plan related to a world religion that the Bible condemns (Revelation 13,14,17,18,19).
Irrespective of what happens in Cuba in the interim, the type of unity that the current ecumenical movement claims to want is not prophesied to be good according to the Bible.
Some items of possibly related interest may include:
Mexico, Central America, South America, Brazil, and the Caribbean in Prophecy [Español: México, América central, Suramérica, Brasil y el Caribe en la profecía] [Português: México, América Central, Ámérica do Sul, e Brasil na profecia] What will happen to those of Latin America? Will they have prosperity? Will they cooperate with Europe? Will they suffer in the future? What role might the various Caribbean nations/territories play?
Islands and Bible Prophecy What's ahead for islands? What does the Bible prophesy about them?
Pope Francis: Could this Marian Focused Pontiff be Fulfilling Prophecy? Pope Francis has taken many steps to turn people more towards his version of 'Mary.' Could this be consistent with biblical and Catholic prophecies? This article documents what has been happening. There is also a video version titled Pope Francis: Could this Marian Focused Pontiff be Fulfilling Prophecy?
Is Tony Blair Apocalyptic? The former Prime Minister of the United Kingdom converted to Catholicism shortly after leaving his office and has been active in European affairs. What role might he play?
Why Should American Catholics Fear Unity with the Orthodox? Are the current ecumenical meetings a good thing or will they result in disaster? Is doctrinal compromise good? Here is a link to a related video Should you be concerned about the ecumenical movement?
Will the Interfaith Movement Lead to Peace or Sudden Destruction? Is the interfaith movement going to lead to lasting peace or is it warned against? A video of related interest could be Do You Know That Babylon is Forming?
Some Similarities and Differences Between the Eastern Orthodox Church and the Continuing Church of God Both groups claim to be the original church, but both groups have differing ways to claim it. Both groups have some amazing similarities and some major differences. Do you know what they are?
Orthodox Must Reject Unity with the Roman Catholics Unity between these groups will put them in position to be part of the final end time Babylon that the Bible warns against as well as require improper compromise.
Beware: Protestants Going Towards Ecumenical Destruction! What is going on in the Protestant world? Are Protestants turning back to their 'mother church' in Rome? Does the Bible warn about this? What are Catholic plans and prophecies related to this? Is Protestantism doomed? See also World Council of Churches Peace Plan.
Do You Know That Babylon is Forming? How is the final Babylon forming? Are Protestants such as Joel Osteen and Kenneth Copeland are endorsing something dangerous? Could Pope Francis be the 'False Prophet' that the Bible warns against? Is an antipope expected to endorse a one-world religion? Here is a link to a related written article In Vatican City: New Babylon more openly forming!
United Nations: Humankind's Last Hope or New World Order? Is the UN the last hope for humanity? Or might its goals end up with sinister results? A related video would be United Nations and Vatican Are Planning the New World Order.
Hope of Salvation: How the Continuing Church of God differ from most Protestants How the real Church of God differs from mainstream/traditional Protestants, is perhaps the question I am asked most by those without a Church of God background. As far as some changes affecting Protestantism, watch the video Charismatic Kenneth Copeland and Anglican Tony Palmer: Protestants Beware! [Português: Esperança do salvação: Como a igreja do deus difere da maioria de protestantes]
Mary, the Mother of Jesus and the Apparitions Do you know much about Mary? Are the apparitions real? What happened at Fatima? What might they mean for the rise of the ecumenical religion of Antichrist? Are Protestants moving towards Mary? How do the Eastern/Greek Orthodox view Mary? How might Mary view her adorers? Here is a link to a YouTube video Marian Apparitions May Fulfill Prophecy.
Which Is Faithful: The Roman Catholic Church or the Continuing Church of God? Do you know that both groups shared a lot of the earliest teachings? Do you know which church changed? Do you know which group is most faithful to the teachings of the apostolic church? Which group best represents true Christianity? This documented article answers those questions.
Satan's Plan Does Satan have a plan? What is it? Has it already been successful? Will it be successful in the future?
Will the Interfaith Movement Lead to Peace or Sudden Destruction? Is the interfaith movement going to lead to lasting peace or is it warned against?
COGwriter Position on Other Churches and Religions What is the fate of those who do not know Christ? What about those who profess Christ outside the Church of God?
Where is the True Christian Church Today? This free online pdf booklet answers that question and includes 18 proofs, clues, and signs to identify the true vs. false Christian church. Plus 7 proofs, clues, and signs to help identify Laodicean churches. A related sermon is also available: Where is the True Christian Church? Here is a link to the booklet in the Spanish language: ¿Dónde está la verdadera Iglesia cristiana de hoy?
Continuing History of the Church of God This pdf booklet is a historical overview of the true Church of God and some of its main opponents from c. 31 A.D. to 2014. Two related sermon links would include Continuing History of the Church of God: c. 31 to c. 300 A.D. and Continuing History of the Church of God: 4th-16th Centuries. In Spanish: Marque aquí para ver el pdf folleto: Continuación de la Historia de la Iglesia de Dios.