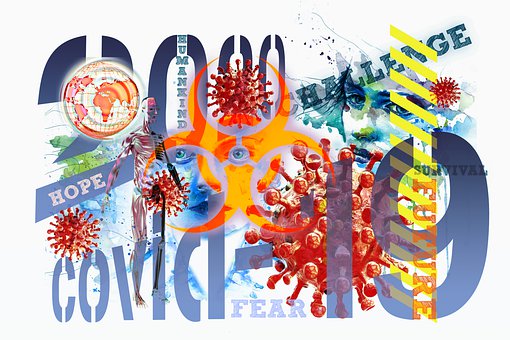 (Pixabay picture)
ZeroHedge reported the following:
"Doomed To Fail" – Top Immunologist Blasts Global COVID Response Driven By "False Propaganda"

January 12, 2022

Professor Ehud Qimron, head of the Department of Microbiology and Immunology at Tel Aviv University and one of the leading Israeli immunologists, has written an open letter sharply criticizing the Israeli – and indeed global – management of the coronavirus pandemic.

Original letter in Hebrew: N12 News (January 6, 2022); translated by Google/SPR. See also: Professor Qimron's prediction from August 2020: "History will judge the hysteria" (INN).

∗ ∗ ∗

Ministry of Health, it's time to admit failure

In the end, the truth will always be revealed, and the truth about the coronavirus policy is beginning to be revealed. When the destructive concepts collapse one by one, there is nothing left but to tell the experts who led the management of the pandemic – we told you so.

Two years late, you finally realize that a respiratory virus cannot be defeated and that any such attempt is doomed to fail. You do not admit it, because you have admitted almost no mistake in the last two years, but in retrospect it is clear that you have failed miserably in almost all of your actions, and even the media is already having a hard time covering your shame.

You refused to admit that the infection comes in waves that fade by themselves, despite years of observations and scientific knowledge. You insisted on attributing every decline of a wave solely to your actions, and so through false propaganda "you overcame the plague." And again you defeated it, and again and again and again.

You refused to admit that mass testing is ineffective, despite your own contingency plans explicitly stating so ("Pandemic Influenza Health System Preparedness Plan, 2007", p. 26).

You refused to admit that recovery is more protective than a vaccine, despite previous knowledge and observations showing that non-recovered vaccinated people are more likely to be infected than recovered people. You refused to admit that the vaccinated are contagious despite the observations. Based on this, you hoped to achieve herd immunity by vaccination — and you failed in that as well.

You insisted on ignoring the fact that the disease is dozens of times more dangerous for risk groups and older adults, than for young people who are not in risk groups, despite the knowledge that came from China as early as 2020.

You refused to adopt the "Barrington Declaration", signed by more than 60,000 scientists and medical professionals, or other common sense programs. You chose to ridicule, slander, distort and discredit them. Instead of the right programs and people, you have chosen professionals who lack relevant training for pandemic management (physicists as chief government advisers, veterinarians, security officers, media personnel, and so on).

You have not set up an effective system for reporting side effects from the vaccines and reports on side effects have even been deleted from your Facebook page. Doctors avoid linking side effects to the vaccine, lest you persecute them as you did to some of their colleagues. You have ignored many reports of changes in menstrual intensity and menstrual cycle times. You hid data that allows for objective and proper research (for example, you removed the data on passengers at Ben Gurion Airport). Instead, you chose to publish non-objective articles together with senior Pfizer executives on the effectiveness and safety of vaccines.

Irreversible damage to trust

However, from the heights of your hubris, you have also ignored the fact that in the end the truth will be revealed. And it begins to be revealed. The truth is that you have brought the public's trust in you to an unprecedented low, and you have eroded your status as a source of authority. The truth is that you have burned hundreds of billions of shekels to no avail – for publishing intimidation, for ineffective tests, for destructive lockdowns and for disrupting the routine of life in the last two years.

You have destroyed the education of our children and their future. You made children feel guilty, scared, smoke, drink, get addicted, drop out, and quarrel, as school principals around the country attest. You have harmed livelihoods, the economy, human rights, mental health and physical health.

You slandered colleagues who did not surrender to you, you turned the people against each other, divided society and polarized the discourse. You branded, without any scientific basis, people who chose not to get vaccinated as enemies of the public and as spreaders of disease. You promote, in an unprecedented way, a draconian policy of discrimination, denial of rights and selection of people, including children, for their medical choice. A selection that lacks any epidemiological justification.

When you compare the destructive policies you are pursuing with the sane policies of some other countries — you can clearly see that the destruction you have caused has only added victims beyond the vulnerable to the virus. The economy you ruined, the unemployed you caused, and the children whose education you destroyed — they are the surplus victims as a result of your own actions only.

There is currently no medical emergency, but you have been cultivating such a condition for two years now because of lust for power, budgets and control. The only emergency now is that you still set policies and hold huge budgets for propaganda and psychological engineering instead of directing them to strengthen the health care system.

This emergency must stop!

Professor Udi Qimron, Faculty of Medicine, Tel Aviv University

https://www.zerohedge.com/covid-19/doomed-fail-top-immunologist-blasts-global-covid-response-driven-false-propaganda
As a published scientists, I have been appalled by the false propaganda, media coverage, Big Tech censoring, and totalitarian measures implemented related to the coronavirus.
The pushing of fear, closing schools, interfering with religious rights, lockdowns, etc. has caused harm. Mental health issues and suicides have increased.
Furthermore, the incessant pushing of vaccines as THE SOLUTION, and basically the only one, by much of the media, Big Pharma, and Big Tech was also wrong on so many levels.
This was not the way something like the novel coronavirus, renamed as COVID-19, should have been handled.
Of course, problems and misinformation from Israeli officials is not unique to that government.
The misinformation coming from US government officials impacted the rest of the world. The time will likely come when those of continental Europe will point to false and misleading information coming from the USA as a reason that the USA should not be trusted.
COVID-19 has been handled horribly–with fear still one of the most commonly used tactics.
Related to dealing with fear during the time of COVID, the Continuing Church of God put out the following sermon on its ContinuingCOG channel:
Billions of people are afraid for many reasons, including COVID-19. Are any fears good? Are there mindless fears and phobias? Can autosuggestion be deceptive? Can you deal with mental torment? What are some causes of bad dreams (nightmares)? Does Satan try to exploit fears through his lies? Can the weak become strong? Were Christ's disciples ever fearful? Are there biblical ways to deal with fear? What about spiritual fear and the 'fear of God'? The late evangelists Dr. Herman Hoeh had an article published in 1955 titled 'How to Conquer Your Fears?' What are eight steps from the Apostle Peter? What did Jesus teach about worry? Are most Christians Philadelphian? What did Jesus teach about fear? What is the ultimate biblical fate for cowards? Here a the list of ten steps to help rid yourself of fear: 1. "Whatever things are true, whatever things are noble, whatever things are just, whatever things are pure, whatever things are lovely, whatever things are of good report, if there is any virtue and if there is anything praiseworthy — meditate on these things" (Philippians 4:8). Changing your mental focus will help you push out fear. 2. Develop faith. "Faith comes by hearing, and hearing by the word of God" (Romans 10:17). 3. Add virtue to your faith in the power of God. You cannot hide your sins from God (cf. Psalm 90:8). 4. Add to virtue knowledge. Study the word of God, study CCOG literature, pay attention to sermons (ContinuingCOG YouTube sermon channel) and sermonettes (BibleNewsProphecy YouTube sermonette channel). 5. Add self-control to knowledge. Resist Satan and his hopes that you will walk by sight instead of faith. 6. Add patience to self-control. You may have to go through many tests and trials to build patience, but as you get through the tests and trials you should have the faith to recognize that God got you through them and that you do not need to fear. 7. Add godliness to patience. 8. Add to patience, brotherly kindness. "Let Philadelphia continue" (Hebrews 13:1). 9. Add to brotherly kindness, love. 10. Be courageous. "He who has begun a good work in you will complete it until the day of Jesus Christ" (Philippians 1:6). This is how YOU can conquer your fears and worries! Ask God for help to carry out His ten-fold plan to attain real peace of mind. Then there is also prayer and fasting. Yes, through God's help you can rid yourself of fear. This sermon by Dr. Thiel covers these topics and more.
Here is a link to the sermon: Ten Plus Steps to Rid Yourself of Fear.
While many government officials are promoting fear and often hypocrisy, understand that Christians do not need to fear.
The hope of Christians is in Jesus and the establishment of the Kingdom of God.
That being said, the other things that can be done have not changed.
At risk of repeat, there are things people should still take to improve their health.
And as mentioned before, YouTube recently retroactively removed a video we in the Continuing Church of God put up, back in February 2021. Here is a link to it from another platform:
US President Joe Biden said on 2/19/21 that the USA may NOT "return to normal" in 2021 because of vaccine and mutation issues. Is there another approach? Would it make sense to improve nutrition to strengthen the immune system and to help people with COVID-19? What about zinc, selenium, vitamin C, and vitamin D? What about avoiding unclean meats? What about eating more fruits and vegetables and items such as pumpkin seeds and Brazil nuts? What about eating bovine glandulars? What about herbs? Could fasting help? What about exercise and sunlight? What about masks, lockdowns, junk food, obesity, and weight gain? Dr. Thiel, who possesses a US regionally accredited PhD. in nutrition science from the Union Institute and University, a Master of Science degree from the University of Southern California, and a natural scientist license from the State of Alabama, explains why people may wish to consider approaches for their immune system. He also goes over scriptures related to worse pandemics coming (associated with the ride of the fourth horseman of the Apocalypse–Revelation 6:7-8), and the fact that the Bible teaches to "eat what is good" (Isaiah 55:2).

A written article, with references, of related interest is also available titled "Joe Biden: life may not return to normal this year due to COVID mutations; Paul Roberts: The Covid Pandemic Is The Result of Public Health Authorities Blocking Effective Treatment" URL: https://www.cogwriter.com/news/prophecy/joe-biden-life-may-not-return-to-normal-this-year-due-to-covid-mutations-paul-roberts-the-covid-pandemic-is-the-result-of-public-health-authorities-blocking-effective-treatment/
Here is a link to the censored video: COVID-19: Eat what is good!
When I tried to appeal to YouTube, it never once said I made an inaccurate or false statement. It claimed that the video did not have the "consensus of local experts" or the World Health Organization (WHO).
Here is a list of items that the YouTube-censored video promoted:
People should decrease their consumption of junk food. Instead that has increased and many Americans have gained unhealthy weight (see Using scale for weight loss? Americans gain weight during COVID-19 shut downs) which will not bolster their innate or adaptive immune systems.
Exercise is beneficial for the immune system (watch The Plain Truth About Exercise), yet during the corona/COVID lockdowns, many have gotten less exercise. Some because of fear of going outside and some because many gyms have been closed by government orders. Yet, the Bible teaches 'bodily exercise profits a little' (1 Timothy 4:8).
Avoiding smoking (see also Should Christians Smoke Tobacco or Marijuana?) and polluted air (watch

Air Pollution, Autism, and Prophecy

) help the immune function. Yet, cigarette purchases in the USA went up last year during the COVID lockdowns.
People should increase their consumption of high vitamin C fruits (like citrus and berries) and vegetables (like tomatoes and bell peppers) as vitamin C is proven to bolster the immune system, help protect tissues (like lungs), and fight viruses (see also COVID-19 and Vitamin C: The truth, the myth, and the hype). Many also contain fruits and vegetables supply betacarotene, which also supports the immune system.
Eleven years ago it was reported in a scientific journal that zinc was effective against coronaviruses to reduce their replication (see'CDC Triples Number of Possible CCP Virus Symptoms;' Don't swallow Lysol to fight COVID-19! What about Zinc? Bloodclots?). Various foods, like pumpkin seeds, contain zinc.
Selenium may also be helpful. Eating a couple of Brazil nuts per week can supply adequate amounts of selenium.
Substances like methylene blue and hydroxychloroquine help improve zinc absorption (see also Donald Trump taking zinc and hydroxychloroquine to prevent COVID-19: Mainstream media aghast! Vitamin D? Vitamin C?).
Sunlight helps convert cholesterol into vitamin D and vitamin D looks to be helpful for those facing the coronavirus (see Donald Trump taking zinc and hydroxychloroquine to prevent COVID-19: Mainstream media aghast! Vitamin D? Vitamin C?). Even the CDC's Dr. Fauci has admitted that vitamins D and C can be helpful (see COVID interview: Dr. Fauci takes isolated vitamin D and synthetic vitamin C).
Many herbs can help with viruses (see 'Ghanaians Look to Herbal Remedies for COVID-19' 'Enti wobԑdi Onyankopↄn Nna Kronkron anaa Ahonhommↄnee Ahomegyeԑ Nna?').
Jesus said His followers would fast (Mark 2:20). Fasting boosts the immune system (see Reuters: Why is New Orleans' coronavirus death rate seven times New York's? Obesity is a factor; BNP: 'How to Change Your Life in 5 Seconds'). Fasting, for those who can, can truly help the immune system (see Fasting aids longevity and provides other benefits).
Blood clots can be destructive and even deadly with COVID-19, hence people who get COVID-19 may wish to take nattokinase (see 'CDC Triples Number of Possible CCP Virus Symptoms;' Don't swallow Lysol to fight COVID-19! What about Zinc? Bloodclots?).
Lung tissue damage is associated with COVID-19 and bovine lung tissue helps support healthy lungs (see CBS: Blood types may play role in which COVID patients get sickest; Isaiah: Eat what is good.).
People should avoid consuming biblically unclean meat (see The New Testament Church, History, and Unclean Meats), which look to have been implicated in the cause of COVID-19 (see NPR: Where Did The Coronavirus Originate? Virus Hunters Find Genetic Clues In Bats; WND: Biblically unclean animals responsible for pandemics and Clean and unclean meat arguments, COVID-19, and the Bible).
Humans can help maintain healthy kidneys and other organs with bovine kidney and other organ tissues (see https://doctorsresearch.com/articles/2759/the-truth-about-glandulars-in-nutritional-supplements/). Plural glandular supplements can be helpful.
Even vaccine advocates think that the rushed vaccine will have safety risks (e.g. https://www.theguardian.com/us-news/2020/jun/22/trump-circle-pressure-fda-rush-covid-19-vaccine-election)–hence caution and wisdom are advised.
All the above have the potential to help support one's innate immune system, which helps the body fight many types of pathogens–not just one.
That list is still applicable.
In many ways, and in many lands, COVID-19 has been mishandled.
Some items of possibly related interest may include:
COVID 19 is NOT the End, but could it be TEOTWAWKI? The novel coronavirus called COVID-19 is wreaking havoc around the world. Many states of the USA as well as countries in Europe are on lockdown with shelter in place /shelter in residence requirements. In France, a form is required when you are not at your house. In Spain, drones are being used to warn people who are outside to got back to their homes–does that bring up feelings of 'Big Brother'? Italy, France, and other areas are using police and/or military force to encourage people to stay inside. According to the Bible could this be the end? If not, what has to happen first? Have the second and third of the four horsemen of the Apocalypse started their ride? Could COVID-19 be the fourth horseman? Why or why not? Could we be seeing The End of the World as We Know It (TEOTWAKI) like the R.E.M.'s 1987 single song discussed? Do Christians need to fear? What did Jesus teach? What did the Psalmist teach? This is a video. Here is a link to a version in the Spanish language: Corona 19 no es el final PERO es el TEOTWAWKI.
COVID-19 Leading to 666? The novel coronavirus of Wuhan, China fame, is now called COVID-19. It has also been called the 'Coronapocalypse.' Does COVID-19 have any prophetic ramifications? What did Jesus teach about pestilences and sorrows in the Olivet prophecy in Matthew 24? Could COVID-19 be the ride of the fourth horseman of the Apocalypse? Why was this type of disease expected according to the O. Here is a link to a version in the Spanish language: ld Testament prophecies in Deuteronomy and Leviticus? What has the US Centers for Disease Control warned about? What has the CDC reported about the flu? Were there lessons about fear and infections in the 2011 movie 'Contagion'? Because of COVID-19, the World Health Organization (WHO), nation of Iran, and certain French locations are telling people not to use cash, but instead electronic forms of payment. The US Federal Reserve is now quarantining money repatriated from Asia to reduce the potential spread of the coronavirus on US currency bills. Is COVID-19 worse than we have been told or could this all be a 'false flag' event to encourage people to move towards a cashless society? If the thousands of deaths associated with COVID-19 are pushing parts of the world towards cashlessness, how much more likely will the ride of the fourth horseman and over a billion human deaths motivate people to move to making electronic payments that can be monitored? The Bible tells of a soon coming society that controls buying and selling to force allegiance to a coming European Beast power, known as 666 (Revelation 13:16-18). Does the 'great tribulation' begin before ride of the fourth horseman or with the opening of the fifth seal of Revelation 6? Do the words of Jesus helps us better understand the sequence of the four horsemen of the Apocalypse and the start of the Great Tribulation? Will the ride of the fourth horseman help lead to the rise of 666? Is that ride very close? Dr. Thiel addresses these issues and more in this video. Here is a link to a version in the Spanish language: El COVID-19 ¿Conduce al 666?The Gospel of the Kingdom of God This free online pdf booklet has answers many questions people have about the Gospel of the Kingdom of God and explains why it is the solution to the issues the world is facing. Here are links to four related sermons: The Fantastic Gospel of the Kingdom of God!, The World's False Gospel, The Gospel of the Kingdom: From the New and Old Testaments, and The Kingdom of God is the Solution.
CCOG on vaccines Pestilences are coming. Is it ever appropriate for Christians to get vaccinated?
Fourth Horseman of the Apocalypse What is the pale horse of death and pestilences? What will it bring and when? Here is a link to a related sermon: Fourth Horseman, COVID, and the Rise of the Beast of Revelation. Here is a version of that sermon in Spanish: El Cuarto Caballo, El COVID y El Surgimiento de la Bestia del Apocalipsis. Some shorter related videos may include Amphibian Apocalypse: Threat to Humans? and Zombie Deer Disease is Here! Are the 10 Plagues on Egypt Coming? Here is a version of the article in Spanish: El cuarto jinete de Apocalipsis, el caballo pálido de muerte y pestilencia.
When Will the Great Tribulation Begin? 2022, 2023, or 2024? Can the Great Tribulation begin today? What happens before the Great Tribulation in the "beginning of sorrows"? What happens in the Great Tribulation and the Day of the Lord? Is this the time of the Gentiles? When is the earliest that the Great Tribulation can begin? What is the Day of the Lord? Who are the 144,000? Here is a version of the article in the Spanish language: ¿Puede la Gran Tribulación comenzar en el 2020 o 2021? ¿Es el Tiempo de los Gentiles? A related video is: Great Tribulation: 2026 or 2027? A shorter video is: Can the Great Tribulation start in 2022 or 2023? Here is a video in the Spanish language: Es El 2021 el año de La Gran Tribulación o el Grande Reseteo Financiero.
Might the U.S.A. Be Gone by 2028? Could the USA be gone by the end of 2028 or earlier? There is a tradition attributed to the Hebrew prophet Elijah that humanity had 6,000 years to live before being replaced by God's Kingdom. There are scriptures, writings in the Talmud, early Christian teachings that support this. Also, even certain Hindu writings support it. Here is a link to a related video: Is the USA prophesied to be destroyed by 2028? In Spanish: Seran los Estados Unidos Destruidos en el 2028?
Does God Have a 6,000 Year Plan? What Year Does the 6,000 Years End? Was a 6000 year time allowed for humans to rule followed by a literal thousand year reign of Christ on Earth taught by the early Christians? Does God have 7,000 year plan? What year may the six thousand years of human rule end? When will Jesus return? 2028 or 20xx? There is also a video titled 6000 Years: When will God's Kingdom Come? Here is a link to the article in Spanish: ¿Tiene Dios un plan de 6,000 años?
Is God Calling You? This booklet discusses topics including calling, election, and selection. If God is calling you, how will you respond? Here is are links to related sermons: Christian Election: Is God Calling YOU? and Predestination and Your Selection. A short animation is also available: Is God Calling You?
Christian Repentance Do you know what repentance is? Is it really necessary for salvation? Two related sermons about this are also available: Real Repentance and Real Christian Repentance.