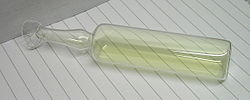 Chlorine Gas in an Ampoule (W. Oelen)
Chlorine gas was again used in Syria:
August 2, 2016

A Syrian rescue service operating in rebel-held territory said on Tuesday a helicopter dropped containers of toxic gas overnight on a town close to where a Russian military helicopter was shot down hours earlier.

The opposition Syrian National Coalition (SNC) accused President Bashar al Assad of being behind the attack. Assad has denied previous accusations of using chemical weapons.

A spokesman for the Syria Civil Defence said 33 people, mostly women and children, were affected by the gas, which they suspect was chlorine, in Saraqeb, in rebel-held Idlib province.

The group, which describes itself as a neutral band of search and rescue volunteers, posted a video on YouTube apparently showing a number of men struggling to breathe and being given oxygen masks by people in civil defense uniforms.

"Medium-sized barrels fell containing toxic gasses. The Syrian Civil Defence was not able to determine the type of the gas," said the spokesman.

The Syrian government and its Russian allies were not immediately available for comment.

The SNC said in a statement: "After shelling, besieging and killing civilians and perpetrating war crimes on them, the Assad regime has resorted once again, and in breach of UN resolutions 2118 and 2235, to using chemical substances and toxic gasses.

"The daily reality confirms that all the international agreements and previous security council decisions, be they about chemical weapons or otherwise, are meaningless for the Assad regime."

The Civil Defence spokesman said it was the second time Saraqeb had been hit by toxic gas. The group was aware of around nine suspected chlorine gas incidents across Idlib province since the conflict began, he said. http://www.reuters.com/article/us-mideast-crisis-syria-idlib-idUSKCN10D0OZ

August 2, 2016

A helicopter has dropped barrels suspected to contain chlorine gas on a town in northern Syria, a doctor and rescuers have said. … It is not clear who was responsible.

Both sides in Syria's civil war have been accused of, and denied, using chemical agents.

On Monday, a Russian military helicopter was shot down near Saraqeb.

Dr Abdel Aziz Bareeh, who works in Saraqeb, told the BBC that two barrels of chlorine gas were dropped on the town late on Monday. http://www.bbc.com/news/world-middle-east-36951783
Here is some information about chlorine bombs:
A chlorine bomb is a small explosive device which uses the pressure of chemically produced chlorine gas or other chlorine-containing gases such as hydrogen chloride to produce an explosion. It is made with an airtight container part-filled with different types of chlorine tablet and other reagents. The reaction produces an expansive increase in pressure, eventually rupturing the container…

Such a device is a more toxic and acidic alternative to a dry ice bomb, … exposure to chlorinous gases and the reactive substances involved can cause respiratory problems from inhalation and also cause injury to other mucous membranes, similar to tear gas…

Pastor's Terrorism and Public Safety Policing outlines how Cprogram is emphasizing lessons learned in Iraq regarding chlorine bomb use on American soldiers… the chlorine bomb and other weapons systems in its class achieve this because they are easy to manufacture and thus represent a more fluid weapons delivery model for domestic and international terrorists. (Chlorine bombs, Wikipedia, viewed 06/04/14)
So, chlorine bombs are like tear gas, but can be deadly.  And for some reason, chlorine bombs are considered to be a 'loophole' in the ban on the use of chemical weapons.
While there may be some doubt as to who dropped the chlorine, last year, Human Rights Watch indicated that chemical weapons were still being deployed by the government of Syria:
April 14, 2015

Human Rights Watch said Tuesday that its investigations into attacks by Syrian government forces last month in Idlib province "strongly suggest" the military dropped barrel bombs with toxic chemicals.

The group said that based on reports from witnesses as well as audio and video from attack sites that there were strong indications of chemical attacks at three sites, while three others needed further investigation. The attacks all took place in or near the city of Idlib in areas controlled by opposition fighters, according to Human Rights Watch.

"Syrian authorities appear once again to have shown complete disregard for human suffering by violating the global prohibition against chemical warfare," Human Rights Watch Middle East and North Africa Director Nadim Houry said. "The U.N. Security Council and countries that are members of the Chemical Weapons Convention need to respond strongly."

Multiple chemical attacks have been confirmed in Syria during its four-year civil war, including what an international chemical weapons watchdog said were repeated and systematic uses of chlorine gas. http://www.voanews.com/content/rights-group-said-strong-evidence-of-march-chemical-attacks-in-syria/2718206.html
Back in 2012, the US government claimed that the use of chemical weapons by Syria would be a 'red line' it had better not cross or else (see Syria's Assad Cornered and Considering Using Chemical Weapons?).
The threat by the USA was not considered to have been effective as chemical weapons where used several times in 2013:
The U.N. mission found likely use of the nerve agent Sarin in the case of Khan Al-Asal (19 March 2013), Saraqib (29 April 2013), Ghouta (21 August 2013), Jobar (24 August 2013) and Ashrafiyat Sahnaya (25 August 2013). The UNHRC commission later confirmed the use of Sarin in the Khan al-Asal, Saraqib and Ghouta attacks, but did not mention the Jobar and the Ashrafiyat Sahnaya attacks.That Sarin was used in Khan al-Asal was also the conclusion of the Russian investigation of the attack.

The UNHRC commission also found that the Sarin used in the Khan al-Asal attack bore "the same unique hallmarks" as the Sarin used in the Ghouta attack and indicated that the perpetrators likely had access to chemicals from the Syrian Army's stockpile. (Use of chemical weapons in the Syrian civil war. Wikipedia, accessed 04/14/2015)
837 people were believed to have been killed by chemical weapons in Syria during August 2013 (ibid). This morning, Wikipedia listed 61 reported chemical weapons attacks in Syria, beginning in 2012 (Use of chemical weapons in the Syrian civil war. Wikipedia, accessed 08/01/2016) and that did NOT include the chlorine attack mentioned at the beginning of this post.
But other sources say that this is even higher:
August 2, 2016

Syria's government has repeatedly been accused of dropping barrel bombs loaded with chemicals, on rebel-held areas.

Since the conflict began in 2011, there have more than 160 chemical attacks in Syria, according to the Syrian American Medical Society.

"The 161 documented chemical attacks have led to at least 1,491 deaths and 14,581 injuries from chemical exposure," SAMS said in a report published in March.

Another 133 chemical attacks were reported in addition to the 161 documented in the reported, but SAMS said the claims "could not be fully substantiated". http://www.aljazeera.com/news/2016/08/syria-civil-war-chlorine-gas-dropped-idlib-town-160802083551947.html
Although the media reported that the USA was seriously considering an attack in 2013 for Syria's use of chemical weapons (see NBC: U.S. 'Military action is coming' to Syria and Reuters: West may strike Syria within days), this did not happen. Opposition forces to the Assad regime in Syria were disappointed (see John Kerry claims Syria used Sarin gas; Assad opposition disappointed in Barack Obama).
In early September 2013, Pope Francis prayed for 'Mary's' intervention (see Pope Francis' 'solution' to Syrian crisis will not work). The USA, Russia, and Syria made a deal (see Russia, Syria, and Kerry suggest relinquishment of Syrian chemical weapons: Will the Vatican claim credit?). The Assad regime claimed it was victorious because of the deal (see Assad's government claims victory because of Russian deal).
By November 2013, this basically led to the rise of certain Islamic rebels in Syria (see Islamic rebels form confederation and are rising in Syria). This led to the rise of the Islamic State by January 2014 (see Nearly 500 reportedly killed between rebels and Al-Qaeda; Obama policies satirically portrayed in Syrian graphics), which declared itself a caliphate in June 2014 (see ISIL declares itself 'Islamic State' and Abu Bakr al-Baghdadi as caliph).
In February 2014, US Secretary of State John Kerry admitted failure dealing with Syria (see Syria still has 96% of its chemical weapons; John Kerry indicates US policy on Syria is failing).
Even though by April 2014 most of the Assad chemical weapons claimed to be destroyed, twice in April 2014, chemical weapons were reportedly used (see Although most Syrian chemical weapons are claimed to be gone, allegedly some were used again today! and Chemical weapons again used in Syria).
And despite USA efforts, chemical weapons are still apparently being used by the Assad regime. While the USA has still not directly acted militarily, the time will come when Syria will face severe destruction.
Here is some of what Bible prophecies teaches about the coming destruction to Syria's capital Damascus:
7 thus says the Lord God: "It shall not stand, Nor shall it come to pass. 8 For the head of Syria is Damascus (Isaiah 7:7-8).

3 Thus says the Lord: "For three transgressions of Damascus, and for four, I will not turn away its punishment, Because they have threshed Gilead with implements of iron. (Amos 1:3)

1 The burden against Damascus. "Behold, Damascus will cease from being a city, And it will be a ruinous heap. (Isaiah 17:1)

23 Against Damascus. "Hamath and Arpad are shamed, For they have heard bad news. They are fainthearted; There is trouble on the sea; It cannot be quiet. 24 Damascus has grown feeble; She turns to flee, And fear has seized her. Anguish and sorrows have taken her like a woman in labor. 25 Why is the city of praise not deserted, the city of My joy? 26 Therefore her young men shall fall in her streets, And all the men of war shall be cut off in that day," says the Lord of hosts. 27 "I will kindle a fire in the wall of Damascus, And it shall consume the palaces of Ben-Hadad." (Jeremiah 49:23-27)
Damascus has been claimed to be the "oldest continuously inhabited city" in the world. And while some have questioned that claim, the reality is that Damascus has not been destroyed to the point of becoming the "ruinous heap" since God inspired Isaiah to record that.
This destruction could come as the result of the current war with the Islamic State. It is possible that attacks against the Islamic State will encourage it to attack Damascus. Also if the Assad regime broadly uses chemical weapons and/or becomes engaged in a conflict with Israel and/or the West, that could also fulfill the above.
The situation for the Arab world will have ups and downs. The Bible tells of a time of a peace deal that will affect the region, but that deal will not last (Daniel 9:27). The Bible teaches that more war will later come and will include a coalition of peoples such as the Sunni nations involved in the current attacks against the Islamic State in Syria (Daniel 11:40-43; Ezekiel 30:2-8).
While few wish to believe it, it will take the return of Jesus Christ and the establishment of the Kingdom of God to truly solve the conflicts in the Middle East and elsewhere.
Those in Syria are in my prayers.
Some items of possibly related interest may include:
Damascus and Syria in Prophecy Will Bashar Assad hold power as he has it? Does the Bible show that Damascus, the capital of Syria, will be destroyed? What will happen to Syria? Will the Syrians support the final King of the South that the Bible tells will rise up? Which scriptures discuss the rise and fall of an Arabic confederation? Does Islamic prophecy predict the destruction of Syria. This is a YouTube video.
Iraq, the King of the South, Armageddon, and Prophecy What will happen to Iraq? Is it the prophesied Mystery Babylon? What is Armageddon and how does that have to do with Iraq? Here is a related video Iraq, Armageddon, & Prophecy.
Is the Future King of the South Rising Up? Some no longer believe there needs to be a future King of the South. Might Egypt, Islam, Iran, Arabs, or Ethiopia be involved? Might this King be called the Mahdi or Caliph? What does the Bible say? A YouTube video of related interest may be: The Future King of the South is Rising.
The Prophesied 'Islamic' Confederation Where is an Islamic caliphate prophesied? Will one happen? Should you be concerned about it? A related video is Will an Arabic Calphiphate Destroy the West?
Libya, Algeria, Morocco, and Tunisia in Prophecy What is ahead for North Africa? What does the Bible teach?
How Will Middle East Peace be Brought About? Can humans bring peace to the Middle East? A related video is Middle East Peace? When?
Gaza and the Palestinians in Bible Prophecy What does the Bible teach about Gaza and the fate of the Palestinians? Here is a link to a related video: Gaza and Palestine in Prophecy.
The 'Peace Deal' of Daniel 9:27 This prophecy could give up to 3 1/2 years advance notice of the coming Great Tribulation. Will most ignore or misunderstand its fulfillment? Here is a link to a related sermon video Daniel 9:27 and the Start of the Great Tribulation.
The Arab and Islamic World In the Bible, History, and Prophecy The Bible discusses the origins of the Arab world and discusses the Middle East in prophecy. What is ahead for the Middle East and those who follow Islam? What about the Imam Mahdi? What lies ahead for Turkey, Iran, and the other non-Arabic Muslims? An item of possibly related interest in the Spanish language would be: Líderes iraníes condenan la hipocresía de Occidente y declaran que ahora es tiempo para prepararse para el Armagedón, la guerra, y el Imán Mahdi.
Egypt in Prophecy Does Egypt have a special role in end time prophecy? Will Egypt rise up and then be defeated. What does God teach will happen to those in Egypt? Here is a link to a YouTube video titled Egypt and End Time Prophecy.
Iran in Prophecy Is Iran in Bible prophecy? If so, what does the Bible teach? What names, other than Persia, may be used to describe Iran? There is also a YouTube video titled Iran in Prophecy. Here is a related video Iran In Prophecy.
What Should You Know About Turkey in Prophecy Do you know the Turkish people descended from? Did the Ottoman Empire possibly fulfill a promise in Genesis? Will Turkey support the European King of the North or Arabic King of the South? Will it betray one of them? Will Turkey be involved in the encouraging the destruction of Israel? Is Turkey going to become Catholic? Is Turkey mentioned in Psalm 83, Daniel 11, and elsewhere in the Bible? This video provides answers.
When Will the Great Tribulation Begin? 2016, 2017, or 2018? Can the Great Tribulation begin today? What happens before the Great Tribulation in the "beginning of sorrows"? What happens in the Great Tribulation and the Day of the Lord? Is this the time of the Gentiles? When is the earliest that the Great Tribulation can begin? What is the Day of the Lord? Who are the 144,000? Here is a version of the article in the Spanish language: ¿Puede comenzar la Gran Tribulación en 2016 o 2017? ¿Es el Tiempo de los Gentiles? You can also see the English language sermon videos: The Great Tribulation from the Mount of Olives and Can the Great Tribulation begin before 2020? A shorter video is: Can the Great Tribulation Start in 2016?
Barack Obama, Prophecy, and the Destruction of the United States-Second Edition for Second Obama Term This is a 160 page book for people truly interested in prophecies related to Barack Obama and the United States, including learning about many that have already been fulfilled (which the book documents in detail) and those that will be fulfilled in the future. It also has a chapter about a Republican choice. This book is available to order at www.barackobamaprophecy.com. The physical book can also be purchased at Amazon from the following link: Barack Obama, Prophecy, and the Destruction of the United States: Is Barack Obama Fulfilling Biblical, Islamic Catholic, Kenyan, and other America-Related Prophecies? What About Republican Leaders? Second Edition for Second Obama Term.
Barack Obama, Prophecy, and the Destruction of the United States-Second Term-Amazon Kindle edition. This electronic version is available for only US$2.99. And you do not need an actual Kindle device to read it. Why? Amazon will allow you to download it to almost any device: Please click HERE to download one of Amazon s Free Reader Apps. After you go to for your free Kindle reader and then go to Barack Obama, Prophecy, and the Destruction of the United States-Second Term-Amazon Kindle edition.