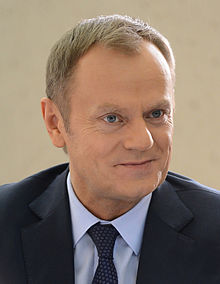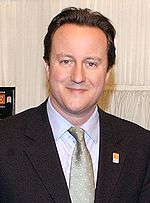 Donald Tusk (European People's Party photo) and David Cameron

EU Council President Donald Tusk had some words for the Prime Minister of the United Kingdom:
16 March 2015

David Cameron told drive for EU treaty change is 'mission impossible'

Donald Tusk, European Council president, says he will 'help' the Prime Minister win reform but warns him against opening 'Pandora's Box' on changing treaties

http://www.telegraph.co.uk/news/politics/conservative/11474969/David-Cameron-told-drive-for-EU-treaty-change-is-mission-impossible.html

Donald Tusk: Cameron's call to reopen EU treaties is 'mission impossible'

March 15, 2015

David Cameron's quest to secure a new deal for Britain in Europe by reopening the EU treaties is virtually "mission impossible", according to the key EU politician who will run the negotiations. …

A little more than three months before Cameron, should he remain prime minister, is expected to deliver his wish list to Brussels on what Britain needs if he is to win a referendum keeping the UK in the EU, Tusk said he would be hard-pressed to engineer a consensus among the other 27 EU countries that would satisfy the prime minister.

"I am ready to help Cameron," Tusk said in an interview with the Guardian and five other European newspapers. "I have no doubt that we have to help in a limited and rational framework. We have to help David Cameron because he is obviously pro-European. I am sceptical when it comes to changing the treaty."

The UK government has repeatedly pushed for a re-opening of the EU's Lisbon treaty to nail down the changes it wants, arguing that the pact has to be rewritten to underpin greater political integration in the crisis-ridden eurozone. Tusk said there were minimal chances of this happening.

"My intuition is that treaty change is close to mission impossible today because it's not only about rationality, about good argument," he said. "We need unanimity between 28 member states, in the European parliament, in 28 national parliaments in the process of ratification. To say that it is a Pandora's Box is too little."

Tusk's comments were the first delivered publicly on the British issue since he took office as European council president in December.  http://www.theguardian.com/politics/2015/mar/15/camerons-call-to-reopen-eu-treaties-described-as-mission-impossible
David Cameron wants to make changes to the Lisbon Treaty and feels that if he is not successful, more in the UK will want to leave the EU.  David Cameron has promised to support an referendum in the UK for its people to vote whether or not they wish to remain in the European Union.
Notice also the following:
March 16, 2015

London:  EU president Donald Tusk warned Sunday that British Prime Minister David Cameron's plans to amend the bloc's treaties to secure a new deal for Britain in Europe were virtually "mission impossible". …

If he is re-elected in May's general election, Cameron has promised to renegotiate Britain's membership of the European Union, notably to introduce tighter controls on immigration, and hold an in or out referendum by 2017.

He accepts that his proposed reforms would require changes to existing EU treaties, but is under pressure to deliver from the right flank of his Conservative party and the anti-EU, anti-immigration UK Independence Party (UKIP).

UKIP leader Nigel Farage has reportedly promised to support Cameron's party in the event that it does not win a parliamentary majority in May, on the condition that it brings the EU referendum forward to 2015.  http://www.ndtv.com/world-news/uks-hoped-for-treaty-change-almost-impossible-eu-chief-donad-tusk-746871
Nigel Farage is one of the opposition politicians that wants this referendum and he wants the UK will vote to leave the EU.  Notice also the following:
March 16, 2015

UKIP leader Nigel Farage has reportedly promised to support Cameron's party in the event that it does not win a parliamentary majority in May, on the condition that it brings the EU referendum forward to 2015.

Referendum in July?

The Sunday Telegraph reported that Farage had set out clear plans for such a deal, for the first time, in his book, The Purple Revolution. It is being serialised in the newspaper.

"The terms of my deal with the Tories would be very precise and simple. I want a full and fair referendum to be held in 2015 to allow Britain to vote on being in or out of the European Union," Farage wrote.

The referendum's question should be something like "Do you wish to be a free, independent sovereign democracy?", Farage suggested. He would demand agreement on the vote's timing, wording, voter eligibility and referendum conduct.

UKIP would be joined in supporting the Conservatives by Northern Ireland's Democratic Unionist Party under the plan.

"UKIP would support a confidence and supply agreement with the government, whoever the government may be," a UKIP spokeswoman told AFP when asked about the report.

"They want to hold the feet of the elected representatives of this country to the fire."

Cameron has promised to renegotiate Britain's membership of the EU before holding a referendum on whether to leave the 28-member-state bloc in 2017.

The prospect of an earlier vote on the so-called "Brexit" has the potential to rattle investors and cause concern in Brussels. http://www.euractiv.com/sections/uk-europe/tusk-calls-camerons-eu-reform-plans-mission-impossible-312915
'Brexit' is a term meaning a British exit from the European Union.  The time will come when the United Kingdom will be taken over and get its lands divided by the final European King of the North (cf. Daniel 11:39).
It is likely that the United Kingdom will leave the European Union before that happens.  A 'Brexit' (also called a 'Brixit,' for British exit) may well come from a vote.  This could happen this year. However, it may not happen until 2017 or later, for many reasons–including the fact that polls indicate that most in the UK would not vote to leave the EU at this time.
Yet, for Donald Tusk to tell Prime Minister Cameron that treaty changes are basically impossible, this may galvanize EU opponents and they may be better to drive home the points that the EU plan is to eliminate sovereign states in Europe and that all members have to put up with whatever Brussels decides.  Since most in the UK do not wish to lose sovereignty, many could change their minds.
Already, the UK is one of the largest (if not the largest) economy in the EU that does not use the Euro–nor does it want to adopt it.  This is a sore spot with those in Brussels who want more European unity.  So, there are those in Brussels who have problems with the UK and those in the UK who have problems with Brussels.
As far as the UK's role in the future, as I have written several times before, the UK will not remain a major power in the final European configuration. The UK may well leave prior to its final formation. Notice also the following from various writers who were once part of the Church of God (three of which have since died):
Here is Britain trying to GET IN on this uniting of Europe! … It is this same daughter of ancient Babylon who is to lay the YOKE of captivity and slavery on America and Britain. … Britain is allowing it self to get mixed in with European foreigners… When God brings Britain DOWN-the rime of JACOS' S TROUBLE -the only time when the DAUGHTER of Babylon will be sitting astride a united MILITARY EUROPE. (Armstrong HW. BRITAIN'S DOOM Prophesied for Common Market Seeking Membership! Plain Truth, July 1962)

Perhaps it should be mentioned that the general position within the Churches of God is that Britain will not remain in the EU and will pull out at some point. (Thiel B. Tony Blair a Catholic EU Leader? Church of God News, June 26, 2007. https://www.cogwriter.com/news/prophecy/tony-blair-a-catholic-eu-leader/)

The English-speaking nations will not prosper for long in connection with this system, however. In fact, they will ultimately be overpowered and destroyed by it militarily. Prior to military attack and occupation, devastating weather problems, combined with internal civil strife ("tumults in the midst" cf. Amos 3:9) will bring our nations to the point of internal collapse. (Ogywn J. The United States and Great Britain in Prophecy. Booklet, Charlotte (NC)).

It should be understood that ultimately, Britain will NOT thrive as part of the EU but will be taken over by the final European Beast power–yet its former Prime Minister is promoting something that will not help the peoples of the UK. (Thiel B. Tony Blair Calls for a Strong, Elected, EU President Church of God News, June 9, 2007. https://www.cogwriter.com/news/prophecy/tony-blair-calls-for-a-strong-elected-eu-president/)

Bible prophecy clearly shows that Britain will not be one …comprising the final United States of Europe (McNair R. A Strong United Europe. Tomorrow's World, February 1970, p. 17).
The Bible shows that Europe will have at least three reorganizations (see also Must the Ten Kings of Revelation 17:12 Rule over Ten Currently Existing Nations?).
Yet, whether it is called a Brixit or a Brexit, in some way, some day, the United Kingdom will exit.
Last year, David Cameron opposed the election of Jean-Claude Juncker as European Commission president as he feared this would get more in the UK to want to leave the EU (see A Brixit, a Brexit, EU concerned about a British exit).  Anyway, Jean-Claude Juncker was still made European Commission president.  This did not help UK feelings towards the EU and vice versa.
Yet since Donald Tusk wants unity–and that includes with the UK for now–he will try to do something.  Whether or not it is going to be enough remains to be seen.
Some items of related interest may include:
Europa, the Beast, and Revelation Where did Europe get its name? What might Europe have to do with the Book of Revelation? What about "the Beast"? Is an emerging European power "the daughter of Babylon"? What is ahead for Europe? Here is a link to a video titled: Can You Prove that the Beast to Come is European?
European Technology and the Beast of Revelation Will the coming European Beast power would use and develop technology that will result in the taking over of the USA and its Anglo-Saxon allies? Is this possible? What does the Bible teach? Here is a related YouTube video: Military Technology and the Beast of Revelation.
Must the Ten Kings of Revelation 17:12 Rule over Ten Currently Existing Nations? Some claim that these passages refer to a gathering of 10 currently existing nations together, while one group teaches that this is referring to 11 nations getting together. Is that what Revelation 17:12-13 refers to? The ramifications of misunderstanding this are enormous.
Might German Baron Karl-Theodor zu Guttenberg become the King of the North? Is the former German Defense Minister (who is also the former German Minister for Economics and Technology) one to watch? What do Catholic, Byzantine, and biblical prophecies suggest?
Germany's Assyrian Roots Throughout History Are the Germanic peoples descended from Asshur of the Bible? Have there been real Christians in Germanic history? What about the "Holy Roman Empire"? There is also a You-Tube video sermon on this titled Germany's Biblical Origins.
Germany in Biblical and Catholic Prophecy Does Assyria in the Bible equate to an end time power inhabiting the area of the old Roman Empire? What does prophecy say Germany will do and what does it say will happen to most of the German people? Here is a link to a video Is the USA Pushing Germany to Start WWIII?
.Anglo – America in Prophecy & the Lost Tribes of Israel Are the Americans, Canadians, English, Scottish, Welsh, Australians, Anglo-Saxon (non-Dutch) Southern Africans, and New Zealanders descendants of Joseph? Where are the lost ten-tribes of Israel? Who are the lost tribes of Israel? What will happen to Jerusalem and the Jews in Israel? Will God punish the U.S.A., Canada, United Kingdom, and other Anglo-Saxon nations? Why might God allow them to be punished first? Here is a link to the Spanish version of this article: Anglo-América & las Tribus Perdidas de Israel. A video of possible interest may be Will Will USA Spying Help the Beast Power?.
Will the Anglo-Saxon Nations be Divided and Have People Taken as Slaves? Will the lands of the United States, United Kingdom, Canada, Australia, and New Zealand be divided? What about Jerusalem? What does Bible prophecy teach? Are there non-biblical prophecies that support this idea? Who will divide those lands? Who will end up with the lands and the people? Here is a link to a video titled Will the USA and other Anglo-nations be Divided and Their People Made Slaves? Here is a related item in the Spanish language ¿Serán divididas las naciones anglosajonas?
British are the Covenant People What do 'British' and 'Britain' mean in Hebrew? Are the descendants of the Anglo-Saxons people of the covenant? Does the British royal family connect to the throne of David? What does the Bible teach? What does history show us? Is there any DNA evidence related to British-Israelism? When did Christianity make it to the British Isles? Could Jeremiah have made it to the British Isles? What type of Christians made it to the British Isles? Did the last King of England believe in British Israelism?