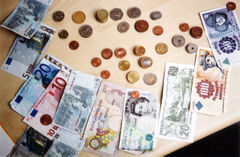 All World Currencies Can Have Problems

Germany looks like it might nationalize some of its banks, and other parts of Europe and Asia are also having financial problems:
Bank woes forces Germany into nationalisation law
The German cabinet approved a law on Wednesday letting it nationalise banks, setting aside a reluctance to seize private property in the latest government intervention worldwide to tackle the financial crisis. Germany said it was not planning to extend the role of the state through the bill, which it described as a last resort and could lead to the forced nationalisation of struggling German lender Hypo Real Estate.
But it nonetheless set aside a postwar commitment to respect private property, becoming the latest government to edge away from free market policies, instead using state support to prop up flagging banks and industries.
President Barack Obama on Tuesday signed into law a $787 billion package of spending and tax cuts, the biggest initiative of its kind in U.S. history. He said the stimulus package would 'mark the beginning of the end' of the ills facing the economy.
But with new problems emerging all the time from a twin collapse in asset prices and availability of credit, financial markets remained jittery about the outlook…
Obama was also expected on Wednesday to unveil a plan to stabilise the housing market, using roughly $50 billion of government subsidies to lenders to prevent foreclosures.
In Germany, the new law was presented as last resort to stabilise Hypo Real Estate, which has received 102 billion euros ($129 billion) in state guarantees.
The law leaves open the possibility of an expropriation of Hypo's shareholders, which includes U.S. private equity investor JC Flowers with nearly a quarter of Hypo's shares.
Other countries, including Britain and Ireland, have already seized control of banks, justifying this by pointing to the nature of the crisis and the need to protect taxpayers.
But Germany has agonised over 'Enteignung' (expropriation) of shareholders, a loaded term linked in the minds of many to Nazi seizures of Jewish property in the 1930s.
In France, President Nicolas Sarkozy was trying to assuage labour unrest over his handling of the economic crisis which included a 26 billion euro ($33 billion) stimulus package that targets investment rather than directly helping consumers.
He was due to meet unions later to discuss their demands for measures to protect jobs and wages, though his room for manoeuvre was limited by budgetary constraints.
The latest welter of government intervention has done little to reassure financial markets. Global share prices, as measured by MSCI's world equity index, were down on Wednesday reflecting hefty falls in Asia overnight…
Overall, investors were still heading into safe assets such as gold as worries spread the recession could drag down economies which had so far resisted the worst of the crisis.
In China — which many had hoped might be able to power the global economy out of the worst downturn since the Great Depression — a trade union official warned against 'hostile forces' stirring up trouble among newly unemployed workers.
The Communist Party leadership has already expressed concerns about idle rural workers gathered in struggling export hubs. About 20 million jobs have been lost in southern China's manufacturing hub of Guangdong alone.
Beijing said it would increasingly use its foreign exchange reserves to support domestic growth and finance Chinese companies overseas. But it denied a magazine report quoting a senior official as saying its slowing economy meant the yuan might weaken to as low as 6.95 to 7 per dollar.
The news across Asia has been almost uniformly bad.
Some feel that the USA will be nationalizing many more of its banks this year (see US Debt and British Banking).
We in the Living Church of God have repeatedly stated that China would not truly be the economic force of the world because of Bible prophecy and its own internal issues (some quotes related to that are in the article Asia in Prophecy)–but that does not mean that all the economic news for China will be bad–the Bible suggests prosperity, at least for a short while (Revelation 18:9-15).
The economic situation in the world is precarious, but Bible prophecy is fairly clear that the Europeans will eventually gain the upper hand for the world economy (though they may have a lot of problems before they are there).
As Jesus said, "Watch" (Matthew 24:42; 25:13; Mark 13:33-37; Luke 21:36).
Several articles of possibly related interest may include:
Europa, the Beast, and Revelation Where did Europe get its name? What might Europe have to do with the Book of Revelation? What about "the Beast"? What is ahead for Europe?
Who is the King of the North? Is there one? Do biblical and Roman Catholic prophecies point to the same leader? Should he be followed? Who will be the King of the North discussed in Daniel 11? Is a nuclear attack prophesied to happen to the English-speaking peoples of the United States, Great Britain, Canada, Australia, and New Zealand? When do the 1335 days, 1290 days, and 1260 days (the time, times, and half a time) of Daniel 12 begin? When does the Bible show that economic collapse will affect the United States?
China, Its Biblical Past and Future, Part 1: Genesis and Chinese Characters This article provides information showing that the Chinese peoples must have known about various accounts in the Book of Genesis up until their dispersion after the Tower of Babel.
China, Its Biblical Past and Future, Part 2: The Sabbath and Some of God's Witness in China When did Christianity first come to China? And is there early evidence that they observed the seventh day sabbath?
Asia in Prophecy What is Ahead for China? Is it a "King of the East"? What will happen to nearly all the Chinese, Russians, and others of Asia? China in prophecy, where? Who has the 200,000,000 man army related to Armageddon?
Japan, Its Biblical Past and Future, Part 1: Any Witness? This is a draft of an in-process article about Japan. Have they had any witness?
Japan, Its Biblical Past and Future, Part 2: Prophecy Japan in prophecy. What is prophesied for Japan. Will God save the Japanese?
Prophecies of Barack Obama? Are there biblical and non-biblical prophecies about Barack Obama. Did Nostradamus predict Barack Obama dealing with the Antichrist?  Might Barack Obama set the stage for the kings of the North and South as his timing and at least one Shiite prophecy suggests?  This is the longest and most detailed of the articles here at COGwriter related to prophecy and Barack Obama.
Barack Obama, Prophecy, and the Destruction of the United States Some claim that Barack Obama is the prophesied "son of Kenya". Might Bible prophecy be fulfilled since he is to be the USA president?
End of Mayan Calendar 2012–Might 2012 Mean Something? There is a Mayan calendar prediction for change in 2012. 2012 changes were also centuries ago predicted by the Hopi Native Americans (the Hindus may have some predictions for the next decade as well). Do these Mayan/Hindu/Hopi prophecies have any value? Why might Satan have inspired this date? Does the Dresden codex show destruction of the earth by flood? Can the great tribulation start before 2012?
Can the Great Tribulation Begin in 2009, 2010, or 2011? Can the Great Tribulation begin today? When is the earliest that the Great Tribulation can begin? What is the Day of the Lord?