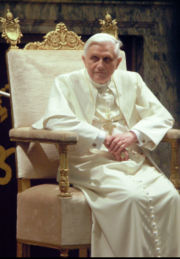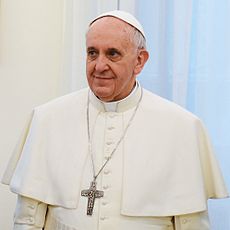 Former Pope Benedict XVI and Current Pope Francis
Former Pope Benedict XVI and current Pope Francis met today.  Pope Francis spoke about neglecting the elderly, but 'Mary' seemed to dominate many of his messages (all statements from news sources):
September 28, 2014

VATICAN CITY — Elderly people, including former Pope Benedict, attended a gathering of the wise and wrinkled at the Vatican on Sunday, where Pope Francis denounced the neglect and abandonment of the old as "hidden euthanasia." During the festive event in St. Peter's Square, Francis addressed some 40,000 elderly people, seeking to underscore the importance of the old in society…Benedict, wearing a white overcoat, stayed for about an hour to hear old people speak about their lives and listen to a speech by his successor and then left before Francis led a Mass. http://www.nbcnews.com/news/world/pope-benedict-joints-pope-francis-vatican-event-focusing-elderly-n213406

September 28, 2014

Here is the text of the Holy Father's homily at today's Mass with Grandparents and the Elderly celebrated this morning in St. Peter's Square at the Vatican.

***

Today we accept the Gospel we have just heard as a Gospel of encounter: the encounter between young and old, an encounter full of joy, full of faith, and full of hope.

Mary is young, very young.  Elizabeth is elderly, yet God's mercy was manifested in her and for six months now, with her husband Zechariah, she has been expecting a child.

Here too, Mary shows us the way…Like the Virgin Mary, who, though she became the mother of the Messiah, felt herself driven by the love of God taking flesh within her to hasten to her elderly relative. And so we return to this "icon" full of joy and hope, full of faith and charity.  We can imagine that the Virgin Mary, visiting the home of Elizabeth, would have heard her and her husband Zechariah praying in the words of today's responsorial psalm: "You, O Lord, are my hope, my trust, O Lord, from my youth…  Do not cast me off in the time of old age, do not forsake me when my strength is spent…  Even to old age and grey hairs, O God, do not forsake me, until I proclaim your might to all the generations to come"  (Ps71:5,9,18).  The young Mary listened, and she kept all these things in her heart. …

The Virgin Mary likewise shows us the way: the way of encounter between the young and the elderly. http://www.zenit.org/en/articles/experts-in-faith-experts-in-god-experts-in-the-hope-that-comes-from-him

September 28, 2014

Here is the text of a prayer for the synod provided by Pope Francis during his Angelus address on the Feast of the Holy Family on 29 December last.

—

Jesus, Mary and Joseph,
in you we contemplate
the splendor of true love,
to you we turn with trust.   http://www.zenit.org/en/articles/prayer-to-pray-today-for-the-synod-that-begins-next-sunday
An 'Angelus address' is essentially a round of prayers to 'Mary,'  one who Pope Francis says to to turn to and trust.
Who does the Bible say to turn to?  The Douay-Rheims Bible (DRB), a Roman Catholic Bible, in both the Old and New Testament teaches to turn to God:
13 And rend your hearts, and not your garments, and turn to the Lord your God: for he is gracious and merciful, patient and rich in mercy, and ready to repent of the evil. (Joel 2:13, DRB)

I preach, that they should…turn to God (Acts 26:20, DRB).
Who does the Bible say to trust?
5 Trust in the LORD with all your heart, on your own intelligence do not rely; 6 In all your ways be mindful of him, and he will make straight your paths. (Proverbs 3:5-6, New Jerusalem Bible)
Sadly, by telling people to put trust in 'Mary,' many are leaning on their own understanding as the God of the Bible never says to do that.
Furthermore, an electronic search of the terms "trust" and "God" brought up at least 16 scriptures, "trust" and "Lord" over 50 scriptures, whereas a search of the terms "trust" and "Mary" brought up none in the Douay Rheims Bible).
Notice also the following:
September 28, 2014

Pope Francis celebrated a special liturgy of thanksgiving in the Church of the Gesù in Rome on Saturday, to mark the 200th anniversary of the restoration of the Society of Jesus, his own religious congregation.

Here is a translation of the prepared text of the Holy Father's homily for the occasion.

* * *

Dear brothers and friends in the Lord,

The Society under the name of Jesus has lived difficult times of persecution. …

The Society, restored by my predecessor Pius VII, was made up of  men, who were brave and humble in their witness of hope, love and apostolic creativity, that of the Spirit. Pius VII wrote of wanting to restore the Society to "support himself in an adequate way for the spiritual needs of the Christian world, without the difference of peoples and nations" (ibid). For this, he gave permission to the Jesuits, which still existed here and there, thanks to a Lutheran monarch and an Orthodox monarch, "to remain united in one body." That the Society may remain united in one body! …

The bull of Pius VII that restored the Society was signed on August 7, 1814, at the Basilica of Saint Mary Major, where our holy father Ignatius celebrated his first Mass on Christmas Eve of 1538. Mary, Our Lady, Mother of the Society, will be touched by our efforts to be at the service of her Son. May she watch over us and protects us always. http://www.zenit.org/en/articles/pope-s-homily-at-vespers-with-jesuits
It has long been my understanding that the Jesuits often were and/or backed persecutors throughout history.  Some day, I plan to report more about them.
Mary is NOT the Answer
Pope Francis' solution for many matters is often to tell people to pray to his version of Mary to intervene. He also has called her "the Queen of Peace," a title that the Bible never gives Jesus' mother. Although Pope Francis is a religious leader of a church that claims to believe the Bible, no verse in the Bible says to pray to, turn to, or call upon, the name of Mary. Notice also that the only two times the Douay Rheims Bible (DRB,) uses the term intercession it is referring to Jesus, not Mary:
34 Who is he that shall condemn? Christ Jesus that died, yea that is risen also again; who is at the right hand of God, who also maketh intercession for us. (Romans 8:34, DRB)

25 Whereby he is able also to save for ever them that come to God by him; always living to make intercession for us. (Hebrews 7:25, DRB)
Mary is not the intercessor of the Bible, nor was she considered to be by the early Christian church (see also Mary, the Mother of Jesus and the Apparitions). Considering that Mary provides intercession is not biblically-proper and has other negative consequences. No true Church of God would ever pray to be entrusted to Jesus' deceased mother (here are links to two free online booklets which helps show which is the true Christian church Where is the True Christian Church Today? and Continuing History of the Church of God).
We are not to call on, or turn to, Mary, but on the Lord God Jesus:
22 But flee thou youthful desires, and pursue justice, faith, charity, and peace, with them that call on the Lord out of a pure heart. (2 Timothy 2:22, DRB)
The Jesuits are dedicated to 'Mary.'  They and Pope Francis have an agenda to turn the world to follow a universal religion with a Marian emphasis.  This is a false gospel (cf. 2 Corinthians 11:4; Galatians 1:6-7), but one that Pope Francis seems to advocate every week.
Pope Francis may look like a lamb to some, but he truly speaks like a dragon (cf. Revelation 13:11).
Some items of possibly related interest may include:
Mary, the Mother of Jesus and the Apparitions Do you know much about Mary? Are the apparitions real? What happened at Fatima? What might they mean for the rise of the ecumenical religion of Antichrist? Are Protestants moving towards Mary? How do the Eastern/Greek Orthodox view Mary? How might Mary view her adorers? Here is a link to a YouTube video Marian Apparitions May Fulfill Prophecy. Here is a link to a sermon video: Why Learn About Fatima?
Which Is Faithful: The Roman Catholic Church or the Continuing Church of God? Do you know that both groups shared a lot of the earliest teachings? Do you know which church changed? Do you know which group is most faithful to the teachings of the apostolic church? Which group best represents true Christianity? This documented article answers those questions.
Continuing History of the Church of God This pdf booklet is a historical overview of the true Church of God and some of its main opponents from c. 31 A.D. to 2014. A related sermon link would be Continuing History of the Church of God: c. 31 to c. 300 A.D. Marque aquí para ver el pdf folleto: Continuación de la Historia de la Iglesia de Dios.
Where is the True Christian Church Today? This free online pdf booklet answers that question and includes 18 proofs, clues, and signs to identify the true vs. false Christian church. Plus 7 proofs, clues, and signs to help identify Laodicean churches. A related sermon is also available: Where is the True Christian Church?
Could Pope Francis be the Last Pope and Antichrist? Former Argentinian Cardinal Jorge Mario Bergoglio is now Pope Francis. According to some interpretations of the prophecies of the popes by the Catholic saint and Bishop Malachy, Pope Francis is in the position of "Peter the Roman," the pontiff who reigns during tribulations until around the time of the destruction of Rome. Do biblical prophecies warn of someone that sounds like Peter the Roman? Could Francis be the heretical antipope of Catholic private prophecies and the final Antichrist of Bible prophecy? Could a Jesuit be "the black pope"?
Persecutions by Church and State This article documents some that have occurred against those associated with the COGs and some prophesied to occur. Will those with the cross be the persecutors or the persecuted–this article has the shocking answer. There is also a YouTube video sermon you can watch: The Coming Persecution of the Church. Here is information in the Spanish language: Persecuciones de la Iglesia y el Estado.
Pope Francis: Could this Marian Focused Pontiff be Fulfilling Prophecy? Pope Francis has taken many steps to turn people more towards his version of 'Mary.' Could this be consistent with biblical and Catholic prophecies? This article documents what has been happening. There is also a video version titled Pope Francis: Could this Marian Focused Pontiff be Fulfilling Prophecy?
Origin of the Marian Dogmas: Where Do Catholic Scholars Say The Four Dogmas of Mary Came From?
Wars, rumors of wars, and the Apocalypse Jesus foretold a time before the end where there would be wars and rumors of wars. The Apocalypse (the Book of Revelation) warns of the red horseman of war. Now, even secular writers, like Larry Edelson, are worried that wars and rumors of war are the most menacing problem that now haunts the earth? Are they right? What is the solution?
Some Similarities and Differences Between the Eastern Orthodox Church and the Continuing Church of God Both groups claim to be the original church, but both groups have differing ways to claim it. Both groups have some amazing similarities and some major differences. Do you know what they are?
Orthodox Must Reject Unity with the Roman Catholics There are many problems that will happen if they unify, including make them part of end time Babylon.
Why Should American Catholics Should Fear Unity with the Orthodox? Are the current ecumenical meetings a good thing or will they result in disaster?
Fatima Shock! What the Vatican Does Not Want You to Know About Fatima, Dogmas of Mary, and Future Apparitions. Whether or not you believe anything happened at Fatima, if you live long enough, you will be affected by its ramifications (cf. Isaiah 47; Revelation 17). Fatima Shock! provides concerned Christians with enough Catholic-documented facts to effectively counter every false Marian argument. In addition to the print version, there is a Kindle version of Fatima Shock! which you can acquire in seconds.
The Last Pope Do Biblical and Catholic Prophecies Point to Pope Francis? Why might Pope Francis be the last pope? What happens if he is? Biblical and other prophecies help explain what to expect.
The Last Pope: Do Biblical and Catholic Prophecies Point to Pope Francis? Amazon Book What does the Bible say about a pope near this time? Is the final pope to be an antipope and antichrist? Does Catholic prophecy point to Pope Francis as being the dreaded "Peter the Roman"? This 186 page book provides information and answers.
The Last Pope: Do Biblical and Catholic Prophecies Point to Pope Francis? Kindle This electronic version of the printed book which is available for only US$2.99. And you do not need an actual Kindle device to read it. Why? Amazon will allow you to download it to almost any device: Please click HERE to download one of Amazon s Free Reader Apps. After you go to for your free Kindle reader and then go to The Last Pope: Do Biblical and Catholic Prophecies Point to Pope Francis? Kindle.