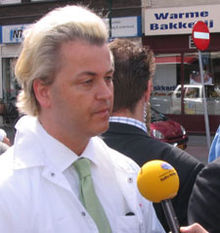 Geert Wilders
Geert Wilders', a leader of an anti-Islamic Netherlands political party, got some positive legal news today:
By Jurjen van de Pol – Jun 23, 2011
Dutch Freedom Party Leader Geert Wilders was acquitted by a court of charges that he made remarks defaming Muslims, ending a three-year prosecution that he described as a bid to restrict his freedom of speech.

Wilders, 47, was charged with inciting hatred and discrimination and insulting Muslims for calling the Koran "fascist" and comparing it to Adolf Hitler's book "Mein Kampf" in a 2007 Dutch newspaper editorial.
At Geert Wilders's website this morning, was the following post:
Geert Wilders acquitted of all charges

donderdag, 23 juni 2011
This morning the Court of Amsterdam has acquitted Geert Wilders of all charges.

"I am delighted with this ruling," says Geert Wilders. "It is a victory, not only for me but for all the Dutch people. Today is a victory for freedom of speech. The Dutch are still allowed to speak critically about islam, and resistance against islamisation is not a crime. I have spoken, I speak and I shall continue to speak."
This decision marks another step towards Europeans being able to draw a line between themselves and their Islamic immigrants.
The reality is that throughout Europe anti-Islamic sentiment is rising up and the Netherland, like some other European nations may also ban veils or burqas, like France has (Headscarf debate returns to spotlight in Europe. http://africa.ibtimes.com/articles/67932/20101002/headscarf-veil-islamic-muslim-veil-france-netherlands-turkey-ban.htm).
While I do not believe at this time that Geert Wilders will be the final biblical "king of the north", the fact that he has been rising up in the Netherlands, and now has been acquitted, suggests that many of the Europeans are inclined, even in the 21st century, to accept a more radical top leader than many would have thought possible.
The Bible shows that a European military leader will line up with a religious power from the city of seven hills (Revelation 17) and ultimately defeat the forces of Islam (Daniel 11:40-43).  But before this happens, the ability of leaders to publicly criticize Islam would seem to be necessary.  And this seems to now be legally sanctioned.
For more on what is expected to happen, please see the following:
Europa, the Beast, and Revelation Where did Europe get its name? What might Europe have to do with the Book of Revelation? What about "the Beast"? What is ahead for Europe?
Who is the King of the North? Is there one? Do biblical and Roman Catholic prophecies point to the same leader? Should he be followed? Who will be the King of the North discussed in Daniel 11? Is a nuclear attack prophesied to happen to the English-speaking peoples of the United States, Great Britain, Canada, Australia, and New Zealand? When do the 1335 days, 1290 days, and 1260 days (the time, times, and half a time) of Daniel 12 begin? When does the Bible show that economic collapse will affect the United States?
Might German Baron Karl-Theodor zu Guttenberg become the King of the North? Is the German Defense Minister one to watch? What do Catholic, Byzantine, and biblical prophecies suggest?