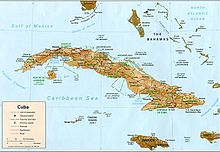 The USA and Cuba announced some improved relations, which according to the New York Times, was the result of Pope Francis' interventions:
Breakthrough on Cuba Highlights Pope's Role as Diplomatic Broker

December 17, 2014

ROME — Pope Francis had quite a 78th birthday. The pontiff began Wednesday with prayers and a birthday celebration with tango dancers near St. Peter's Square. His day ended with a historic diplomatic breakthrough between Cuba and the United States — and the disclosure that the Argentine pope played a key role as broker.

Francis is being credited for helping bridge the divide by first sending letters to President Obama and President Raúl Castro of Cuba, and then having the Vatican host a diplomatic meeting between the two sides in October.

"The Holy Father wishes to express his warm congratulations for the historic decision," Francis said in a statement released Wednesday night by the Vatican. …

Francis's appointment of Cardinal Parolin as secretary of state was also significant. Long considered one of the Vatican's most talented diplomats, Cardinal Parolin served as apostolic nuncio in Venezuela, one of Cuba's closest allies. From that perch, Cardinal Parolin gained a sophisticated understanding of regional dynamics and the Cuban predicament, Professor La Bella said.

"The Vatican's knowledge of the Latin American situation is at a very high level, and very direct," he said. http://www.nytimes.com/2014/12/18/world/americas/breakthrough-on-cuba-highlights-popes-role-as-diplomatic-broker.html?_r=0
Here is some information about the changes:
December 17, 2014

U.S. President Barack Obama announced a major shift in U.S. relations with Cuba, after the country's communist leaders released Alan Gross, an American who had been imprisoned there for five years.

Obama and Cuban President Raul Castro, in simultaneous speeches from Washington and Havana, said they had exchanged American and Cuban prisoners each had held for years. They will also open a path to increased economic and travel ties between the two countries, ending more than a half-century of diplomatic isolation borne in the Cold War.

"Isolation has not worked. It's time for a new approach," Obama said, in explaining the move toward normalizing relations. "I believe this contact will do more to empower the Cuban people."

In lauding the move, Castro said, "We have decided to re-establish diplomatic relations" with the U.S. …

Changes in coming weeks, months

The two countries are expected in the coming weeks to negotiate an agreement to lead both countries to opening embassies in each other's capitals.

Obama said business and travel ties will be launched, but that he will have to negotiate with the U.S. Congress over ending the country's economic blockade against Cuba.

Also, the U.S. Treasury said in the coming weeks that financial sanctions on Cuba will be amended. And the U.S. will unfreeze U.S. bank accounts of Cubans who no longer live in Cuba, the White House said.

Obama has also asked Secretary of State John Kerry to review Cuba's designation as a state sponsor of terrorism. "This review will be guided by the facts and the law," he said. "A nation that meets our conditions and renounces the use of terrorism should not face this sanction." …

Critical of plans

In responding to Obama, U.S. House Speaker John Boehner said, "Relations with the Castro regime should not be revisited, let alone normalized, until the Cuban people enjoy freedom – and not one second sooner. … If anything, this emboldens all state sponsors of terrorism. …"

However, Boehner said he felt "great joy and relief for Alan Gross and his family."

U.S. Republican Senator Marco Rubio of Florida, a Florida Republican who is Cuban-American, said, "The White House has conceded everything, but gained little.

"This is going to do absolutely nothing to further human rights and democracy in Cuba," Rubio said. "But it potentially goes a long way in providing the economic lift that the Castro regime needs to become permanent fixtures in Cuba for generations to come."

It is Cuba's human rights record that has kept the administration from moving to strengthen relations and possibly ease or lift the embargo.

U.S. Senator Bob Corker, who will lead the Senate Foreign Relations Committee in the new Congress, said Wednesday he wanted to know more about what Cuba would do in return for any shift in U.S. policy and will "closely examine" the issue.

Several other senators who take a harder line on Cuba's Communist government, including Democrat Robert Menendez, have strongly denounced plans for changes in U.S. policy and the exchange of Cuban prisoners for Gross.

Former Florida Governor and potential 2016 Republican presidential candidate Jeb Bush said on Wednesday he opposes Obama's move to normalize relations with Cuba, according to a media report.

"I don't think we should be negotiating with a repressive regime to make changes in our relationship," Bush told an event in Florida, according to USA Today. http://www.voanews.com/content/reu-cuba-releases-american-alan-gross/2562509.html
Marco Rubio and Jeb Bush are considered potential presidential candidates for the 2016 election.  We will see what Hillary Clinton may say about this as she probably will need to make some statement if she intends to run for the presidency.
The Bible tells of a harlot woman, also called the great city on seven hills (Rome), who has improper relations with the kings of the world (Revelation 17).
Now I am not condemning all of Pope Francis' efforts with this.  This post is only pointing out that the Bible tells of a city that rules over the world that is on seven hills and that today's announcement shows that the Church of Rome has more political influence than many tend to think it does.  It will also have more in the future–until it loses it later.
That being said, my reading of scripture indicates that Latin America will become more closely aligned with Europe than the USA in the future.  Cuba is most likely grateful for Pope Francis' interventions and influence with the USA.
Some items of possibly related interest may include:
Mexico, Central America, South America, Brazil, and the Caribbean in Prophecy [Español: México, América central, Suramérica, Brasil y el Caribe en la profecía] [Português: México, América Central, Ámérica do Sul, e Brasil na profecia] What will happen to those of Latin America? Will they have prosperity? Will they cooperate with Europe? Will they suffer in the future? What role might the various Caribbean nations/territories play?
Hillary Clinton in Prophecy  Prophecy, Hillary Clinton? Are there prophecies that Hillary Clinton may fulfill?  Are there any prophecies that she has already helped fulfill?  Could Hillary Clinton be apocalyptic?  Could Hillary Clinton be the final Antichrist?
Europa, the Beast, and Revelation Where did Europe get its name? What might Europe have to do with the Book of Revelation? What about "the Beast"? Is an emerging European power "the daughter of Babylon"? What is ahead for Europe? Here is a link to a video titled: Can You Prove that the Beast to Come is European?
When Will the Great Tribulation Begin? 2015, 2016, or 2017? Can the Great Tribulation begin today? What happens before the Great Tribulation in the "beginning of sorrows"? What happens in the Great Tribulation and the Day of the Lord? Is this the time of the Gentiles? When is the earliest that the Great Tribulation can begin? What is the Day of the Lord? Who are the 144,000? Here is a version of the article in the Spanish language: ¿Puede comenzar la Gran Tribulación en 2014 o 2015? ¿Es el Tiempo de los Gentiles? You can also see the English language sermon video: The Great Tribulation from the Mount of Olives.
Anglo – America in Prophecy & the Lost Tribes of Israel Are the Americans, Canadians, English, Scottish, Welsh, Australians, Anglo-Saxon (non-Dutch) Southern Africans, and New Zealanders descendants of Joseph? Where are the lost ten-tribes of Israel? Who are the lost tribes of Israel? What will happen to Jerusalem and the Jews in Israel? Will God punish the U.S.A., Canada, United Kingdom, and other Anglo-Saxon nations? Why might God allow them to be punished first? Here is a link to the Spanish version of this article: Anglo-América & las Tribus Perdidas de Israel. Information is also in the YouTube sermons titled Where are the Ten Lost Tribes? Why does it matter? and British are the Covenant People. A short YouTube of prophetic interest may be Barack Obama and the State of the Apocalypse.
Will the Anglo-Saxon Nations be Divided and Have People Taken as Slaves? Will the lands of the United States, United Kingdom, Canada, Australia, and New Zealand be divided? What about Jerusalem? What does Bible prophecy teach? Are there non-biblical prophecies that support this idea? Who will divide those lands? Who will end up with the lands and the people? Here is a link to a video titled Will the USA and other Anglo-nations be Divided and Their People Made Slaves? Here is a related item in the Spanish language ¿Serán divididas las naciones anglosajonas?
Some Doctrines of Antichrist Are there any doctrines taught outside the Churches of God which can be considered as doctrines of antichrist? This article suggests at least three. It also provides information on 666 and the identity of "the false prophet." Plus it shows that several Catholic writers seem to warn about an ecumenical antipope that will support heresy. You can also watch a video titled What Does the Bible teach about the Antichrist?
Who is the King of the West? Why is there no Final End-Time King of the West in Bible Prophecy? Is the United States the King of the West? Here is a version in the Spanish language: ¿Quién es el Rey del Occidente? ¿Por qué no hay un Rey del Occidente en la profecía del tiempo del fin?
Who is the King of the North? Is there one? Do biblical and Roman Catholic prophecies for the Great Monarch point to the same leader? Should he be followed? Who will be the King of the North discussed in Daniel 11? Is a nuclear attack prophesied to happen to the English-speaking peoples of the United States, Great Britain, Canada, Australia, and New Zealand? When do the 1335 days, 1290 days, and 1260 days (the time, times, and half a time) of Daniel 12 begin? When does the Bible show that economic collapse will affect the United States? Here is a link to a video titled: The Future King of the North.
Two Horned Beast of Revelation and 666 Who is 666? This article explains how the COG views this, and compares this to Ellen White. Here is a version in the Spanish language: SDA/COG Diferencias: La bestia de dos cuernos de Apocalipsis y 666. Here is a sermon in the English language: CCOG and SDA differences and similarities.
Barack Obama, Prophecy, and the Destruction of the United States-Second Edition for Second Obama Term This is a 160 page book for people truly interested in prophecies related to Barack Obama and the United States, including learning about many that have already been fulfilled (which the book documents in detail) and those that will be fulfilled in the future. It also has a chapter about a Republican choice. This book is available to order at www.barackobamaprophecy.com. The physical book can also be purchased at Amazon from the following link: Barack Obama, Prophecy, and the Destruction of the United States: Is Barack Obama Fulfilling Biblical, Islamic Catholic, Kenyan, and other America-Related Prophecies? What About Republican Leaders? Second Edition for Second Obama Term.
Barack Obama, Prophecy, and the Destruction of the United States-Second Term-Amazon Kindle edition. This electronic version is available for only US$2.99. And you do not need an actual Kindle device to read it. Why? Amazon will allow you to download it to almost any device: Please click HERE to download one of Amazon s Free Reader Apps. After you go to for your free Kindle reader and then go to Barack Obama, Prophecy, and the Destruction of the United States-Second Term-Amazon Kindle edition.