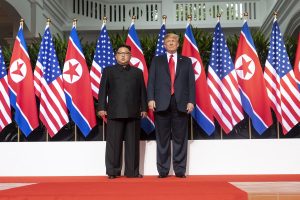 Kim Jong Un and Donald Trump
Tensions seem to be rising as a deadline approaches with the US and North Korea:

US, North Korea Allude to War Ahead of Pyongyang's Deadline

December 5, 2019

The United States and North Korea are resorting to alluded threats of force ahead of Pyongyang's end-of-year deadline for progress with nuclear negotiations.

Pak Jong Chon, head of the Korean People's Army (KPA), threatened to reciprocate any U.S. military action with force in a statement he made to North Korean state media Wednesday. The statement was a direct response to comments made by President Trump, who alluded to using military force against North Korea if necessary.

"One thing I would like to make clear is that the use of armed forces is not the privilege of the U.S. only," Pak reportedly said through North Korea's Korean Central News Agency (KCNA) Dec. 4. "Anyone can guess with what action the DPRK will answer if the U.S. undertakes military actions against the DPRK."

Hours earlier, Trump spoke about North Korea to reporters at the NATO summit in London: "Now we have the most powerful military we've ever had and we're by far the most powerful country in the world. And, hopefully, we don't have to use it, but if we do, we'll use it. If we have to, we'll do it."

Grave sign

While it's true that the United States and North Korea have exchanged numerous threats since Trump took office in January 2017, some experts believe that the latest exchange is a grave sign of rising tensions.

"There has been a pattern all year in North Korea's statements. They have been quite deliberate about not directly criticizing Trump," said John Delury, a North Korea analyst and an associate professor of Chinese Studies at Yonsei University in Seoul. "This rhetoric — where Trump and Kim are starting to move toward directly criticizing one another or seeing each other as part of the problem — is significant."

Earlier this week, on Dec. 3, an official at North Korea's foreign ministry accused the United States of keeping North Korea "bound to dialogue" as a "foolish trick" or political tool to use for the 2020 presidential election. Ri Thae Song, the first vice minister, also stated that "it is entirely up to the U.S. what Christmas gift it will select to get."

End-of-year deadline

The uptick in tensions likely has to do with Kim Jong Un's Dec. 31, 2019, deadline to see tangible progress in nuclear negotiations from the United States. So far, North Korea has not stated what specific steps it would need to see from President Trump by the end of the year, but Delury said that Pyongyang purposely left it open-ended.

"Really, [North Korea's] position is that they've done a lot of stuff for the U.S. and Trump takes credit for it, but the U.S. has not done anything in return," Delury said. "So what they're saying is that the U.S. needs to acknowledge the positive steps that North Korea has made and do something to reciprocate."

The United States has repeatedly refused to lift economic sanctions against North Korea in return for several concessions from Pyongyang, including repatriating soldier remains from the Korean War, shutting down the Punggye-ri nuclear test site and ceasing all long-range missile and nuclear tests. https://www.voanews.com/east-asia-pacific/us-north-korea-allude-war-ahead-pyongyangs-deadline
For the sake of the North Koreans, hopefully there will really be a deal that will improve the lot of the lives of those suffering people.
The North Korean leadership has been playing a dangerous game with missile launches and some of its statements. And while the USA may have costs, the USA is currently the world power with the strongest fortresses, and North Korea is not prophesied to defeat the USA (cf. Daniel 11:39).
The USA's and North Korea's actions bring to mind some statements that Jesus made:
4 "Take heed that no one deceives you. 5 For many will come in My name, saying, 'I am the Christ,' and will deceive many. 6 And you will hear of wars and rumors of wars. See that you are not troubled; for all these things must come to pass, but the end is not yet. 7 For nation will rise against nation, and kingdom against kingdom. And there will be famines, pestilences, and earthquakes in various places. 8 All these are the beginning of sorrows. (Matthew 24:4-8)

7 But when you hear of wars and rumors of wars, do not be troubled; for such things must happen, but the end is not yet. 8 For nation will rise against nation, and kingdom against kingdom. And there will be earthquakes in various places, and there will be famines and troubles. These are the beginnings of sorrows. (Mark 13:7-8)
Some troubles are bound to affect many should there be a real war with North Korea.
Military issues are expected in these times.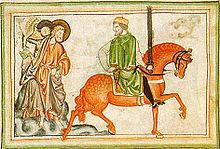 Red Horseman of War
Jesus had the Apostle John record:
3 When He opened the second seal, I heard the second living creature saying, "Come and see." 4 Another horse, fiery red, went out. And it was granted to the one who sat on it to take peace from the earth, and that people should kill one another; and there was given to him a great sword. (Revelation 6:3-4)
The specter of war is haunting the world right now. And though we expect, after conflict, to see temporary peace in places like the Middle East (cf. Daniel 9:27; see also The 'Peace Deal' of Daniel 9:27), many are preparing for war in the Orient.
The fact is that the 6000 years God gave humankind to rule itself is about to come to an end. Because of that, we are to expect wars, rumors of wars, and various sorrows.
A vengeful North Korea may have operatives try to detonate nuclear bombs, electromagnetic pulse weapons, and/or dirty bombs. North Korea may attempt to unleash chemical and/or biological weapons against the USA, South Korea, Japan, and/or Guam. Steps to prepare for some or all of this may have been begun by the North Koreans.
North Korea's leaders may well decide that if they are attacked they should attempt to cause the most damage possible.
Despite wars, ultimately, there is good news as the Kingdom of God will come and those issues will be gone (Revelation 7:16).
Until then, we will hear of troubles, rumors of wars, wars, and the Great Tribulation. And irrespective of what happens to North Korea and Japan, eventually, one of those wars will eliminate the USA (Daniel 11:39; see also USA in Prophecy: The Strongest Fortresses). The situation with North Korea has the potential to weaken the USA in various ways many have not seriously considered.
All 'options' may also be on the table for North Korea.
But I still pray that those in North Korea will suffer less from now until the establishment of the Kingdom of God.
Some items of possibly related interest may include:
Korea in Prophecy, Any Witness? Where did the Korean people come from? Does God have a plan for the Koreans? Is Korea mentioned in any prophecies? Will Koreans be among the first in the Kingdom of God? Here is a machine-translated link to that article in Korean: 한국의 언어로 : 한국 예언, 모든 증인에?. Here is a link to a magazine with that article in Mandarin Chinese: 在预言中的韩国:有任何证人吗?. A prophetic video is also available: Syria, North Korea, and Prophecy.
What is the Gospel? True religion should be based upon the true gospel. What are some of the different gospels and where did they come from? Do you believe the true or a false gospel? Who is preaching the gospel? Here is a version in Korean 복음이란 무엇인가?.
Four Horsemen of the Apocalypse What do each of the four horseman of the Apocalypse represent? Have they began their ride? Did Jesus discuss the any of this? Might their rides coincide with the "beginning of sorrows? Do they start their ride prior to the Great Tribulation? Did Nostradamus or any other 'private prophets' write predictions that may mislead people so that they may not understand the truth of one or more of the four horseman? There is also a related YouTube video titled The Four Horsemen of the Apocalypse.
Does God Have a 6,000 Year Plan? What Year Does the 6,000 Years End? Was a 6000 year time allowed for humans to rule followed by a literal thousand year reign of Christ on Earth taught by the early Christians? Does God have 7,000 year plan? What year may the six thousand years of human rule end? When will Jesus return? 2027 or 20xx? There is also a video titled 6000 Years: When will God's Kingdom Come? Here is a link to the article in Spanish: ¿Tiene Dios un plan de 6,000 años?
When Will the Great Tribulation Begin? 2020, 2021, or 2022? Can the Great Tribulation begin today? What happens before the Great Tribulation in the "beginning of sorrows"? What happens in the Great Tribulation and the Day of the Lord? Is this the time of the Gentiles? When is the earliest that the Great Tribulation can begin? What is the Day of the Lord? Who are the 144,000? Here is a version of the article in the Spanish language: ¿Puede comenzar la Gran Tribulación en 2018 o 2019? ¿Es el Tiempo de los Gentiles? You can also see the English language sermon videos: The Great Tribulation from the Mount of Olives and Can the Great Tribulation begin before 2020? A shorter and newer video is: Could the Great Tribulation Begin in 2020?
The Times of the Gentiles Has there been more than one time of the Gentiles? Are we in it now or in the time of Anglo-America? What will the final time of the Gentiles be like? A related sermon is available and is titled: The Times of the Gentiles.
Armageddon Who is involved and when will this gathering happen? Here is also a video from Dr. Thiel, from Tel Megiddo in Israel: Armageddon. Other videos include: Armageddon Will it come on Trump's watch?, Iraq, Armageddon, & Prophecy, Freemasonry, Armageddon, and Rome, Is China paving roads to Armageddon?, and Jordan, Petra, and Armageddon.
World War III: Steps in Progress Are there surprising actions going on now that are leading to WWIII? Might a nuclear attack be expected? Does the Bible promise protection to all or only some Christians? How can you be part of those that will be protected? A related video would be Is World War III About to Begin? Can You Escape?
Asia in Prophecy What is Ahead for Asia? Who are the "Kings of the East"? What will happen to nearly all the Chinese, Russians, Indians, and others of Asia? China in prophecy, where? Who has the 200,000,000 man army related to Armageddon? A YouTube video of interest may be Is China THE Threat to the United States of America?
The Eurasian Union, the Kings of the East, and Bible Prophecy Is there a Eurasian union that will be formed? Is one being formed right now? Are any leaders working on that in the 21st century? Does the Bible teach that there will be a Eurasian union? If some type of Eurasian union is formed, who might it benefit and who will it destroy? A related video would be Is The Eurasian Union Rising?
Japan, Its Biblical Past and Future, Part 1: Any Witness? Where did the Japanese people come from? Have they had any witness?
Japan, Its Biblical Past and Future, Part 2: Prophecy Japan in prophecy. What is prophesied for Japan? Will God save the Japanese?
USA in Prophecy: The Strongest Fortresses Can you point to scriptures, like Daniel 11:39, that point to the USA in the 21st century? This article does. A related sermon is titled: Do these 7 prophesies point to the end of the USA?
Is Russia the King of the North? Some claim it is. But what does the Bible teach? Here is a link to a video, also titled Is Russia the King of the North?
Ezekiel 38: For Russia & Iran in Our Day? Is Ezekiel 38 about to be fulfilled? A related video is available titled Ezekiel 38: For Russia, Ukraine, & Iran Now? Another could be Russia, Iran, Syria, & the Bible (Code).
Syria, North Korea, and Prophecy On April 7, 2017, 59 US Tomahawk missiles hit a military installation in Syria. While praised by NATO nations, Israel, and Saudi Arabia, this was denounced by Syria, Russia, and North Korea. Is this the start of World War III? Will the Bashar al-Assad regime remain as it is? What about North Korea? What does the Bible show will happen? Dr. Thiel answers these questions and more. This is a video.
Anglo – America in Prophecy & the Lost Tribes of Israel Are the Americans, Canadians, English, Scottish, Welsh, Australians, Anglo-Saxon (non-Dutch) Southern Africans, and New Zealanders descendants of Joseph? Where are the lost ten-tribes of Israel? Who are the lost tribes of Israel? What will happen to Jerusalem and the Jews in Israel? Will God punish the U.S.A., Canada, United Kingdom, and other Anglo-Saxon nations? Why might God allow them to be punished first? Here is a link to the Spanish version of this article: Anglo-América & las Tribus Perdidas de Israel. Information is also in the YouTube sermons titled Where are the Ten Lost Tribes? Why does it matter? and British are the Covenant People. A short YouTube of prophetic interest may be: Are Chinese threats against Australia for real?
Will the Anglo-Saxon Nations be Divided and Have People Taken as Slaves? Will the lands of the United States, United Kingdom, Canada, Australia, and New Zealand be divided? What about Jerusalem? What does Bible prophecy teach? Are there non-biblical prophecies that support this idea? Who will divide those lands? Who will end up with the lands and the people? Here is a link to a video titled Will the USA and other Anglo-nations be Divided and Their People Made Slaves? Here is a related item in the Spanish language ¿Serán divididas las naciones anglosajonas?
British are the Covenant People What do 'British' and 'Britain' mean in Hebrew? Are the descendants of the Anglo-Saxons people of the covenant? Does the British royal family connect to the throne of David? What does the Bible teach? What does history show us? Is there any DNA evidence related to British-Israelism? When did Christianity make it to the British Isles? Could Jeremiah have made it to the British Isles? What type of Christians made it to the British Isles? Did the last King of England believe in British Israelism?
Donald Trump in Prophecy Prophecy, Donald Trump? Are there prophecies that Donald Trump may fulfill?  Are there any prophecies that he has already helped fulfill?  Is a Donald Trump presidency proving to be apocalyptic?  Two related videos are available: Donald: 'Trump of God' or Apocalyptic? and Donald Trump's Prophetic Presidency.
Trump Presidency Magic 8 Ball or Bible Prophecy? BBC reported that one might as well use a 'Magic Eight-Ball' to try to predict what will happen in the remaining time of Donald Trump's presidency. What is a 'Magic Eight-Ball'? Dr. Thiel not only explains that, but also briefly goes over 10 biblically-based warnings he wrote would happen if Donald Trump were elected that have already began to come to pass. He also goes over something he wrote back in 2008 that the Trump presidency is also helping lead to fulfillment. Should you trust Bible prophecy or not? Dr. Thiel says that Bible prophecy can be trusted, despite the view of skeptics and others that either overlook or despise the Bible. This is a video.
Donald Trump and America's Apocalypse This 188 page book is for people truly interested in prophecies related to Donald Trump and the United States, including learning about several that have already been fulfilled and those that will be fulfilled in the future. The physical book can be purchased at Amazon for $12.99 from the following link: Donald Trump and America's Apocalypse.
Donald Trump and America's Apocalypse-Kindle Edition This electronic version of the 188 page print edition is available for only US$3.99. And you do not need an actual Kindle device to read it. Why? Amazon will allow you to download it to almost any device: Please click HERE to download one of Amazon s Free Reader Apps. After you go to for your free Kindle reader and then go to Donald Trump and America's Apocalypse-Kindle Edition.
The Gospel of the Kingdom of God This free online pdf booklet has answers many questions people have about the Gospel of the Kingdom of God and explains why it is the solution to the issues the world is facing. Here are links to three related sermons: The World's False Gospel, The Gospel of the Kingdom: From the New and Old Testaments, and The Kingdom of God is the Solution.