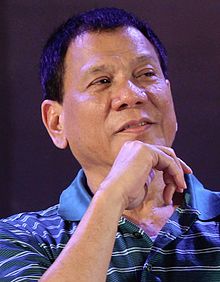 Rodrigo Duterte
The Philippines has a new president:
30 June 2016

MANILA, Philippines — Rodrigo Duterte, who was sworn in as the Philippines' 16th president on Thursday, has given himself a colossal campaign promise to fulfill: eradicating crime — especially drug trafficking, smuggling, rapes and murder — in three to six months. That won him a lot of votes, but it also spurred alarm and doubts, including from police officials, who said it was an impossible feat.

Famous for his blunt speech, Duterte also made a number of potentially divisive declarations or decisions that will likely complicate his first few months in office. Here are some of them:

___

ZERO CRIME

Duterte has repeatedly vowed to wipe out crime and corruption in three to six months, warning lawbreakers they would be shot to death if they try to resist. Police officials doubt this can be achieved, and human rights advocates fear that people's rights and the rule of law will be ignored.

___

CONFRONTING CHINA

Duterte has adopted a gamut of options in dealing with China over contested territories in the South China Sea. He said he will prod China to abide by the upcoming decision of an arbitration court that's handling a Philippine lawsuit against Beijing. If China doesn't budge, he says he'll be open to one-on-one talks with Beijing.

Another time, he said he leaned toward multilateral negotiations that would involve the United States and Japan and rival claimant governments to resolve the escalating conflicts.

At a televised debate, he revealed his most outlandish idea: Traveling to the disputed waters by Jet Ski and planting a Philippine flag on one of the new Chinese man-made islands, saying it's up to the Chinese to shoot him and turn him into a national hero. https://www.washingtonpost.com/world/asia_pacific/new-philippine-president-faces-daunting-challenges/2016/06/30/ec5bb09e-3eba-11e6-9e16-4cf01a41decb_story.html
Here is more about him:
Nicknamed "The Punisher", vigilante groups tied to Duterte are thought to be responsible for the executions of drug traffickers, criminals, gang members and other lawless elements. Over a period of 20 years, he turned Davao City from the "murder capital of the Philippines" to what tourism organisations now describe as "the most peaceful city in southeast Asia," and what numbeo.com ranks as the world's fourth safest place. …

On November 30, 2015, he openly admitted to being a "womanizer" . . .  On May 31, 2016, Duterte was the subject of a controversy when he "catcalled" journalist Mariz Umali during a press conference (Rodrigo Duterte, Wikipedia, accessed 06/30/16)
There have been previous presidents in the Philippines who have said that they would fight crime and corruption, and it remains to be seen how successful Rodrigo Duterte will be.  And yes, the 'womanizer' comments do remind me of the history of US Presidential hopeful Donald Trump.
There is another election that I have been intending to post about, and that one takes place soon in Australia:
30 June 2016

Coming in the wake of last week's vote for Britain to exit the European Union, the Australian federal election this Saturday is another sign of the political upheavals being fuelled by the worsening global economic breakdown, rising geo-political tensions and deepening social inequality in every country.

Prime Minister Malcolm Turnbull called a rare "double dissolution" election for all seats in the House of Representatives and the Senate in a bid to secure majorities in both houses and to press ahead with the agenda of militarism and austerity demanded in ruling circles. Eight weeks later, Turnbull's objective of full control of the parliament for his Liberal-National Coalition is the least likely outcome of Saturday's poll.

Such is the intense and widespread frustration and anger with both the Coalition and the opposition Labor Party that nothing can be ruled out, including a hung parliament in which neither party secures an absolute majority in the lower house. The most likely result in the Senate is that the Greens, minor parties and independents will continue to hold the balance of power and the ability to frustrate government legislation.

The uncertainty surrounding Saturday's election follows six years of acute political instability that has witnessed four changes of prime minister—three of them through inner-party coups. Kevin Rudd was ousted as Labor prime minister in 2010 by Julia Gillard. She was in turn overthrown by Rudd on the eve of the 2013 election, which the Labor Party lost decisively. Tony Abbott was removed by Turnbull as Liberal leader and prime minister less than a year ago. https://www.wsws.org/en/articles/2016/06/30/aust-j30.html

30 June 2016

Labor has taken a stronger line on China's island building in the South China Sea than the conservatives, promising to join military ally the U.S. in so-called "freedom of navigation" exercises—sending warships or aircraft into waters around the disputed atolls. Mr. Turnbull says he doesn't want to stoke tensions with China, Australia's biggest trade partner. http://blogs.wsj.com/briefly/2016/06/30/things-in-focus-for-australias-federal-election/
Australia has had five prime ministers since 2010. Whether the next one will last remains to be seen.
Australia would like to keep trading more with China, but many there recognize that this is dangerous.  And ultimately, I do believe it will prove disastrous for Australia as it will be taken over, and possibly given, at least partially, to China (see Will the Anglo-Saxon Nations be Divided and Have People Taken as Slaves?).
Vladamir Lenin, the first leader of the Soviet Union, once said:
"The Capitalists will sell us the rope with which we will hang them."
While Australia does not intend to sell the Chinese literal rope to hang them, the Australians do sell China uranium as well as other minerals. China is investing so much in Australia, that I believe it will feel more entitled to own the entire territory in the future.  And that is irrespective of how Saturday's vote will turn out.  I would also add that China hold so much US debt it has claimed it would be a 'nuclear option' if it ever were to quickly dump that debt–the USA should never have allowed itself to be in that position–but has.  And Australia is putting itself in a position that allows China to have too much influence as well.
The current world order dominated by the USA, and formerly by the UK's Commonwealth (including Australia) is being changed. The Bible shows that the time of Jacob's trouble (Jeremiah 30:7) is getting nearer–and that will greatly affect the USA, the UK, Canada, Australia, and New Zealand which have descendants from Jacob also known as Israel.
The Bible also tells of the final time of the Gentiles. (Luke 21:23-24; Revelation 11:2), which means the time when the descendants of Israel will no longer dominate the world scene. China, Russia, and Europe are taking steps to make that happen intentionally, while the USA, UK, and Australia seem to be doing so unintentionally.
Some items of possibly related interest may include:
Anglo – America in Prophecy & the Lost Tribes of Israel Are the Americans, Canadians, English, Scottish, Welsh, Australians, Anglo-Saxon (non-Dutch) Southern Africans, and New Zealanders descendants of Joseph? Where are the lost ten-tribes of Israel? Who are the lost tribes of Israel? What will happen to Jerusalem and the Jews in Israel? Will God punish the U.S.A., Canada, United Kingdom, and other Anglo-Saxon nations? Why might God allow them to be punished first? Here is a link to the Spanish version of this article: Anglo-América & las Tribus Perdidas de Israel. Information is also in the YouTube sermons titled Where are the Ten Lost Tribes? Why does it matter? and British are the Covenant People. A short YouTube of prophetic interest may be Barack Obama and the State of the Apocalypse.
Will the Anglo-Saxon Nations be Divided and Have People Taken as Slaves? Will the lands of the United States, United Kingdom, Canada, Australia, and New Zealand be divided? What about Jerusalem? What does Bible prophecy teach? Are there non-biblical prophecies that support this idea? Who will divide those lands? Who will end up with the lands and the people? Here is a link to a video titled Will the USA and other Anglo-nations be Divided and Their People Made Slaves? Here is a related item in the Spanish language ¿Serán divididas las naciones anglosajonas?
British are the Covenant People What do 'British' and 'Britain' mean in Hebrew? Are the descendants of the Anglo-Saxons people of the covenant? Does the British royal family connect to the throne of David? What does the Bible teach? What does history show us? Is there any DNA evidence related to British-Israelism? When did Christianity make it to the British Isles? Could Jeremiah have made it to the British Isles? What type of Christians made it to the British Isles? Did the last King of England believe in British Israelism?
Who is the King of the West? Why is there no Final End-Time King of the West in Bible Prophecy? Is the United States the King of the West? Here is a version in the Spanish language: ¿Quién es el Rey del Occidente? ¿Por qué no hay un Rey del Occidente en la profecía del tiempo del fin?
Hillary Clinton in Prophecy Prophecy, Hillary Clinton? Are there prophecies that Hillary Clinton may fulfill? Are there any prophecies that she has already helped fulfill? Could Hillary Clinton be apocalyptic? Could Hillary Clinton be the final Antichrist? A video of related interest is titled Hillary Clinton and Bible Prophecy.
Donald Trump in Prophecy Prophecy, Donald Trump? Are there prophecies that Donald Trump may fulfill? Are there any prophecies that he has already helped fulfill? Could a Donald Trump presidency be apocalyptic? A related video is titled Could Donald Trump be Apocalyptic?
India, Its Biblical Past and Future: Any Witness? The Bible discusses the origins of those of Indian heritage. This article quotes the Bible and also discusses some of the witness to India throughout history and what is happening in the 21st century (including those in Bangladesh, Pakistan, and Sri Lanka).
India and the Beast of Revelation 13 Do biblical, Catholic, and even Hindu prophecies suggest that many in India will follow, for a while, the Beast and False Prophet/Antichrist? Here is link to a related YouTube video Will People in India Worship the Beast of Revelation 13?
China, Its Biblical Past and Future, Part 1: Genesis and Chinese Characters Where did the Chinese people come from? This article provides information showing that the Chinese peoples must have known about various accounts in the Book of Genesis up until their dispersion after the Tower of Babel. Here is a link to a version of this article in Spanish: ¿Prueban los caracteres chinos la exactitud de la Biblia?
China, Its Biblical Past and Future, Part 2: The Sabbath and Some of God's Witness in China When did Christianity first come to China? And is there early evidence that they observed the seventh day sabbath?
Asia in Prophecy What is Ahead for Asia? Who are the "Kings of the East"? What will happen to nearly all the Chinese, Russians, Indians, and others of Asia? China in prophecy, where? Who has the 200,000,000 man army related to Armageddon? A YouTube video of interest may be Is China THE Threat to the United States of America?
The Eurasian Union, the Kings of the East, and Bible Prophecy Is there a Eurasian union that will be formed? Is one being formed right now? Are any leaders working on that in the 21st century? Does the Bible teach that there will be a Eurasian union? If some type of Eurasian union is formed, who might it benefit and who will it destroy? A related video would be Is The Eurasian Union Rising?
Korea in Prophecy, Any Witness? Where did the Korean people come from? Does God have a plan for the Koreans? Is Korea mentioned in any prophecies? Will Koreans be among the first in the Kingdom of God? Here is a machine-translated link to that article in Korean: 한국의 언어로 : 한국 예언, 모든 증인에?; here is a link to that article in Mandarin Chinese: 在预言中的韩国:有任何证人吗?
Islands and Bible Prophecy What's ahead for islands? What does the Bible prophesy about them?
Does God Have a 6,000 Year Plan? What Year Does the 6,000 Years End? Was a 6000 year time allowed for humans to rule followed by a literal thousand year reign of Christ on Earth taught by the early Christians? Does God have 7,000 year plan? What year may the six thousand years of human rule end? When will Jesus return? 2023 or 20xx? There is also a video titled The 6000 Year Plan: Is the end of humanity's reign almost up? Here is a link to the article in Spanish: ¿Tiene Dios un plan de 6,000 años?
When Will the Great Tribulation Begin? 2016, 2017, or 2018? Can the Great Tribulation begin today? What happens before the Great Tribulation in the "beginning of sorrows"? What happens in the Great Tribulation and the Day of the Lord? Is this the time of the Gentiles? When is the earliest that the Great Tribulation can begin? What is the Day of the Lord? Who are the 144,000? Here is a version of the article in the Spanish language: ¿Puede comenzar la Gran Tribulación en 2016 o 2017? ¿Es el Tiempo de los Gentiles? You can also see the English language sermon video: The Great Tribulation from the Mount of Olives. A shorter video is: Can the Great Tribulation Start in 2016?