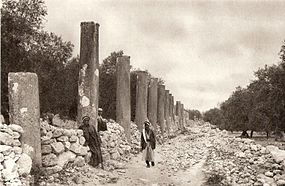 Ancient Samaria
Sometime back, Shepherd's Voice magazine had the following article by former GCG board member Norman Edwards:
For the mature Christian, the last words of Jesus Christ to His apostles are utterly vital. They certainly have application throughout the entire church age. They were not just for the first century.
Therefore, when they [the apostles] had come together, they asked Him, saying, "Lord, will You at this time restore the kingdom to Israel?" And He said to them, "It is not for you to know times or seasons which the Father has put in His own authority. But you shall receive power when the Holy Spirit has come upon you; and you shall be witnesses to Me in Jerusalem, and in all Judea and Samaria, and to the end of the earth." Now when He had spoken these things, while they watched, He was taken up, and a cloud received Him out of their sight ( Acts 1:6-9). …
Where to Witness
Once we recognize that the job of a believer is to be filled with the Holy Spirit and be a witness, we need to consider that last part of Christ's statement which tells us where:
"…in Jerusalem, and in all Judea and Samaria, and to the end of the earth (Acts 1:8).
These areas were well known to the twelve apostles. They were in Jerusalem at the time (Acts 1:4); they had traveled through much of Judea during their ministry with Christ; they had traveled through Samaria, even though the Jews wanted little to do with the Samaritans (John 4:9); and to them, the "end of the earth" included the entire Roman Empire and whatever was beyond.
As we read the rest of the New Testament, we see that the Gospel went to all of those places. What do these four areas mean for believers today? Those in Jerusalem would be analogous to the believers in our congregation—those who are nearby us. Those in Judea would be those with similar beliefs to us, even though they are further away and lastly, the "end of the earth" is still everyone we know about—all seven billion of them—many with no knowledge of Christ or the Bible. But what about the Samaritans? Is Christ still telling us to evangelize the group of about a hundred people today who trace their lineage back to the original Samaritans and still practice that religion? Or is it something more important. The rest of this article will answer that question.
Who Are the Samaritans?
The Bible gives a lot of detail on who the Samaritans are and how their religion evolved. It is all worth reading to help us understand our situation today. Notice in 2 Kings 17:23:
23 Until the LORD removed Israel out of His sight, as He had said by all His servants the prophets. So Israel was carried away from their own land to Assyria, as it is to this day.
24 Then the king of Assyria brought people from Babylon, Cuthah, Ava, Hamath, and from Sepharvaim, and placed them in the cities of Samaria instead of the children of Israel; and they took possession of Samaria and dwelt in its cities. 25 And it was so, at the beginning of their dwelling there, that they did not fear the LORD; therefore the LORD sent lions among them, which killed some of them. 26 So they spoke to the king of Assyria, saying, "The nations whom you have removed and placed in the cities of Samaria do not know the rituals of the God of the land; therefore He has sent lions among them, and indeed, they are killing them because they do not know the rituals of the God of the land." 27 Then the king of Assyria commanded, saying, "Send there one of the priests whom you brought from there; let him go and dwell there, and let him teach them the rituals of the God of the land." 28 Then one of the priests whom they had carried away from Samaria came and dwelt in Bethel, and taught them how they should fear the LORD.
29 However every nation continued to make gods of its own, and put them in the shrines on the high places which the Samaritans had made, every nation in the cities where they dwelt.
30 The men of Babylon made Succoth Benoth, the men of Cuth made Nergal, the men of Hamath made Ashima, 31 and the Avites made Nibhaz and Tartak; and the Sepharvites burned their children in fire to Adrammelech and Anammelech, the gods of Sepharvaim. 32 So they feared the LORD, and from every class they appointed for themselves priests of the high places, who sacrificed for them in the shrines of the high places. 33 They feared the LORD, yet served their own gods—according to the rituals of the nations from among whom they were carried away. 34 To this day they continue practicing the former rituals; they do not fear the LORD, nor do they follow their statutes or their ordinances, or the law and commandment which the LORD had commanded the children of Jacob, whom He named Israel, 35 with whom the LORD had made a covenant and charged them, saying: "You shall not fear other gods, nor bow down to them nor serve them nor sacrifice to them; 36 "but the LORD, who brought you up from the land of Egypt with great power and an outstretched arm, Him you shall fear, Him you shall worship, and to Him you shall offer sacrifice. 38 "And the statutes, the ordinances, the law, and the commandment which He wrote for you, you shall be careful to observe forever; you shall not fear other gods. 38 "And the covenant that I have made with you, you shall not forget, nor shall you fear other gods. 39 "But the LORD your God you shall fear; and He will deliver you from the hand of all your enemies."
40 However they did not obey, but they followed their former rituals. 41 So these nations feared the LORD, yet served their carved images; also their children and their children's children have continued doing as their fathers did, even to this day.
Notice that God himself sent lions among the Samaritans because they did not fear Him at all. When they began to fear the true God to some degree, the lions stopped. Yes, God himself had a hand in creating this half-way religion. He commanded them to fully obey Him, but let them remain under His limited protection even when they did not fully obey. Today, we know that the ancient Samaritans had their own version of the Old Testament, altered in places, but largely the same. But even with this knowledge of the truth, they continued their worship of many false gods, and did not obey the truth of the writings that they did have.
So is there a large group of people like this today, to whom we must be a witness? Yes! Mainstream evangelical Christianity! They use the Bible—with a few alterations and ignoring many parts to fit their doctrines. They also mix in the practices of other religions. Many celebrate holidays that contain Santa Claus, Yule logs, easter bunnies, Halloween evil spirits, the Roman Cupid, Leprechauns, etc. Their church building construction frequently makes use of steeples, gargoyles and the trappings of other religions.
They have doctrines that are partly true and partly erroneous. Most picture God as a "trinity", a "three in one" concept found in Hinduism, even though the word "Trinity" is not found in the Bible and the New Testament constantly refers to two divine beings (Acts 7:55-56; Rom 1:7; 15:6; 1 Corinthians 1:3, 9; 8:6; 2 Corinthians 1:2-3; Galatians 1:1- 3; Ephesians 1:2-3, 17; 5:20; 6:23; Philippians 1:2; Colossians 1:2-3; 2:2; 1 Thessalonians 1:1-3; 3:11, 13; 2 Thessalonians 1:1-2; 2:16; 1 Timothy 1:2; 2 Timothy 1:2; Titus 1:4; Philemon 1:3; 1 Peter 1:2-3; 2 Peter 1:2; 1 John 1:3, 2:22; 2 John 1:3, 9; Jude 1:1; Revelation 11:15). Most mainstream Christians teach an immortal, conscious soul that either goes to heaven or hell at death— rather than the Biblical "dead know nothing" (Ecclesiastes 9:5) and are awaiting a resurrection (Daniel 12:1- 3; John 5:28-29; 1 Corinthians 15;51- 52; 1 Thessalonians 4:16; Hebrews 11:13, 39-40). Some Christians falsely teach that their human leaders sat in between the believers and Christ, and had authority over their salvation (2 Corinthians 1:24; 1 Peter 5:3).

It is not within the scope of this article—or even within the scope of the lifetime of this author—to cover all the arguments and resolve all doctrinal differences. He has written much on these doctrines and will probably write more. But it is on this author's heart to help everyone see how Christ deals with "Samaritans" today, and how Bible-adhering Christians should deal with the mainstream evangelical Christians of today.

How Did Christ Deal with Samaritans?

Some believers might expect that Christ would have nothing to do with people who have a wrong concept of God or who hold false doctrines. As a matter of fact, that was the approach the early Apostles took to the Samaritans. They wanted to kill them for their persecution of the truth:

And as they went, they entered a village of the Samaritans, to prepare for Him. But they did not receive Him, because His face was set for the journey to Jerusalem. And when His disciples James and John saw this, they said, "Lord, do You want us to command fire to come down from heaven and consume them, just as Elijah did?" But He turned and rebuked them, and said, "You do not know what manner of spirit you are of. For the Son of Man did not come to destroy men's lives but to save them." And they went to another village (Luke 9:52-56).

But Jesus told them they were of the wrong spirit. And so today, when Christians have different beliefs, they often become upset with each other and sometimes want to destroy each other. Sure, it is easy to be angry at a group that wants to destroy you. But Christ said we are of a wrong spirit if we think like this. We can read and see how Christ dealt with Samaritans. He talked to them. He shared things with them He had not yet shared with His apostles. Jesus shocked His disciples and the Samaritans as well! Read the whole account beginning in John 4:4:

But He [Christ] needed to go through Samaria. 5 So He came to a city of Samaria which is called Sychar, near the plot of ground that Jacob gave to his son Joseph. 6 Now Jacob's well was there. Jesus therefore, being wearied from His journey, sat thus by the well. It was about the sixth hour.

7 A woman of Samaria came to draw water. Jesus said to her, "Give Me a drink." 8 For His disciples had gone away into the city to buy food. 9 Then the woman of Samaria said to Him, "How is it that You, being a Jew, ask a drink from me, a Samaritan woman?" For Jews have no dealings with Samaritans. 10 Jesus answered and said to her, "If you knew the gift of God, and who it is who says to you, 'Give Me a drink,' you would have asked Him, and He would have given you living water." 11 The woman said to Him, "Sir, You have nothing to draw with, and the well is deep. Where then do You get that living water? 12 "Are You greater than our father Jacob, who gave us the well, and drank from it himself, as well as his sons and his livestock?" 13 Jesus answered and said to her, "Whoever drinks of this water will thirst again, 14 "but whoever drinks of the water that I shall give him will never thirst. But the water that I shall give him will become in him a fountain of water springing up into everlasting life."

15 The woman said to Him, "Sir, give me this water, that I may not thirst, nor come here to draw." 16 Jesus said to her, "Go, call your husband, and come here." 17 The woman answered and said, "I have no husband." Jesus said to her, "You have well said, 'I have no husband,' 18 "for you have had five husbands, and the one whom you now have is not your husband; in that you spoke truly." 19 The woman said to Him, "Sir, I perceive that You are a prophet. 20 "Our fathers worshiped on this mountain, and you Jews say that in Jerusalem is the place where one ought to worship." 21 Jesus said to her, "Woman, believe Me, the hour is coming when you will neither on this mountain, nor in Jerusalem, worship the Father. 22 "You worship what you do not know; we know what we worship, for salvation is of the Jews. 23 "But the hour is coming, and now is, when the true worshipers will worship the Father in spirit and truth; for the Father is seeking such to worship Him. 24 "God is Spirit, and those who worship Him must worship in spirit and truth." 25 The woman said to Him, "I know that Messiah is coming" (who is called Christ). "When He comes, He will tell us all things." 26 Jesus said to her, "I who speak to you am He."

27 And at this point His disciples came, and they marveled that He talked with a woman; yet no one said, "What do You seek?" or, "Why are You talking with her? 28 The woman then left her waterpot, went her way into the city, and said to the men, 29 "Come, see a Man who told me all things that I ever did. Could this be the Christ?" 30 Then they went out of the city and came to Him. 31 In the meantime His disciples urged Him, saying, "Rabbi, eat." 32 But He said to them, "I have food to eat of which you do not know." 33 Therefore the disciples said to one another, "Has anyone brought Him anything to eat?" 34 Jesus said to them, "My food is to do the will of Him who sent Me, and to finish His work. 35 "Do you not say, 'There are still four months and then comes the harvest'? Behold, I say to you, lift up your eyes and look at the fields, for they are already white for harvest! 36 "And he who reaps receives wages, and gathers fruit for eternal life, that both he who sows and he who reaps may rejoice together. 37 "For in this the saying is true: 'One sows and another reaps.' 38 "I sent you to reap that for which you have not labored; others have labored, and you have entered into their labors."

39 And many of the Samaritans of that city believed in Him because of the word of the woman who testified, "He told me all that I ever did." 40 So when the Samaritans had come to Him, they urged Him to stay with them; and He stayed there two days. 41 And many more believed because of His own word. 42 Then they said to the woman, "Now we believe, not because of what you said, for we ourselves have heard Him and we know that this is indeed the Christ, the Savior of the world ."

43 Now after the two days He departed from there and went to Galilee. 44 For Jesus Himself testified that a prophet has no honor in his own country.

There are many principles that both Christ's apostles then and we believers today need to learn:

1. Christ talked to the Samaritans apart from the disciples, while they were obtaining food— symbolic of spiritual knowledge— elsewhere. Even though the disciples had learned from the real Hebrew Old Testament and had learned much directly from Christ, they were not yet ready to realize that Christ could also work with people who knew substantially less than they.
2. The Samaritan woman asserts a doctrinal error, that Mount Gerizim is the place of worship rather than Jerusalem. Christ explains to the woman that Samaritans have doctrinal errors—that they don't know what they worship, but then goes on to explain a greater truth that even his disciples did not understand: God wants believers who will worship in spirit and in truth anywhere.
3. The woman is convicted by Christ's divine ability to show her sin. She quickly goes evangelizing others and brings them to Christ. They recognize Him as the "Savior of the world" in a spiritual way. They do not ask about setting up any kind of physical kingdom or whether Jews, Samaritans or somebody else will be in charge.
4. The Samaritans knew the Old Testament prophecies of a Messiah to come, and they accepted Jesus as that Messiah. This passage occurs shortly after the turning of water to wine at Cana (John 2:1- 11)—Christ's first miracle! Many Samaritans accepted Jesus as Messiah long before His apostles realized He was the Messiah. See for yourself:

When Jesus came into the region of Caesarea Philippi, He asked His disciples, saying, "Who do men say that I, the Son of Man, am?" So they said, "Some say John the Baptist, some Elijah, and others Jeremiah or one of the prophets." He said to them, "But who do you say that I am?" Simon Peter answered and said, "You are the Christ, the Son of the living God" (Matthew 16:13-16).

5. The Samaritans whom Christ taught did not begin to meet with the Jewish believers. If they did, they would have known Jesus was the Messiah. Christ did teach them for two days. Does the "thousand years as one day" (2 Peter 3:8) principle apply here? Will there be spiritual Samaritans—people who accept Jesus but misunderstand some of the Bible for two-thousand years?
6. Christ told His disciples not to say that it is four months until the harvest, but to realize that the fields were now ready for harvest. What did He mean? It was not too long since Jesus was at the Passover (John 2:23), which was in the first month of the year (Leviticus 23:5). Approximately 50 days later was the Feast of Weeks where all males were commanded to appear (Exodus 23:17; Leviticus 23:15- 16; Deuteronomy 16:16)—in the third month of the year. It would have been sensible that Jesus and His disciples left Jerusalem immediately after Pentecost, when it would have been four months to the great fall harvest, the Feast of Ingathering or the Feast of Tabernacles (Exodus 23:16; 34:22; Leviticus 23:34). Jesus' disciples were continually looking to the Feast of Ingathering which pictures the return of Christ as King of the Nations. (Jude 1:14-15; Isaiah 9:6-7; Psalm 2:8-9; 149:5-9, etc.) Jesus was telling them to look at the spiritual Pentecost harvest four months earlier, with its two leavened loaves (Leviticus 23:17) perhaps representing a mixture of true and false doctrine. The Samaritans were ready then.

The parallels between the Samaritans and the modern day evangelical Christians are striking. Both understand that they are sinners in need of a Savior. They accept Jesus as that Messiah—more quickly than those with good knowledge of the Old Testament. They keep to themselves—do not mingle with the first century Jews or today's Sabbatarian Christians. . .

This writer realizes that many Sabbatarian believers may be uncomfortable with this article.
(Norman Edwards granted me permission to post from that article as I normally do not post so much from sources where others may hold a copyright.)
While Norman Edwards goes into many points in that article that I disagree with (and most of those are not shown in the above extract), there are a couple of observations that I would make.
1) Protestants are among those who should be witnessed to (see also The Final Phase of the Work). Because they often claim to believe in the idea of sola Scriptura, those that really do believe they should rely on the Bible over tradition should be more open to the true Christian message and the true Christian Church (for information on the true church, see the free booklet Where is the True Christian Church Today?).
2) I consider the analogy between the Samaritans of old to various Protestants an interesting one; and I first wrote an article related to that back in 2010 (see Spiritual Samaritans: Old and New). I would point out that Jesus emphasized that the bulk of the Samaritans did not understand the truth about God nor how to worship Him. Jesus said this to the Samaritan woman after she talked about worshiping God:
22 You worship what you do not know; we know what we worship, for salvation is of the Jews. 23 But the hour is coming, and now is, when the true worshipers will worship the Father in spirit and truth; for the Father is seeking such to worship Him. 24 God is Spirit, and those who worship Him must worship in spirit and truth. (John 4:22-24)
Many do not believe that Protestants and others can worship Jesus in vain, but Jesus said:
8 "These people draw near to Me with their mouth,
And honor Me with their lips,
But their heart is far from Me.
9 And in vain they worship Me,
Teaching as doctrines the commandments of men.'" (Matthew 15:8-9)

21 "Not everyone who says to Me, 'Lord, Lord,' shall enter the kingdom of heaven, but he who does the will of My Father in heaven. 22 Many will say to Me in that day, 'Lord, Lord, have we not prophesied in Your name, cast out demons in Your name, and done many wonders in Your name?' 23 And then I will declare to them, 'I never knew you; depart from Me, you who practice lawlessness!' (Matthew 7:21-23)
This happens a lot in the USA, and we are seeing a tendency to see even more 'lawlessness' (see also Mystery of Iniquity). Lawlessness is a mark of Antichrist. See also The Ten Commandments: The Decalogue, Christianity, and the Beast.
Many Protestant leaders teach lawlessness (see Hope of Salvation: How the Continuing Church of God differ from most Protestants) as do most other leaders that profess Christ (see The Mark of Antichrist).
3) Many end time prophecies that mention 'Samaria' are referring to the United States (see Anglo – America in Prophecy & the Lost Tribes of Israel); watch also the video Do these 7 prophesies point to the end of the USA? and/or watch the sermon: USA in Prophecy: Samaria.
Because of point three, I found the article by Norman Edwards very interesting. It is further support of the idea that prophecies related to Samaria would apply to a nation like the USA. Notice some quotes from a Jewish source:
Samaria was one of the capitals of Northern Israel and possibly its most important city. (Davidiy Y. The Tribes, 4th edition. Russell-David Publishers, 2011, p. 242)

From the West of England and from Wales, Scotland, and Ireland the United States of America received approximately 87% (sic. 87%) of its British immigrants in its formative period. In other words, early American society was formed largely by groups from the Tribe of Manasseh. Even today, more than half the white population of the U.S.A. may trace its ancestry back to Britain and Ireland with the British side being slightly larger than that of Northern and Southern Ireland origin. (Davidiy, p. 426. #Kephart, apparently a reference to– Calvin Kephart, "Races of Mankind, Their Origin and Migration," N.Y. 1960, pp.437-438).
While the USA was overwhelmingly made up of descendants of Manasseh centuries ago, because of immigration and other matters, it is more mixed. Perhaps not mixed quite like ancient Samaria, but enough so that references related to Samaria sometimes have applicability to it now.
Yair Davidiy reported that some believe that the term America (which most say comes from the explorer Amerigo Vespucce, actual derived from the term Machir, which itself was a derivative of Manasseh (Davidiy, pp. 400-401). While the Western Hemisphere is referred to as North, Central, and South America, when the term 'Americans' is used, this is almost universally used to refer to those of the USA.
It should probably be mentioned that portions of Bible prophecy seem to tie the descendants of Manasseh as being prophetic Samaria. Notice, for example, the following:
8 The Lord sent a word against Jacob,
And it has fallen on Israel.
9 All the people will know —
Ephraim and the inhabitant of Samaria —
Who say in pride and arrogance of heart:
10 'The bricks have fallen down,
But we will rebuild with hewn stones;
The sycamores are cut down,
But we will replace them with cedars."
11 Therefore the Lord shall set up
The adversaries of Rezin against him,
And spur his enemies on,
12 The Syrians before and the Philistines behind;
And they shall devour Israel with an open mouth.

For all this His anger is not turned away,
But His hand is stretched out still…

21 Manasseh shall devour Ephraim, and Ephraim Manasseh;
Together they shall be against Judah.

For all this His anger is not turned away,
But His hand is stretched out still. (Isaiah 9:8-12,21)

1″When I would have healed Israel,
Then the iniquity of Ephraim was uncovered,
And the wickedness of Samaria.
For they have committed fraud;
A thief comes in;
A band of robbers takes spoil outside.
2 They do not consider in their hearts
That I remember all their wickedness;
Now their own deeds have surrounded them;
They are before My face.
3 They make a king glad with their wickedness,
And princes with their lies. (Hosea 7:1-3)
So, we see that Ephraim and Samaria are separate and at the end we see Ephraim and Manasseh (who was referred to as Samaria) as separate. Hence, while Ephraim is not Samaria, sometimes it appears that Manasseh is (cf. Hosea 7:1-7). Isaiah 9 seems to suggest that some of the peoples who are alluded to in Psalm 83 (discussed later) will also harass Ephraim and Manasseh after they have suffered. Isaiah 9 ties the identity of Manasseh in with prophetic Samaria; Obadiah 17-18 seems to as well.
In addition to the intermingling that occurred in ancient Samaria, Samaria was part of the old territory of Manasseh:
The hill of Samaria was in the tribal territory of Manasseh, but apparently was not significantly inhabited until the time of King Omri (Ahab's father). For the next 160 years, the city was the capital of the northern kingdom, apparently reaching a size of 150 acres (as large as Jerusalem in Hezekiah's time). Samaria is well situated with steep slopes on all sides. (Samaria (Sebaste). http://www.bibleplaces.com/samaria.htm viewed 02/19/14)

23 Omri became king over Israel, and reigned twelve years. Six years he reigned in Tirzah. 24 And he bought the hill of Samaria from Shemer for two talents of silver; then he built on the hill, and called the name of the city which he built, Samaria, after the name of Shemer, owner of the hill. (1 Kings 16:23-24)

Northern Samaria is often referred to by its biblical tribal designation: Manasseh. (Killebrew A. Biblical peoples and ethnicity: an archaeological study of Egyptians, Canaanites, Philistines, and early Israel, 1300–1100 B.C.E. Society of Biblical Lit, 2005, p. 159)
Notice that Isaiah 9:9-10 ties the arrogant Samaritans in with making declarations to rebuild. After the attacks of 9/11/2001, various US politicians made statements consistent with the "we will rebuild" declaration. For example, notice the following quote that then Senator Tom Daschle made to Congress on 9/12/2001 related to the 9/11/2001 attack:
We will rebuild, we will recover.
Other US politicians have made similar statements. But notice that God calls those leaders, who leave God out, arrogant. While the USA has rebuilt in the area known as 'ground zero,' the USA is not finished being subject to attacks and ultimately, despite having the strongest military, it will be taken over (cf. Daniel 11:3).
The following also seems to be directed against the USA:
9 'Assemble on the mountains of Samaria; See great tumults in her midst, And the oppressed within her. 10 For they do not know to do right, 'Says the Lord, 'Who store up violence and robbery in their palaces.'" 11 Therefore thus says the Lord God: "An adversary shall be all around the land; He shall sap your strength from you, And your palaces shall be plundered." 12 Thus says the Lord: "As a shepherd takes from the mouth of a lion Two legs or a piece of an ear, So shall the children of Israel be taken out Who dwell in Samaria — In the corner of a bed and on the edge of a couch! 13 Hear and testify against the house of Jacob," Says the Lord God, the God of hosts, 14 'That in the day I punish Israel for their transgressions, I will also visit destruction on the altars of Bethel; And the horns of the altar shall be cut off And fall to the ground" (Amos 3:9-14).
While most in the UK, Canada, Australia, and New Zealand believe that they will be protected by the USA, notice the following:
1 Woe to you who are at ease in Zion, And trust in Mount Samaria, Notable persons in the chief nation, To whom the house of Israel comes! 2 Go over to Calneh and see; And from there go to Hamath the great; Then go down to Gath of the Philistines. Are you better than these kingdoms? Or is their territory greater than your territory? 3 Woe to you who put far off the day of doom, Who cause the seat of violence to come near; 4 Who lie on beds of ivory, Stretch out on your couches, Eat lambs from the flock And calves from the midst of the stall; 5 Who sing idly to the sound of stringed instruments, And invent for yourselves musical instruments like David; 6 Who drink wine from bowls, And anoint yourselves with the best ointments, But are not grieved for the affliction of Joseph. 7 Therefore they shall now go captive as the first of the captives, And those who recline at banquets shall be removed. 8 The Lord God has sworn by Himself, The Lord God of hosts says: "I abhor the pride of Jacob, And hate his palaces; Therefore I will deliver up the city And all that is in it." (Amos 6:1-8)
Those who think that they will be able to rely on the USA, possibly referred to as Mt. Samaria above, will be severely disappointed at a time in the future. And this includes those in the USA–including non-Philadelphian Christians "who are at ease in Zion."
God seems to give a few reasons why those who are now the descendants (the Anglo-Saxons) of Israel will be punished:
6 Thus says the Lord: "For three transgressions of Israel, and for four, I will not turn away its punishment, Because they sell the righteous for silver, And the poor for a pair of sandals. 7 They pant after the dust of the earth which is on the head of the poor, And pervert the way of the humble. A man and his father go in to the same girl, To defile My holy name. 8 They lie down by every altar on clothes taken in pledge, And drink the wine of the condemned in the house of their god. (Amos 2:6-8)

27 As a cage is full of birds, So their houses are full of deceit. Therefore they have become great and grown rich. 28 They have grown fat, they are sleek; Yes, they surpass the deeds of the wicked; They do not plead the cause, The cause of the fatherless; Yet they prosper, And the right of the needy they do not defend. 29 Shall I not punish them for these things?' says the Lord. 'Shall I not avenge Myself on such a nation as this?' (Jeremiah 5:27-29)
The Anglo-Saxons sin are wealth, having wicked deeds, and selling out morality for money. Also notice that they are wearing clothes taken in pledge. This would seem to mean that they have imported most of their clothes with pledges–debt that they will not pay back.
Notice also:
3 O My mountain in the field,
I will give as plunder your wealth, all your treasures,
And your high places of sin within all your borders.
4 And you, even yourself,
Shall let go of your heritage which I gave you;
And I will cause you to serve your enemies
In the land which you do not know;
For you have kindled a fire in My anger which shall burn forever. (Jeremiah 17:3-4)
What heritage have the Anglo-nations let go of? Well, basing their laws on the Bible and forgetting that they are descended from Israel!
Notice also the following:
16 Samaria shall become desolate; for she hath rebelled against her God: they shall fall by the sword: their infants shall be dashed in pieces, and their women with child shall be ripped up. (Hosea 13:16, KJV)
How do we know that the Anglo-nations in general, and the USA in particular, and not just the land of Judea are the target of some of the punishments? Well, other than the reference to Samaria above (which was not part of Judea), another reason is found in Daniel 11:39:
39 Thus he shall act against the strongest fortresses with a foreign god, which he shall acknowledge, and advance its glory; and he shall cause them to rule over many, and divide the land for gain. (Daniel 11:39)
The "he" is the final King of the North, the Beast of Revelation 13. The "strongest fortresses" in the world belong to the USA, and to a lessor degree, its Anglo-allies. The current nation of Israel does not have the strongest fortresses. And dividing the Anglo-lands would bring much more gain, than the land of Judea (see also Will the Anglo-Nations be Divided?). As many Bible commentators realize, at the time of the end there is no power that resembles the USA. Isaiah warns that "The fortress also will cease from Ephraim" (Isaiah 17:3)–but unlike Manasseh, Ephraim simply does not have the strongest fortresses. Some would call this attack World War III (WWIII; see also World War III: Steps in Progress).
The USA has some similarities to ancient Samaria and some prophecies related to 'Samaria' seem to be directed towards the USA (see Anglo – America in Prophecy & the Lost Tribes of Israel and also Germany in Biblical and Catholic Prophecy).
Some items of possibly related interest include the following:
COGwriter Position on Other Churches and Religions What is the fate of those who do not know Christ? What about those who profess Christ outside the Church of God?
Spiritual Samaritans: Old and New Who were the Samaritans? Do the represent true Christianity or something else? Here is a link to a related sermon: USA in Prophecy: Samaria.
The Good Samaritan A public domain claymation for younger people.
Mystery of Iniquity What is the mystery of iniquity? How did it start? How will it end? Two related sermons are also available: The Mystery of Iniquity and The Mystery of Lawlessness.
Where is the True Christian Church Today? This free online pdf booklet answers that question and includes 18 proofs, clues, and signs to identify the true vs. false Christian church. Plus 7 proofs, clues, and signs to help identify Laodicean churches. A related sermon is also available: Where is the True Christian Church?
Hope of Salvation: How the Continuing Church of God Differs from Protestantism The CCOG is NOT Protestant. This free online book explains how the real Church of God differs from mainstream/traditional Protestants. Several sermons related to the free book are also available: Protestant, Baptist, and CCOG History; The First Protestant, God's Command, Grace, & Character; The New Testament, Martin Luther, and the Canon; Eucharist, Passover, and Easter; Views of Jews, Lost Tribes, Warfare, & Baptism; Scripture vs. Tradition, Sabbath vs. Sunday; Church Services, Sunday, Heaven, and God's Plan; Seventh Day Baptists/Adventists/Messianics: Protestant or COG?; Millennial Kingdom of God and God's Plan of Salvation; Crosses, Trees, Tithes, and Unclean Meats; The Godhead and the Trinity; Fleeing or Rapture?; and Ecumenism, Rome, and CCOG Differences.
Beware: Protestants Going Towards Ecumenical Destruction! What is going on in the Protestant world? Are Protestants turning back to their 'mother church' in Rome? Does the Bible warn about this? What are Catholic plans and prophecies related to this? Is Protestantism doomed?
The Mark of Antichrist What is the mark of Antichrist? What have various ones claimed? Here is a link to a related sermon What is the 'Mark of Antichrist'?
Overview: How Does the Church of God Agree and Disagree with Other Faiths Professing Christ? This overview answers that and explains what the Church of God basically stands for. In the appendices provides information about certain complaints and as well as an overview about many COG-related groups.
Behind the Work: Go Therefore and Make Disciples How is the Continuing Church of God making disciples. What has been happening in the Continuing Church of God related to this and aspects of the final phase of the work. This 'behind the work' video shows New Zealand, Africa, Jerusalem, Vatican City, the USA, and the United Kingdom as well as one from Asia. Teaching and baptisms are shown.
Should the Church Still Try to Place its Top Priority on Proclaiming the Gospel or Did Herbert W. Armstrong Change that Priority for the Work? Some say the Church should mainly feed the flock now as that is what Herbert W. Armstrong reportedly said. Is that what he said? Is that what the Bible says? What did Paul and Herbert W. Armstrong expect from lower level leaders? A related sermon is available titled Priority of the Philadelphia Work.
The Final Phase of the Work What is the final phase of the work? Who will lead it? Do you have the courage to support it? Here is a related YouTube video titled The Final Phase of the Work. The written article has been translated into Spanish La Fase Final de la Obra.
Leading the Final Phase of the Work Matthew 24:14 teaches "And this gospel of the kingdom will be preached in all the world as a witness to all the nations, and then the end will come " will be fulfilled and RCG is not the group doing this. Who is leading the final phase of the work?
Anglo – America in Prophecy & the Lost Tribes of Israel Are the Americans, Canadians, English, Scottish, Welsh, Australians, Anglo-Saxon (non-Dutch) Southern Africans, and New Zealanders descendants of Joseph? Where are the lost ten-tribes of Israel? Who are the lost tribes of Israel? What will happen to Jerusalem and the Jews in Israel? Will God punish the U.S.A., Canada, United Kingdom, and other Anglo-Saxon nations? Why might God allow them to be punished first? Here is a link to the Spanish version of this article: Anglo-América & las Tribus Perdidas de Israel. Information is also in the YouTube sermons titled Where are the Ten Lost Tribes? Why does it matter? and British are the Covenant People. A short YouTube of prophetic interest may be: Are Chinese threats against Australia for real?
Will the Anglo-Saxon-Celtic Nations be Divided and Have People Taken as Slaves? Will the lands of the United States, United Kingdom, Canada, Australia, and New Zealand be divided? What about Jerusalem? What does Bible prophecy teach? Are there non-biblical prophecies that support this idea? Who will divide those lands? Who will end up with the lands and the people? Here is a link to a video titled Will the USA and other Anglo-nations be Divided and Their People Made Slaves? Here is a related item in the Spanish language ¿Serán divididas las naciones anglosajonas?
British are the Covenant People What do 'British' and 'Britain' mean in Hebrew? Are the descendants of the Anglo-Saxons people of the covenant? Does the British royal family connect to the throne of David? What does the Bible teach? What does history show us? Is there any DNA evidence related to British-Israelism? When did Christianity make it to the British Isles? Could Jeremiah have made it to the British Isles? What type of Christians made it to the British Isles? Did the last King of England believe in British Israelism?
Canada in Prophecy: What Does Bible Prophecy, Catholic Prophecy, and other Predictions Suggest About the Future of Canada? There are prophecies that suggest involvement with Canada. And many are not positive about its future. A sermon of related interest is also available: Canada in Prophecy.
Australia and New Zealand in Prophecy Do biblical prophecies help explain the wealth blessings for Australia and New Zealand? Might cursings from disobedience come in the 21st century? Here is a link to a related sermon: Australia and New Zealand: Origins and Prophecy.
The Ten Commandments: The Decalogue, Christianity, and the Beast This is a free draft/unedited pdf book explaining the what the Ten Commandments are, where they came from, how early professors of Christ viewed them, and how various ones, including the Beast of Revelation, will oppose them. A related sermon is titled: The Ten Commandments and the Beast of Revelation.
Protestant and Church of God views of the United States in Bible Prophecy Is the USA mentioned in Bible prophecy? Some Protestants say yes, while others say no. What does the Bible really teach? Learn the truth about this. There is also a video available: Is The United States Mentioned In Bible Prophecy?
Who is the King of the West? Why is there no End-Time King of the West in Bible Prophecy? Is the United States the King of the West?