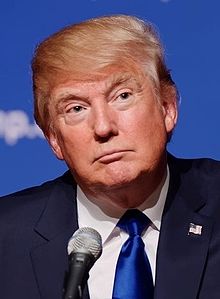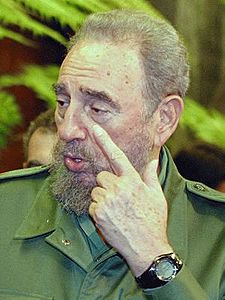 Donald Trump and Fidel Castro
Donald Trump made some comments about Cuba and Fidel Castro:
November 29, 2016
President-elect Donald Trump marked the first day of official mourning for Fidel Castro with a tweeted threat: If Cuba wasn't willing to make "a better deal" for Cubans and Americans, he'd reverse nascent US-Cuba ties.  http://www.cnn.com/2016/11/29/politics/trump-cuba-cold-front/index.html
Trump released a statement after Castro's death. He called the former leader "a brutal dictator who oppressed his own people for nearly six decades." He blamed Castro for "firing squads, theft, unimaginable suffering, poverty, and the denial of fundamental human rights."

Trump promised that, as president, he will do all he can "to ensure the Cuban people can finally begin their journey toward prosperity and liberty." 11/28/16 http://learningenglish.voanews.com/a/obama-trump-react-very-differently-to-death-of-fidel-castro-/3614895.html
The Wall Street Journal reported the following:
Donald Trump's Line on Cuba Unsettles Latin America

U.S. President-elect Donald Trump's threats to reverse the Obama administration's historic re-engagement with Cuba could drive a new wedge between Washington and Latin America, a region already suspicious of the next American leader over his rhetoric on immigration and trade.

Mr. Trump on Monday said he would roll back the U.S.'s improved relations with Cuba forged by President Barack Obama unless Cuba's Communist government offers "a better deal," following statements from his aides that he wants to pressure Havana for more democratic reform.

If Cuba is unwilling to make a better deal for the Cuban people, the Cuban/American people and the U.S. as a whole, I will terminate deal," Mr. Trump wrote in a message on Twitter.

Any undoing of the detente between Washington and Havana would be viewed as a big step back in the region, not only by leftist allies of Cuba like Venezuela and Bolivia but also by conservative governments in Brazil, Chile, Mexico and Colombia. It would also likely complicate regional cooperation on a range of issues, from immigration to security and anti-drug efforts.

"It would be a grave error by Mr. Trump," said former Ecuadorean Foreign Relations Minister Jose Ayala-Lasso. "It wouldn't only be a measure that would affect relations between Cuba and the United States, but I think all of Latin America that promoted a normalization of these relations would feel rejected and offended." …

Mr. Trump has already caused deep unease in Latin America. A cornerstone of his campaign was a pledge to build a border wall with Mexico and force it to pay—rhetoric many in the region saw as humiliating. Officials in Mexico and Central Americans countries have also expressed worries that potential deportations of illegal immigrants would strain local economies.

Mr. Trump has also pledged to revisit the North American Free Trade Agreement, which ties together Mexico, Canada and the U.S., and withdraw from the Trans-Pacific Partnership trade agreement, which involves Mexico, Peru and Chile. Already, Peru and Chile have started to look to China for further trade deals.

"It looks like Latin America is turning into a favorite punching bag for Trump's tweets, and here we can include Mexicans, the wall, and now Cuba," said Matthew Taylor, a Latin America expert at American University in Washington. 11/28/16  http://www.wsj.com/articles/donald-trumps-line-on-cuba-unsettles-latin-america-1480372939
It is not just Latin America that is concerned about Donald Trump, Europe is too. So much so, that the European Parliament voted to increase its military spending (see Europe moving towards its own army 'Europe may soon produce its own Trumps'), apparently in an effort to distance itself from the USA, at least partially because of Donald Trump. The German press even reported the following view:
Now, though, we must come to terms with a lack of Western leadership. … America was long the benchmark for the West. But if Trump governs as he promised he would during the campaign, the land of the free will abdicate its role as leader of the free world. Then, it will be Europe's turn. (see 'America Has Abdicated Its Leadership of the West').
Well, the "free world" of "the West" includes Latin America. Europe wants to lead the world, including Latin America.
As I have written for years, Latin American has long had ties to Europe and will one day cooperate more with the coming Beast power that will again arise there (cf. Revelation 13:1-10).
Notice also the following from the old Worldwide Church of God:
The 18th chapter of the book of Revelation depicts an end-of-the-age worldwide European economic system, exercising the same force over the modern world that ancient Babylon did 2,500 years ago over the ancient world. It will be an economic order encompassing much of the political world. It will reach its zenith after the decline and fall of the English-speaking powers. The key raw materials and industrialized products of Latin America will of necessity be drawn into such an alignment. Verses 11 through 13 of Revelation 18 even mention some of the exportable wealth of the Latin American world — silver, wood, iron, wheat, cattle and sheep. Watch Latin America — and Europe! (Hogberg G. NEW POWER BLOC IN SOUTH AMERICA? Plain Truth, December 1980)
Let me also add that Ezekiel 27:24 tells of embroidered garments and chests of multicolored apparel being traded. And I have personally seen this is in places in Latin America such as Mexico and Guatemala.
Let us also not forget that the current Bishop of Rome, Jorge Mario Bergoglio, now known as Pope Francis (see also Argentinian is now Pope Francis), was born in Argentina and lives in Vatican City, which is part of Europe.
Essentially, the Latin American nations are primarily made up of Gentile-descended peoples, many of which have some ties to Europe. During the prophesied "time of the Gentiles" the Gentile-descended nations, and not the Anglo-descended ones, will rule the earth (more information on that can be found in the article: When Will the Great Tribulation Begin? 2016, 2017, or 2018?
Another reason (beyond those in the video 13 Ways President-Elect Trump is Apocalyptic) that Donald Trump appears to be apocalyptic is that he is driving Latin America further away from the USA, and in my view, closer to Europe.
It is not that Donald Trump was wrong to criticize Fidel Castro or to question aspects of the Obama Administration's deal with Cuba, but it looks like his approach will help drive Europe and Latin America closer together. And that is consistent with various biblical prophecies  (e.g. Ezekiel 27:12-24; Revelation 13:1-10).
Some items of possibly related interest may include:
Mexico, Central America, South America, Brazil, and the Caribbean in Prophecy [Español: México, América central, Suramérica, Brasil y el Caribe en la profecía] [Português: México, América Central, Ámérica do Sul, e Brasil na profecia] What will happen to those of Latin America? Will they have prosperity? Will they cooperate with Europe? Will they suffer in the future? What role might the various Caribbean nations/territories play?
The Panama Canal and its Impact on Biblical Prophecy Do you know much of the history of the Panama Canal? Is there anything in the Bible to support the idea that the USA could have gotten it and then lost it? Dr. Thiel goes over aspects of the history of the Panama Canal, as well as biblical prophecies related to it and some of the other "sea gates" that the UK and USA have controlled. This was videoed at the actual Miraflores locks at the Panama Canal and some of the audio varies.
Europa, the Beast, and the Book of Revelation discusses the largest church since the second/third century, which in a real sense is the eighth church mentioned in the Book of Revelation (it also endorses "eighth day" worship). What church would support the Beast? Here is a link to a video titled: Europe and the 'Holy Roman Empire'.
Donald Trump in Prophecy Prophecy, Donald Trump? Are there prophecies that Donald Trump may fulfill?  Are there any prophecies that he has already helped fulfill?  Could a Donald Trump presidency be apocalyptic?  A related video is titled: 13 Ways President-Elect Trump is Apocalyptic.
When Will the Great Tribulation Begin? 2016, 2017, or 2018? Can the Great Tribulation begin today? What happens before the Great Tribulation in the "beginning of sorrows"? What happens in the Great Tribulation and the Day of the Lord? Is this the time of the Gentiles? When is the earliest that the Great Tribulation can begin? What is the Day of the Lord? Who are the 144,000? Here is a version of the article in the Spanish language: ¿Puede comenzar la Gran Tribulación en 2016 o 2017? ¿Es el Tiempo de los Gentiles? You can also see the English language sermon videos: The Great Tribulation from the Mount of Olives and Can the Great Tribulation begin before 2020? A shorter video is: Can the Great Tribulation Start in 2016?