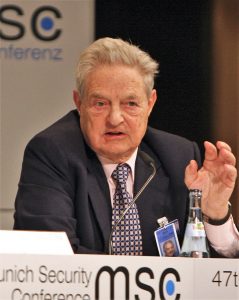 George Soros (photo by Harald Dettenborn)

Billionaire George Soros made comments about the future of internet firms and governmental control:
January 28, 2018

Billionaire philanthropist and leading donor to liberal causes George Soros predicted Thursday that regulation and taxation will soon dethrone Facebook and Google, describing the tech industry's major players as powerful monopolies that harm individuals, market innovation and democracy.

In a wide-ranging, scathing speech delivered at a dinner event at the World Economic Forum in Davos, Switzerland, Soros applauded the European Union's heightened enforcement aimed at Web giants. He also called for greater regulation of the tech companies, seizing on a growing backlash against Silicon Valley.

"Facebook and Google have grown into ever more powerful monopolies, they have become obstacles to innovation, and they have caused a variety of problems of which we are only now beginning to become aware," he said, according to a transcript of the speech. …

Facebook and Google have said they are open to greater government oversight in their ad operations. But Facebook has gone even further in recent weeks, publicly grappling with its role in global society. Last week Facebook even admitted in a blog post that social media can sometimes harm democracy.

Soros suggested that American officials draw from their European counterparts, particularly EU Competition Commissioner Margrethe Vestager, whom he described as the "nemesis" of American tech monopolies. Vestager, a former Danish economy minister, and other EU officials have recently advanced a host of enforcement actions against prominent U.S. tech companies.

EU officials have sued Google over alleged antitrust violations tied to its search engine, its mobile operating system and its ad platform. In 2016, competition authorities ordered Apple to pay Ireland more than $15 billion in uncollected taxes; and Facebook has been penalized by several privacy watchdogs for breaking data protection rules. http://www.vnews.com/Facebook-and-Google-are-doomed-billionaire-George-Soros-says-15156621
So, George Soros wants governments to reign in internet firms and to control them more.
Notice another report about this:
George Soros used the spotlight of the World Economic Forum in Davos, Switzerland on Thursday to urge the international community to take seriously the threats posed by Facebook and Google, which he said could ultimately spawn "a web of totalitarian control" if they are not reined in.

Particularly alarming, Soros said, is the prospect of Facebook and Google – which he scathingly deemed a "menace" to society – teaming up with "authoritarian states" to "bring together nascent systems of corporate surveillance with an already developed system of state-sponsored surveillance."

Such "unholy marriages" could result in a strain of authoritarianism "the likes of which not even Aldous Huxley or George Orwell could have imagined," the billionaire investor cautioned. https://www.zerohedge.com/news/2018-01-27/even-orwell-and-huxley-couldnt-imagine-threat-posed-facebook-and-google
Back in 1949, when author George Orwell wrote nineteen eighty-four (1984), the technology for the type of governmental surveillance he wrote about did not exist.
It does now.
Irrespective of what one thinks of George Soros, the fact is that internet firms have worked with "authoritarian states" as well as states in Europe that the Bible shows will become more authoritarian.
In many parts of the world, governments are collecting the massive amounts of data on their people like that which is alluded to in Orwell's novel.
With the rise of technology we have also seen the rise of governmental monitoring and censorship.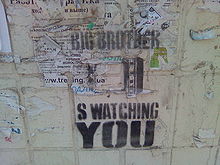 Ukrainian poster on side of an industrial building (Борис У.)
The most famous line I remember related to '1984' was "Big Brother is Watching You."
In more and more ways now, that is possible.
Sadly, increased governmental surveillance is supported by the Trump Administration in the USA (see Donald Trump's presidency has been fulfilling many predictions). But I will also add that his Administration is mainly building on the what the Bush Administration started with the so-called Patriot Act, and the massively expanded surveillance under the Obama Administration. I warned against these back in 2012 (USA now in Orwellian society?), 2013 (It's not paranoia: The USA government is engaged in massive surveillance on its citizens and others; Germany applauds Snowden. and Can 'big brother' watch you through your television?), and each year since.
While George Orwell did not write about private companies like Facebook, Google, Twitter, or YouTube, those companies clearly do not support the agenda or the morality of the Bible. These tech companies have repeatedly been involved in surveillance and censorship.
The world is getting less tolerant of speech that does not conform to what governments find 'acceptable' or believes is 'truth.' Plus, it seems to place precious little value on the truth.
More surveillance and more censorship is expected–and it will get really bad in Babylonian Europe according to Bible prophecy:
15 He was granted power to give breath to the image of the beast, that the image of the beast should both speak and cause as many as would not worship the image of the beast to be killed. 16 He causes all, both small and great, rich and poor, free and slave, to receive a mark on their right hand or on their foreheads, 17 and that no one may buy or sell except one who has the mark or the name of the beast, or the number of his name.

18 Here is wisdom. Let him who has understanding calculate the number of the beast, for it is the number of a man: His number is 666. (Revelation 13:15-18)
It was not possible to monitor all buying and selling when George Orwell wrote his novel. But as many societies head towards cashlessness, that is becoming more possible. The use of the internet, cellular telephones, security cameras, and other 'smart' devices have given companies and governments the ability to monitor like never before.
Sadly, the type of society that George Orwell wrote about is taking shape. Many realize it, but do not know what do to about it. But many can be called now (see What Did Christ Mean – Many Are Called, But Few Are Chosen?).
Furthermore, there is good news as the Kingdom of God will come and replace the Orwellian (Revelation 13:16-18) system that we see being put together today.
A while back, we put together the following video on our Bible News Prophecy YouTube channel:
In 1949, the late George Orwell wrote a disturbing book about a totalitarian government called "nineteen-eighty four." Despite laws that are supposed to protect freedom of speech and religion, we are seeing governments taking steps consistent with those that George Orwell warned against. We are also seeing this in the media, academia, and in private companies like Google, Facebook, and Twitter. With the advent of technology, totalitarianism beyond what Orwell wrote is possible. Does the Bible teach of the coming of a totalitarian state similar to George Orwell's? What about the Antichrist and 666? Will things get worse? What is the solution? Dr. Thiel answers these questions and more. A written article of related interest is titled "Totalitarian controls getting closer–The Guardian pushing internet censorship."
We are getting closer to a time that supposedly non-authoritarian governments will become more authoritarian and more controlling–it is happening already!
George Soros' comments will not prevent the end-time Babylonian beast from rising up and putting in place a totalitarian regime that will, for a time, dominate the world. Tech companies, mostly unintentionally, are helping to speed up the day this will happen.
Some items of possibly related interest may include:
The Final Phase of the Work What is the final phase of the work? Who will lead it? Do you have the courage to support it? Here is a related YouTube video titled The Final Phase of the Work. The written article has been translated into Spanish La Fase Final de la Obra.
Preparing for the 'Short Work' and The Famine of the Word What is the 'short work' of Romans 9:28? Who is preparing for it? Here is a link to a related video sermon titled: The Short Work.
The Gospel of the Kingdom of God This free online pdf booklet has answers many questions people have about the Gospel of the Kingdom of God and explains why it is the solution to the issues the world is facing. Here are links to three related sermons: The World's False Gospel, The Gospel of the Kingdom: From the New and Old Testaments, and The Kingdom of God is the Solution.
When Will the Great Tribulation Begin? 2018, 2019, or 2020? Can the Great Tribulation begin today? What happens before the Great Tribulation in the "beginning of sorrows"? What happens in the Great Tribulation and the Day of the Lord? Is this the time of the Gentiles? When is the earliest that the Great Tribulation can begin? What is the Day of the Lord? Who are the 144,000? Here is a version of the article in the Spanish language: ¿Puede comenzar la Gran Tribulación en 2018 o 2019? ¿Es el Tiempo de los Gentiles? You can also see the English language sermon videos: The Great Tribulation from the Mount of Olives and Can the Great Tribulation begin before 2020? A shorter video is: Can the Great Tribulation begin in 2018?
The Times of the Gentiles Has there been more than one time of the Gentiles? Are we in it now or in the time of Anglo-America? What will the final time of the Gentiles be like? A related sermon is available and is titled: The Times of the Gentiles.
Is God's Existence Logical? Some say it is not logical to believe in God. Is that true? Here is a link to a YouTube sermon titled Is it logical to believe in God?
Is Evolution Probable or Impossible or Is God's Existence Logical? Part II This short article clearly answers what 'pseudo-scientists' refuse to acknowledge. Here is a link to a YouTube video titled Is There Another View of Evolution? and another titled Quickly Disprove Evolution as the Origin of Life.
Are You Being Called by God? Norman Shoaf wrote various points to consider.
Is God Calling You? Alfred E Carrozzo wrote this.
What Did Christ Mean – Many Are Called, But Few Are Chosen? This article was by Raymond McNair.
Christian Repentance Do you know what repentance is? Is it really necessary for salvation? A related sermon is also available titled: Real Christian Repentance.
Two Horned Beast of Revelation and 666 Who is 666? This article explains how the COG views this, and compares this to Ellen White. Here is a link to a prophetic video Six Financial Steps Leading to 666?
Anglo – America in Prophecy & the Lost Tribes of Israel Are the Americans, Canadians, English, Scottish, Welsh, Australians, Anglo-Saxon (non-Dutch) Southern Africans, and New Zealanders descendants of Joseph? Where are the lost ten-tribes of Israel? Who are the lost tribes of Israel? What will happen to Jerusalem and the Jews in Israel? Will God punish the U.S.A., Canada, United Kingdom, and other Anglo-Saxon nations? Why might God allow them to be punished first? Here is a link to the Spanish version of this article: Anglo-América & las Tribus Perdidas de Israel. A video of possible interest may be Will Will USA Spying Help the Beast Power?
Leading the Final Phase of the Work Matthew 24:14 teaches "And this gospel of the kingdom will be preached in all the world as a witness to all the nations, and then the end will come " will be fulfilled and RCG is not the group doing this. Who is leading the final phase of the work? What did Herbert Armstrong and the old WCG teach about that and about prophets? Does Bob Thiel meet the criteria that the Bible and the old WCG set? What is the proof? What has the Continuing Church of God been doing? This is a sermonette length video.
Who is the King of the North? Is there one? Do biblical and Roman Catholic prophecies for the Great Monarch point to the same leader? Should he be followed? Who will be the King of the North discussed in Daniel 11? Is a nuclear attack prophesied to happen to the English-speaking peoples of the United States, Great Britain, Canada, Australia, and New Zealand? When do the 1335 days, 1290 days, and 1260 days (the time, times, and half a time) of Daniel 12 begin? When does the Bible show that economic collapse will affect the United States? In the Spanish language check out ¿Quién es el Rey del Norte? Here is a link to a video titled: The Future King of the North.
Internet Control, Famine of the Word, and 666 On October 1, 2016, the USA officially relinquished control over the Internet Corporation for Assigned Names and Numbers (ICANN), despite objections from certain political leaders and former military officials. Might this lead to more censorship, imposition on non-biblical 'community standards,' and loss of first amendment rights? Could this transfer of control have any prophetic ramifications? Will the internet be a factor in the 'short work' of Romans 9:28 and the coming 'famine of the word' that the Prophet Amos warned about? Will internet control be something that the 666 power will have? Dr. Thiel addresses these matters and more in this video.
USA in Prophecy: The Strongest Fortresses Can you point to scriptures, like Daniel 11:39, that point to the USA in the 21st century? This article does. A related sermon is titled: Do these 7 prophesies point to the end of the USA?
Who is the King of the West? Why is there no Final End-Time King of the West in Bible Prophecy? Is the United States the King of the West? Here is a version in the Spanish language: ¿Quién es el Rey del Occidente? ¿Por qué no hay un Rey del Occidente en la profecía del tiempo del fin?
Donald Trump in Prophecy Prophecy, Donald Trump? Are there prophecies that Donald Trump may fulfill?  Are there any prophecies that he has already helped fulfill?  Is a Donald Trump presidency proving to be apocalyptic?  Two related videos are available: Donald: 'Trump of God' or Apocalyptic? and Donald Trump's Prophetic Presidency.
Trump Presidency Magic 8 Ball or Bible Prophecy? BBC reported that one might as well use a 'Magic Eight-Ball' to try to predict what will happen in the remaining time of Donald Trump's presidency. What is a 'Magic Eight-Ball'? Dr. Thiel not only explains that, but also briefly goes over 10 biblically-based warnings he wrote would happen if Donald Trump were elected that have already began to come to pass. He also goes over something he wrote back in 2008 that the Trump presidency is also helping lead to fulfillment. Should you trust Bible prophecy or not? Dr. Thiel says that Bible prophecy can be trusted, despite the view of skeptics and others that either overlook or despise the Bible. This is a video.
Donald Trump and America's Apocalypse This 188 page book is for people truly interested in prophecies related to Donald Trump and the United States, including learning about several that have already been fulfilled and those that will be fulfilled in the future. The physical book can be purchased at Amazon for $12.99 from the following link: Donald Trump and America's Apocalypse.
Donald Trump and America's Apocalypse-Kindle Edition This electronic version of the 188 page print edition is available for only US$3.99. And you do not need an actual Kindle device to read it. Why? Amazon will allow you to download it to almost any device: Please click HERE to download one of Amazon s Free Reader Apps. After you go to for your free Kindle reader and then go to Donald Trump and America's Apocalypse-Kindle Edition.