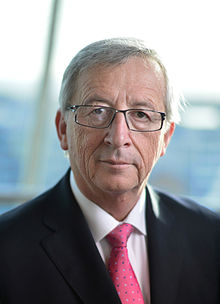 Jean Claude Juncker
Several readers sent links about EU Commission President Jean Claude Juncker's call for a European army, because of threats from Russia.  Not surprisingly, Russia is not happy with this nor does the UK agree with President Juncker:
March 8, 2015

The European Union needs its own army to help address the problem that it is not "taken entirely seriously" as an international force, the president of the European commission has said.

Jean-Claude Juncker said such a move would help the EU to persuade Russia that it was serious about defending its values in the face of the threat posed by Moscow.

However, his proposal was immediately rejected by the British government, which said that there was "no prospect" of the UK agreeing to the creation of an EU army.

"You would not create a European army to use it immediately," Juncker told the Welt am Sonntag newspaper in Germany in an interview published on Sunday.

"But a common army among the Europeans would convey to Russia that we are serious about defending the values of the European Union."

Juncker, who has been a longstanding advocate of an EU army, said getting member states to combine militarily would make spending more efficient and would encourage further European integration.

"Such an army would help us design a common foreign and security policy," the former prime minister of Luxembourg said.

"Europe's image has suffered dramatically and also in terms of foreign policy, we don't seem to be taken entirely seriously."

Juncker also said he did not want a new force to challenge the role of Nato. In Germany some political figures expressed support for Juncker's idea, but in Britain the government insisted that the idea was unacceptable.

A UK government spokesman said: "Our position is crystal clear that defence is a national – not an EU – responsibility and that there is no prospect of that position changing and no prospect of a European army." http://www.theguardian.com/world/2015/mar/08/jean-claude-juncker-calls-for-eu-army-european-commission-miltary

March 8, 2015

European Commission president Jean-Claude Juncker has said a common European army would be a timely deterrent against further Russian aggression on the continent.Mr Juncker insisted there will "never" be a Greek exit from the euro zone but demanded that further financial assistance for Athens should be more political than technocratic.

Mr Juncker said pooling military capability would demonstrate EU member states's determination never to go to war against each other. But the true value of such an institution, he said, lay in the situation further east.

"A common army of Europeans would give Russia the clear impression that we are serious with the defence of European values," he told Germany's Welt am Sonntag newspaper. "Before I thought that one no longer had to justify Europe but I have understood that there is a necessity for this. Europe has lost enormously in reputation, in foreign policy one doesn't take us too seriously."

Mr Juncker's remarks are a welcome intervention for German defence Minister Ursula von der Leyen. Since taking office 18 months ago, Ms von der Leyen has been working to modernise the German military and has always emphasised her hope for a European component to her efforts.

Last month Ms von der Leyen said she was confident that "perhaps not my children but my grandchildren will have a United States of Europe" with its own military.

The commission president's remarks were given a strong welcome in Berlin's ruling Christian Democratic Union (CDU). Its Bundestag foreign policy head Norbert Rottgen said an EU army "is a European vision whose time has come".

On Monday in Brussels, former Nato chief and EU foreign policy head Javier Solana will present calling for a new European security strategy – including military capability – for intervention beyond EU borders.
March 9, 2015

A leading member of Russia's legislative State Duma has slammed the idea of establishment of a common EU army as "provocative."

"In the nuclear age extra armies do not provide any additional security. But they surely can play a provocative role," said State Duma's First Deputy Chairman of the United Russia Faction Frants Klintsevich in a press briefing on Sunday.

He expressed regret that such a proposal had already received some support.

The reaction by the Russian lawmaker came after President of the European Commission (EC) Jean-Claude Juncker called on Sunday for the creation of a European Union army during an interview with the German weekly Welt am Zontag. http://www.presstv.ir/Detail/2015/03/09/400990/Russia-MP-calls-EU-army-idea-provocative
Notice that European Commission President Juncker is stating that he wants a European army to deal with Russia.  He also wants an army so that EUROPE will be taken seriously internationally.  In the past, leaders associated with the USA have made disparaging remarks about Europe and have treated Europe as a second or third rate entity.  President Juncker does not want that to continue, plus he wants to show Russia that Europe does intend to be a force to be reckoned with.
It is no surprise that leaders in Germany want a European army as well as a 'United States of Europe.'  The late Herbert W. Armstrong was teaching that this was the case even shortly after Germany's defeat in World War II.  Germany still has ambitions that involve having military power.  Lesson 3 of the Study the Bible course that the Continuing Church of God put out last year covered this as well.
As far as the UK is concerned, UK Prime Minister David Cameron was opposed to Jean-Claude Juncker becoming EU Commission President.  He felt that the policies of Jean-Claude Juncker may well persuade voters in the UK to pull out of the European Union. The departure of the UK from the EU has been called a Brixit or Brexit, meaning a British exit. As far as the UK's role in the future, as I have written many times before, the UK will not remain a major power in the final European configuration. The UK will be taken over and essentially devoured by the Beast power (cf. Daniel 11:39; for more details see Anglo – America in Prophecy & the Lost Tribes of Israel). And it may well leave prior to its final formation.
As far as Russia goes, it is attempting to upgrade its military.  Biblical prophecy indicates that it will, for a time, cooperate with the rising military and economic European Beast power.  But the Bible also teaches that an alliance involving Russia will ultimately defeat the European power.  The announcement by President Juncker that Europe needs an army to deal with Russia is not something that the Russians will forget, including when they do cooperate with Europe.
As far as President Juncker goes, he has long been advocating a bigger and more powerful European Union.  Notice something he put forth last year:
As we enter the new legislative cycle following the European Parliament elections in May 2014, the time has come for a new approach…I see it as my key task to rebuild bridges in Europe after the crisis. To restore European citizens' confidence…I want a European Union that is bigger and more ambitious on big things, and smaller and more modest on small things…

My first priority as Commission President will be to strengthen Europe's competitiveness and to stimulate investment for the purpose of job creation . I intend to present, within the first three months of my mandate and in the context of the Europe 2020 review , an ambitious Jobs, Growth and Investment Package…I do not believe that we can build sustainable growth on ever – growing mountains of debt…


The focus of this additional investment should be in infrastructure, notably broadband and energy networks as well as transport infrastructure in industrial centres; education, research and innovation; and renewable energy and energy efficiency…

I believe that we must make much better use of the great opportunities offered by digital technologies , which know no borders…By creating a connected digital singl e market, we can generate up to € 25 0 billion of additional growth in Europe in the course of the mandate of the next Commission, thereby creating hundreds of thousands of new jobs , notably for younger job – seekers, and a vibrant knowledge – based society…To achieve this, I intend to take , within the first six months of my mandate, ambitious legislative steps towards a connected digital single market, notably by swiftly concluding negotiations on common European data protection rules…

We need to diversify our energy sources, and reduce the high energy dependency of several of our Member States…I strongly believe in the potential of green growth. I therefore want Europe's Energy Union to become the world number one in renewable energies . I would also like to significantly enhance energy efficiency beyond the 2020 objective…

We need to bring industry's weight in the EU 's GDP back to 20% by 2020, from less than 16% today. This should ensure that Europe maintain s its global leadership in strategic sectors with high – value jobs such as the automotive, aeronautics, engineering, space, chemicals and pharmaceutical industries. To achieve this, we need to stimulate investment in new technologies, improve the business environment, ease access to markets and to finance, particularly for SMEs, and ensure that workers have the skills industry needs.

A continuing priority is to finish fixing the problems of our banking sector and to boost private investment. I have been a strong supporter of the development of stricter controls on banks through a Single Supervisory Mechanism and a Single Resolution Mechanism with a Single Resolution Fund that will be built up progressively. My Commission will be active and vigilant in ensuring that we implement the new supervisory and resolution rules fully , making European banks more robust so that they can get back to lending to the real economy…

I will notably press ahead with administrative cooperation between tax authorities and work for the adoption at EU level of a Common Consolidated Corporate Tax Base and a Financial Transaction Tax…

I want to launch legislative and non – legislative initiatives to deepen our Economic and Monetary Union during the first year of my mandate…

Under my presidency, the Commission will negotiate a reasonable and balanced trade agreement with the United States of America…However, as Commission President, I will also be very clear that I will not sacrifice Europe's safety, health, social and data protection standards or our cultural diversity on the altar of free trade. Notably, the safety of the food we eat and the protection of Europeans' personal data will be non – negotiable for me as Commission President…

Data protection is a fundamental right of particular importance in the digital age. In addition to swiftly finalising the legislative work on common data protection rules within the European Union, we also need to uphold this right in our external relations. In view of recent mass surveillance revelations, close partners such as the United States must convince us that the current safe harbour arrangements really are safe if they want them to continue. The U.S. must also guarantee that all EU citizens have the right to enforce data protect ion rights in U.S. courts, whether or not they reside on U.S. soil. This will be essential for restoring trust in transatlantic relations…

I also believe that we need to work on a stronger Europe when it comes to security and defence matters. (Juncker JC. A New Start for Europe: My Agenda for Jobs, Growth, Fairness and Democratic Change: Political Guidelines for the next European Commission. Strasbourg, July 15, 2014. http://ec.europa.eu/about/juncker-commission/docs/pg_en.pdf)
I have warned for years that Europe would utilize technology to rise up (see European Technology and the Beast of Revelation), and that is clearly President Juncker's intent. He wants to do this without massive debt. Jean-Claude Juncker wants to raise taxes and seeming plans on implementing new ones.  The Bible warns of a 'raiser of taxes' (cf. Daniel 11:20) and it is possible that Jean-Claude Juncker could be that leader.  If he dies unexpectedly after doing so, then that could confirm that he held that role.
Notice also the following news item:
March 7, 2015

European Union's executive Commission President Jean-Claude Juncker says that Greece will never leave the euro zone, that were it to do so it would cause irreperable damage to the EU
President Juncker wants a large, united, economic power in Europe.
Jean-Claude Juncker wants a Europe that is capable of fulfilling prophecies in Daniel 11 and Revelation 13. BTW, it can only be in Europe that the final Beast of the sea can rise up (cf. Daniel 7:2-8; (Joshua 9:1; 23:4; Ezekiel 47:13-16; see also Europa, the Beast, and Revelation).
The Bible tells of a time when Europe will rise up militarily (Revelation 13:4; Daniel 11:39-43), religiously (Revelation 13:4-15), and economically (Revelation 13:16-18; Revelation 18) for the last time and dominate the world for a short while.
President Juncker wants Europe to have that type of power.  His calls for a European army and continued economic unity are consistent with that.
Some items of possibly related interest may include:
Europa, the Beast, and Revelation Where did Europe get its name? What might Europe have to do with the Book of Revelation? What about "the Beast"? Is an emerging European power "the daughter of Babylon"? What is ahead for Europe? Here is a link to a video titled: Can You Prove that the Beast to Come is European?
European Technology and the Beast of Revelation Will the coming European Beast power would use and develop technology that will result in the taking over of the USA and its Anglo-Saxon allies? Is this possible? What does the Bible teach? Here is a related YouTube video: Military Technology and the Beast of Revelation.
Must the Ten Kings of Revelation 17:12 Rule over Ten Currently Existing Nations? Some claim that these passages refer to a gathering of 10 currently existing nations together, while one group teaches that this is referring to 11 nations getting together. Is that what Revelation 17:12-13 refers to? The ramifications of misunderstanding this are enormous.
World War III: Steps in Progress Are there surprising actions going on now that are leading to WWIII? Might a nuclear attack be expected? Does the Bible promise protection to all or only some Christians? How can you be part of those that will be protected? A related video would be Is World War III About to Begin? Can You Escape?
WTO/TTIP and the Babylonian Beast Will international trade agreements like WTO/TTIP/CETA lead to the fulfillment of end time prophecies concerning the Babylonian Beast power that the Book of Revelation warns against? What does the Bible teach? A related video would be WTO Trade Deal and the Rise of the European Beast Power.
Germany's Assyrian Roots Throughout History Are the Germanic peoples descended from Asshur of the Bible? Have there been real Christians in Germanic history? What about the "Holy Roman Empire"? There is also a You-Tube video sermon on this titled Germany's Biblical Origins.
Germany in Biblical and Catholic Prophecy Does Assyria in the Bible equate to an end time power inhabiting the area of the old Roman Empire? What does prophecy say Germany will do and what does it say will happen to most of the German people? Here is a link to a video Is the USA Pushing Germany to Start WWIII?
Wars, rumors of wars, and the Apocalypse Jesus foretold a time before the end where there would be wars and rumors of wars. The Apocalypse (the Book of Revelation) warns of the red horseman of war. Now, even secular writers, like Larry Edelson, are worried that wars and rumors of war are the most menacing problem that now haunts the earth? Are they right? What is the solution? This is a sermonette-length video.
Is Russia the King of the North? Some claim it is. But what does the Bible teach? Here is a link to a video, also titled Is Russia the King of the North?
The Eurasian Union, the Kings of the East, and Bible Prophecy Is there a Eurasian union that will be formed? Is one being formed right now? Are any leaders working on that in the 21st century? Does the Bible teach that there will be a Eurasian union? If some type of Eurasian union is formed, who might it benefit and who will it destroy? A related video would be Is The Eurasian Union Rising?
Who is the King of the North? Is there one? Do biblical and Roman Catholic prophecies for the Great Monarch point to the same leader? Should he be followed? Who will be the King of the North discussed in Daniel 11? Is a nuclear attack prophesied to happen to the English-speaking peoples of the United States, Great Britain, Canada, Australia, and New Zealand? When do the 1335 days, 1290 days, and 1260 days (the time, times, and half a time) of Daniel 12 begin? When does the Bible show that economic collapse will affect the United States? In the Spanish language check out ¿Quién es el Rey del Norte? Here is a link to a video titled: The Future King of the North.
Russia and Ukraine: Origins and Prophesied Future Where do the Russians come from? What about those in the Ukraine? What is prophesied for Russia and its allies? What will they do to the Europeans that supported the Beast in the end? You can also watch the short video Ukraine in Prophecy?
Russia in the Bible and in Prophecy Is Russia mentioned in the Bible? It it is where is it? Is there any evidence of a people moving to the land that the Russians now occupy? What do Catholic and other prophecies say about Russia? What does the Bible teach? How are Protestants often in error on this? Is there more in biblical prophecy for Russia than war? Does God have a plan to save Russia and her allies? Does Russia have a history involving Sabbath keepers? Does scripture tie Russia in with Armageddon? Will Russia help defeat the end time Babylonian power? What did the Apostle John, and the prophets Isaiah, Jeremiah, and Daniel, write about Russia? This is a sermon-length video.
Ezekiel 38: For Russia & Iran in Our Day? Is Ezekiel 38 about to be fufilled? A related video is available titled Ezekiel 38: For Russia, Ukraine, & Iran Now?
Bible News Prophecy July-Sept. 2014: The Coming Eurasian Union Here is the latest magazine from the Continuing Church of God. The cover of which shows Vladimir Putin and features an article about the coming Eurasian Union.
Anglo – America in Prophecy & the Lost Tribes of Israel Are the Americans, Canadians, English, Scottish, Welsh, Australians, Anglo-Saxon (non-Dutch) Southern Africans, and New Zealanders descendants of Joseph? Where are the lost ten-tribes of Israel? Who are the lost tribes of Israel? What will happen to Jerusalem and the Jews in Israel? Will God punish the U.S.A., Canada, United Kingdom, and other Anglo-Saxon nations? Why might God allow them to be punished first? Here is a link to the Spanish version of this article: Anglo-América & las Tribus Perdidas de Israel. Information is also in the YouTube sermons titled Where are the Ten Lost Tribes? Why does it matter? and British are the Covenant People. A short YouTube of prophetic interest may be Barack Obama and the State of the Apocalypse.
Will the Anglo-Saxon Nations be Divided and Have People Taken as Slaves? Will the lands of the United States, United Kingdom, Canada, Australia, and New Zealand be divided? What about Jerusalem? What does Bible prophecy teach? Are there non-biblical prophecies that support this idea? Who will divide those lands? Who will end up with the lands and the people? Here is a link to a video titled Will the USA and other Anglo-nations be Divided and Their People Made Slaves? Here is a related item in the Spanish language ¿Serán divididas las naciones anglosajonas?
British are the Covenant People What do 'British' and 'Britain' mean in Hebrew? Are the descendants of the Anglo-Saxons people of the covenant? Does the British royal family connect to the throne of David? What does the Bible teach? What does history show us? Is there any DNA evidence related to British-Israelism? When did Christianity make it to the British Isles? Could Jeremiah have made it to the British Isles? What type of Christians made it to the British Isles? Did the last King of England believe in British Israelism?