Wednesday, February 25th, 2015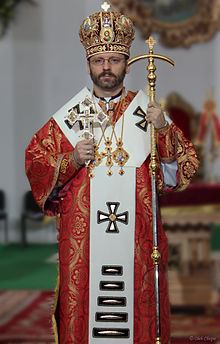 Major Archbishop Sviatoslav Shevchuk (Kremlin.ru)
Ukrainian Catholic Major Archbishop Sviatoslav Shevchuk would like Pope Francis to speak louder against Russia:
February 25, 2015

The head of Ukraine's Greek Catholic church has urged a tougher line on Russian aggression in his country both from Pope Francis and the international community.

Archbishop Sviatoslav Shevchuk said on Feb. 23 that a Feb. 4 statement from Francis, in which he called the conflict between the Ukrainian government and pro-Russian separatists "fratricidal," was "particularly painful for all the people in Ukraine."

Shevchuk noted that a recent line from the Pope about fighting in eastern Ukraine was reminiscent of the effect of Soviet "propaganda," the Catholic publication Crux on Feb. 23.

The Greek Catholic leader from the conflict-wracked country said the Pope's line had rankled Ukrainians who see the violence on the Crimean peninsula not as a civil conflict, but an act of foreign aggression by Russia.

Shevchuk expressed regret that Francis did not specifically point a finger at Russia in his Feb. 20 remarks to a group of visiting Ukrainian bishops, instead referring only to a "situation of grave conflict."

In asking for prayers for the victims in Ukraine, many of whom are civilians, and for the families, the Pope said "let us pray the Lord so that this horrible fratricide violence may cease as soon as possible."

The reference to this "fratricide violence" is what is believed to have rankled many Ukrainians who see the conflict as induced by Russian intervention.

"As sons, we always expect more from the Holy Father," Shevchuk said, while adding that "we respect his freedom to use the words that will help him mediate in the peace process."

Shevchuk's remarks came at the end of a visit Ukraine's Greek Catholic bishops to Rome that Catholic prelates are required to make every five years.

He said he discussed the situation in Ukraine with the Pope, and believes Francis may soon deliver an important "action" to express his solidarity.

The roughly 6 million strong Greek Catholic Church in Ukraine is the largest of the 22 Eastern churches in communion with the Holy See in Rome.

Read more: http://www.ecumenicalnews.com/article/ukrainian-catholic-leader-urges-tougher-line-from-pope-on-russia-28416#ixzz3SlhdwqWb
Pope Francis has not come out in favor of the Kiev government as much as those in western Ukraine would have liked. Pope Francis has refrained from being highly critical of Russia in all of this for several reasons, including his relationship with Russian President Vladimir Putin and his desire to attain unity with the Russian Orthodox church.
Earlier this month, the Patriarch of the Russian Orthodox Church praised the Vatican for basically not taking a hard stance against Russia (see Russian Patriarch Kirill praises Vatican's approach to Ukrainian crisis).  Interestingly, I was reading an article yesterday from a Roman Catholic source (Fatima Crusader, Winter, 2015) that spent a fair amount of time defending Russia and condemning the West for a lot of what is happening in Ukraine.
Of course, not all withing the Roman Catholic faith support the Russian side (see Pope Francis objecting to current 'piecemeal' World War III; Vatican radio reports bishops blasting Russia for blood in Ukraine). Therefore, Pope Francis is probably looking at how to handle much of this with minimal offense.
I would also add that Pope Francis has had a positive personal relationship with Russia's President Vladimir Putin (see Russia's Putin and Pope Francis both kiss Marian icon).  The Vatican itself has praised Vladimir Putin in the past (see Vatican credits Russia's Putin for 'defending Christianity' and confirms a meeting).  Vladimir Putin, despite his flaws, has taken public stands against certain forms of immorality that most Western political leaders would never take (e.g.  Russia's Putin blasts West on Syria and Western media disapproves of his position on homosexuality and Russia's Vladimir Putin takes a stand against vulgar language).
As most realize, the Russian Orthodox Church has the most members of any branch of the Eastern Orthodox faith (between around 180-200 million).  Since Pope Francis wants to get ecumenical unity with the Eastern Orthodox, he likely has concluded that he needs to be careful to not directly offend much them if he perceives that as possible.
The Vatican's approach to Ukraine, in my view, is mainly one of alignment with the ecumenical and interfaith agenda that Pope Francis has. As I have written before, I believe that the Russian Orthodox will, for a time, provide at least tacit support for the changed 'Catholic' faith of the Church of Rome and the final Beast power that will arise in Europe. However, since the Bible shows that a Russian-led confederation will turn against the end time 'daughter of Babylon' that Europe will become (Jeremiah 50:41-43; 51:27-33), it would seem that the Russian Orthodox church will also distance itself from whatever version of religion that final Beast power will cling to (the Babylonian leaders will turn against the Church of Seven Hills according to the Bible–Revelation 17:9,16-18).
That being said, though there will likely be ups and downs in the relationship, continue to look for cooperation between the Russian Orthodox and the Vatican for the next several years at least.
Here is some news related to what is going on in Ukraine:
February 25, 2015

Ukraine's military for the second consecutive day reported a "significant reduction" in attacks by pro-Russian rebels, but said a cease-fire has not yet taken hold in eastern Ukraine.

Rebels carried out 19 attacks on government-held territory and targets over the previous 24 hours, according to a Facebook statement Wednesday by the press center for the Kyiv military.

On Tuesday, rebels began pulling heavy weapons back from the front lines, as required by an internationally mediated cease-fire that was supposed to begin February 15.

The Ukraine government has said it will not pull back its weapons until the rebel attacks cease completely. It said it is abiding by the terms of the truce, but reserves the right to return fire.

Meanwhile, Alexei Miller, the CEO of Russian gas company Gazprom, said Wednesday Russia would stop exporting natural gas to Ukraine unless it received prepayment from Kiev for energy supplies, Interfax reported.  http://www.voanews.com/content/ukraine-reports-significant-reduction-in-fighting/2657984.html
In Ukraine itself, the economy is in rough shape and the military situation is tense, though a little relieved as less fighting reduces tensions.  Some are hopeful, though many are discouraged.
But neither the European Union nor Russia' Eurasian Union is the answer, though many there think one of the other is.  National repentance is what is needed, and that does not seem likely in Ukraine, though personal repentance is possible.
Some items of possibly related interest may include:
Russia and Ukraine: Origins and Prophesied Future Where do the Russians come from? What about those in the Ukraine? What is prophesied for Russia and its allies? What will they do to the Europeans that supported the Beast in the end? You can also watch the short video Ukraine in Prophecy?
Russia in the Bible and in Prophecy Is Russia mentioned in the Bible? It it is where is it? Is there any evidence of a people moving to the land that the Russians now occupy? What do Catholic and other prophecies say about Russia? What does the Bible teach? How are Protestants often in error on this? Is there more in biblical prophecy for Russia than war? Does God have a plan to save Russia and her allies? Does Russia have a history involving Sabbath keepers? Does scripture tie Russia in with Armageddon? Will Russia help defeat the end time Babylonian power? What did the Apostle John, and the prophets Isaiah, Jeremiah, and Daniel, write about Russia? This is a sermon-length video.
Ezekiel 38: For Russia & Iran in Our Day? Is Ezekiel 38 about to be fufilled? A related video is available titled Ezekiel 38: For Russia, Ukraine, & Iran Now?
Were the Early Duties of Elders/Pastors Mainly Sacramental? What was there Dress? Were the duties of the clergy primarily pastoral or sacramental? Did the clergy dress with special liturgical vestments? Can "bishops" be disqualified as ministers of Christ based on their head coverings?
Why Were You Born? Why did God make you? Herbert W. Armstrong wrote this as a booklet on this important subject. You may also wish to read the article What is Your Destiny? or watch the video, also titled What is Your Destiny?
Building Character: Going on to Perfection Once you have accepted Jesus, do you need to strive for perfection and build character? A related video sermon is available: Going on to perfection and building character.
What is the Meaning of Life? Who does God say is happy? What is your ultimate destiny? Do you really know? Does God actually have a plan for YOU personally? There is also a video titled What is the meaning of your life?
Just What Do You Mean — Repentance? Do you know what repentance is? Have you truly repented? Repented of what? Herbert W. Armstrong wrote this as a booklet on this important subject.
When You Sin: Do You Really Repent? This is an article by Charles F. Hunting. A related sermon is Confess to God and truly repent.
Which Is Faithful: The Roman Catholic Church or the Continuing Church of God? Do you know that both groups shared a lot of the earliest teachings? Do you know which church changed? Do you know which group is most faithful to the teachings of the apostolic church? Which group best represents true Christianity? This documented article answers those questions. [Português: Qual é fiel: A igreja católica romana ou a igreja do deus?]
Why Should American Catholics Fear Unity with the Orthodox? Are the current ecumenical meetings a good thing or will they result in disaster? Is doctrinal compromise good? Here is a link to a related video Should you be concerned about the ecumenical movement?
Will the Interfaith Movement Lead to Peace or Sudden Destruction? Is the interfaith movement going to lead to lasting peace or is it warned against? A video of related interest could be Do You Know That Babylon is Forming?
Some Similarities and Differences Between the Eastern Orthodox Church and the Continuing Church of God Both groups claim to be the original church, but both groups have differing ways to claim it. Both groups have some amazing similarities and some major differences. Do you know what they are?
Orthodox Must Reject Unity with the Roman Catholics Unity between these groups will put them in position to be part of the final end time Babylon that the Bible warns against as well as require improper compromise.
Satan's Plan Does Satan have a plan? What is it? Has it already been successful? Will it be successful in the future?
Will the Interfaith Movement Lead to Peace or Sudden Destruction? Is the interfaith movement going to lead to lasting peace or is it warned against? A video of related interest could be Do You Know That Babylon is Forming?
COGwriter Position on Other Churches and Religions What is the fate of those who do not know Christ? What about those who profess Christ outside the Church of God?
Where is the True Christian Church Today? This free online pdf booklet answers that question and includes 18 proofs, clues, and signs to identify the true vs. false Christian church. Plus 7 proofs, clues, and signs to help identify Laodicean churches. A related sermon is also available: Where is the True Christian Church? Here is a link to the booklet in the Spanish language: ¿Dónde está la verdadera Iglesia cristiana de hoy?
Continuing History of the Church of God This pdf booklet is a historical overview of the true Church of God and some of its main opponents from c. 31 A.D. to 2014. Two related sermon links would include Continuing History of the Church of God: c. 31 to c. 300 A.D. and Continuing History of the Church of God: 4th-16th Centuries. In Spanish: Marque aquí para ver el pdf folleto: Continuación de la Historia de la Iglesia de Dios.
The Last Pope Do Biblical and Catholic Prophecies Point to Pope Francis? Why might Pope Francis be the last pope? What happens if he is? Biblical and other prophecies help explain what to expect.
The Last Pope: Do Biblical and Catholic Prophecies Point to Pope Francis? Amazon Book What does the Bible say about a pope near this time? Is the final pope to be an antipope and antichrist? Does Catholic prophecy point to Pope Francis as being the dreaded "Peter the Roman"? This 186 page book provides information and answers.
The Last Pope: Do Biblical and Catholic Prophecies Point to Pope Francis? Kindle This electronic version of the printed book which is available for only US$2.99. And you do not need an actual Kindle device to read it. Why? Amazon will allow you to download it to almost any device: Please click HERE to download one of Amazon s Free Reader Apps. After you go to for your free Kindle reader and then go to The Last Pope: Do Biblical and Catholic Prophecies Point to Pope Francis? Kindle.
The Eurasian Union, the Kings of the East, and Bible Prophecy Is there a Eurasian union that will be formed? Is one being formed right now? Are any leaders working on that in the 21st century? Does the Bible teach that there will be a Eurasian union? If some type of Eurasian union is formed, who might it benefit and who will it destroy? A related video would be Is The Eurasian Union Rising?
Bible News Prophecy July-Sept. 2014: The Coming Eurasian Union Here is the latest magazine from the Continuing Church of God. The cover of which shows Vladimir Putin and features an article about the coming Eurasian Union.
Europa, the Beast, and Revelation Where did Europe get its name? What might Europe have to do with the Book of Revelation? What about "the Beast"? Is an emerging European power "the daughter of Babylon"? What is ahead for Europe? Here is a link to a video titled: Can You Prove that the Beast to Come is European?
World War III: Steps in Progress Are there surprising actions going on now that are leading to WWIII? Might a nuclear attack be expected? Does the Bible promise protection to all or only some Christians? How can you be part of those that will be protected? A related video would be Is World War III About to Begin? Can You Escape?
Is Russia the King of the North? Some claim it is. But what does the Bible teach? Here is a link to a video, also titled Is Russia the King of the North?
Who is the King of the North? Is there one? Do biblical and Roman Catholic prophecies for the Great Monarch point to the same leader? Should he be followed? Who will be the King of the North discussed in Daniel 11? Is a nuclear attack prophesied to happen to the English-speaking peoples of the United States, Great Britain, Canada, Australia, and New Zealand? When do the 1335 days, 1290 days, and 1260 days (the time, times, and half a time) of Daniel 12 begin? When does the Bible show that economic collapse will affect the United States? In the Spanish language check out ¿Quién es el Rey del Norte? Here is a link to a video titled: The Future King of the North.